We have already discussed Rado as a brand, and have written an article about the best Rado watches for men. For this article, we're putting the brand's ladies' watches front and center—we'll let you in on some of the brand's best watches, and talk about the features that make them special, including some of their ceramic watches.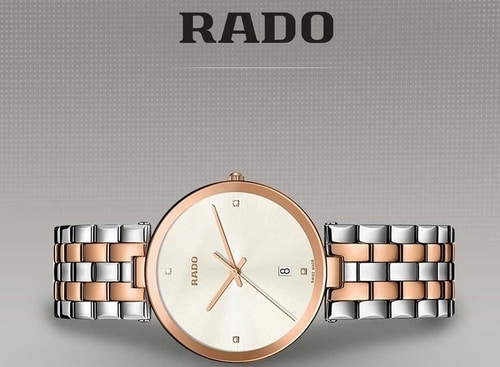 Best Rado Watches for Women
Rado Hyperchrome Captain Cook Automatic
Read Amazon Reviews | See on eBay
The Captain Cook is one of Rado's most popular collections. Taking inspiration from what is now considered a vintage collection, this line was first introduced in 1962.
The Hyperchrome Captain Cook Automatic has a timeless design and has improved features that the brand uses in many of its models, like high tech ceramic. This is available in both men's and women's lines—one variation of the former is the 37.3 mm automatic model, which is an elegant ladies' watch with 8 diamonds (0.064 carats) a water resistance to 100m.
If you're looking for something that has more diamonds, you can also check out the 36mm Hyperchrome Automatic Diamonds. With prices starting at around $7,100, this watch has 56 diamonds (0.834 carats), a transparent sapphire case back, and a high tech ceramic case and bracelet.
When discussing Rado, one of the most common terms you'll come across is this high tech ceramic material. This is a revolutionary watch technology that promotes lightness and durability. See on Rado.com
Golden Horse Automatic
The Golden Horse Automatic is another watch that was inspired by an old model. The watches of this collection have a design taken from the 1957 original, and have been updated with Rado's plasma high tech ceramic, and made even more beautiful with a rose gold Ceramos.
Available in different colors and strap materials (see them here), these watches have a unisex size (35mm) that will look good on any wrist. The case and bezel are stainless steel and Ceramos, and have a transparent sapphire case back. It's also water-resistant to 50m and has a sapphire crystal with anti-reflective coating.
If you want something that you can wear in more formal settings, there is also the Golden Horse Automatic with precious stones, which is dotted with 12 diamonds (0.078 carats).
Rado True
Read Amazon Reviews | See on eBay
Rado True is a collection of casual watches that are simple but definitely not plain. Available in shiny traditional colors white and black, these watches are light and comfortable, which makes it perfect for daily wear.
The True watches, such as this light-colored model, boast of a high tech ceramic case, bezel, and bracelet, making the watch lightweight, durable, and comfortable.

The Rado True has an award-winning design (Rado calls it "contemporary classic") that's perfect for those looking for a straightforward timepiece that's simple and chic. The case has lines that flow into the bracelet and has a small date window at three o'clock.
4 Rado True Thinline
Read Amazon Reviews | See on eBay
The True collection includes Thinline, which has received lots of good reviews. First introduced in 2011, these are quartz watches that have a unique feature of Rado's monobloc case and high tech ceramic. These materials make the watch durable, scratch-resistant, and light.
This is the thinnest ceramic watch that Rado has ever produced: "Hailed as a marvel of engineering when it was first unveiled in 2011, the True Thinline's elegant simplicity is powered by an unbelievably thin movement of just 1 millimeter."
They also have a number of case colors, like the classic black and white, as well as those with prints, such as the True Thinline My Bird. There's also the limited edition Rado Thinline Leaf, which features a green mother of pearl case (you can read more about the features in this review).
Rado True Star Sign
If you're into astrology, check out the Rado True Star Sign collection, which has 12 unique watches that feature the signs of the zodiac.

Like other Rado True models, these watches are made of a plasma high tech ceramic case, bezel, and bracelet. Each sign is neatly illustrated on the case and dotted with diamonds (such as this Gemini edition, which has a total of 4 0.032 carat diamonds and 14 0.011 carat diamonds.
Because this is also made from high tech ceramic, it's not only comfortable and lightweight—it's also assured that the watch will keep its shine for a long time.
These are limited edition, with only 999 pieces produced. Some of the other features include water resistance to 30m, automatic movement, four-diamond on the indexes, and a sleek mother of pearl dial. All watches have the name of each zodiac sign at nine o'clock.
Rado Integral
Read Amazon Reviews | See on eBay
Most of Rado's cases are round, but it has two collections that have a unique square shape: the Integral and Ceramica. We're featuring both in this article, starting with the former.
The Integral collection is also another vintage Rado model that has been redesigned to suit the needs of new customers. Integral was first introduced in 1986, the first watch that featured the high tech ceramic material. Over the years, it has been improved while still staying true to the original and today, it remains one of the brand's most popular watch collections.
These timepieces is perfect for those looking for a smaller-sized watch. This one, for instance, has a 19mm case so it's an excellent ladies' watch.
Rado Integral Diamonds
There's also a version of the Rado Integral that has diamonds, such as this Integral Diamonds model. Naturally, these are more expensive than the regular Integral by around $250 to $350.
One of the possible downsides to these models is the water resistance, which is only up to 50m. This means that it can take some minor splashes of water, but cannot be used in swimming or other water activities.

The Integral Diamonds collection has two versions on Rado's website—you can check them all out
here
.
Rado Florence Automatic
Read Amazon Reviews | See on eBay
The Rado Florence collection is a wide collection of watches available for both small and big wrists. One model that continues to receive a lot of positive reviews is the Florence Automatic, an automatic timepiece that you can wear casually, but can also look excellent as a simple cocktail dress watch.
This is one of the Rado models which does not have the popular Rado high tech ceramic technology, so it's relatively cheaper. This one, for instance, starts at $1,100 because it has a stainless steel/PVD case and strap.
These are still extremely durable, but they're not as light as the other ceramic models.
The great thing about the Florence collection is the wide array of choices, such as this one. The company has produced and continues to produce models of different sizes, colors, and styles. Visit this page to see all the options that are currently available.
Rado Centrix
Read Amazon Reviews | See on eBay
According to Rado's website, the Centrix collection is one brand's most popular. Available in different sizes and color combinations, this is the line that you can check out if you're looking for something versatile.
A Rado Centrix watch, such as this two-tone model, has the signature sapphire crystal and is scratch-resistant.
What makes this line different is the material. These models have a stainless steel case and strap, which means that it's a bit cheaper, compared to those made of high tech ceramic. Rado, however, promises that these watches are still light and comfortable.
Rado Centrix Automatic Diamond
The Centrix collection also includes two lines that have extra features and materials. One is the Rado Centrix Automatic Diamond, a unisex watch is dotted with diamonds. This one has a stainless steel case and a bracelet made of high tech ceramic stainless steel, which is one of the reasons why it's more expensive than the regular Centrix.
If you're looking for something that you can wear during dressier occasions, there's also the Rado Centrix Diamonds Open Heart, which has a cut-out dial and diamonds. These are priced at around $2,300, which is just slightly more expensive than the Automatic Diamond.
Rado Ceramica
Read Amazon Reviews | See on eBay
Last but not least is one of Rado's most unique creations.
Another square-shaped collection of watches is the iconic Rado Ceramica. Like the Integral, these watches have also been updated with a new look but guaranteed to still have the durability, lightness, and comfort that made it popular since it was first introduced in the 1990s.
Some of the most notable features of a Ceramica watch include a high tech ceramic case, bezel, and bracelet; a sapphire crystal, scratch resistance, and powerful design with "strong lines and gently curved silhouette."
The watches of the Ceramica collection, such as this model, are a favorite among collectors as the new batch is a collaboration with renowned industrial designer Konstantin Grcic. You can read more about the partnership here