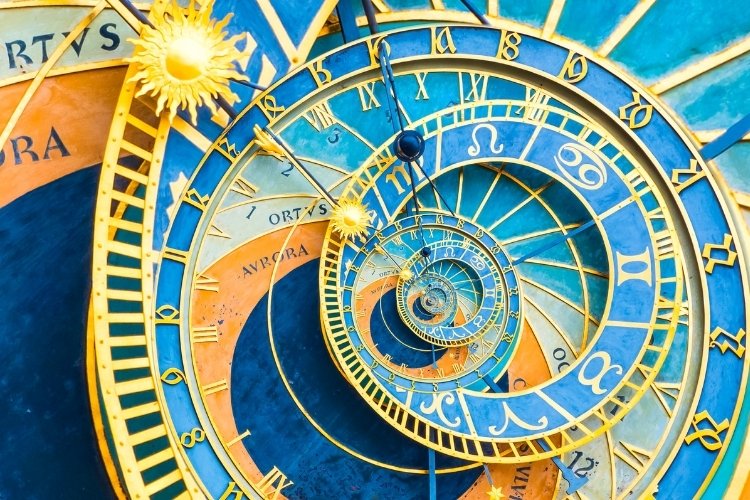 "What's your sign?"
It's a terrible pick-up line, to be sure, but it can be an excellent way to select a watch. The birthstone of every sign establishes an aesthetic starting point from which to choose the perfect timepiece. It's pretty common to get one's birthstone in a ring or other piece of jewelry, but they can also be an excellent way to individualize your watch.
A zodiac sign is just an odd symbol assigned by random chance at birth for some people. For others, though, one's zodiac sign has profound and essential meaning for life.
Somewhere in the range of 50 percent of the US believe in horoscopes and the relevance of the Zodiac, with at least 90 percent of the population aware of their sign.
Wherever you fall on the cosmic importance of your sign, here is the ultimate list of watches and watch accessories to match your zodiac sign.
Watches By Astrology Zodiac Sign
Aquarius – Jan 20-Feb 18: Amethyst

Amethyst is a violet quartz stone. In the last 50 years, Quartz has become a vital mineral for watchmakers and helped transform the industry as we know it, but amethyst is not something you commonly find in watches.


If you do some searching, though, you'll find something like this Women's Amethyst-Colored Crystal-Accented Watch by New York watchmaker Armitron. This gold-tone analog watch uses sparkling amethyst stones to accent both the case and the band, while the violet and gold face makes for a pleasant reminder of the Aquarius' birthstone.
For a man, consider a violet watch band. A genuine leather watch band is always appreciated, and they can be sized to fit pretty much any existing watch.
Pisces – Feb 19-Mar 20: Aquamarine

Aquamarine stones are light bluish-green varieties of the mineral Beryl, and the stones are less common than the color often seen in beach and marine-themed decorations. If you know a Pisces with an Apple Watch, consider this aquamarine watch band suitable for men or women.
Swiss watchmaker Invicta creates an Angel 18K Gold and Aquamarine Watch that includes 30 individual aquamarine stones along with the bezel.
This watch (find the current price on Amazon) is a Swizz quartz analog watch made of gold-plated stainless steel. It has three subdials on the face for the day, date, and 24-hour time. It is also water-resistant up to 100 meters.
Aries – Mar 21-Apr 19: Diamond

Of all the birthstones, diamonds (precious stones made of crystalline carbon) are by far the most common to find on watches diamond-encrusted watches can fall in the range from a few hundred dollars to millions.


For instance, a popular Japanese watchmaker, Citizen, designs men's and women's diamond watches. Most of the company's watches utilize their patented Eco-Drive solar power technology to allow a long-lasting battery. You can get a watch with diamonds embedded into the face for less than $400 (check Amazon for the latest price on his and hers).
On the other hand, you could go with Rolex's Day-Date 40, a stunning piece of Swiss watchmaking excellence made with 18k white gold as well as diamonds dispersed across the face and bezel. You'll have to go to a Rolex-approved watch dealer to pick up one of these for somewhere in the ballpark of $30,000.
Taurus – Apr 20-May 20: Emerald

Another member of the beryl family, emeralds, are bright green, chromium-rich stones. Their distinct color and soothing appearance have made this precious stone a staple in all types of jewelry.


Discount German watchmaker Yves Camani makes a Lady Emerald Watch (check the current price on Amazon) that mixes gold-plating, cubic zirconia crystals, and four emeralds to make a particularly striking timepiece. Beyond the design, this piece is a no-thrills analog watch with Swiss quartz movement.
If stones aren't your preference, check out the Armogen E.N.B. Emerald Green Chronograph.
While there is nary an actual Emerald in sight, the elegantly designed emerald face is offset nicely by the brown leather straps. In addition to the chronograph subdial on the face, there is a 24-hour dial and a date window.
Gemini – May 21-Jun 20: Pearl

Pearls are gems that are formed in the shells of bivalve mollusk-like oysters. They are a common feature of many necklaces, but you rarely see them on watches. That doesn't mean you can't find them, so long as you don't mind doing a little extra searching.



This sterling silver and pearl watch band by Hermosa is a cute gift for any Gemini woman in your life. The pearls are cubic zirconia, but that's to be expected as this is purely a fashion watch, and it would make for a charming accessory to any formal dress.
If you're looking for something a little less flashy, there is the Bulova Marine Star Bracelet with a black mother of pearl dial. Though 12 diamonds mark the hours, this is a subdued, all-black timepiece with Japanese quartz movement. Water resistant up to 100 meters, you can even wear this watch while swimming (but not while pearl diving).
Cancer – June 21-July 22: Ruby
Rubies are blood-red gemstones in the corundum mineral family. Rubies were once a popular addition to jewelry (and a favorite color for magical slippers), but these days it's relatively uncommon to find a ruby-encrusted watch.


That is what makes the 18k gold Dolce & Gabbana DG7 watch so striking. It retails for more than $16,000 and has a single natural ruby at the 6 o'clock position. The band is burgundy alligator leather while the Swiss movement is automatic winding. It's a pricey timepiece, but you would expect nothing less from one of the world's most prestigious fashion lines.
If you're not interested in dropping a year's rent on a watch, go with a simple ruby red leather watch band like the ones made by Bandini. These are genuine leather and made to fit almost any size wrist.
Leo – July 23-Aug 22: Peridot

Peridot, a green semi-precious olivine mineral, is probably the least well-known of the birthstones. It's not easy to find watches made with peridot stones, so you must get creative.
Take for instance this unusual, vintage watch with peridots in the case and band. It's a ladies 22mm Japanese quartz watch with 21 separate peridot stones. This is a specially made piece, so don't expect to find it in any stores.
If you want the color but don't want to pay for the stones, go with a unisex watch by Whimsical Watches that comes with a hunter green leather strap. The face includes imitation peridot stones to mark it as a distinct timepiece for Leos.
Virgo – Aug 23-Sep 22: Sapphire

Another corundum precious stone, sapphires are usually deep blue. Sapphire crystals are actually very common in the manufacturing of watches, both inside and out, in large part because they are the second hardest gems and incredibly hard to scratch or break.


For instance, the Torgoen T30 Blue GMT/Alarm Pilot Watch has a face made of sapphire crystal (check the current price on Amazon).
In addition to its scratch-resistant face, the case is stainless steel and the band is leather. It has Swiss quartz movement and is water-resistant up to 100 meters. A fourth 24-hour GMT hand makes it perfect for frequent fliers (especially pilots or airline attendants) who need to keep the changing time zones straight.
Danish watchmaker Bering's, 10126-307 Women's Classic Collection Watch doubles up on the Virgo's birthstone, with its sapphire crystal face and sapphire blue shading. This is a beautiful piece with a mesh stainless-steel band and quartz analog movement.
Libra – Sep 23-Oct 22: Opal

Opal is one of the more unusual birthstones, a semi-transparent quartz stone that appears to shift colors depending on the background.


Bertha's Courtney Opal Dial Watch has a dial face made of real opal (find the price here).
The case is stainless steel while the band is leather and light blue. Another no-thrills quartz timepiece, the appeal of this wristwatch is its design and warm color scheme.
Consider this Rich Peel watch bracelet with six real opal stones, designed by Navajo artist Robert Brown for something completely different. This authentic and limited-edition piece of art is made for a women's watch between six and seven-and-a-half inches.
In addition to the opal stones, the band is made of sterling silver. This would be a truly unique gift for the Libra in your life.
Scorpio – Oct 23-Nov 21: Topaz

Topaz is a precious stone mineral made up of aluminum and fluorine that can be yellow, blue, or colorless.


American watch and jewelry retailer, Porsamo Bleu, creates the Luxury Liza Automatic Topaz Watch (check the current price on Amazon), a gorgeous mix of topaz and mother of pearl. This analog watch has a Japanese automatic movement and a satin-covered, brown leather watch band.
If you don't mind something a bit more on-the-nose, there is the so-called "luxury" watches for dirt cheap prices made by Topaz, like this Black Dial Men's Gold Tone Watch. It's an inexpensive quartz watch made to vaguely look like a luxury watch. Make no mistake, this is a superficial fashion watch, but it will do the trick in a pinch.
Sagittarius – Nov 22-Dec 21: Turquoise

A copper and aluminum-based semi-precious stone, turquoise is recognizable by its green-blue or sky-blue color. As for many of these birthstones, the Sagittarius will either find their gemstone embedded in the watch band or bracelet or they will have to settle for a turquoise shading on the face.



In the former case, you can find bands like the one on this Ladies Silver Metal Bangle Cuff Fashion Watch. Like many of the watch bands and bracelets that prominently feature gemstones, this one would probably not be a daily wear watch, but it could add a touch of color to those graying, final Autumn days.
On the other hand, you could go with the turquoise Seiko 5 Sports 100m Automatic Watch (check Amazon for the latest price).
Seiko is an excellent Japanese watchmaker that, unlike many of its national competitors, creates a substantial number of mechanical watches. This Seiko 5 is automatic winding with a power-reserve of 41 hours. See our comparison of Seiko and Citizen watches here.
Capricorn – Dec 22-Jan 19: Garnet

Like the peridot, the garnet doesn't have quite the name recognition of its fellow gemstones, but this deep red precious stone is a stunner.


Fashion designer Michael Kors makes an eye-catching garnet timepiece, the Women's MK6427 Parker. It's an analog watch with quartz movement and water resistance up to 100 meters. Smartly designed, there are no numbers or hour indicators on the all-red face but the bezel is crystal-embellished.
For those looking for a simpler (and cheaper) Garnet-fix, Fullmosa makes a dark red leather watch strap for almost every size wrist. It's a slightly subtler way to show off your Capricorn pride.
A different kind of Zodiac Watch
If you are a true watch lover, you may be aware that there is a popular Swiss watchmaker named Zodiac, which has nothing to do with the zodiac signs.
These days, the company is owned by fashion watch manufacturer, Fossil, which bought the company in 2001 after a downturn in the previous decade led to its bankruptcy in 1997.
While the company has faced considerable changes in the last few decades, it had an interesting history well before that.
The company traces its roots back to 1882 when its founder, Ariste Calame, opened up a watchmaking workshop. His son would go on to join the company and throughout the 20th century, the Zodiac watchmakers would build a steady reputation for well-crafted watches, in particular, their Sea Wolf, the first dive watch designed for the general public.
In the 1960s, the watch company was thrust into the spotlight in a wholly unexpected way when the infamous (and never caught) Zodiac killer apparently took his name and personal symbol from the crosshairs symbol of Zodiac watches.
Though the common refrain is "no press is bad press," it seems very unlikely that the watchmakers were happy with the association.
While Zodiac watches remain popular today, many watch aficionados like to hunt for classic watches from their pre-bankruptcy days, especially the discontinued, original Sea Wolf.
Seah Astrology Watches
We would be remiss if we didn't mention Seah, a company whose entire focus is on creating astrology-based watches and jewelry.
The handmade and Swiss-made watches come in a variety of colors but are generally made with 18k gold and conflict-free diamonds.
Each watch in their Empyrean series includes the symbol of the different signs. The straps are leather or stainless steel.
With all of this option available, no matter your preferences (or beliefs), there is a watch to fit you, your style, and your sign.