For people who spend their days traveling through the wild blue yonder, it can sometimes feel like they are disconnected from normal life. With the rapidly passing landscapes below and the frequent crossing of time zones, frequent flyers exist on a different plane than the rest of us (pun, woefully, intended).
Of all the types of frequent flyers – business people, travel writers, characters on that show "Entourage" – there is probably no one who is more accustomed to the disorienting effect of traveling than flight attendants. Their job requires that they bounce back and forth between distant destinations, all the while providing friendly and calm service to some of the least happy people on (or above) earth.
According to recent statistics, just over 75% of flight attendants in the US are women and although it's still a predominantly female profession, the percentage of men continues to rise. Because of that, we've included watches on our list for men, women as well as some unisex picks.
If you're in a hurry and looking for a quick recommendation – for women we recommend the Casio Baby-G, it shows World Time in 29 time zones (27 cities + UTC) and displays the city code. While it's part of the G-Shock line up, this model is more elegant than some of its more bulky cousins.
Men – take a look at this Citizen Men's Eco-Drive Calendrier Watch with world times conveniently located around the dial this is a practical watch for those who are constantly crossing time zones.
Flight attendants need to find a way to stay grounded (sorry, last pun; probably), and a reliable timepiece is just the sort of accessory that can provide a little sliver of stability.
If you are a flight attendant looking for a good watch to wear on the job, or you're looking to buy a present for that special flyer in your life, the main thing to consider is what type of features will be most beneficial.
Here are some of our other top picks:

Best Watches For Flight Attendants
Citizen Eco-Drive Women's World Time A-T Watch

The Citizen World Time A-T Watch features a more feminine approach to its design making it a good choice for the sophisticated lady traveler. The stainless-steel case uses gold-tone to accentuate an air of elegance to what is quite a rugged timepiece. The combination of a gold-tone case with pure white dials is a lovely combination.
The watch is perfect for women with its 39mm case size diameter. It also features sapphire crystal which is coated with an anti-reflective filament.
The World Time A-T Watch uses the Eco-Drive technology as well; meaning it uses solar-powered panels to operate. It also incorporates a power reserve indicator to help you track its remaining power. The World Time A-T is also synchronized using the atomic clock for extreme accuracy when telling time.
The atomic timekeeping technology used in the A-T watch allows it 1:1 accurate adjustment available in 26 different time zones which are displayed around the outer rim. Wearers will be able to check two different time zones at a time as well. The watch also features a perpetual calendar with the display located on the 3 o'clock position.
Other features present in this lovely GMT watch includes an alarm, 12/24-hour time, and luminous hands. This watch from Citizen also has the standard water resistance of up to 100-meters or 330-feet. For female flight attendants, the Citizen World Time A-T watch is a perfect timepiece for their line of work due to its classy and professional aesthetics.
Victorinox Unisex Infantry Analog Display Swiss Quartz Watch

Victorinox is another well-known timepiece manufacturer, and this is one of their entries into the GMT watch category. The Swiss Army Infantry GMT is made from beautiful and sturdy stainless-steel case with black dials giving the watch a sophisticated appearance.
The watch comes equipped with a 24-hour bezel as well as a date display that is located at the 3 o'clock position. It features the Swiss-Quartz movement which means high accuracy when it comes to telling the time.
The glass window is made from scratch-resistant sapphire crystal and has an anti-reflective coating for use outdoors. The mesh bracelet uses the fold-over clasp system that allows for quick and easy wearing and removal.
The Victorinox Infantry is also water-resistant for up to 100 meters or 330-feet. It makes the Infantry an ideal timepiece for swimming but not recommended for diving. As for its GMT functionality, it allows wearers to check two different time zones by using a red hand.
The Victorinox Infantry offers the basics of what you will need for a GMT wristwatch. It is a well-made watch from one of the more respected brands in the industry. If you are looking for a top-notch GMT watch, then the Victorinox Infantry is a must-have inclusion to your shortlist.
Citizen Eco-Drive Promaster Nighthawk Dual Time Watch

The Citizen Nighthawk is a perfect example of a top-quality wristwatch having impressive longevity in the market. To anyone not familiar with the Citizen Nighthawk watch, it has been a highly recommended watch for quite some time. Its popularity maintained due to its reliability, quality, and affordability.
The Nighthawk is packed with features that will be extremely helpful for those who travel around a lot through different countries, i.e. flight attendants. This claim holds because it features an actual GMT functionality. The GMT function allows users to have two time zones displayed on their Nighthawk.
The Citizen Promaster Nighthawk also utilizes solar-powered technology. Users won't have to worry about running out of battery as the Nighthawk can operate for up to 180 days on a single full charge. The inclusion of the GMT function, being solar-powered, and slide rule bezel is enough to push the Nighthawk towards the top of watches designed for flight attendants. We haven't even included its stylish design. The Nighthawk also made our list of best solar-powered watches.
In terms of style, the Nighthawk watch has managed to pull-off the timeless look, pun intended. It is well made and utilizes a 41mm stainless steel case. It features two crowns that are used to operate the bezel. The crown located over near the number 3 dial can be screwed down for added protection from water. Speaking of, the Nighthawk is waterproof for up to 200 meters underwater.
The Citizen Nighthawk is a perfect companion for individuals who regularly travel from one part of the earth to another. This watch is a stylish and reliable timepiece that won't be breaking your bank while still managing to cram a bunch of impressive features.
Timex Intelligent Quartz 3-GMT Stainless-Steel Watch

Timex once again makes an appearance that says a lot of the quality of their timepieces. The Intelligent Quartz 3-GMT gives wearers the ability to check up to three different time zones. The watch comes in at a 47mm diameter stainless steel case and a sturdy mineral-based window.
It utilizes the tried and tested Quartz movement with an analog display which will provide wearers with a highly precise time display. Additional features include a date window that is located at the 3 o'clock position and a night light for use in low light conditions.
The band is made from comfortable and durable leather calfskin and uses the standard buckle closure system. The three GMT feature is made possible with the inclusion of the fourth center hand as well as the top-ring which can be turned. This design choice allows wearers to adjust the second and third time zones easily.
The Intelligent Quartz 3-GMT is also waterproof. It has a water resistance for up to 100 meters or 330-feet, which is a pretty standard water rating with most watches in this category. It also features a date display that is located over at the 3 o'clock position. The night light feature is pretty much a staple in Timex's high-end watches; this one utilizes the INDIGLO technology which illuminates the entire watch face.
Overall, Timex T2P426DH is a worthwhile investment for those who travel regularly to different countries. It is a well-made and reliable watch from one of the premier timepiece manufacturers in the world.
Citizen Men's Eco-Drive Perpetual Calendar Watch

Citizen Eco-Drive Perpetual Calendar Calibre 8700 delivers a distinct combination of style and ruggedness.
This fully functional GMT watch is constructed from stainless steel with the case size measuring in at 42mm. The glass is made from quality sapphire crystal making it highly resistant to scratches, a must-have feature for daily travelers such as flight attendants.
The pitch-black dial is beautifully emphasized by the shiny silver hands and hour markers. As for the displays, you will get a calendar with the months displayed around the outer rim. The date display located on the 4 o'clock position while the day of the week display can be seen in the 2 o'clock position. The hands are also luminescent to offer better visibility in low light conditions. Wearers also get two sub-dials that display the 24-hour function.
Securing the Calibre 8700 is made simple with the use of the fold-over clasp with safety release. As for its GMT feature, wearers get access to two time zones. It also features a perpetual calendar, leap year, and alarms. As for water resistance, the Calibre 8700 has a resistance rating of up to 100 meters or 330-feet making it suitable for a quick swim.
The Citizen Calibre 8700 watch is undoubtedly one for individuals who prefer a watch that is both formal looking but tough enough for everyday use. The highly detailed calendar display is also a nice inclusion to an already impressive GMT timepiece.
G-Shock G-Steel Watch

Want something with a little more modern flair? The G-Shock G-Steel fits that bill. This entry from the G-Shock series is built to deliver a slew of features that are uncommon when you think about watches in this category.
As for construction, the G-Shock G-Steel incorporates stainless-steel for the case and resin for the middle and back case. It also has a carbon bezel that is made from two different advanced synthetic material giving it a lighter weight while retaining its sturdy and shock-resistant qualities.
The case of the G-Steel measures in at 58.1mm in diameter making it one of the larger watches in this list. Consider the size if you have very smaller wrists-this is probably not the watch for you.
However, it only weighs around 104 grams or just 3.7-ounce which makes it surprisingly lightweight. It also uses a urethane band which feels sturdy while maintaining a comfortable fit.
The watch also uses a sapphire crystal which has a non-reflective coating. Water-resistance clocks in at 200-meters or 656-feet. What separates this from the rest is its Bluetooth capability. This allows wearers to connect the G-Steel to their smartphones. This, in turn, enables the G-Steel to gain access to the internet which will allow it to obtain information of up to 300 World Time cities among other things.
The G-Steel also incorporates the Tough Solar technology which allows the watch to be recharged via its solar panels. Most watches that use Tough Solar technology can clock in between 5 to 23 months of operation without the need to recharge the battery. But since the G-Steel comes with Bluetooth technology, you can expect it to last somewhere in the middle.
Other features found in the G-Steel include LED light, split time chronograph, calendar, three analog hands (hours, minutes, and seconds), a second-time zone display, and battery indicator. The size of the G-Steel might be too large for those with under 7-inch sized wrists.
Timex Men's Allied Three GMT
Timex is well-known for the quality of its timepieces, and the Allied Three GMT watch earns its stripes in this regard. The Allied Three GMT utilizes an omnidirectional rotating bezel attached to a sturdy metal casing. The bands are made from a combination of nylon and silicone and use the standard adjustable buckle to secure it firmly around the wrist.
The Allied Three uses a three-hand analog display design which is powered by Intelligent Quartz Technology movement. This movement system has built a reputation for being accurate and precise at all times, as expected from Timex watches.
It can also display up to three different time zones making the Allied Three GMT a highly recommended watch for frequent travelers. The Allied Three also utilizes luminous hour and minute hands and a nifty 24-hour red hand. Additional features include a night light function that will allow you to check the time even during low-light conditions quickly.
As for specifications, the Timex Allied Three GMT comes with a 43 mm case diameter and weighs approximately 3 ounces. The watch is also water-resistant for up to 100 meters (330 feet) underwater. The Allied Three GMT is an excellent choice for flight attendants thanks to its ability to display three time zones. The fact that it is from one of the most trusted timepiece makers in the world is also a solid enough reason to choose the Allied Three GMT.
Buyers Guide:
UTC or Dual Time Zone

Perhaps the most useful features for anyone who will be passing back and forth across time zones is either the UTC/GMT or dual time zone setting. GMT stands for Greenwich Mean Time (now known as UTC, Coordinated Universal Time). It is the time standard for the world's timepieces (the time zone is centered at Greenwich, London, hence the original name).
When a watch has a GMT/UTC feature, what it generally means is that it has an extra hour hand (or digital screen) that is always set to UTC. With this information, the wearer can figure out what time it is by adding or subtracting based on the time zone they are in. As long as you know how many hours ahead of or behind UTC your location is, determining the hour is simple math.
Of course, not everyone has the time zones memorized, so for the rest of us, there is the dual time zone feature. Watches with this feature can be set to display two different times, usually with the push of a button. For flight attendants who mostly travel back and forth from the same two cities, that is all you will need.
There are also watches that offer both the UTC/GMT feature and dual time zones. Together, these features can be very helpful for quickly orienting the traveler and making sure they don't miss a beat.
Reliability Is Top Priority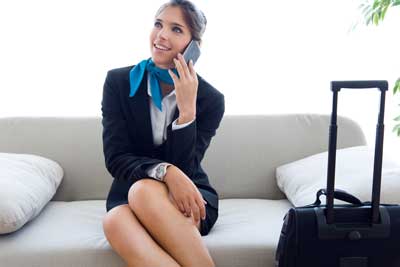 The one thing any flight attendant is going to want from their watch is confidence that it will handle the rigors and stresses of the job. From dealing with grumpy customers to being tossed about by turbulence, there is ample opportunity for the watch to be damaged or struck against a hard surface.


For this reason, the classic Seiko Astron (see the price on Amazon) or, again, Casio G-Shock watches are highly recommended. Both watch lines are renowned for their dependability and resilience. The G-Shock line, in particular, is the one preferred by many in the U.S. military, so you can rest assured that it has the strength to withstand screaming babies and inebriated businessmen.
For female flight attendants looking for more feminine designs, check out our top-rated G-Shock models for women, like this Baby G model in elegant black.
Both also come in a variety of styles and looks that will fit well with any uniform. On the downside, the Astron tends to be a bulkier, more heavyweight watch, so some women may not like it, as well as anyone who doesn't want the extra weight while on the job. The Astron also carries a heavier price tag. By contrast, since the G-Shock is intended for the battlefield, they are generally lighter and less cumbersome.
Smartwatches for smart travelers
Another feature that can help with time changes is GPS. Just as your smartphone uses GPS to automatically update the time when you have landed in a new time zone, a smartwatch can be set up to always display the local time of your current location.


Smartwatches, such as Apple watches and the Android Wear, are all equipped with GPS along with many of the other features that are standard in smartphones. Since they function in the same way, there are no extra steps (or math) required to know the local time. A smartwatch like the Samsung S2 is compatible with almost all android phones.
Not all watches that update via GPS are smartwatches, though. Both Seiko and the Casio G-Shock line have GPS-equipped, non-smart watches that update their time the same way atomic watches do, by sending out and receiving a radio signal from a satellite or atomic clock.
Both types of GPS-equipped watches mean that you yourself don't have to be that smart to always know what time it is.
Other considerations for a flight attendant
We've covered the more general needs that any frequent flyer would take into consideration when traveling, but there are more specific issues facing flight attendants, specifically.
Although flight attendants generally can bypass security (in the United States, at least), they are still subject to random checks and searches, which means taking off and putting back on jewelry and watches. Just as it's smart to wear easy to remove shoes when flying, having a watch that can slide off and on easily will make life easier. For that reason, flight attendants would ideally avoid complicated clasps and bands.
Speaking of bands, we recommend avoiding anything with a cloth band, if only because flight attendants have to deal with spilled drinks, messy children, and, unfortunately, vomit. It's a whole lot harder to get a cloth band cleaned than it would be something in the metal family.
Also, for anyone in the service industry, it's inadvisable to wear a relatively expensive watch while on the job. Anything can happen when dealing with the public, and the last thing you want is your $5,000 watch broken or stolen by a passenger.
If you travel a lot or you yourself are a flight attendant, you might want to check out this hands-on look at this attendant's packing list.

Dress for success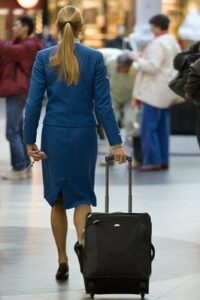 Whether you're looking for yourself or for someone else, remember that airlines will all have uniform guidelines and they will almost certainly specify what is and isn't allowed in terms of watches. I
f you're a flight attendant who plans to take your watch off for the flights, then those guidelines won't affect you, but anyone else should double-check them before paying for a new watch.
Whatever your timekeeping needs, you are sure to find a watch that fits your high-flying lifestyle.
Plus, with so many watches for those on the go, you don't have to settle for sky-high prices (had to get one last pun in).