Rado is one of the most innovative watch companies today. In this article, we'll take a look at the brand's revolutionary technologies, as well as some of its best men's watches. If you're thinking of buying your first Rado, read on. This article will compile some of the brand's best models—the bestsellers, the crowd favorites, and the ones that have received good reviews.


Best Rado Watches for Men
Rado DiaMaster Thinline

Diamaster is one of Rado's most popular collections. The Diamaster Thinline models – such as this one, are simple yet strong, having a classic design that will look good in any outfit.
What makes this watch special is CeramosTM technology, which is 90% high ceramic and 10% metal alloy. Ceramos is one of Rado's most popular watch technologies—they do not only look good but are guaranteed to last a lifetime. The ceramic makes for a light and scratch-resistant watch, while the metal promotes a glow and luster that will not fade. Rado has worked on cutting-edge ceramic technology for over 50 years, so you know that the watch you're getting only has the best quality.
The 40.7mm DiaMaster Thinline has legible large dials, transparent sapphire case back, and water resistance to 50m. There is also a date display at 6 o'clock. You can choose from a wide array of versions here.
Rado DiaMaster Petite Seconde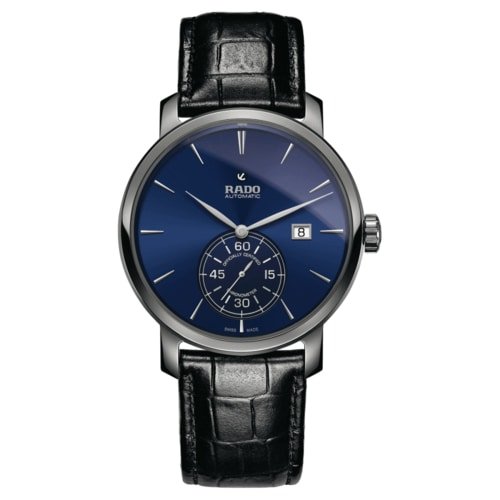 Another model from the DiaMaster line, the Petit Seconde watches are for those who are looking for a good mix of classic and unique. Has the clean DiaMaster design, but has something extra: a small seconds display.
This 43mm watch has a Swiss automatic movement, a water resistance of 50m, and a power reserve of up to 80 hours. It's also COSC-certified, which the brand says "requires a movement to deviate less than -4/+6 seconds over a 24-hour period, a feat so rare it is only awarded to around 6% of Swiss-made timepieces."
This watch has had a lot of excellent reviews, some of the features commonly highlighted are durability, creative design, and a good finish.
There is also another version of this.
The Diamaster Grande Seconde, as the name suggests, has a bigger seconds display.
Rado Golden Horse Automatic

If you're looking for a thicker watch with a vintage aesthetic, this is the Rado watch to consider.
The Golden Horse Automatic line was inspired by a model released by the company in 1957.
The watches from this collection (such as this green shade) have a size of 41.8mm and a thickness of 10mm—a lot thicker than our two previous watches (the DiaMaster Thinline is 8.3mm). This one also has the Ceramos technology on its stainless steel plasma and high tech ceramic case and bezel, an attractive red font on the date window at 3 o'clock, is 50m water-resistant and had a power reserve of up to 80 hours.
This review pointed out how this watch can look good with a casual pair of jeans, as well as something dressier.
Rado Coupole Classic Automatic

The Rado Couple Classic Automatic is what the brand calls "a traditional wristwatch," but with extra features that Rado watches are known for: legibility and the brilliant shine of the sapphire crystal with anti-reflective coating.
Priced at around $1,300, the watches from this collection are more affordable than the previous models we've discussed so far. Rado took a vintage design and added a modern twist, which makes this watch excellent for those looking for a stylish everyday watch.
There are a number of styles available for the Coupole Classic Automatic such as white and blue cases, and stainless steel or leather straps. There's also one that has a sleek power reserve indicator, which makes it a bit more expensive. See the different versions of the watch here.
Rado HyperChrome Automatic Chronograph

Rado described the Hyperchrome Automatic Chronograph collection as "dynamic, sleek, and sporty," something that one can easily wear with different outfits.
This collection has a bunch of different case colors (blue, green, black, brown) and different straps (leather, fabric, Ceramos), and both quartz and automatic movements. The prices start at $4,300 on the Rado website—not cheap, but you're sure to get what you pay for. Some of the main features include a transparent sapphire crystal with an anti-reflective coating, a high-tech ceramic and stainless steel case and bezel, and a power reserve of 45 hours.
The Hyperchrome collection debuted in 2012, and today, it has over 70 models. One of the main highlights of these watches is the monobloc case, which was expertly crafted from one piece of injected ceramic that was previously used in some of the brand's ceramic designs, allowing it to not only become more durable and comfortable, but extremely attractive as well.
This is one of the brand's best-selling collections. Check out all the options here.
There's also the Rado Hyperchrome Tennis Automatic Chronograph. If you're into tennis, you'll be glad to know that Rado has timepieces inspired by the sport. Aside from producing watches for both tennis players and fans, the company is also a proud official timekeeper at tennis tournaments all over the world.
The Hyperchrome Tennis Automatic is a watch that you can wear while playing sports (not just limited to tennis, of course). This one is lightweight, thanks to the plasma high-tech ceramic features.
There's also a limited edition model: the Hyperchrome Match Point chronograph, which is only limited to 999 pieces.
Rado Captain Cook Automatic

Rado is a brand that constantly pays homage to the classics, producing updated models of their old watches. One of the most popular reissues is the Captain Cook collection, which was first launched in the early 1960s.
These watches, such as the Captain Cook Automatic has a sleek vintage look and updated modern technology that Rado has developed in the past decades.
https://www.youtube.com/watch?v=iDBVqKWWjzo
These watches, which are part of Rado's Tradition collection, take inspiration from the brand's old watches from the 1950s and 1960s. They are available in 42mm and 37mm (a limited edition with only 1962 pieces) sizes, so they will look great on different wrist sizes. One of the main features of the collection is the water resistance up to 200m, as well as up to 80 hours of power reserve.
You can explore the different models here.
Rado True

The Rado True is another extensive collection from the brand, offering a wide array of classic designs and sizes all packed with the modern technologies the brand is known for.
The Rado True has that distinct Rado look, similar to the simplicity and classic aesthetic of the Thinline collection we featured above.
Available in traditional colors (black and white), the Rado True will keep its luster for a long time, thanks to the high-tech ceramic case and bracelet. There's a wide array of different True models such as the fancier True Automatic Diamond (we'll discuss this further below), but if you're looking for a simpler and more casual look, this one will definitely deliver.


If you're into skeleton watch designs, you can also check out the Rado True collection's Automatic Open Heart Line, a handsome collection of watches that are also built to be extremely comfortable. Since its debut in 2018, this line has enjoyed popularity among watch collectors and enthusiasts alike.
has a plasma high-tech ceramic case and bracelet, a see-through cut-out dial where you can see the automatic movement in action, and a power reserve of up to 80 hours. These watches are water-resistant to 50m and have a number of different cases (white, gray, and black).
This model, alongside other Rado True watches, boasts the monobloc case construction, which makes these classics "light as a feather and hard as nails."
Rado True Automatic Diamonds

The last line of the True collection that we're featuring is the Rado True Automatic Diamonds, which is for those who are looking for something slightly fancier.
Dotted with diamonds, these watches are excellent dress watches. Some models have 4 diamonds (0.040 carats) while others have 12 (0.120 carats).
Another great series that came out of this collection is the limited edition True Star Sign series, which has the 12 signs of the zodiac that are marked with diamonds. These have become popular watches for women due to its smaller size (30mm), but it's great on bigger wrists as well.
Click here to see other astrology watches.
Rado Ceramica

Another unique collection inspired by vintage aesthetics is the Rado Ceramica, a line of square-shaped watches for both men and women. These have been updated with a contemporary design and technology, made unique with strong lines and curved silhouettes.
Most of the watches in this collection are unisex, such as this one, which has a sapphire crystal, a high-tech ceramic case and bracelet, and a date window at 3 o'clock. These are also water-resistant to 50m, so it could only take minor splashes of water.
The regular Ceramica costs around $2,100, while models that have diamonds range from $2,250 to $3,000 (such as this one, which has 12 diamonds).
The Ceramica collection also included this collaboration with Industrial designer Konstantin Grcic. One is a 3-6-9 dial (a limited edition with only 710 pieces made). Another has a minutes track below the dial, which has two-digit numbers on each hour marker and a small date window at 12 o'clock. You can read more about the collaboration here, and read a review here.
Click here to read the pros and cons of ceramic watches. 
Rado True Thinline Les Couleurs

A collection that's the opposite of the dark shades from the Ceramica collection is the True Thinline Les Couleurs, which are for those looking for a Rado watch that's simple yet fun.
These are colored watches that have a high tech ceramic case and bracelet, a sapphire crystal, and water resistance to 30m. The collection was named as such because it was inspired by the color theory created by designer and architect Le Corbusier.
Aside from being light and scratch-resistant, these colorful timepieces are also extremely durable, as they make use of  ceramic. They're hypoallergenic, too. You can buy these for around $1,750 each, or you can get a box set with all colors for $15, 450.
Rado Centrix

We'll cap off this list with Rado's most popular collection, the Centrix.
This has a wide array of designs and technologies to choose from, and Rado assures that it has a model for everyone.
A watch that has "uncompromising luxury and sophistication," the classic Centrix model is sleek and powerful. Available in different looks (check them all out here), this line is made with a ceramic bracelet, stainless steel case and bezel, and sapphire crystal. It's water-resistant to 30m and has a small date window at 3 o'clock.
Rado: History
Swiss watch company Rado has been around since 1917. Formerly called Schlup & Co., the company was renamed in 1950.
Rado started to enjoy worldwide popularity by the 1960s. What started out as a company that operated in Switzerland was soon distributing watches in over 60 countries. They released not only attractive but also innovative watches such as the DiaStar 1, the first scratchproof watch in that made use of extremely durable materials such as sapphire crystal and hard metal.
To read more about Rado's history, you can visit this article that we previously wrote about the company. In this article, we answered a question that first-timers ask: Is Rado a good brand?
In this article, you will encounter the word "Ceramic" a lot. Rado uses this technology in its watches. We wrote an article about these kinds of watches here, where you can learn about the material, as well as its pros and cons.
We hope this article was helpful! Rado is a trusted Swiss brand that has gained the trust of loyal customers all over the world, so you're sure that the timepiece you are getting has been tried and tested, and has some of today's best watch technologies.
Haven't decided yet? To learn more about the company, you can visit their website for more information on their history, collaborations, and warranty policy. The watch collections are also arranged by category, so you will not have a hard time looking for similar models.