Gucci, the luxury Italian brand of fashion and leather goods, embarked on its watchmaking journey from 1997. Initially founded in 1921 in Florance, Italy, the name Gucci is famous worldwide. Today, Gucci is also a leading fashion watchmaker, in addition to pioneering the luxury clothing industry. Keeping up with their brand reputation, Gucci ensures their watches are as vibrant and unique as their clothes and shoes.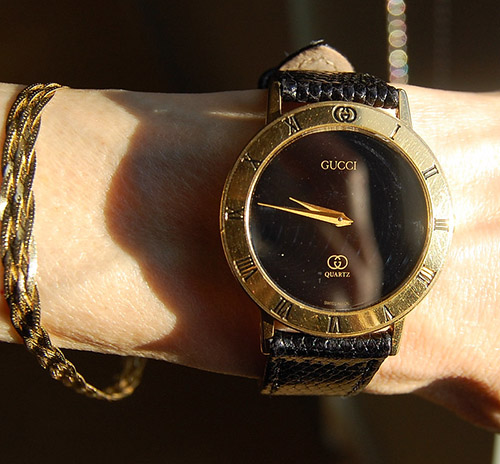 Gucci proudly boasts of reinventing a whole new modern approach to fashion, thereby reinforcing itself as the World's most desired fashion brand. The brand Gucci reflects Italian craftsmanship, attention to detail, and high-quality goods.
Gucci History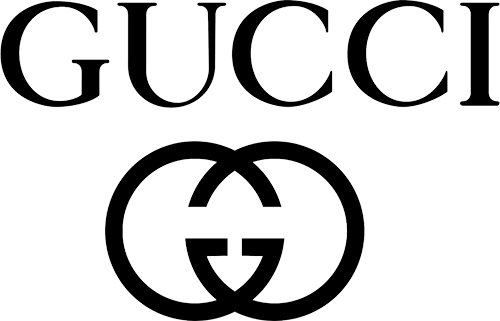 Guccio Gucci, known for his extraordinary craftsmanship, started selling leather goods from the 1920s. Subsequently, after his death, his three sons took over the company and expanded it globally. Through their innovative efforts, New York saw its first-ever Gucci store open in 1953. As the brand's footprint around the world grew, many more stores opened in Tokyo, Paris, and London. As movie stars and celebrities started endorsing the brand, Gucci became a symbol of luxury international status.
Unfortunately, the 1990s took the company to the brink of bankruptcy. Owing to tax evasion, the sons had to give up their positions as leaders of this world-famous brand. After changing multiple hands, the company landed with Investcorp, a Bahrain-based company. The company then promoted Gucci's lawyer, Domenico De Sole, to the position of President of Gucci America.
In efforts to revamp the brand and bring it back to the top of the fashion industry, Gucci then hired the premium fashion designer, Tom Ford, and editor, Dawn Mello. Together the duo overhauled the fashion line, limiting to just 5,000 products from almost 20,000. This when Gucci's watchmaking history began to unfold.
Officially Kickstarting The Gucci Watchmaking Journey
In 1997, almost 76 years after Gucci's inception, the company obtained a watch license from Severin-Montres. To emphasize the brand's commitment to fashion products, Gucci manufactured and sold newly designed fashion watches. Simultaneously, Gucci also acquired other fashion brands in the making, like Yves Saint Laurent, Bottega Veneta, Sergio Rossi, amongst many others.
After that, Gucci also acquired the Boucheron International group, a French luxury watch and jewelry house located in Paris. The company didn't stop here. It went on to obtaining licenses for Yves Saint Laurent watches as well. This bold move, paired with the unveiling of Gucci's first-time piece, created the perfect gateway into taking the reins of the luxury fashion industry.
All these steps laid a solid foundation stone for Gucci to take back the market and in becoming the brand we know today.
Gucci Watch Collections
The name Gucci acts almost as a synonym for ultimate luxury. Over the years, Gucci crafted some iconic and exquisite timepieces. Resultantly, Gucci commands the patrons world over. The luxury brand perfectly marries Swiss watching making with Italian styling. The below mentioned are amongst Gucci's current offerings.
Gucci Grip Watch
Read Amazon Reviews | See on eBay
Designed to sit snugly around the wrist, the Grip Watches is distinctive in its design and function. This collection majorly draws inspiration from skateboarding. To the extent, when worn, the watch resembles the same way a rider's sneakers stick to the skateboard. Moreover, the face of the watch comes with three displays, for the hour, minute, and date. Gucci Grip Watches are also resistant up to 30 meters in water. Available in both 38mm and 35mm case, these innovative timepieces are available for both men and women.
Diamantissia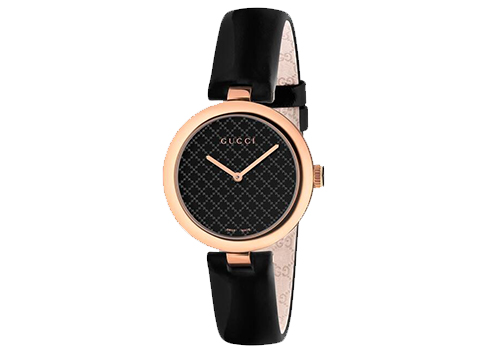 Specially designed for women, the Diamantissia collection showcases Gucci's signature Diamante patterns on the face of the watch, to resemble diamonds. Resistant up to 50 meters in water, the timepieces are equipped with the Ronda quartz movement.
The exclusive tonal motif adds to the style and sets the Diamantissia apart from other Gucci collections. Available in 27mm and 32mm encasing, the Diamantissia comes in leather and stainless steel strap, along with a choice of dark or light dial color.
Eryx
Read Amazon Reviews | See on eBay
The Eryx collection, specially designed for men, comes in 40mm encasing. Eryx watches are innovative and extremely stylish. As an ode to the horological masters, the Eryx timepieces naturally winds based on the hand motion of the wearer. The intricate design on the dial reflects Gucci's promise to better its attention to detail.
With up to 50 meters resistant in water, the collection offers just two timepieces. One, designed in gold and other in silver, although both adorned with the guilloché patters paired with a black leather strap.
G-Timeless
Read Amazon Reviews | See on eBay
Available for both men and women, Gucci offers a wide range of timepieces as part of this collection. The original timepieces designed had debossed Gucci's "G" symbol on the dial. But as the brand aimed to push its fashion sense and innovation, the watches now come with a host debossed with different patterns and designs for you to choose from.
Inspired by the brand's aesthetics, the display motifs reflect the trends of the fashion house: the bees, the mystic cat, the stars, the hearts, the snake, etc. These watches come in 27mm, 29mm, 36mm, and 38mm for women, and in 36mm, 38mm, 40mm, and 42mm encasing for men. You can also choose from metal, leather, or rubber straps.
Gucci Dive
Read Amazon Reviews | See on eBay
The Dive collection is also available for both men and women. Designed to withstand deeper water usage and readability, the Gucci Dive collection is resistant up to 200 meters underwater. The women's Dive collection currently only offers two timepieces. Equipped with quartz ETA movement, both the watches under this collection have the mystic cat motif.
With a 40mm case, the women's collection comes in black or white color with a rubber strap. For men, on the other hand, Gucci offers a bigger range of Dive watches. Available in steel, rubber, or leather straps, the men's collection showcase Gucci's house motif like the tiger head, the snake, and the mystic cat.
Le Marché Des Merveilles
Read Amazon Reviews | See on eBay
The Le Marché Des Merveilles is Gucci's unisex collection. With three different styles under this collection, Gucci has yet again pushed boundaries of fashion style and innovation. One such watch draws its inspiration from the concept of connectivity where the strap and the dial are linked by the same design.
The other style includes a synthetic green or coral red malachite stone dial, framed with a golden case and black leather strap. All the watches under this collection are resistant up to 50 meters underwater.
G-Chrono
Read Amazon Reviews | See on eBay
Tailor-made for men, the G-Chrono collection offers just two timepieces. One with black dial and black leather strap, and the other with black dial and stainless steel strap. The watches derives its name from the G shape bezel that is unique to all other Gucci's collections. Through this collection, Gucci experiments with contemporary design to give a modern look. Resistant up to 50 meters underwater, the G-Chrono collection comes equipped with the Ronda quartz movement.
Gucci Brand Reputation
Gucci watches cater to a crowd that prefers the fashion tag over authentically crafted watches. In essence, these timepieces are more of a style statement. The more extensive fan base does not pay much heed to the watchmaking movements, precision time reading, watchmaking history, and other utilities.
It merely reflects the unique design to live up to high-end fashion standards. Gucci set out to reinvent fashion and appeal to the youth, both of which the brand has beautifully conquered. However, if you are looking at buying a timepiece based on traditional watchmaking methods by a company rich in watchmaking know-how, Gucci is definitely not the brand you are looking for.
Moreover, Gucci prices all its products at higher-end, making watch enthusiasts wonder if the quality matches the price. With no native technology, expert watchmaking know-how, and traditional methods, one can only wonder if it is worth burning a hole in the wallet. While for the same price, there are other better watches in the market, that values authenticity, precision, and technical watchmaking knowledge.
Is Gucci A Good Brand?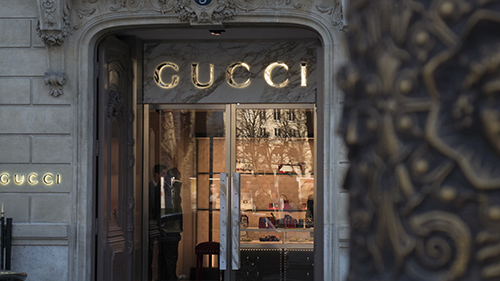 A majority of Gucci's watches are Swiss-made and equipped with either quartz automatic, ETA, or Ronda movements.
However, some watch aficionados ponder over its quality and worth. Many forums debate on the functionality and durability of these watches and customers have reported their deterioration over time. Watch lovers point out that anyone who invests in Gucci watches buys it just for the brand name and not for any actual functional value.
Many customers who have purchased Gucci watches love the style and design but don't have much to say about functionality and quality. We hear this same sentiment about watches from other designer brands such as Armani, Guess, or Michael Kors.
If you are a fan of designer accessories, admire luxury designers and the bragging rights to having their logo on your wrist- then we wouldn't want to steer you away. For many of us, watches don't always have to be about the "horology" – if it can be as simple as finding a style we like…some even consider watches jewelry.
It is advised to steer clear of fashion watches if you are on the lookout for a sturdy and durable watches that will hold their value or be passed down to future generations. Many forums discuss that Gucci produces inferior timepieces compared to its competitors, but for the same price as high-quality watches.
Having said this, If you are in the market solely looking for a good fashion watch brand, then Gucci will live up to its name. But, if you are saving up to buy a good quality watch, then look at brands that are rich in watchmaking history and technical know-how.
Instead, watch enthusiasts recommend looking at brands like TAG, Omega, Citizen, Seiko, Tissot, Breitling, Sinn, or Mont Blanc over Gucci watches and we agree.
Nevertheless, investing is a watch is not an easy task. Given the variety of options in terms of brands, styles, design, and functionality, one needs to do prior research to identify the brand suitable for your needs. Furthermore, it is critical to consider your budget, purpose, and robustness before making the final call.
Gucci Watch Warranty
Gucci offers a limited warranty of two years on all its timepieces. The warranty comes into effect from the date of purchase and upon obtaining a valid certificate from the dealer on purchase. According to Gucci's policy, the warranty covers all defective components of the timepiece and manufacturing defects.
The warranty will, however, not cover:
Battery changes.
Damage caused by an accident, inappropriate use or negligence.
Damage arising from normal wear and tear.
In the event of a warranty claim, send your Gucci timepiece to your closest authorized store, approved agent or service center. The official website further instructions on watch care, set-up, day/date corrections, and maintenance.
Where to Buy Gucci Watches?
Look for the closest authorized store near you, through Gucci's official website, to get your hands on one. You can also find Gucci watches on Amazon and on eBay.
If you are located in the UK, visit WatchShop to buy Gucci watches online.
Word of caution: Given its high price, a lot of dealers sell fake or damaged watches at lower or discounted prices. Always buy from an authorized dealer to get the warranty benefits, in the event required. The best way to figure if a timepiece is original or not, check for the model number on the back. Most importantly, thoroughly research the collections on Gucci's website to be able to spot a fake from the original.