When it comes to watches, Swiss-made products continue to enjoy an excellent reputation. Swiss watchmakers produce some of the best timepieces in the world, and they keep up with the times, making both traditional and digital models with the same craftsmanship they apply to traditional watches.
When one talks about smartwatches, one of the first brands that come to mind are companies like Apple, Samsung, and Garmin. While these are indeed some of the most competitive brands out there, there are other companies that provide the same level of craftsmanship.
Many top Swiss watch brands, who are known for meticulous and traditional watchmaking processes, have since learned how to adapt to ever-changing technology, have a wide array of smartwatches to choose from. Below, we're going to talk about some of the best ones on the market today.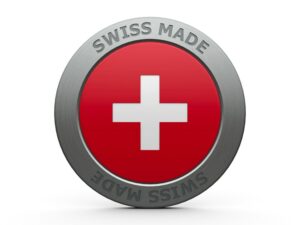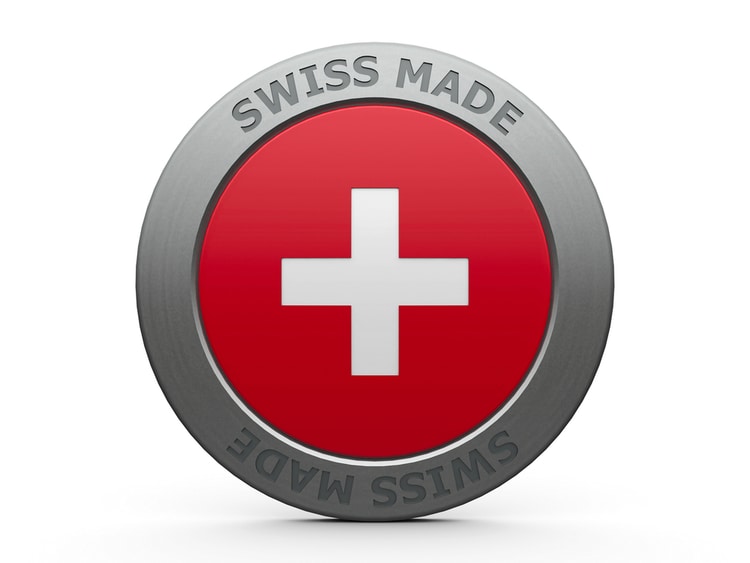 If you're looking for a smartwatch, Swiss watch companies have shown that they are just as skilled as their American counterparts. Here are some of the best Swiss models today—from having hybrid (a combination of digital and analog) to full-on digital features.
Best Swiss Smartwatches
Montblanc Summit Collection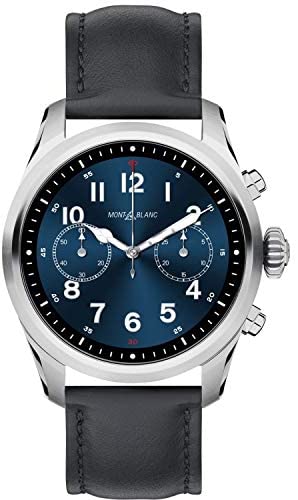 Swiss watchmaker Montblanc has the Summit collection, which the brand describes as "fine watchmaking meets state-of-the-art technology." This line of watches has smartwatch essentials—aside from providing the time, it also has functions under Wear OS by Google, as well as different connectivity options (WiFi, GPS, LTE, or Bluetooth).
There are currently three types of watches under the Summit range: Summit Lite, Summit 2, and Summit 2+. It is worth noting that Summit 2+, which has a slightly bigger case, is the first LTE-enabled smartwatch powered by Wear OS.
What makes Summit watches special are the exclusive apps. Built for those who need health and fitness functions, it has the Cardio Coach feature, which has live coaching advice and personalized workouts. It also has the Stress Management feature, which helps the wearer track their physical and mental stress levels. Those who need a clearer picture of their sleep habits can use the Sleep Quality feature, which has personalized recommendations to improve rest and sleep quality.
Mondaine Helvetica No.1 Swiss Made Smartwatch (MH1B2S80LB)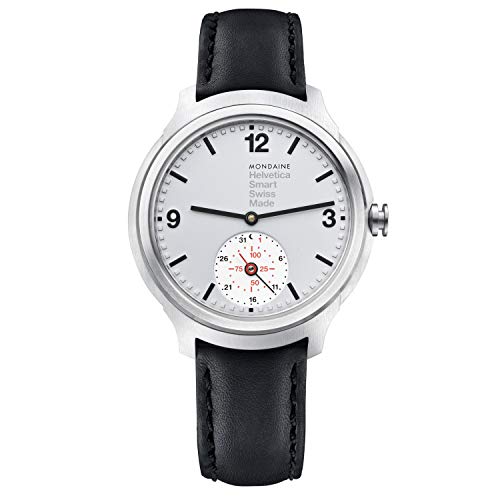 Mondaine is a company known for watches that have the same design as the official Swiss railway clock face, as well as watch layouts that are easy to read. One of their most popular watch designs incorporates the Helvetica, one of the most popular and most commonly used typefaces.
The Mondaine Helvetica No. 1 is a type of "hybrid" smartwatch, which means it has both analog and digital features. This type of smartwatch is for those who are looking for something that doesn't look too "digital," a timepiece that still looks like a regular watch, but has digital smartwatch functions like pairing with Android or iOs, activity tracking (as well as health, sleep, and steps).
One of the special things about this model is the long battery life—a regular, digital smartwatch needs to be constantly charged, but this one has up to over two years of battery.
If you'd like to read more about hybrid smartwatches, you can visit this article, where we talk about the technology and the different watchmakers that make them.
Frederique Constant Vitality Smartwatch


Luxury watchmaker Frederique Constant is known for creating classic, luxury timepieces. The brand has a line of smartwatches that, like the Mondaine model above, is a hybrid style. The watches still look like regular watches (with the brand's famous branding at 12 o'clock), but has digital functions.
The Frederique Constant Vitality model, available in Ladies and Gents sizes, looks like a simple, classic watch with a plain black dial and a combination of Roman numeral and index markers. This model, however, has a digital display at 6 o'clock that shows information when the crown is pressed.
The digital functions can be connected to the brand's app, where the wearer can keep track of their health and lifestyle data, such as heart rate and sleep. It also has time and notification features like weather, message review, and alarms.
The Gents Vitality line has a number of styles available (check them out here).
Alpina AlpinerX Smartwatch


Geneva-based watchmaker Alpina has been around since 1883. The brand, known for high-quality outdoor watches, creates accurate timepieces that continue to enjoy popularity among athletes, sports enthusiasts, divers, and pilots.
Alpina is known for its classic, robust watches and the brand has also joined the smartwatch trend. They have the Alpina AlpinerX, a smartwatch fit for the outdoors, and excellent for those who would like to enjoy fitness and health features.
The brand refers to the AlpinerX watches as "sporty yet connected." The stainless steel watch, which also has a hybrid style, has features like a world timer, heart rate and sleep monitoring, weather update, notifications (messages, calls, email), and activity tracking.
All AlpinerX models can gather data to the wearer's smartphone using the brand's companion app. This collection has a number of versions, like different strap colors and materials. Check out the Alpina site to see them.
There are also get-active alerts, breathing exercises, and the "dynamic coach" feature, which are for those who need guidance in their fitness goals.
TAG Heuer Connected Smartwatch


This one's a luxury smartwatch model from TAG Heuer. The brand's Connected smartwatch, which is made from Grade 2 Titanium and stainless steel, has a 100% active screen and a scratch-resistant sapphire crystal. Some of the main features include an accelerometer, GPS, compass, and a heart rate sensor.
Powered by WearOS by Google, the TAG Heuer Connected Smartwatch gives notifications of calls, texts, and emails. It also has a "personal assistant feature," which can give the wearer meeting information and updates, as well as a translate feature, something that can come in handy when you're traveling.
There are a number of models to choose from (see them all here), such as this online exclusive with a steel case and a khaki rubber and leather strap. The wearer can either use the touchscreen feature or the crown and push buttons to navigate the wide array of features like pre-installed apps for fitness (Tag Heuer Sports, Tag Heuer Wellness) and a heartrate monitor.
There are some models that have since been discontinued (like the TAG Heuer Connected Modular 45), but remain available on sites like Amazon.
Hublot Big Bang e Smartwatch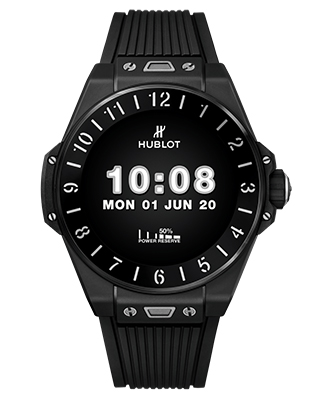 Hublot introduced the Big Bang line in 2005, then its connected version in 2018 (the Big Bang Referee, which marked the 2018 FIFA Football World Cup). Since the digital version's release, the brand has created high-quality luxury smartwatches that combine Hublot's watchmaking expertise and the latest digital innovations—or what the brand calls "a fusion between tradition and innovation."
The Big Bang e watch has a 42mm case and is available in grade 5 titanium or micro-blasted and polished black ceramic. Available in both Android and iOs, the watch is powered by WearOS by Google. The wearer can able to access apps on Google Play, as well as make use of Google Assistant or Google Pay.
Other features include a perpetual calendar, GMT, and an array of digital Hublot watch faces, including one by contemporary artist Marc Ferrero, who has other design collaborations (such as this one) with Hublot. The watch is also water-resistant to 30m.
Hublot notes that the availability of some features like the Google Assistant or Google Pay may vary on the platform and the country where they're being used.
A review by A Blog To Watch reviews that the watch is similar to the Big Bang, in a way that one can forget that it's a smartwatch. It points out, however, that the watch does not have a heart rate monitor, a feature that is commonly available in mainstream brands like Apple and Garmin. The review also says that while it's pricey for a smartwatch, it's a relatively affordable timepiece for a Hublot watch. You can read the rest of the review here.
Alpina Women's Horological Smart Analog Display Swiss


Another one by Alpina, this one is under the women's line. The Alpina Swiss Horological Smartwatch, a hybrid, has an analog display and digital functions. Like the Frederique Constant model above, this looks more like a regular watch than a smartwatch, making it perfect for those who want something that has both traditional and digital features.
Some of the main features of this watch are an activity tracker, sleep monitoring, adaptive coaching, and "Get-Active" alerts, which let the wearer know if they had been idle. Powered by Android and iOs, the watch also has a coach feature that gives suggestions on how to reach goals, a world timer, and a cloud storage option that independently stores the phone data for 30 days without it being synchronized to the owner's smartphone.
This 39mm dress-style watch has a stainless steel case and elegant diamond markers, minute markers around the outer rim, and a combined date and 1/100th second subdial. The watch is also water-resistant to 100m.
Those who are looking for more hybrid watch choices, check out this article on our site to see some of our recommended brands.