In terms of design, smartwatches come in all shapes and sizes, but there are also many differences in the underlying hardware and the features on offer.
Whilst brands like Apple and Samsung try to capture the mainstream market with a "one size fits all" approach, many brands are targeting smaller segments of the market with niche-specific features. There are watches for fitness enthusiasts, golfers, mountain climbers, Swiss watch lovers, and many other interests.
In this guide, I'll share a breakdown of the different types of smartwatches and the key things each type has in common. I'll also touch on the pros and cons of each type of smartwatch to help you decide which is best for your needs.
Types of Smartwatch
General Use Smartwatches

The most popular type of smartwatch is the general-use smartwatch. These are designed to be suitable for a wide range of occasions, from checking your notifications on your commute to listening to music during your daily run.
Most of the flagship devices from popular brands such as Samsung and Apple can be considered general use smartwatches. They tend to be a jack of all trades, but master of none. Many devices will have built-in GPS, the ability to make/receive calls, media controls, and
To help them accomplish such a broad range of tasks, they will usually have a comprehensive operating system, such as WearOS or Tizen, which allows them to run different apps from the manufacturer and often from third parties too. The downside to this is that they are usually power-hungry so you'll need to recharge them most days.
Fitness-Focused Smartwatches

Fitness-focused smartwatches are designed to appeal to those looking to monitor their workouts and track their overall health. A slim aesthetic is essential for fitness smartwatches as this ensures they do not obstruct your workouts.
The casing will often be made from lighter materials, such as aluminum or plastic instead of stainless steel, and manufacturers will usually include a silicone strap that is more comfortable on your wrist.
In terms of features, fitness-focused smartwatches will often have onboard music storage and Bluetooth capability. This allows you to work out without needing to carry your phone with you, this is especially important for runners who may not have anywhere to store their phone during a run.
Some of the more premium fitness smartwatches will also have the option for a cellular connection, again this is aimed at improving the tether-free experience and allows you to receive calls or reply to messages without your phone.
They will also have GPS and an accelerometer for tracking your routes and should integrate with your favorite fitness apps such as Strava or Google Fit.
Budget Smartwatches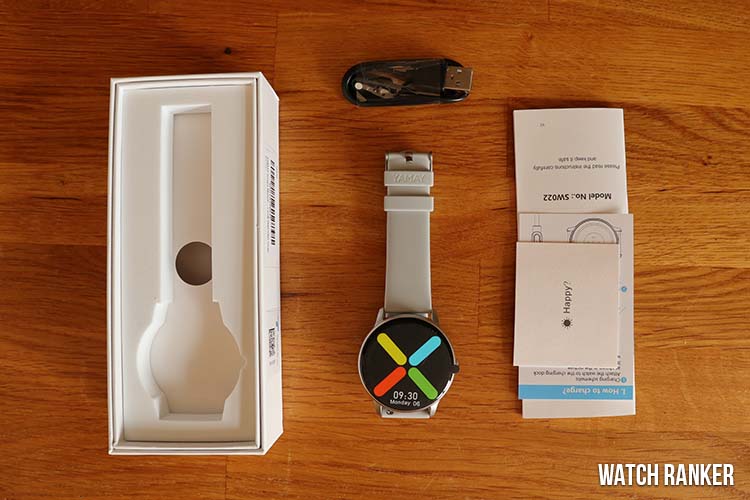 Read our Yamay Smartwatch Review
If you're not willing to splash out too much of your hard-earned cash on a smartwatch, then a budget smartwatch might be a good pick.
These tend to be priced under $50 which makes them very accessible, although you will have a more limited set of features compared to some of the flagship general use smartwatches.
A typical budget smartwatch will mirror your notifications, track your daily fitness goals such as steps or calories burned, and control media. Unlike general-use smartwatches, they cannot download apps so you are limited to the features they ship with.
On the plus side, as they do not perform so many functions, you can expect a very decent battery life, often lasting many weeks on a single charge.
Luxury Smartwatches

Luxury smartwatches are designed for those looking to make a high-end fashion statement as well as having a useful gadget on their wrist.
Many traditional Swiss watchmakers are turning to the smartwatch market as a way of remaining relevant and making use of the strong brand affinity and loyalty their brand receives. Examples of brands that have launched luxury smartwatches include Tag Heuer, Breitling, and Frederique Constant.
There is a lot of crossover between luxury smartwatches and general use smartwatches as many of them use the same underlying platforms such as Google's WearOS. The key difference between the two is that you're paying a premium price for the high-end look and recognizable brand.
Although they often use the same operating system, many will also come with bespoke watch faces that are only available on that watch as another point of difference.
GPS Smartwatches

GPS smartwatches are the evolution of GPS watches that have long been used by hikers, mountain climbers, and general outdoor enthusiasts. Their primary purpose is still to provide navigation and tracking, but many now have smart features such as notification mirroring and integration with other fitness apps.
At a first glance, a GPS smartwatch might seem similar to a fitness-focused smartwatch since they both have GPS and track your workouts. The key difference is the accuracy and real-time feedback from a GPS watch. They will continue to monitor your position to provide detailed routes and you can often see real-time pace if you're running or cycling.
Conversely, a fitness-focused smartwatch tends to rely more on the watch's compass and accelerometer to estimate your routes, steps, and other fitness goals. This is handy for amateur fitness fanatics but isn't reliable enough for elite or endurance athletes.
Hybrid Smartwatches

A hybrid smartwatch has a traditional analog watch face but still contains a processor, onboard sensors, and connectivity to communicate with your phone. This allows it to perform all of the tracking features such as tracking your workouts or your heart rate but without the interaction with the watch face.
Most hybrid smartwatches do have a small smartwatch screen that sits within the main watch face, although this might only be big enough to show your daily step count or to let you know when you have a new notification. There will be little interaction on the device itself as you'll need to use your phone to set up the watch and make any changes to the settings.
One of the biggest benefits of this type of smartwatch is battery life. Without the typical screen, a hybrid smartwatch can often last a month or longer on a single charge. If you do ever run out of battery, this will only affect the smart functions so you'll continue to have a working analog watch.
Hybrid smartwatches were hugely popular in the early days of wearables as many of the flagship devices were large and bulky on your wrist. However, they have become less popular now that manufacturers have managed to reduce the size of general use smartwatches.
Smartwatches for Specific Sports

There are several smartwatches that have been designed with specific sports in mind. These tend to be similar to the fitness-focused smartwatches but with extra apps or features to aid in that sport.
One example is golf smartwatches such as the Garmin Approach. These often have course maps downloaded along with GPS to help you get around and automatic tracking of how many shots each hole takes.
Another popular example is smartwatches designed for mountain climbing, there are rugged smartwatches designed to withstand extreme temperatures and with screens that will work well in direct sunlight.
There are also dedicated watches for rowers, mountain biking, and even watches designed for skiing.
The downside to these watches is that they tend to be more expensive than a typical fitness smartwatch and will only provide good value if you're a regular at that sport.
What Kind of Smartwatch Do I Have?
It can be difficult to segment smartwatches as one specific type, this is because they often display characteristics that would see them fit under several of the categories mentioned above.
If your watch has the ability to install apps from the manufacturer or a third party, it's most likely a general use smartwatch. Otherwise, it probably has a specific use case that can be identified from the model name or the manufacturer's website.
Often, it's possible to tell which type of smartwatch you have by the brand name. For example:
Apple and Samsung tend to make general use smartwatches
Garmin and Fitbit make fitness-focused smartwatches
Traditional Swiss watchmakers make luxury smartwatches
Polar and Suunto make GPS smartwatches
Do I have a Smartwatch Or Fitness Tracker?
The lines have continued to blur between smartwatches and fitness trackers. Many smartwatches now have built-in fitness tracking, and many fitness trackers can mirror your notifications or store your music. So, we can no longer use the features as a way of defining the difference between the two. Instead, you should look at the aesthetic of the device.
A smartwatch should look and feel like a traditional watch, it will have a round or square watch face and either an always-on display or a lift-to-wake screen. On the other hand, fitness trackers tend to look more like a bracelet and don't have the full-color screen that smartwatches have.
Of course, it's not always easy to tell as many traditional fitness tracker brands such as Garmin and Fitbit have moved into the smartwatch space, often choosing a middle-ground between the two. If in doubt, check the manufacturer's website or the manual that came with the device as this will tell you whether it's a smartwatch or fitness tracker.
To find out more about the differences between the two types of wearable, see our full article on smartwatches vs fitness trackers.
What Are the Different Types of Amazfit Smartwatches?
According to their website, Amazfit makes 4 different kinds of smartwatches: their flagship, sports, basic, and fashion. These are fairly similar to the types of smartwatches we identified earlier in this article.
Here is a breakdown of the different types of Amazfit smartwatches and which devices are included:
Amazfit flagship smartwatches: Verge, Nexo, and Amazfit X
Amazfit sports smartwatches: Neo, T-Rex, and Stratos
Amazfit basic smartwatches: Bip
Amazfit fashion smartwatches: GTR and GTS
What Are the Different Types of Garmin Smartwatches?
Garmin's evolution from a fitness tracker brand to a leading smartwatch manufacturer means that most of their devices are fitness-focused. They also have several smartwatches aimed at specific sports too.
Here is a breakdown of the different types of Garmin smartwatches and which devices are included:
Garmin fitness-focused smartwatches: Venu and Vivoactive
Gamin GPS smartwatches: Fenix and Instinct
Garmin smartwatches for specific sports: Forerunner (running), Approach (golf), Descent (diving), Swim (swimming), and Quatix (sailing)
What Are the Different Types of Samsung Smartwatches?
Samsung is attempting to achieve a broad mainstream appeal for their smartwatches so they usually tend to be general use devices. That being said, the latest generation of Samsung smartwatches also included a fitness-focused variant.
Their current flagship device is the Samsung Galaxy Watch 3 which is one of the most popular smartwatches with third-party apps and their signature rotating bezel.
Then there's the fitness-focused Samsung Galaxy Active 2 which is near identical in specs but sports a much slimmer aesthetic and loses the rotating bezel in favor of a more streamlined touch-sensitive version.