When it comes to golf, every little accessory you wear or bring and even a little extra weight may matter since it may affect your swing. As such, there is no united resolution on whether or not to wear a watch during a golf game. But, if you want to know more about the golfers' stand on this, read this post.
Regardless, there is still a market of golfers who prefer to have a watch with them. If you are one of those, then this post is for you. We didn't just compile some light and good-looking watches. Instead, this list features watches that will help you find a course, measure distances across your course and even record your playing stats.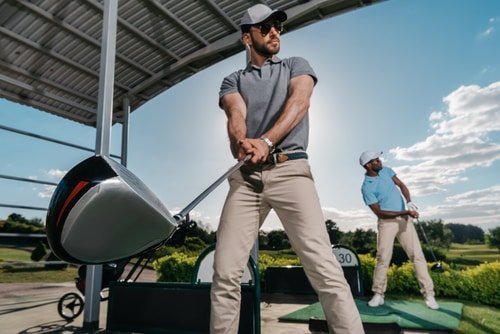 Best Golf Watches With GPS
Garmin Approach S62: Premium Pick

We start off our list with the technologically impressive Garmin Approach S62.
When it comes to sport-specific smartwatches, Garmin really is ahead of the pack, from swimming to cycling watches, Garmin has cutting-edge features and golf is no exception.
The features you get and the seamless integration with the companion "Gamin Golf" app put it several strokes ahead of the competition. Combine that will the optional accessories such as the CT10 golf club tracking sensors that automatically track every shot you take – on any club (including putts) and you have a tourney-winning combo of hardware and software.
*** Garmin recently came out with an upgraded S62. If you're considering buying the S60, click here to see a side-by-side comparison of the S60 and S62 to decide if you think the more advanced playing and training features make it worth upgrading to the newer model.
Moving forward, for your golf game, this watch is already loaded with more than 40,000 preloaded golf courses that you will find around the world. You won't even have to purchase them! The watch even auto-recognizes the course you're on once you put it on golf mode.
What's more, since you can already see and load your course on your watch, the touchscreen of Approach S62 also allows you to move the flagstick at any point on the course. By doing this, you'd also be provided the exact distance to the pin.
The Approach S60 can also track and remember your score. It has an AutoShot game tracking that detects your shots and records your scores for each hole. You can check and compare your strokes in each round. You don't even have to upload your data to your phone or computer right away because the watch itself comes with 1GB of internal memory. But, if you want to compare scores with your golf buddies, the Garmin Connect phone app will make it a lot easier.
Aside from all its smart and helpful features, the overall look of this GPS golf watch would also make you want to wear it even when off the course. It looks great and sleek and comes with convenient QuickFit bands that are comfortable on your wrist. The screen is also large and bright, making it easy for anyone to read the displays even in direct sunlight.
There is so much more to love about this golf watch we could go but you can also check out the full specifications of the Approach S62 on Garmin.com.
Garmin Approach® S60: Runner-Up
If you're looking for a premium golf watch but don't need the latest and greatest you could opt for the Garmin Approach S60. You'll save about $100 off the S62 (based on Garmin's pricing as of Feb 2021) and still get a feature-packed watch.

Read Amazon Reviews | See on Garmin
Golf Features
Other Features
But, the new feature on this watch that most customers really loved is its multi-activity tracker. As such, it is not only useful for your golf games but also for running, swimming, biking, even snowboarding, and rowing!
"Will it last for the whole game or activity?", you might ask. It sure will! Even though it is packed with smart features, the Approach S60 will last for up to 10 hours even when you're using the GPS, up to 10 days when in smart mode, and much longer if you'll use it just as a simple watch. It is packed with a rechargeable lithium-ion battery so you can easily plug it into your computer and any USB-charger.
Samsung Galaxy Active 2 – All-Around Smartwatch
For Samsung smartphone owners or any Android user wanting to pair a compatible watch with their phone, it's definitely worth looking at this special Golf Edition Galaxy Active 2 Watch that Samsung has launched. There's an LTE version for tether-free calls and messaging, an Under Armour Edition which comes with a built-in running coach, and, our favorite, the golf-edition which is perfect for taking out on the course.
The underlying hardware and build of the watch will be identical to the standard Active Watch 2 with the slim design and touch-sensitive bezel for navigating the interface. It comes with a new rubber strap that is more breathable than the standard Galaxy Active 2 strap and more suited to long games on the course.
There's a new Smart Caddy app that's only found in the Gold Edition. This has satellite maps and information for over 40,000 golf courses across the USA and other countries, including distances and views of the green.
The app can use the watch's GPS to show you how far to the green. You can also track your game and progress using the built-in yardage book which also uses GPS to track the distance that you walk between the shots.
Garmin Approach® X40: Ladies Pick
Read Amazon Reviews | See on Garmin
If your leaning towards getting a Garmin golf watch but have smaller wrists or just want something more discreet (and more affordable), take a closer look at the slimmer Garmin Approach® X40.
The features of Approach X40 are very much similar to that of Approach S40, except that its display is rectangular and its band is sleeker. It is perfect for those with smaller wrists and/or female golfers. The downside, however, is that its battery is only good for 5 hours when on GPS mode.
Read more about Approach X40 here on Garmin.com
Bushnell Neo Ion 2 – Budget GPS Watch
Read Amazon Reviews | See on Bushnell Golf
The Bushnell Neo Ion 2 is a Bluetooth-capable GPS golf watch. Bluetooth connectivity is beneficial especially if you install the Bushnell App on your smartphone. Through this, you can choose from more than 36,000 pre-loaded golf courses located from only 30 countries, which is still less compared to the number of pre-loaded courses in Garmin Approach model but still impressive.
Ion 2 can also measure distances with auto-hole advance, calculate shot distances, has an odometer, and step counter. However, there have been concerns that the GPS connectivity may lose at some points. In such instances, you will have to sync your watch with your phone again to find the course and hole you're playing.
The Ion 2 battery will last for up to 12 hours without having the need to recharge. Another feature that stands out about this GPS golf watch is the reversible strap. Black may be turned to blue, and silver may be turned to green.
Golf Buddy Aim W10 GPS Watch: User-Friendly

Primarily, there are two words to describe the Golf Buddy Aim W10 GPS Watch – simple and easy-to-use. It stood on its concept to make the watch simple by not including any online and Bluetooth connectivity, so it is focused on being a GPS golf watch or as a standard watch when off-course.
Making it easy to use is a golf button along the side of the watch face so you can quickly switch to Golf Mode or back to watch mode.
For the Golf Mode, this watch is still equipped with the basic features you need such as the around 40,000 pre-loaded courses in over 170 countries. Automatic course and hole recognition, Green View display, hazard yardage, shot distance calculator, and an odometer.
Its battery will work up to 11 hours Golf mode before (a 2-hour upgrade from the previous Golf Buddy WT6 model) and up to 60 days when in watch mode only.
GolfBuddy also provides a 1-year limited warranty on this W16 so better make sure that your unit is covered especially considering that there have been a significant number of complaints on some W16 units.
Evidently, the GolfBuddy W16 does not intend to compete with the previous Garmin Approach models. Rather, it is designed mainly for new golfers and marketed as an entry-level GPS golf watch. In such a target market, this one won't disappoint.
Tag Heuer Connected Modular Golf Edition – Luxury Pick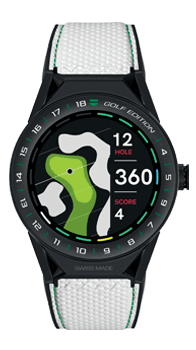 See full specs on Tag Heuer | Check eBay
Last on the list of best GPS golf watches is one very recently announced by Tag Heuer – the Tag Heuer Connected Modular Golf Edition.
It is mainly designed after the Connected Modular 45, which is one of the most expensive smartwatches you can buy! From its bezel alone, you can instantly see that this smartwatch is dedicated to golfers, which indicates the 18 holes of a typical round. The watch is made of PVD titanium and the strap is made of rubber. There are also green accents along the white strap and watch body.
Alongside the release of this golf watch is the launch of its partner app, the Tag Heuer Golf app. Through this, you can access the watch's golf features such as the preloaded courses, Green View display, hazard distances, shot distance, and score tracker.
The primary downside of this smartwatch, however, is the price. Because as you might think, it is indeed a luxury golf watch.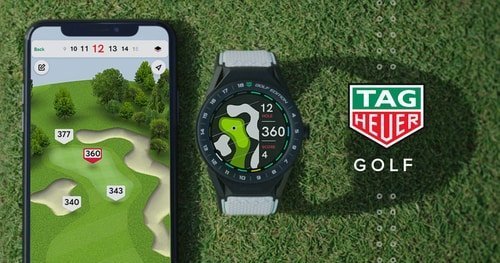 Garmin Approach® S40
Read Amazon Reviews | See on Garmin
Another GPS golf watch from the Garmin Approach collection is the Approach® S40. It comes with a 1.2″ color screen with a sunlight-readable display and quick-release bands so you can easily swap its sporty strap with a more formal band.
Its features are similar to that of Approach S60. It comes with the pre-loaded courses, the Green View that allows you to move the pin and score tracker. The Approach S40 is also equipped with "AutoShot Game Tracking" that can project the distance of your stroke and accurately measure distances from hazards.
For better and more automatic game tracking capabilities, you may connect your Approach S40 to the Approach CT10 club tracking sensor. If you want a CT10 together with your Approach S40, you can directly buy a bundle from Garmin here.
Aside from the C10, you may also connect it to your smartphone so you would always be in touch with your messages, emails, calls, and other important notifications. You may also download the Garmin Golf app on your phone for live scoring and real-time leaderboard updates.
Interestingly, its battery life is quite longer than that of Approach S60. When in GPS mode, the S40 can last up to 15 hours (as compared to S60's 10hours). On smartwatch mode (What does this mean? Read more about smartwatches here.), the battery is good for 10 days without recharging.
See more details about the Garmin Approach S40 here.
Garmin Approach® S20
Read Amazon Reviews | See on Garmin
Another Garmin Approach model that you would love to take to your golf game is the Approach® S20. Unlike the Approach S60 and S40 models that come with a circular display, the S20 showcases a square display although it is still not as sleek as that of X40.
Its features are also mostly similar to that of S60 and S40. It is preloaded with more than 40,000 golf courses (and free course updates), provides the yardage you need about the course, the Green View display to help you through your hole, TruSwing compatibility, and C10 compatibility. (see the Approach S20 & C10 bundle at Garmin.com)
Anyway, what it really boasts of is its battery life of 15 hours (similar to that of Approach S40) when on GPS mode and up to 8 weeks when in using the activity tracking feature.
See more detailed specs of the Approach S20 on Garmin.com
Garmin Approach® S10
Read Amazon Reviews | See on Garmin
The last of the Approach models for this review is the Approach® S10. Because of its square display, it looks very similar to Garmin Approach S20. Its design is a lot simpler, although it's fashioned after the Apple Watch.
It comes with a 1.3″ sunlight-readable screen. However, at the onset, you must know that it is not a touchscreen. Rather, to navigate it, you will have to use the four buttons located at the sides of the watch face.
Regardless, the Approach S10 is also equipped with features that you'll appreciate during your golf game – pre-loaded courses, yardages, and score tracker. You can even upload your scorecards to Garmin Express and participate compete with the top players on the leaderboards of the Garmin Golf app.
When in GPS mode, the rechargeable battery can last for 12 hours. Also, the watch is water-resistant up to 50 meters deep (rated 5 ATM).
See full specs of the Approach S10 on Garmin.com
Garmin Approach® X10
Read Amazon Reviews | See on Garmin
If the Approach S10 still seems to be too big for you, Garmin has a slimmer version as well – the Approach® X10.
Although slimmer, you might be surprised to know that the X10 is actually designed with a touchscreen display. It is also packed with intelligent golf-related features such as the 41,000 preloaded courses, Green View display, and distance.
You may also use the Garmin Express to find new courses and it updates for free. Its water rating is also 5 ATM, meaning its resistant to water up to 50 meters deep. Its battery, on the other hand, can go for 23 days if used as a standard watch and up to 12 hours when on GPS golf mode.
See the full specs of the Approach X10 on Garmin.com
TomTom Golfer 2
Read Amazon Reviews | See on TomTom
The TomTom Golfer 2 is the improved version of its predecessor, the TomTom Golfer golf watch. It is also equipped with the basic features you'd expect from a GPS golf watch – hazard yardage measurement, auto-shot detector, score tracker, more than 40,000 pre-loaded golf courses, and activity tracker.
However, the auto-shot detector is not very accurate since it detects other movements at times. It also has a Green View function but was found to be not very helpful. Another low point for this golf watch is that it is not a touchscreen.
Nevertheless, it has a battery that can last for 11 hours when using GPS, interchangeable bands with a tri-fold closure system for better hold on your wrist; sleek design; and water resistance up to 40 meters.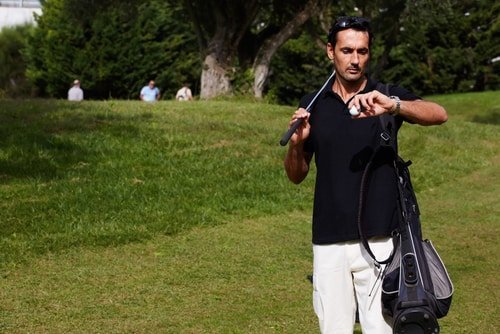 What About Garmin TruSwing™ sensors?
**We had recommended getting the TruSwing™ sensor in the past as a great accessory for the Approach watches but as of early 2021, these have been permanently discontinued.
If you're looking for the ultimate golf combo, the Garmin Approach S60 is compatible with the TruSwing™ sensor that analyzes your swing speed, club path, club head tempo, and even your shaft angle. The sensor easily mounts right on your club just below your grip and sends tons of useful data about your golf swing to your wrist.
You can also see the data on your smartphone or tablet including a 3D rendering of your shot and the ability to compare to past shots with the same club. Although you may buy and use the Approach S60 without this accessory, it's a great training aid that can help you improve swing and take strokes off your game.
Here is a quick video that shows some of the features of the sensor.
(Please note, the Approach models have all been updated. The video refers to a small number of previous models, but there are currently many Garmin watches and devices that are compatible (see the current list of devices compatible with TruSwing on Garmin.com)
The watch is also compatible with other Bluetooth-ready devices, such as your phone. As such, you can access and read your messages and emails, answer phone calls, and control your song playlist.
One Golf Watch To Avoid:
As you search for an affordable GPS golf watch, you might also encounter the GT1+ Golf Watch from POSMA. Based on its advertised specs, you may think that this watch looks very promising especially considering its price. However, such is not the case. There is a surprisingly high percentage of bad reviews on Amazon, with many buyers stating that this watch disappoints and does not function as you'd expect it to.
Among the most common feedback is that the GT1+ suddenly stops working properly after a month or less. This is due to various reasons – for some, the battery will not charge anymore; others complain that there's a problem with the memory that can't be resolved; there are also instances that the watch needs to be connected to PC but the watch will still not sync. There are also reviews that the course information is not accurate.
So, if you want a reliable and accurate GPS golf watch, we recommend you choose one from one of the watches we presented here (or their previous versions). You may also look for other golf watch models from the brands mentioned here, or from other well-known golf brands or watch brands.
Conclusion
Whether you are a beginner just trying to avoid the hazards on the course and figure out how to deal with doglegs or an advanced golfer looking to dial in your shot slightly closer to the pin, you'd find a watch that will suit you and will provide the data that you will need. And hopefully, you'll be able to improve and develop your golf skills from the first tee to the final green. But these watches are not just about the features. Even when off-course, these watches come in great design and look stylish.