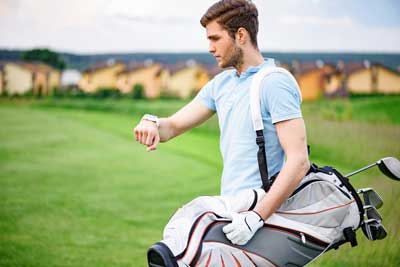 Below we cover the pros and cons of wearing a watch on the course. If you are looking for a good GPS Golf Watch see here.
The pitfalls of wearing a watch while golfing:
There's certainly no rule that requires golfers play without their watches, but I've found that most professionals and serious golfers do not wear a watch when they golf. Some of the reasons will seem pretty obvious, but others are more about personal taste.
The hard impact of a golf swing sends a shock up your arm and into the watch.
Dress watch movements are surprisingly vulnerable and can be damaged (compared to sports watches or tactical watches).
The small extra weight of a watch on your wrist can throw your natural swing out of balance.
If you wear a watch, avoid leather straps (the sweat can ruin them or they get pretty stinky).
The first reason to leave your watch at home (or, at least in your bag) is the risk of damaging it.
Golf isn't exactly a contact sport, but that doesn't mean there aren't plenty of opportunities to scratch or damage your watch while taking your swings.
Also, the hard swings and sudden jolts can affect the mechanisms inside the watch. If you have a cherished watch as I do, it might be safer to swing free.
Most golfers will say that the weight of wearing a watch (or even a wedding ring) affects their swing. I was so used to wearing my watch all the time that I never gave it much thought, but it is basic physics that extra weight on your wrist will slow down your swing.
Even if you are just a casual golfer like me, there's another good reason to swing without the watch: golfing is all about enjoying a break from the world. Why have that constant reminder of the time and your responsibilities wrapped around your wrist? Enjoy a few hours in the sun, free from the incessant ticking.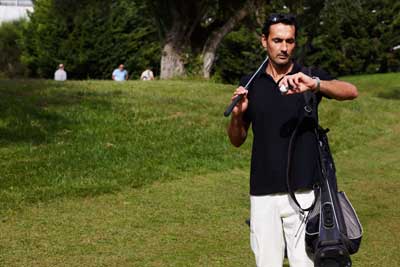 I've never thought much about what I wear when I'm golfing. In general, I make sure to have comfortable shoes and pants that give me plenty of flexibility.
Otherwise, I usually just throw on whatever shirt I have and head straight out. This last Saturday, though, as I was taking swings at the golf range, I realized halfway through a swing that I hadn't worn my watch.
I never go anywhere without my watch. It's a Zenith Defy Classic and it's among my most prized possessions. Golfing without it, I suddenly felt naked. That's when I looked around and noticed that most of my fellow golfers at the range weren't wearing a watch.
That got me wondering: do the pros wear watches when they're golfing?
Fashion on the golf course
Let me set the scene. Last weekend, I had no chores on my to-do list and no plans with friends. On Saturday, I went down to the golf range for a few hours to practice my drive. The following day, I watched a golf tournament from my couch. In other words, it was the perfect weekend.
That Sunday, as I sat watching golf, I was obsessed: who did and didn't wear a watch during the tournament? From what I could tell, it seemed like most weren't wearing a watch, but some definitely were. It left me wondering, is there any benefit to leaving the watch at home?
The effect of a watch on my golf game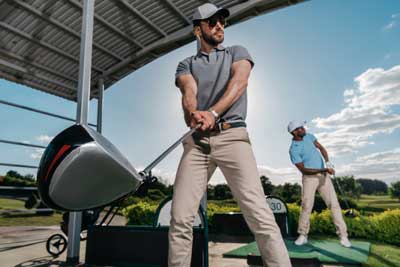 I must admit, my golf game still needs a little work. Well, a lot of work. I'm not what you would call an avid golfer, but I enjoy the sport and I find it extremely relaxing to get out in the sun and take some swings.
My drive is getting stronger and more accurate, but I still have a share of weak spots in my game, especially when it comes to putting on the green.
Last Saturday, as soon as I realized I wasn't wearing my watch, it was all I could think about. Was I swinging freer without the extra weight? Had I grown so accustomed to wearing a watch that I had naturally adapted my swing to it? Does wearing a watch have any measurable effect?
I had to know, so I started to research it.
Pro Golfers and their watches
Click here to see top Golf GPS Watches on the market
The first thing I discovered was that pro-golfers clearly love luxury watches. Whether it's long-time legend Phil Mickelson serving as a brand ambassador for Rolex (he's partial to the Rolex Cellini Danaos) or more recent stars of the sport, like Bubba Watson and his Richard Mille RM038, the Pros enjoy sophisticated timepieces.
As you might expect, the watch worn by Bubba Watson is a light watch that doesn't hamper his swing. It's got a pretty cool design, too, but it comes with a hefty price tag (click to check prices of Richard Mille watches on Amazon) so it's probably not going to be on too many Christmas lists this year.
It's no surprise that most of the PGA stars gravitate towards Rolex watches. Rolex is one of the most renowned names in the luxury watch market, and if you're playing in the premier league of your profession, you're going to want to dress to impress. It helps that Rolex has a watch for every style.
It might then surprise you, as it did me, to learn that Omega is the official timekeeper of the PGA. Omega watches don't enjoy quite the broad name recognition of Rolex, but any watch aficionado recognizes this Swiss watchmaker as one of the finest in the world, popular both for their quality and style.


The result is this collaboration with the PGA is the Omega Seamaster Aqua Terra Golf Edition. The collection features two watches: "Green for Garcia" dedicated to Serio winning the green jacket at the 2017 Masters and "Worn by Rory" in honor of Rory McIlroy which comes with a sporty orange and black striped nato strap.
Despite this close relationship between the game of golf and luxury watches, though, most professional golfers don't wear a watch when they play. The aforementioned Bubba Watson is a notable exception to this rule, but in general, the pros play unadorned. So why is that?
Here's an interview with Greg Norman on the watches he wore while he played professional golf. If you play golf, I'm guessing you know the name and depending on your age you may or may not remember watching him. Norman spent 331 weeks as the world's #1 ranked golfer during the 1980s and 1990s
Norman was actually one of the first pro golfers to play with a watch on. He gives some interesting insights, including why he would pick a particular watch to play with because it didn't reflect as much light in the afternoon sunshine. He also talks a bit about how the weight on his wrist did slightly affect his swing. Throughout the years Normal signed sponsorship deals with major watch brands including and Ebel, Rolex, and Omega.
[youtube https://www.youtube.com/watch?v=wzxPYeNCHso?rel=0]
Good Watches For Golfers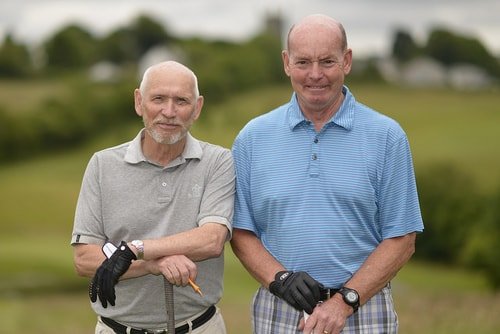 After saying all of that, I'm sure there are more than a few golfers out there who are still going to insist on wearing a watch on the range. I get it, I feel lost without mine on. For such people, there are some good, lightweight options that won't affect your game.
Fear not, though, because there are countless lightweight options available that won't require living under a bridge. When it comes to materials, titanium or aluminum watch won't weigh you down much.
Suunto makes an aluminum version of their Core watch that is stylish and boasts a ton of features like an altimeter and a compass. It's worth a look.
For my money, though, titanium is the best option. It has the strength of stainless steel without the weight. My own Zenith is titanium, but Seiko and Citizen also make some beautiful titanium watches.


The Seiko Men's SGG711 Titanium Watch comes in a classic looking 37 mm titanium case with Hardlex dial window and with day/date window. It's also a very affordable watch, especially considering the titanium and overall construction and Japanese quartz movement.
An upgrade from that, if you have the slightly higher budget for it, would be this Citizen Men's Eco-Drive Titanium Perpetual Chrono. The watch features a perpetual calendar, radio-controlled five time zones and city codes shown on an inset dial. The watch is rated for 200 m (660 ft) water-resistance. Apart from all the features, the silver-tone watch with black tachymeter top-ring is very elegant fo off the course and could be a great business watch even for high-powered wall street professionals.
The watch also has an anti-reflective sapphire dial window, known as one of the most scratch-resistant materials available.
I should note, if you don't have a preference between an analog watch and a quartz battery watch, the latter tend to be lighter because they require less internal mechanics.
Ultimately, what it comes down to is, if you love wearing a watch and golfing, there's no reason you can't do both at the same time.
Personally, I think I'm going to try going bare-armed for the next few sessions on the range, but if I don't notice an immediate difference in my game, I'll probably go back to wearing my Zenith. What can I say, I'm a man of habit. Happy golfing!