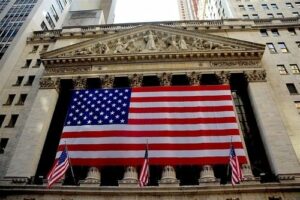 For decades, "Wall Street" has served as shorthand for great wealth, flashiness, excess, and, of course, greed. In the decades since Michael Douglas famously extolled the value of avarice, the nation's relationship with Wall Street has had its up and downs.
Meanwhile, investment bankers and stock traders have continued doing what they do best: making money.
When people think of a Wall Street banker, they picture fine, Italian suits, slicked-back hair, and a shiny, jewel-encrusted watch.
The high-end wristwatch has been a symbol of success for decades and nowhere does that symbol have more weight than on Wall Street.
Which watches best exemplify the high stakes and lucrative world of investment bankers? Read on.
---
Wall Street and the age of flash

In 1987, Oliver Stone made one of his most enduring films, Wall Street. It was in that film that Michael Douglas' character, Gordan Gekko, stated without a hint of irony that, "Greed, for lack of a better word, is good." Whether the filmmakers meant it ironically or not, the "Greed is good" ethos came to define the decade – and Wall Street – especially in retrospect.
Along with greed comes wealth, and in the movie (and its 2010 sequel) the wealth of its characters is often portrayed through their glitzy timepieces. Most notably, renowned French watchmaker, Cartier, makes a big impression.
Gekko is seen sporting a Cartier Santos. One of the flagship timepieces of the brand, the Santos that Gekko wears is an elegant analog watch with a gold case, white face, and roman numerals for the hours and known as the world's first pilot watch. As his protégé, Charlie Sheen's character, Bud Fox, follows suit and buys a yellow gold Cartier Panthère.
Over two decades later, when the filmmakers returned with the sequel, Wall Street: Money Never Sleeps, Gordan Gekko was again wearing the Santos. Otherwise, Swiss watchmakers dominate the cameos throughout the sequel, including two watches by Swiss watchmaker Jaeger-LeCoultre, one by Vacheron Constantin, and a multi-dial IWC watch, worn by Shia LeBeouf's protagonist, Jacob Moore.
---
The watches of the titans of Wall Street

There's no question that all the cinematic Wall Street watches are meticulously constructed, elegant – and expensive – timepieces, but are they what investment bankers really wear? After all, Hollywood often prefers style over verisimilitude.
If you're talking about the titans of Wall Street, a few names are going to always appear in the conversation. Figures like Warren Buffett and T. Boone Pickens are so legendary that even people that have never invested a dollar or read a financial paper know of them. In the industry, there are many other illustrious names, and their watches often reflect their stature.
The aforementioned Buffett has been reliably wearing a gold Rolex Day-Date for decades.
For a man who is synonymous with wealth and Wall Street, this classic Swiss watch makes perfect sense. It's not the flashiest of watches you'll find on an investment banker's wrist, which makes sense: Buffett is known for being rather unostentatious for a multibillionaire. Fellow Midwestern billionaire, Pickens, also wears the Rolex Day-Date.
If you're looking for a little more flash from the Wall Street set, look to controversial Pershing Square CEO, Bill Ackman. He has been seen wearing the Patek Philippe 5316P, aka the Grand Complication. This tourbillon watch has style to burn with an 18k gold dial plate and alligator leather straps. With all that flash, it's still a hand-wound watch, a bit of a throwback for the relatively young billionaire.
Not all of the movers and shakers on Wall Street go flashy or even expensive with their timepieces.
Departing Goldman Sachs CEO, Lloyd Blankfein has been known to wear a Swatch, as does Stephen Schwarzman, CEO of The Blackstone Group.
While the Swiss watchmaker makes quality timepieces, most of their watches retail for less than $200. Shop Swatch watches on Amazon.
---
What watches do Wall Street analysts wear?
While it's revealing to look at what the titans of investment banking wear, the reality is that most of the people working on Wall Street aren't sitting on a billionaire dollar nest egg (though, that's probably the hope). Like almost any other line of work, the longer you've been in the game, the higher in the ranks you rise, and with that rise comes flashier wristwear.
---
What watches do Wall Street associates wear?

From there, Wall Street watches steadily get more expensive. The common theme among the timepieces of associates is Swiss watchmaking.
For over a decade, Swiss watch brands have been considered the pinnacle of watchmaking because they effortlessly mix style with reliability and precision construction.
We've already discussed the classic Rolex Day-Date, but for an analyst looking to trade on some of the brand's sophistication without seeming too pretentious, consider the Rolex Submariner.
The Submariner is one of the brand's most popular offerings, a stainless steel watch with 31-jewel movement and automatic winding. It's eye-catching without being overly flashy. This watch retails in the 5-digit range, so it's definitely for the analyst on the way up.
---

If Rolex isn't to your liking, but you still want to make an impression, consider another Swiss company, Omega.
The Omega Seamaster keeps it simple, with a stainless steel case and brown leather strap. Like the Submariner, it is an automatic winding analog watch with reliable Swiss-made movement. It's the kind of understated piece that says you know the quality but don't need to show off.
Omega is also known for being the official timekeeper of the PGA and several of their watches ended up on our list of recommended watches for golfers. Wall Street and golf have a long-standing relationship and while official votes are cast in the boardroom, many partnerships are made on the golf course, so it's not surprising that many investors also wear these watches.
---

Of course, if Swatch is good enough for some of the big-timers, why not consider the all stainless steel Dreamnight Chronograph.
For less than $200, you can still get Swiss quartz movement and a three-dial chronograph display.
Maybe it'll just be a starter watch, or maybe you'll still be sporting your Swatch when you're a major CEO.
Though the image of Wall Street has largely been cemented by the Oliver Stone film and the 1980s, the modern world of investment banking is a place for renegades and free thinkers.
Don't be afraid to think outside the box for your wristwear and, who knows, in a few years you might be setting the watch trends.

---
Smartwatches?
While Rolex will always be a popular brand on Wall Street, at least partly because its name has become synonymous with class, the younger generation of analysts is turning to another big brand name: Apple.


Apple's Apple Watch Series 4 with GPS and Stainless Steel Bracelet is the high-end of their product line.
For young investors who are also interested in health and fitness, the watch's fitness tracking apps are especially enticing. With GPS and other features, it's also a recommended watch for skiing or mountain biking so are also popular among adventure seeking professionals. as the watches blend style and modern design with features that modern technology provides like altimeters, barometers, and compasses along with useful apps for tracking activities.
However, if you really want to see Rolex equivalent of smartwatches check out the most expensive smartwatches on the market (with some over $100K!)
---
Related Video: Popular Watches on Wall Street

Featured Image: Wall Street Bull by Sam Valadi