Smartwatches have moved from being a secondary screen for your notifications to devices in their own right that can function without smartphones. As a self-proclaimed music lover, this is a big deal as it means I can listen to my favorite songs or podcasts without being tethered to my phone. This is particularly useful when I'm out running and don't want to carry a bulky smartphone.
Of all the smartwatches I've reviewed, a few stood out for their music capabilities so I decided it was about time to create a full guide for my fellow audiophiles.
The Gamin Vivoactive 4 is our top-rated smartwatch for music. You can connect your headphones to the watch via Bluetooth and it has local storage for up to 500 songs. Plus, it has the broadest range of music apps including Spotify, Deezer, and Amazon Music.
Keep reading for the rest of our favorite music smartwatches, including some with a cellular connection for streaming the radio and a sub-$150 smartwatch with offline storage.
Best Smartwatches for Music
Best Overall: Garmin Vivoactive 4
Pros/Cons:

Onboard storage for 500 songs

Supports Spotify, Deezer, and Amazon Music for offline listening

2-3 days battery life with regular use

 No microphone or speaker for making calls
Garmin's Vivoactive 4 deserves the top spot when it comes to music capability. It has onboard storage for up to 500 songs and Garmin has one of the broadest selections of music streaming apps that allow offline listening, including Spotify, Deezer, and Amazon Music.
It has a touchscreen with a transflective display which makes it easy to see in direct sunlight. Unlike AMOLED, this type of screen doesn't require a backlight which gives it a decent battery life so it won't run out quickly.
With full use of GPS and music, the watch can last around 6 hours which is great if you're planning a long run or workout, or up to 8 days in smartwatch mode. With regular usage, expect around 2-3 days on a single charge.
The watch does lack a microphone and speaker which means it cannot be used for making calls or listening to music without headphones, although the latter is easily solved with a set of wireless headphones thanks to the watch's Bluetooth connectivity.
The watch comes preinstalled with more than 20+ apps including Garmin Pay for making contactless payments. However, thanks to the Garmin Connect IQ store there are plenty of third-party apps to choose from, mostly from a fitness standpoint.
At 12.8mm, it's one of the beefier smartwatches, although its weight of 50.5g is about average. The watch also has a heart rate monitor and pulse oximeter.
Runner Up: Ticwatch Pro 3
Pros/Cons:

Has a microphone and speaker for calls or music

8GB local storage for music

Dual-screen display gives it 3 days battery life

 No rotating bezel or crown dial for scrolling
The Ticwatch Pro 3 runs on Google's WearOS which is a comprehensive wearable platform that integrates seamlessly with Android and has a huge selection of third-party apps. Plus, at 41.9g, it's a fair bit lighter than the Garmin Vivoactive 4.
The watch is unique thanks to its dual-screen which sees an LCD watch display overlaid on top of the AMOLED smartwatch display. This improves the power consumption, and combined with the 577mAh battery capacity allows the watch to last 3 days with regular use and up to 5 days with light use.
There is 8GB of local storage on the watch which can be used to download music for offline listening whilst away from your phone. However, this is one area that WearOS is still lacking as Spotify is the only major music streaming app that supports offline music. There are also apps for downloading podcasts direct to your device, such as Wear Casts.
All other music apps can be controlled via the smartwatch media control which also supports controlling Google Home speakers or Chromecast devices whilst on the same Wi-Fi network.
Don't forget the other features that make this watch great, including Google Pay for contactless payments, blood oxygen, and heart rate monitoring, and the ability to make/receive calls.
Fitbit Versa 2 – Budget Pick

Pros/Cons:

Affordable price

Offline storage for Deezer, Pandora, and MP3

Integrates with Alexa and Google Assistant

 No offline storage for Spotify

 No GPS or NFC
The look of the Fitbit Versa is quite similar to the Apple Watch with a square design and AMOLED display, although the display doesn't go right to the edge of the screen.
The Versa 2 has a fast processor that allows Fitbit OS to run smoothly, you'll notice this as you scroll through the menus.
One feature Fitbit's also have over other smartwatches is built-in support for Alexa and Google Assistant, you can speak to the smart assistants via the built-in microphone, although their response will be in text form rather than voice.
Whilst the Versa 2 does have onboard storage for up to 300 songs, unfortunately, you are limited as to what music this can be. You can sync Deezer, Pandora, and MP3 tracks that you own to your Fitbit via the Fitbit Connect app, however, there's no equivalent feature for Spotify yet.
As for battery life, the Versa 2 has an impressive battery life of around 5 days with the always-on display, some users on Amazon even report longer than this.
Being a budget pick, the watch does lack some features such as GPS for tracking your workouts or NFC for making payments.
Best for User Experience: Galaxy Watch 3

Pros/Cons:

Rotating bezel for easy navigation

8GB of onboard music storage via Spotify

Onboard speaker or connect Bluetooth headphones

 Battery only lasts one full day
The Galaxy Watch 3 is the latest smartwatch from Samsung that uses its Tizen operating system offering a sleek user interface. The rotating bezel is a stand-out feature that makes scrolling quick and simple compared to using the touchscreen or crown dial on other devices.
When it comes to music, the Galaxy Watch 3 has both an onboard speaker and Bluetooth 5.0 LE which allows you to connect your Bluetooth headphones directly to the watch for listening to music whilst running.
The Galaxy Watch 3 has a generous onboard storage capacity of 8GB that can be used for storing media. As it stands, Spotify is the only music app that allows downloading to Samsung smartwatches, however, you can still control other music apps via the media controls.
The watch looks good and would be suitable for everyday use. It's slimmer than both the Garmin Vivoactive 4 and the Ticwatch Pro 3, however, still slightly heavy if you predominantly use it during exercise.
The battery is better than previous generations of the watch, however, you'll still need to charge it each night. Luckily, charging is seamless thanks to wireless charging and an included dock for keeping by your bed.
Best for Streaming: Ticwatch 4G/LTE

Pros/Cons:

Stream music and radio via a cellular connection

Send messages and make/receive calls without your phone

Extensive range of music-related apps

 Ongoing cost of mobile data
If you're a fan of listening to the radio, then you'll want to consider a smartwatch that has a cellular connection so you can stream your favorite radio stations whilst out and about.
The Ticwatch 4G/LTE does just this. With a connection powered by Verizon, you don't need to worry about downloading music to your watch as you'll always have access to data. This also means you can use the watch for messaging or making calls, even without your phone.
Similar to the Ticwatch Pro 3, this device features its unique dual-screen display that has helped achieve a decent battery life as far as WearOS goes. This watch can achieve a full 2 days with standard use, including the 4G/LTE connection.
Google's WearOS has a broad range of music-related apps, from Spotify for music streaming, radio apps such as iHeartRadio and TuneIn, Shazam, and several top-rated podcast apps.
Aside from the improved tether-free experience, many of the features are similar to the Ticwatch Pro 3 such as Googe Pay for making payments and full integration of Google Fit.
The watch has a plastic build but with a stainless steel bezel which still makes it look premium and is one of only a handful of smartwatches built to military specs (US Military Standard 810G) which indicates it's very rugged and durable.
Best for iPhone: Apple Watch Series 6

Pros/Cons:

Seamless integration within Apple's ecosystem

Wi-Fi and cellular versions available

More onboard music storage than other smartwatches (32GB)

Only smartwatch to have a YouTube Music app

 Not well integrated with Android

 Expensive
The Apple Watch is truly a great smartwatch for music, and it's no surprise given Apple's big push towards Apple Music.
It has 32GB of onboard storage, far more than any other smartwatch, so you should have more than enough space to save all of your favorite playlists. It supports downloads from Spotify or Apple Music, providing you have the relevant subscription. Alternatively, you can load up any music you have purchased from the days of digital downloads.
When not connected via your iPhone, you can stream music to your watch over Wi-Fi, or via a cellular connection if you choose the cellular version of the watch.
Strangely, it even has Google's Youtube Music app, despite Google's own WearOS not yet having this, although you can only use it for browsing music and doesn't support syncing.
The major shortfall is limited compatibility with Android smartphones, but, if you're already invested in Apple's ecosystem with an iPhone, this is a no-brainer.
Best for Fitness: Garmin Forerunner 245 Music

Pros/Cons:

Music storage for up to 500 songs

Garmin supports Spotify, Amazon Music, and Deezer for offline listening

Supports Bluetooth headphones

Very lightweight making it great for fitness

 No touchscreen
The Garmin Forerunner 245 Music is a lightweight smartwatch (just 38.5g) that's been designed with runners and fitness enthusiasts in mind. It has GPS for mapping your runs, onboard music storage for up to 500 songs, and Bluetooth for connecting your headphones.
In terms of music streaming, Garmin has one of the widest selections of music apps that support offline listening, including Spotify, Amazon Music, and Deezer.
With both GPS and music running continuously, the watch will last for 6 hours which should be enough to get you over the finish line. Without these features, it will last around 7 days.
The integration of Garmin Coach is what makes this great for fitness enthusiasts. Garmin Coach provides you with personalized training plans and expert coaching, all of which can be synced straight to your watch so you can go without your phone.
Further adding to its fitness appeal, the watch has a heart rate monitor and blood oxygen sensors, plus it keeps an eye n your VO2 max to see how your fitness improves over time.
Best for Battery Life: Honor Magicwatch 2

Pros/Cons:

Battery life of 7-10 days with regular use

Only supports MP3 for offline listening

Reasonably priced

Good suite of health apps underpinned by Huawei

 No third party apps
The Honor Magicwatch 2 boasts some impressive specs and isn't too expensive either. It runs the Huawei Kirin A1 chipset and Huawei Lite OS which are also in the more premium Huawei Watch GT2.
It has 4GB of internal memory for music storage, however, this is only useful for MP3 files that you own as it doesn't have the offline listening ability for Spotify or other streaming apps.
The best feature of the Magicwatch 2 is the battery life. Huawei's Lite OS doesn't consume a lot of power and combined with the above-average 455mAh battery capacity, most users on Amazon report around 7-10 days battery life with normal use (not quite the 14 days as claimed by Honor).
Honor has also leveraged Huawei's health suite that pulls together all the data it collects such as workouts (using GPS), heart rate, stress level, and sleep tracking.
One lacking feature is NFC for contactless payments and fitness enthusiasts might be disappointed at the lack of Strava integration.
If battery life is important to you, we put together a full guide to the best smartwatches for battery life.
Best for Style: Michael Kors Access Gen 5 (Lexington)

Pros/Cons

Stylish watch that mirrors a traditional Michael Kors design

8GB offline storage for Spotify and podcasts

Built-in microphone and speaker for calls and music

 Battery only just lasts a full day
Smartwatches are equally a fashion accessory as a useful device. The Michael Kors Access range has been designed to emulate their traditional watches, only with all the benefits that come with a smartwatch.
The Access Gen 5 runs on Google's WearOS and has 8GB of onboard storage which can be used to store music. However, as with the Ticwatch, Spotify is the only major streaming service supported for offline listening on WearOS.
You can set the watch to automatically show music controls when you launch any media on your phone or a Google Home device such as a smart speaker or Chromecast on the same Wi-Fi network.
It has NFC for making payments and a built-in microphone and speaker which can be used for playing music, making calls, or accessing the Google Assistant.
Unfortunately, battery life is where the watch falls down. It will only just last a full day and may run out if you are using it frequently for music or GPS.
Shown here is the Access Gen 5 Lexington which has a simple stainless steel strap and is available in a variety of colors such as gold, silver, or black. Alternatively, the Access Gen 5 Bradshaw has a more detailed design with an etched bezel and dual-tone straps.
Smartwatch Buyers Guide for Music Lovers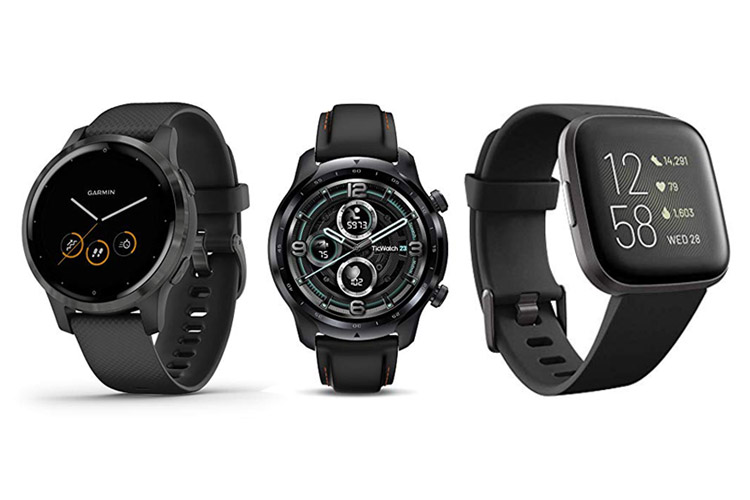 Here is a rundown of the key features that music lovers will want to keep in mind when choosing a smartwatch:
Media Control – Being able to control your media is a basic feature that is available on most smartwatches from WearOS to Fitbit and Garmin. This will give you the ability to play/pause and skip through tracks, but often nothing more.
Music Streaming Apps – A step up from basic music controls is the ability to install third-party apps such as Spotify or Apple Music. Google's WearOS and iOS have the widest selection of apps, however, Gamin and Samsung's Tizen OS also have some choices. Other platforms such as Fitbit and Huawei don't allow third-party apps so you must rely on those that come pre-installed.
Onboard Music Storage – Many smartwatches are now starting to offer built-in storage that can be used for storing music. This allows you to listen without relying on your phone, particularly helpful whilst running. Keep in mind that some will allow downloading from streaming services such as Spotify (with a premium subscription), whereas others are limited to MP3s that you own.
Speakers and Headphones – If you want to listen to music from your smartwatch without being tethered, you'll also need to ensure the watch has a built-in speaker or Bluetooth for connecting your Bluetooth headphones.
Cellular Connection – A smartwatch with a cellular connection (such as 4G or LTE) can give you access to a full library of music, rather than being limited to those you have downloaded. This is also good for streaming the radio and means you can make/receive calls without your smartphone.