One of the biggest concerns for anyone buying a new smartwatch is battery life, and rightly so. Some of the best smartwatches on the market use so much power that they only just make it through the day on a single charge. This isn't ideal if you're away from home without your charger.
Fed up with the battery life of my old Sony smartwatch, I decided to make battery life a priority when choosing my next device. In doing so, I discovered a whole world of watches doing innovative things to extend battery performance, including proprietary operating systems, solar charging, and hybrid devices that have a traditional watch face. I've shared all of my findings in this article.
The Ticwatch Pro 3 is our overall top smartwatch for battery life. Using its clever dual-screen, it still competes at the top end of the market with features that rival Samsung and Apple, all whilst achieving 3-5 days on one charge. For a premium solar-powered smartwatch with potentially unlimited battery life, check out the Garmin Fenix 6 Pro Solar.
Other Quick Recommendations:

This is just scratching the surface, keep reading for devices with a battery life of 14 days, 30 days, and even one with unlimited battery life thanks to built-in solar charging.

Smartwatches with Best Battery Life
Best Overall: TicWatch Pro 3 GPS
Pros/Cons

 Dual display allows the watch to last up to 5 days

 Can be used for making/receiving phone calls

 Google's WearOS has a broad selection of apps


 No offline music storage

 No rotating bezel or crown dial for scrolling
Google's WearOS platform is known for its poor battery performance so you won't be surprised at the lack of WearOS devices in our round-up of smartwatches with good battery life. However, we did find one that's exceeding all expectations and deserves the top spot; the TicWatch Pro 3.
This is one of the best implementations of WearOS on a smartwatch. With 1GB of RAM and the latest Snapdragon Wear processor, the operating system runs smoothly and gives you access to a huge array of third-party apps.
In terms of battery life, it lasts around 3 days with regular use including fitness tracking, or up to 5 days with light use, this is unheard of for a watch with these specs and so many features.
It manages this superior performance thanks to a unique dual-screen display where a transparent LCD screen has been overlaid on the traditional smartwatch screen.
The LCD screen is used for showing key info such as time and date, it also has a backlight for easy viewing in the dark. You'll only need to activate the smartwatch screen when you want to use it for more advanced features.
As for features, the watch also packs in blood oxygen monitor, heart rate monitoring, NFC for contactless payments with Google Pay, and the ability to make/receive phone calls. Plus, it comes with a slew of pre-loaded apps including fitness apps, voice memos, and a custom launcher.
Runner Up: Honor MagicWatch 2
See on HiHonor | Read Amazon Reviews
Pros/Cons:

 Up to 4 days battery life with all features on (14 days without always-on display)

 Lightweight and slim on your wrist

 Make and receive calls


No NFC

No third party apps or Strava integration
A close runner-up is the Honor Magic Watch 2. Until 2020, Honor was owned by Huawei, so the specs and features are similar to the more expensive Huawei Watch GT2, including the latest Huawei Kirin A1 chipset and Huawei Lite OS.
Thanks to a beefy 455mAh battery capacity, the device can last 3-4 days with full use of the heart rate monitor, always-on display, and regular GPS usage.
If you can go without the always-on display, Honor claims up to 14 days battery life, and several users have left Amazon reviews confirming that.
If you opt for the 46mm version, you'll also benefit from a built-in microphone and speaker which can be used for phone calls. Despite all the tech inside, it's still light on your wrist at 41g and just 10.7mm thick which allows it to fit nicely under any sleeve you may be wearing.
It doesn't have third-party apps but comes with an impressive suite of fitness features which center around the Huawei Health app. This combines all your tracking and fitness activity in a handy central location, although notably lacks any integration with Strava.
Unfortunately, the lightweight operating system has limited interaction with notifications and the watch lacks NFC for making payments.
Best Hybrid: Withings Steel HR
See on Withings | See on Amazon
Pros/Cons:

The hybrid design allows up to 30 days of battery life

 Accurate fitness tracking including sleep tracking

The analog watch face will function when the battery runs out


No GPS or NFC

Smart display is very small

Limited notifications from phone
The Withings Steel HR (now part of Nokia) is a simple hybrid smartwatch with a traditional watch face and a secondary, smaller OLED screen that is used for displaying the smart features.
The watch has been designed with battery life as a key concern. The hybrid design means it can last for 20-30 days on a single charge, and even when the battery runs out, the analog watch face will continue to function as a normal watch.
Of course, the small smart screen means it is more limited than a full-blown smartwatch. For example, there's no GPS, no contactless payments, and no media controls. The latter will be a blow for anyone hoping to use their smartwatch for music.
So, what can it do? Well, the Withings Steel HR is great for tracking your health and fitness. It has a heart rate monitor that can work 24/7, sleep tracking that gives you a daily sleep quality score, and activity tracking that automatically recognizes up to 30 different sports. All of this data can be easily accessed from the companion app.
In terms of notifications, it only pulls through the essential information you need, such as incoming calls and messages, calendar updates, and reminders. The Withings Steel HR is also one of our top hybrid smartwatch picks.
Best for Fitness: Garmin Vivoactive 4
See on Garmin | Read Amazon Reviews
Pros/Cons:

 The battery will last 2-3 days with normal use

 Transflective screen is great for sunlight

 Garmin IQ store has a good selection of fitness apps

 Contactless payments with Garmin Pay


Plastic design looks less premium than rivals
The Vivoactive 4 is the latest watch in Garmin's signature line of wearables. Whilst Garmin is best known for its dedicated fitness trackers, the Vivoactive range verges more towards being an everyday smartwatch, but still packs in plenty of features for fitness fanatics.
Its plastic build keeps it light on your wrist so you'll hardly notice it during sports and fitness, although it doesn't look as premium as some of the stainless steel devices also shared here.
The device has a battery life of up to 8 days in smartwatch mode or 6 hours with continuous GPS. With typical usage, you can expect around 2-3 days between charges.
One of the key reasons it has a good battery life is due to the transflective display which uses far less power than AMOLED counterparts due to not needing a backlight. However, the colors are less vivid as a result.
Whilst it comes with 20+ pre-installed apps, using the Garmin Connect IQ store, you can install third-party apps on the watch. These range from notable apps such as Spotify and Strava, to niche apps such as bleep test and commute tracker.
The watch includes onboard storage for downloading music, can be connected to Bluetooth headphones for tether-free use, includes GPS, heart rate monitor, a pulse oximeter for oxygen saturation, and Garmin Pay using NFC.
Budget Pick (Square): Amazfit GTS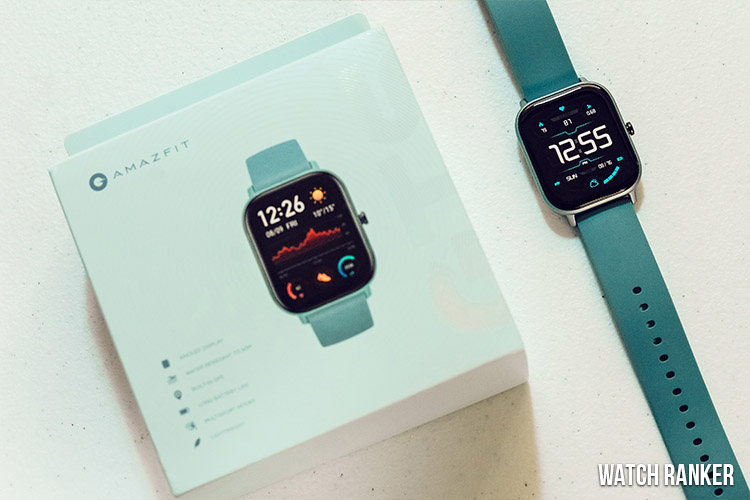 Read Our Full Review | See on Amazon
Pros/Cons:

 Great price

 8-10 days of battery life with regular use

Customizable widgets on the watch face

 Super lightweight on your wrist


The always-on display is poor

Sleep tracking could be improved
The Amazfit GTS is a mid-range smartwatch that is very reminiscent of the Apple Watch thanks to its square design and vibrant AMOLED display. There's a broad range of color choices, including blue, urban grey, and lilac purple.
It's small and sleek on your wrist so you'll hardly notice it's there. At 24.8g, it's one of the lightest watches we've reviewed so you will barely notice it on your wrist.
Despite having a battery capacity of 220mAh, small compared to most others here, it has a stated battery life of up to 14 days, although most users on Amazon say it manages around 8-10 days with regular use, still impressive.
It manages to achieve this battery performance due to Amazfit's proprietary operating system which is lightweight and quick to navigate. However, this does mean there are no third-party apps on the device.
For fitness enthusiasts, it has a heart rate tracker, GPS, and sleep tracking. It supports 12 mainstream sports, or you can add custom workouts by setting your own parameters. The watch face also features customizable widgets that can help you quickly glance at the information you need.
Where the watch falls down is with its always-on display, the time is small and dim, plus it reduces the battery life to around 3 days, I'd recommend using the watch without it. The watch also lacks a microphone, speaker, and NFC.
Budget Pick (Round): Amazfit GTR
Read Our Detailed Review | See on Amazon
Pros/Cons:

 Great price

 Looks more premium than the Amazfit GTS

 Heart rate monitor, GPS, and sleep tracking


Sleep tracking could be improved

No third party apps
Amazfit's GTR smartwatch is slightly more expensive than the GTS shared earlier, but a worthy upgrade thanks to a more intuitive user interface and a more elegant look.
With this model, Amazfit has opted for a round watch face that looks more premium. It's is available in aluminum, stainless steel, or titanium which is slightly heavier than the GTS, but still lighter than most.
On the watch, you'll find an additional button that makes it that little bit easier to navigate and the redesigned user interface is more fluid.
In terms of features, it is almost identical to the GTS, with a clear AMOLED display and range of sensors including a 24/7 heart rate monitor, sleep tracking and fitness tracking.
Despite having twice as much battery capacity as the GTS (440 mAh compared to 220mAH) and a stated 24 days battery life, in reality, we found it to be very similar to the GTS at around 14 days.
For more info, see our full review of the Amazfit GTR vs the GTS.
Most Rugged: Coros Vertix GPS Adventure Watch

Pros/Cons:

 Heavy-duty watch that can withstand extreme conditions

 Battery life up to 45 days

 Integrates well with Strava for planning activities


Expensive

Very sports-focused – limited everyday apps
Coros might not be a well-known smartwatch brand, but if you're an elite runner or endurance athlete then you'll probably be familiar with their performance sports technology.
The Coros Vertix GPS Adventure Watch is their foray into smartwatches. It has a 64-color display, 2 standard buttons, and a crown dial for navigating through your menus with ease.
It's most notable for its heavy-duty build that's designed for endurance, suitable for temperatures as low as -22°F  and up to 150m in water.
It has workout modes for mountain climbing, biking, swimming, triathlon, etc., and has a blood oxygen sensor and heart rate monitor for tracking your activity.
If you use GPS frequently for sports, it has an incredible 60 hours of GPS battery life which outpaces any other watch. With regular use, the watch can last up to 45 days, a claim that holds up well among users.
Keeping with the focus on sports and outdoor activity, the watch is well integrated with Strava, allowing you to preload your route in Strava and download a map to your watch.
If you're looking for more of an everyday smartwatch, this probably isn't the best pick as it lacks third-party apps and has limited interactions with notifications.
Best for Sleep Tracking: Fitbit Versa 3

Pros/Cons:

Lasts 2-3 days with all functions, up to 7 days without an always-on screen

 Easily access Alexa or Google Assistant

 Fitbit Pay for contactless payments

 Highly accurate sleep tracking


Some detailed reports require a Fitbit Premium subscription

No onboard storage for music
The Versa 3 is a mid-range smartwatch from Fitbit that's easily one of their best devices to date. It's comfortable to wear and, despite not having physical buttons, the haptic touch buttons make it a breeze to use.
The device has a superb battery life of up to 7 days, however, if you'll be using GPS or the always-on screen, around 2-3 days is a more realistic estimate. Unlike the previous Versa 2, the Versa 3 has upgraded to a magnetic charger which makes it much quicker to pop on charge.
Although the platform is Fitbit's own operating system, it has a built-in microphone that can be used to access Alexa or Google Assistant. There's also Fitbit Pay for contactless payments, GPS, and SpO2 for measuring blood oxygen levels.
The Versa 3 is great for sleep tracking with in-depth information on REM sleep, how long you were in a deep sleep, etc. This can help you improve your sleep habits. Accuracy is great on the Versa and using your pulse, it can let you know when you're in your cardio zone or whether you're pushing yourself too hard.
There are a couple of drawbacks worth mentioning, for starters some of the advanced stats on heart rate and oxygen saturation do require a subscription to Fitbit Premium. Also, there's no onboard media storage so it's not great for working out without your phone.
Best for Endurance Sports: Timex Ironman R300 GPS
See on Timex | Read Amazon Reviews
Pros/Cons:

 Excellent activity tracking

The transflective screen is great in direct sunlight

 Up to 25 days battery life (regular use)


The screen is small and quite dim

No NFC
The Ironman R300 GPS is Timex's sports-focused smartwatch that packs in great battery life and comes at a very budget-friendly price.
It can achieve up to 25 days with regular usage and 20 hours in GPS mode. It doesn't feature an OLED display as with other smartwatches here, instead, it has a transflective color touchscreen which is great for direct sunlight, although can be dim in regular light.
In terms of the operating system, it runs a proprietary platform which might seem reminiscent of the Amazfit watches shared earlier (Amazfit helped Timex to create it).
The platform is lightweight which helps the device achieve such outstanding battery life, however, it doesn't have the ability to install third-party apps or download music to the device, so it will need to be tethered to a phone for most functions.
The watch has superb tracking ability, it automatically logs every activity from standing to walking up stairs, it can even tell if you're brushing your teeth or eating. When you're ready to work out, you can select one of the pre-set sports which can also include swimming since it is water resistance up to 30m.
Of course, it has all the basics you'd need from a smartwatch such as controlling media on your phone, alarms, timers, notifications, etc. However, there's no offline music support or NFC.
Unlimited Battery Life: Garmin Instinct Solar
See on Garmin | Read Amazon Reviews
Pros/Cons:

 Up to 56 days battery life in smartwatch mode

 Unlimited battery life in battery saver mode

 GPS and heart rate monitor


Thicker than most at 15mm

 Screen is small and uses a monochrome display

No third-party apps from Connect IQ store
Garmin has been busy updating some of its smartwatches with solar power. The most affordable solar smartwatch from Garmin (although still relatively expensive) is the Garmin Instinct Solar.
The device uses their innovative Power Glass Solar Lens, which harvests sunlight through the watch screen to extend the battery life. Even without any solar charge, the watch can achieve 24 days in regular smartwatch mode, however, with energy from the sun, this can be extended up to 56 days.
If you switch to battery saver watch mode, Garmin claims you can get unlimited battery life using solar energy. However, this does turn off GPS, heart rate, and notifications from your phone so it's unlikely you'll stick with this mode.
To achieve such great battery performance, there are some compromises that Garmin has made. For instance, the screen isn't up to the same standard as other smartwatches, instead, they have oped for a small 1″ monochrome display, quite a difference from the AMOLED color touchscreens you might be used to seeing.
The watch has the ability to read and respond to messages via quick reply, control media, and receive notifications. It also has GPS, a heart rate sensor, and an oxygen saturation monitor. However, there are no third-party apps from Garmin's Connect IQ store, so you'll have to make do with the pre-loaded choices. You can read more about the full line of Garmin Solar watches here.
Bonus Mention: Matrix Powerwatch

We couldn't let the opportunity pass to give a quick mention to a really innovative watch that looks promising; the Powerwatch.
It uses a thermoelectric engine, which is a fancy way of saying it uses your body heat for energy. Combined with solar charging, the watch never needs recharging, and it lives up to this. It packs in all the basic smart features you'd expect too, such as notifications on your wrist, GPS, and a heart rate monitor.
However, it's now in the second generation and the watch remains buggy with the connection to your phone frequently dropping out and other annoyances. Matrix are working on these flaws, so it's perhaps one to watch for now.