Tizen and WearOS are some of the most popular smartwatch operating systems. WearOS is a smartwatch operating system developed by Google. It is open source and used by many brands from TicWatch to Fossil.
Some of Samsung's earlier smartwatches also used WearOS (previously known as Android Wear), however, in 2014 they launched their own smartwatch platform, Tizen, which has been used in their watches ever since.
But, which is best, WearOS or Tizen? Both platforms have their pros and cons.
For users of Samsung phones and SmartThings devices, Tizen is an obvious choice. However, for the majority of people, WearOS is a familiar interface, has more apps, and a broader choice of watch designs.
Keep reading for a full run-through of the pros and cons of each operating system to help you choose.
Tizen vs Wear OS
Tizen
Tizen OS is an open-source operating system developed by Samsung. It is used across many products in their ecosystem including smartwatches, TVs, and home appliances. There were even a few phones and cameras launched with Tizen, although to little success.
The wearable version of Tizen is not too dissimilar to WearOS in terms of the underlying architecture. However, anyone who has used the platform will note a very different user experience including solid integration of the rotating bezel found on Samsung smartwatches and a big presence of Samsung-owned services.
Pros/Cons of Tizen
Let's take a look at the pros and cons of Tizen compared to WearOS.
Pros:

A lightweight operating system
Tizen is a lighter operating system when compared with Google's WearOS. Add to this the deep integration between the software and the hardware which are both designed by Samsung and you have a smooth platform with quick start-up time and fast app switching.

Rotating bezel
Since Samsung first introduced the rotating bezel in the Gear S2 back in 2015, it has become a staple in their design and a huge selling point. The bezel allows you to easily scroll through menus and options, providing an intuitive user experience.
In more recent generations, the bezel provides better feedback and Samsung introduced a touch-sensitive version in its slimmed-down Galaxy Fit 2.

Samsung Health
For the most part, Samsung's own app ecosystem isn't quite worth celebrating, however, one exception to this is Samsung Health which is a very comprehensive health app,
It displays advanced reports and excels at sleep tracking with a breakdown of your sleeping patterns in helpful graphs. By default, it tracks your daily steps, exercises, and sleep data. Other features include heartrate tracking, an interesting news feed, and the ability to compete with friends on various challenges via the Together tab.
Cons:

More limited range of third-party apps
Tizen does allow third-party apps which are available via the Galaxy Store. This already puts it ahead of many rival smartwatch operating systems, however, when compared to WearOS it's lacking in the number of third-party apps on the platform.
Some notable apps not available on Tizen that are on WearOS include Facebook Messenger, Runtastic, Telegram, and Google's suite of apps which I'll come on to later.

Bixby voice assistant
Let's not beat around the bush when it comes to voice assistants, Samsung's Bixby is nowhere near as advanced and intelligent as Google Assistant.
Whilst Bixby is useful for anyone with a large collection of SmartThings devices, Google Assistant has the upper hand when it comes to controlling most smart home devices and is far better at answering your questions and understanding your voice commands.

Fewer watches to choose between
One of the major downsides to Tizen is the limited number of devices running it. As it only runs on Samsung smartwatches, you have two choices of new watches (the Samsung Galaxy Watch 3 and Samsung Galaxy Active 2) and a few from previous generations.
Whilst these are incredibly good watches, they won't be for everyone and tend to be at the higher end of the market in terms of price.
Wear OS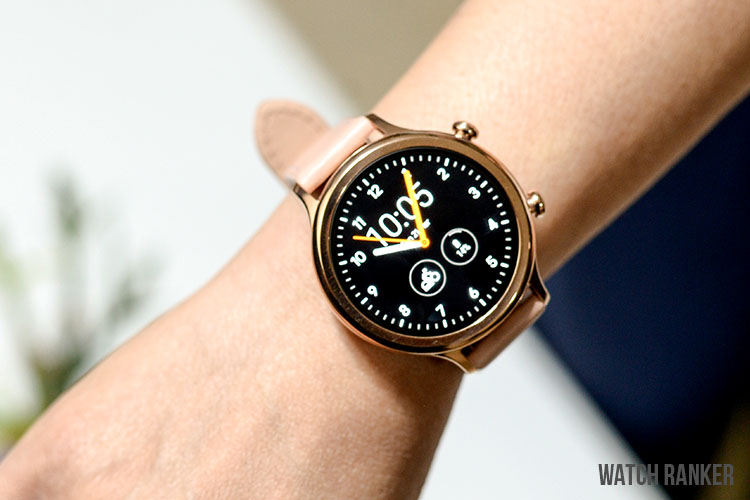 WearOS, previously Android Wear, is a wearable platform developed by Google and based on the Android smartphone platform. Unlike Samsung, Google do not manufacture any of their own smartwatches.
Instead, they focus solely on developing the operating system itself and leave the hardware to other manufacturers. WearOS seems to be favored by traditional watch brands as they attempt to keep up with changing trends, the likes of Fossil, Skagen, Michael Kors, Tag Heuer, and Casio all have smartwatches running WearOS.
Pros/Cons of WearOS
Here is a rundown of the main pros and cons of WearOS in comparison to Tizen.
Pros:

More familiar to Android users.
For those using WearOS with an Android smartphone, the layout will be very familiar and simple to get the hang of. For example, notifications are seen by swiping down from the top and you can proceed to scroll through them and swipe to dismiss.
There's also a media player which shows in the notification bar when you play music through your phone and the main menu layout is very similar to Android.

More third-party apps to choose from.
There's a much broader range of apps available on WearOS as much of the functionality can be built into existing Android apps in the Play Store.
As well as all the usual messaging and social media apps that you'd expect, there's a broad selection of health and fitness apps that have WearOS support. When you install a compatible app on your Android smartphone, it will prompt you to install the companion app on your watch.

Access Google's app ecosystem.
A WearOS smartwatch is the easiest way to get most of Google's own apps on your wrist. Most notably, Google Assistant, which adds a world of functionality including media selection, answering search queries from the web, and controlling smart home devices, all with your voice.
Other key apps from Google worth shouting about include Google Keep for syncing notes between your phone and watch, Google Maps for navigating, and Google Translate which is helpful during vacation.
Although Google Fit might not be as featureful as Samsung Health, it makes up for this through solid integration with other health apps.

More choices available.
I've left the biggest benefit of WearOS until last, and that's the vast choice of watches available to you. Whether you're looking for a budget price like the Ticwatch E2, a rugged outdoors watch like the Suunto 7, or a designer brand like the Michael Kors Access Lexington, WearOS has you covered.
Some of the brands run vanilla WearOS so the interface will be exactly the same, whereas some will add their own watch faces and others have bespoke apps and launchers to give them a point of difference.
Although it's worth noting that both platforms seem to have a lack of square smartwatches. The only square WearOS smartwatch currently on the market is the Oppo Watch which still hasn't made it to the US.
Cons:

No rotating bezel.
Samsung's rotating bezel is arguably one of the best features that make their watches stand out, this is not available on any WearOS watches.
Instead, they utilize a crown dial which provides a similar scrolling function and works nicely along with the touchscreen, although it's just not the same as using the bezel on Samsung watches.

Poor battery life.
The biggest downfall of WearOS is battery life. Despite Google's best efforts to improve this in recent updates, the vast majority of WearOS watches won't last more than a day, although there are some outliers such as the TicWatch Pro.
That being said, battery life is only marginally better on Tizen devices which should allow you to squeeze a day and a half of usage. You'll still need to recharge both watches daily.
Final Verdict
Samsung's flagship smartwatches running Tizen OS are some of the best watches on the market and will be particularly appealing if you have a Samsung phone and SmartThings devices in your home.
However, when compared side-by-side with WearOS, there are some clear limitations to Tizen in regards to the app availability and the breadth of choice available to you. There are so many WearOS devices that there's bound to be one that suits your budget and design preference.
There are still key areas where both operating systems are lacking, particularly when it comes to battery life and the availability of square watches.