Smartwatches have shot to the forefront of smart technology, with more choices and operating systems than ever before. But, unlike most gadgets, they are just as much a fashion accessory as they are a useful device, so choosing one with the right balance isn't easy.
As a Samsung Phone owner myself, I've spent more hours than I like to admit researching the best smartwatch to accompany my device. The biggest decision is contemplating whether to stick with Samsung or branch out to other Samsung-compatible devices such as those running Google's WearOS.
In my pursuit of the perfect watch, I discovered Samsung's Galaxy Watch 3 which packs in everything you could need, from GPS to a microphone for making calls. This it's why it's our top smartwatch recommendation for Samsung users.
The watch runs Tizen OS, Samsung's own platform, which is well integrated within their broader ecosystem, allowing you to use Samsung Pay, Bixby, and the Samsung Health app with ease.
In this guide, I'll share all of the watches I reviewed and explain the pros and cons of each. I've also included some great picks for those on a tight budget or where style is paramount.

Best Smartwatches for Samsung Phones
Best Overall: Samsung Galaxy Watch 3
Pros/Cons
✅ Scrolling bezel makes it a pleasure to navigate
✅ Easily lasts a full day charge
✅ Stylish design suitable for most occasions
❌ Tizen has fewer apps than WearOS
The user interface is sleek to navigate, with the bezel doubling up as a physical scrolling wheel. It has a bright AMOLED display which is easy to see. The watch is thinner than previous iterations, but even still it's one of the larger devices shared here.
The watch runs on Tizen which is more lightweight than Google's WearOS making it very responsive, however, this comes at the expense of a more limited selection of apps.
Unsurprisingly, it's missing some of Google's popular apps such as Google Maps, Google Pay, and Google Fit. However, as a Samsung phone owner, this shouldn't be an issue as Samsung Pay and Samsung Health are suitable replacements available across devices.
The battery in the Galaxy Watch 3 can last just longer than a day. It has wireless charging and comes with a simple dock that will both store and charge the watch when not in use.
Runner Up: Fossil Gen 5 Carlyle
Pros/Cons
✅ WearOS has the biggest selection of apps
✅ Faster and more intuitive than most smartwatches
✅ NFC and Google Pay for easy payments
❌ Only just manages a full day without charging
The Fossil Gen 5 is a close runner up and may be preferred if you are a big fan of Google's ecosystem since it runs their WearOS (previously Android Wear).
This platform has the broadest range of apps since developers can add compatibility via their existing Android apps.
It's built with a top of the range Snapdragon 3100 chip, this puts it ahead of most smartwatches for processing power, however, it's still not quite as fast as the Galaxy Smartwatch 3 mentioned above.
The watch features an AMOLED screen which provides vibrant colors whilst keeping power consumption low, but there's also a sunshine boost feature for use in bright sunlight.
As for style, it has an extensive range of color and design choices. It features a touch-activated scrolling bezel and has physical buttons that can be customized to quickly pull up your favorite apps.
The Gen 5 Carlyle is a great unisex watch, however, if you're looking for a dedicated women's watch, the Gen 5 Julianna has the same features but in a more feminine style and with additional colors such as rose gold.
The biggest downside to this watch is the battery life, it only just manages a full day with average use, so you'll need to charge it every night.
Best for Fitness: Samsung Galaxy Watch Active 2 Bluetooth
Pros/Cons
✅ Light and compact making it great for sports
✅ Top of the range fitness tracking with heart rate monitor and ECG
✅ Suitable for swimming or water sports thanks to IP68 water resistance
❌ Lack of bezel makes it prone to scratches
Whilst the Samsung Galaxy Watch 3 is our overall favorite smartwatch for general use, the Samsung Galaxy Watch Active 2 is more tailored towards fitness enthusiasts and working out.
Inside, it's very similar to the Galaxy Watch 3 the only real change is slightly reduced RAM. But, the key differentiator is aesthetics. It's slimmed down in both size and weight which makes it much more comfortable to wear whilst exercising.
Samsung has achieved this by removing the bezel and replacing it with a touch-sensitive scrolling wheel instead of a physical one. The downside of this is the lack of any raised protection around the screen so it's prone to scratches.
The Samsung Health app is one of the most encompassing fitness apps of any smartwatch, it brings together fitness tracking, eating habits, sleep patterns, and more. The accuracy is further improved upon with the watch's built-in ECG.
As with the Galaxy Watch 3, you can exercise without the need to keep your phone tethered thanks to GPS and the ability to download music or podcasts directly to the device from supported streaming apps.
As an existing Samsung phone owner, you'll know that they tend to be very resistant to water and dust, this watch has an IP68 rating meaning it can be submerged up to 1.5m in water for 30 minutes.
Budget Pick: Huawei Watch GT 2e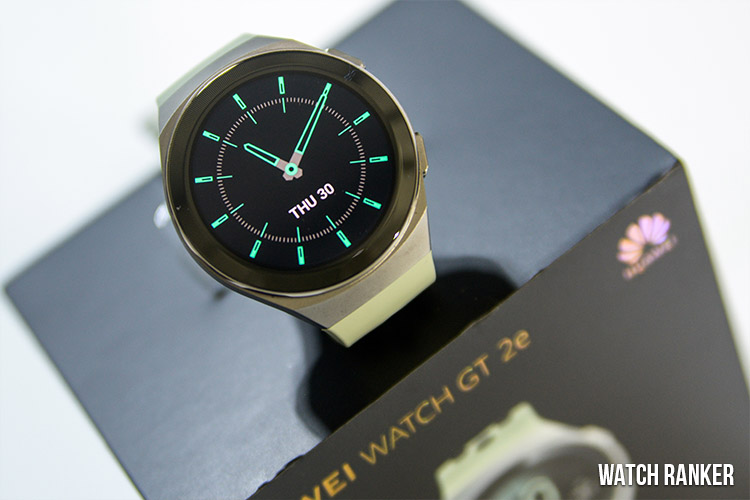 Read Amazon Reviews | Read our full review
Pros/Cons
✅ Great value for money
✅ Lots of fitness features including GPS, heart rate monitor, and SpO2 monitoring
❌ Cannot download music or podcasts to the device
❌ No NFC for contactless payments
If you're looking for quality on a budget, then the Huawei Watch GT 2e is worth considering. It does all the basics that you'd expect from a smartwatch with the ability to receive notifications and control media.
Despite its price, Huawei has managed to pack in GPS, a heart rate monitor, and a sensor to monitor the oxygen saturation in your blood. These features will be music to the ears of anyone looking for a fitness-focused device.
However, the device uses Huawei's own wearable platform which doesn't allow third-party apps. This reduces the capability of the device and means you can't download music or podcasts for offline listening.
At 43g, it's one of the lighter smartwatches due to a plastic build. Unfortunately, this does mean it does not have the same premium look and feel of the previously shared smartwatches.
The watch is far cheaper than its rivals shared here and does the basics well. However, there are a number of features that it lacks. For example, there's no microphone or speaker for making calls and no NFC for making payments.
Best Battery Life: Garmin Vivoactive 4
Pros/Cons
✅ The battery will last 2-3 days with normal use
✅ Transflective screen makes the screen easy to view in sunlight
✅ Garmin IQ store has a wide selection of fitness apps
✅ Sensors include heart rate, oxygen, and GPS
❌ Doesn't look premium
❌ Fewer everyday apps than WearOS or Tizen
With a long history of making fitness trackers, Garmin is an established brand when it comes to wearable technology and their own Garmin OS platform keeps on getting better. The Garmin Vivoactive 4 attempts to fill the gap between fitness trackers and smartwatches.
The device can mirror your Android notifications and the Garmin IQ store has a huge range of fitness-related apps, for example, you can get animations of exercises on your wrist. Although it has a small selection of everyday apps compared to other platforms like WearOS.
Garmin Coach is one of the device's best features, this allows you to create adaptive training plans that tailor advice based on your performance as recorded by the watch.
Garmin claims the device has a battery life of up to 8 days in smartwatch mode or 6 hours with GPS although Amazon users give it mixed reviews on battery life.
The screen isn't AMOLED like some of the other devices here, however it does use a transflective display which makes it very usable in bright sunlight.
With a plastic design, the Vivoactive 4 isn't the most premium looking watch, but certainly ideal for sports and fitness use.
Best Hybrid: Nokia Steel HR
Read Amazon Reviews | See on Withings
Pros/Cons
✅ Affordable price
✅ Hybrid design with analog watch face and smart features
✅ Great for tracking fitness or sleep
❌ No GPS or NFC
❌ Cannot install third-party apps
❌ No media control
The Withings Steel HR (now acquired by Nokia) is a great choice if you're looking for a very simple smartwatch that's more like a non-smartwatch and made our list of best hybrid smartwatches.
It has a traditional analog watch face so it will always provide the basic function of telling the time, even if the battery that powers the smart features runs out.
Speaking of the smart features, it can give you basic notifications and has built-in fitness and sleep trackers such as a heart rate monitor.
The notifications appear on a small OLED screen that sits within the watch's face. This is limited to showing incoming text and calls, calendar notifications, and reminders.
It doesn't have GPS or NFC for payments, plus you can't control things like music which might be a dealbreaker for some people.
The biggest benefit of this hybrid watch is the battery life, even running all of the smart features, it can last for anywhere between 20-30 days.
Best for Style: Michael Kors Access
Pros/Cons
✅ Stylish design emulates a traditional Michael Kors watch
✅ Broad selection of apps on WearOS
✅ Can be used for making and receiving calls thanks to microphone and speaker
❌ Battery only just lasts a full day
Michael Kors has become a household name as a stylish brand that oozes elegance. They are well established as a traditional watchmaker and fast becoming the go-to smartwatch brand where fashion is a priority.
The Access smartwatch emulates the sophisticated style of their traditional watches, with a stainless-steel casing and metal band.
But this isn't just a great looking watch, the specs and performance also match up to the name. It runs Qualcomm's Snapdragon Wear 3100 chip like the Fossil Gen 5 and runs Google's WearOS platform.
It also has very similar features to the Fossil Gen 5, with GPS and NFC that allows you to make payments with Google Pay. It has a built-in microphone and speaker allowing you to access Google Assistant or make calls using the watch (via your smartphone).
There are a variety of Access watches, but we recommend either the Bradshaw 2 or the Lexington 2, the latter of which has an etched ring around the screen and two-tone links in the chain.
Best for Taking Calls: Ticwatch Pro 4G/LTE
Pros/Cons
✅ 4G and LTE connection for full use without a phone
✅ Separate LCD watch screen overlaid on the smartphone screen
❌ Price – Similar to Galaxy Watch 3
The Ticwatch Pro 4G/LTE is a great choice for anyone looking to use their smartwatch to make or receive phone calls. The device has a cellular connection (powered by Verizon) which means you can use it completely independently of a smartphone.
Like several devices here, it runs WearOS which has the greatest range of third-party apps including Google Maps and Google Pay via the NFC chip.
One of the most unique features of this watch is its dual-screen which sees a transparent LCD screen (much like a traditional digital watch) placed over the smartwatch screen. This means you can always see the time, date, and a few other features without having to wake your watch.
WearOS is known for its poor battery life, but the dual-screen helps it last around 2 days. If you only use the LCD screen as opposed to the smartwatch screen, Mobvoi claims a full 30 days of battery life.
When you do need to recharge it, the device uses a magnetic charger which quickly snaps onto the back of the device making it easy to charge overnight.
The watch is predominantly made of plastic, although it has a stainless-steel bezel which gives it a premium look and feel.
Key Things to Consider
Here is a rundown of the main points to keep in mind when deciding which Smartwatch to buy:
Phone compatibility – Ensuring the smartwatch is compatible with your phone is a top priority. Luckily, as a Samsung phone owner, most devices have some level of support. Although I'd recommend avoiding the Apple watch for now.
User interface – A touchscreen is the most common way of interacting with a smartwatch, however, this isn't ideal for scrolling or quick access to apps. Some manufacturers now include a rotating bezel or physical buttons to improve the experience.
GPS – A watch with built-in GPS is ideal for fitness or sports enthusiasts as it means you can track your location and workouts without carrying your smartphone.
Payments – NFC (near field communication) is the technology built into smartwatches to allow them to make contactless payments. You'll also need to check which payment apps it supports. If you're a user of Samsung Pay then you'll need a Samsung smartwatch.
Battery life – Smartwatch makers can pack in as many features as they like, but the biggest challenge is doing this in a way that maximizes battery life.
Which Operating System is Best?
Every smartwatch has an operating inside that allows it to function, here is a rundown of your main choices:
Tizen OS – Although your Samsung smartphone will run on Google's Android platform, Samsung smartwatches run on their Tizen platform. This is very well integrated with their phones and has Samsung Pay, Bixby (Samsung's voice assistant), and Samsung Health built right in.
WearOS – This is Google's wearable operating system that's built on Android. It easily syncs up to any Android-powered smartphone and has the widest selection of apps available.
Garmin OS, Fitbit OS, etc – Other manufacturers have opted to create specific operating systems for their devices. Expect an even more limited range of third-party apps, but a better battery life thanks to the reduced processing power required.