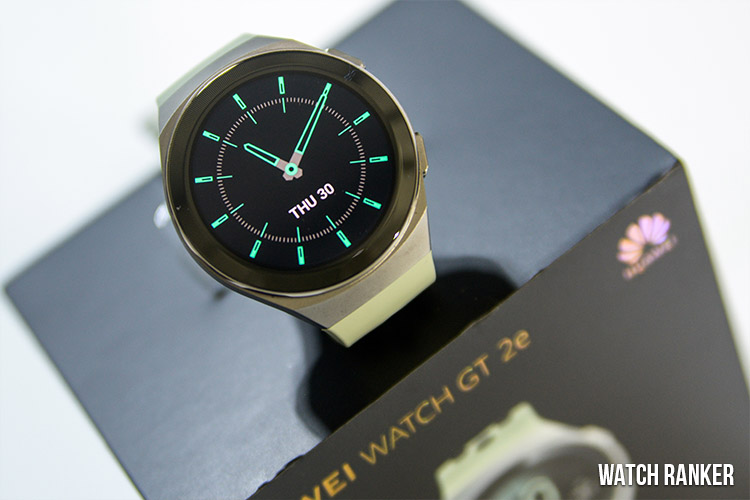 Overall Verdict:
Huawei's Watch GT 2e is a midrange sports-focused smartwatch with a wide range of fitness tracking capabilities including heart rate, sleep & stress monitoring, making it a good choice if you live an active lifestyle. Navigating the menus and settings is user-friendly and intuitive. Considering the price range, the build quality and feel of the watch exceeded our expectations. It also has an impressive two-week battery life that beats many competitors.
Unfortunately, the 2e doesn't have a speaker or microphone which might be a dealbreaker if you want a smartwatch for making calls or using voice prompts.
| | |
| --- | --- |
| PROS | CONS |
| ✅ Same 2-week battery life as the GT 2 | ❌ Proprietary OS with no support for 3rd party Watch Faces and Android Apps |
| ✅ Clear and vibrant display | ❌ No Microphone and Speaker |
| ✅ Same Light OS as the GT 2 | ❌ Same software exclusions and issues as the GT 2 |
| ✅ Premium build quality | |
| ✅ Kirin A1 Chip | |
There isn't a universal approach when it comes to smartwatches. Unlike smartphones, smartwatches can look and feel completely different from one another. There are brands like Apple that offer tons of features that seamlessly fit into their device ecosystem but usually compromise on the battery life.
Then there are brands like Garmin who offer hybrid designs that feel a lot closer to traditional smartwatches but with the addition of modern smartwatch features such as OLED displays. And then there are, of course, the different Android Wear OS-compatible smartwatches.
But out of all the smartwatches that I have tried so far, I find Huawei's approach to be one of the more appealing choices. The Huawei Watch GT 2 that we recently reviewed checked all of the boxes and could reliably do all of the basic functions of a smartwatch. But the real killer feature was the 2-week battery life.
Now, Huawei decided to expand its lineup with the midrange and sports-focused Huawei Watch GT 2e (energy). It is competitively priced and is facing other midrange fitness trackers such as the Amazfit GTS. But unlike its competitors, Huawei is yet again doing something different.
Like other competitors, Huawei redesigned and removed some features to keep the GT 2e's price down. But, the software that powers all of Huawei's smartwatches has been kept intact. Instead of downgrading the overall experience, the changes on the GT 2e give it a different kind of experience that helps make it attractive to a different kind of audience.
But are these features enough to convince you, especially with how competitive the midrange market is? Keep on scrolling to learn more in our full review.
We also highly recommend going through our Huawei Watch GT 2 Review since it is our main point of comparison.
Also, check out our Comparison Between the GT 2e and GT 2 for a more in-depth side by side look between these two.
I personally purchased the Huawei Watch GT 2e in July 2020 and, at the time, paid $117.86 USD.
Read Amazon Reviews | See More Details on Huawei
Unboxing Experience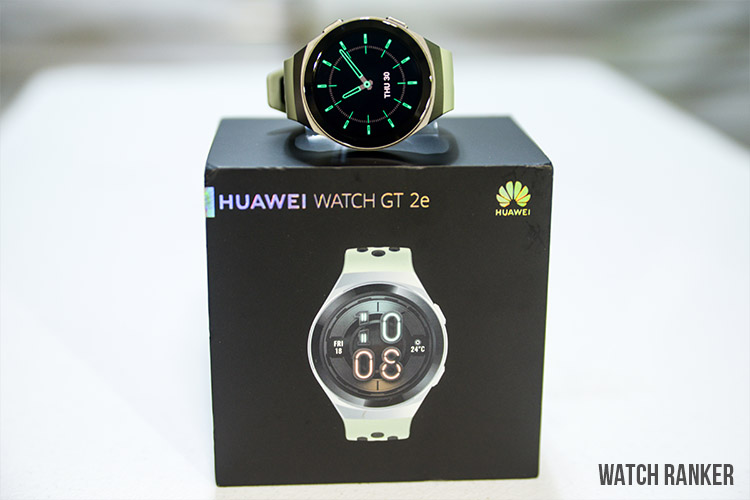 Normally, companies would tend to skip on having a proper unboxing experience for lower-priced models. But the GT 2e is rocking the same high-quality packaging materials and style of the GT 2. Most people who are not familiar with these models might even think the GT 2e is just the GT 2 with a different paint job instead of being a lower-tier model.
And also, props to Huawei for featuring an artwork that matches the color scheme of the watch. They could have easily cheaped out by utilizing the GT 2e's black color scheme for all color variants or by simply showing a generic artwork instead. These are small details that largely affect the consumer's overall perception of the product.
Opening the box immediately reveals the GT 2e in all its glory. And underneath it is all of the accessories and paperwork. The accessories included are the USB Type-C cable, proprietary magnetic charger, and the paperwork.
Overall, the packaging alone makes the GT 2e feel like a more expensive product. I was genuinely excited to test out the GT 2e.
Huawei Watch GT 2 Design & Build Quality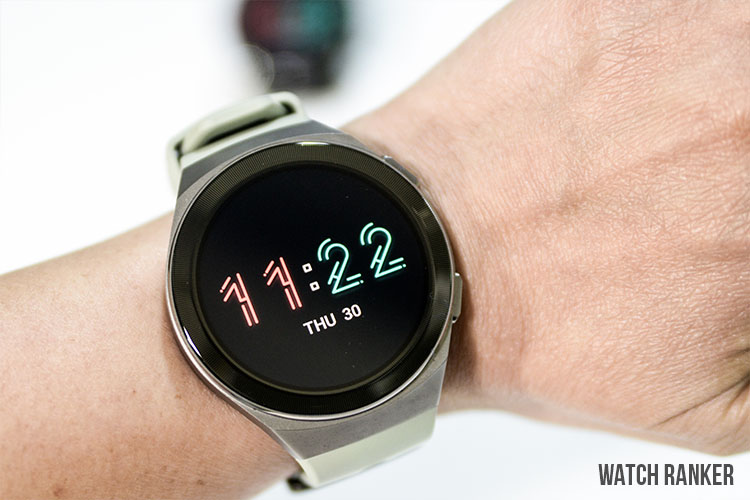 Sleek design with premium materials and quality finish. Comfortable and changeable straps that come in cool new colors.
Most of the differences between the Huawei Watch GT 2 and GT 2e lies in the design. The GT 2 that we previously reviewed had a classy and premium design that mimicked high-end analog watches. But with the GT 2e, Huawei took a step back and made a design that fits a more modern and younger audience.
The area that received the most redesign is the bezel area. We'll talk more about the display later, but the bezel area now looks cleaner. It does look a lot plainer than the GT 2 but the redesign fits the design language of the watch better.
Another difference that is easy to spot is the new color options. The GT 2e is available in mint green, lava red, icy white, and graphite black. The new colors look great, especially this mint green color that we have on our unit. They give the GT 2e its own unique personality and I think it is a great tradeoff with the GT 2's more premium design elements.
In terms of the build quality, the GT 2e uses the same high-quality materials found on the GT 2. The main body is built with stainless steel and has a ceramic back. I was honestly expecting Huawei to opt for lower quality materials, but I am glad I am wrong.
Just like the GT 2 46 mm version, it does not feel too big or bulky. It fit my wrist (6.5 inches) perfectly. It is, however, noticeably heavier than other options in the market, such as the Amazfit GTS.
Another notable change is found on the buttons. The shape of the GT 2e's buttons is now flat instead of the crown-like shape of the GT 2. There isn't any real downgrade here in terms of the functionality since the new buttons perform just as good as the old ones.
They are tactile and require a decent amount of force to actuate. The buttons worked every time I pressed them. They are also pretty flush with the body, so there were no accidental presses especially during more intense workout sessions.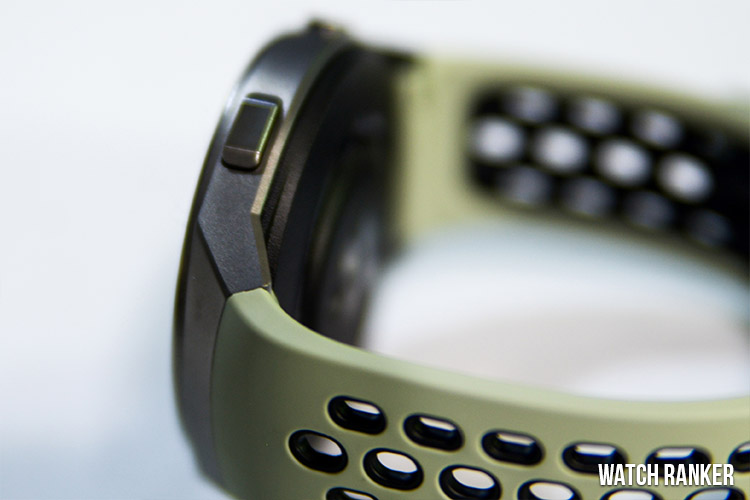 The strap has also received a new look. There are now holes all over the strap for proper ventilation during exercises. These vent holes also seamlessly double as the punch holes for the buckle.
The mechanism for attaching the straps has also been changed. Huawei has gone for a more sporty look which also makes the watch more stable in the hand. The gap that was previously in the GT 2's strap design is also no longer present, which eliminates any areas for dust accumulation.
However, the downside is that the watch cannot be laid flat anymore. I like enabling the AOD functionality on the GT 2 and turn it into a clock for my desk. Trying to do this with the GT 2e is awkward and simply does not work. But of course, this is not a total deal-breaker.
The straps are easily removable and can be swapped out with other colors or alternate designs from third party manufacturers. But you should take note that the straps made for the GT 2 are not compatible with the GT 2e.
Overall, I do not think the GT 2e is an inferior or cheap-looking smartwatch. Its clean and plain-looking design makes it feel more like a tool instead of a fashion accessory. That's totally fine for me, and I think most smartwatches in this price range focus on features over aesthetics anyway.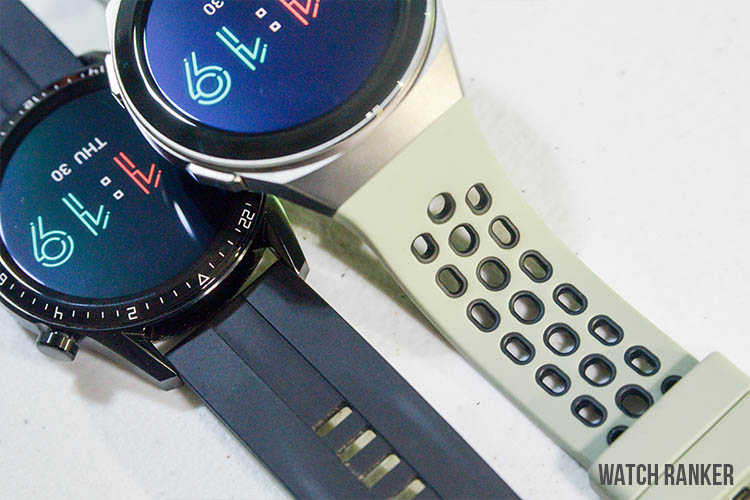 Display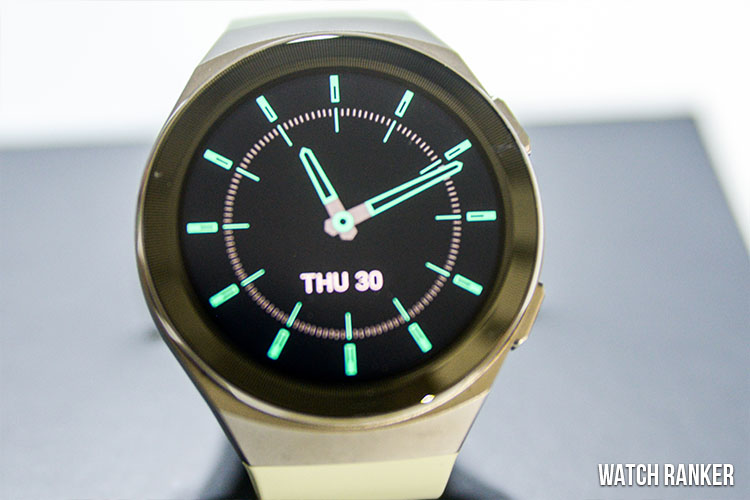 The responsive touch screen performs well but this model lacks the curved screen seen on other Huawei smartwatches.
The Huawei GT 2e inherits the same AMOLED capacitive touchscreen display found on the GT 2. The 454×454 resolution makes the image look incredibly sharp and clear. Text and menus are easy to read regardless of the lighting condition. Viewing angles were also great, making reading notifications easy.
The colors are also vibrant and are a treat to look at. Watch faces like the default "Neon Lights" (that is currently exclusive to the GT 2e) are perfectly brought to life on this AMOLED display.
Unlike the GT 2, the GT 2e no longer has a 3D curved screen. I enjoyed using the curved screen on the GT 2 due to the unique feeling that it gives, but you don't really notice that unless you are comparing both screens side by side.
As mentioned earlier, the bezels received a redesign. The engraved markings have been removed, which gives the GT 2e a cleaner but arguably plainer look. The downside here is that the bezels now appear larger despite having an identical size to the GT 2.
The touch screen is responsive and performs similarly to the GT 2. My taps easily registered, and I did not have trouble navigating through the menus. The well-optimized software (which we will be talking more about later in the review) and well-placed menus make navigation fast and easy.
The GT 2e also inherits the GT 2's Always On Display (AOD) functionality. You have the option to choose between four different AOD watch faces that have different styles. The selection is quite limited since Huawei needs to optimize the watch faces to consume as little battery as possible.
But I do find the AOD watch face designs to be a lot better compared to its competitors such as the Amazfit GTS. The AOD functionality is limited and seems to be just an afterthought in that model.
However, I simply decided to turn off AOD since I don't think the battery trade-off is worth it. But people who dislike the raise to wake functionality should be happy with this feature.
Health and Fitness Tracking

Sports and fitness tracking features are where this watch shines, although it's slightly glitchy on the step and stress measurements.
The Huawei Watch GT 2e does a good job both with the standard health monitoring features as well as fitness tracking. Let's start with the health monitoring features.
A lot of the health-related features can immediately be accessed on the home screen. These include the automatic stress test and the 24/7 heart rate scanning. These features consume more battery but can be turned off in the Huawei Health App.
Daily stats can also be quickly accessed on the main screen, but it only gives you a brief summary with no options for a more detailed view. You have to access the Huawei Health App to learn more about your data.
The GT 2e also features a pretty accurate sleep monitoring feature that can be used in conjunction with Huawei's TruSleep feature which is found in the app. The watch also reminds you to stand up when you have been sitting for a long period of time. It also notifies you when you reach your step goal, which can be set or disabled in the app. There's a lot to tackle in the Huawei App, so we'll be talking more about later in the review.
In terms of the fitness tracking, the GT 2e features 100 sports modes in addition to the basic workout modes found on the GT 2. I was not able to test out all of these workout modes during my one week testing period due to the limited space that I had and due to time constraints. However, I appreciate the variety of workouts available and I will be using them in the future. For sure, it knocks out most of its competitors that feature very limited workout and sports modes.
Navigating through 100 workout modes may sound like a nightmare, especially on the GT 2e's screen. However, Huawei has done a great job with the presentation.
The basic workouts such as indoor and outdoor cycling, indoor and outdoor runs, etc. are displayed by default. You can then add specific sports-related workouts or custom workouts. You can also opt to remove the workouts that you don't use from the home screen. With this customizable menu, you do not have to cycle through a long list whenever you want to do a specific workout.
The watch also automatically detects whenever you start workouts. This is incredibly useful for people who forget to set the workout modes in their smartwatch. The 100 Workout modes were initially exclusive to the GT 2e but were later added on the GT 2 through a software update.
The health tracking and GPS of the GT 2e are not perfect but are more than usable. There were minor issues, such as inaccurate stress detection and step detection.
I did not find the automatic stress test to be particularly helpful since the results were not always accurate. The stress test always displayed normal, even at times where I was clearly stressed out. But of course, it is just a rough estimation, so I wouldn't expect too much anyway.
As for the step detection issue, it is only a minor complaint. The GT 2e sometimes registers more steps than usual and may think that I am walking even when I am stationary. This is not an issue that is unique with the GT 2e and can even be found on more expensive models so I can forgive this given its price point.
Features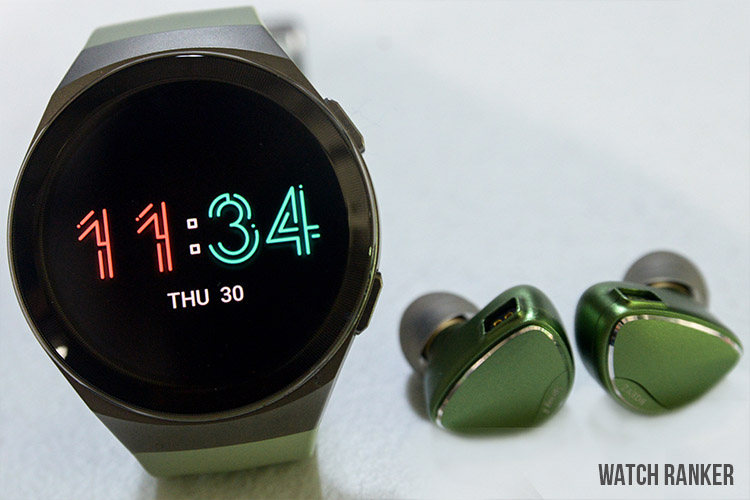 This is a full-featured watch for the price, including music playback, but lacks support for third-party music streaming apps.
The Huawei GT 2e surprisingly retains most of the GT 2's features. Some highlights are the Bluetooth 5.1 for solid connectivity, the same fast and efficient Kirin A1 processor, the impressive 2-week battery life, and Huawei's Light OS.
The GT 2e still has the ability for music playback, which is surprising. I was expecting this one to be exclusive to the higher-end models, but I'm glad that it is still here. Other models within the same price range do not even have onboard storage for music listening so this is a win in my book regardless of how limited this functionality is.
It is just a shame that Huawei Lite OS does not support third-party music streaming apps such as Spotify. If it did, I would be listening to music with my smartwatch more often.
The GT 2e also features media controls for the content being played on your smartphone. This was incredibly useful for increasing volume or pausing the video while I am away from my Huawei Mate 30 Pro smartphone. It does not have any noticeable latency, unlike the Amazfit GTS.
The Huawei Watch GT 2e also inherits the GT 2's water resistance. You can wear this while swimming up to 50 meters and up to 10 minutes. The GT 2e will also survive a splash of water or getting wet in the rain.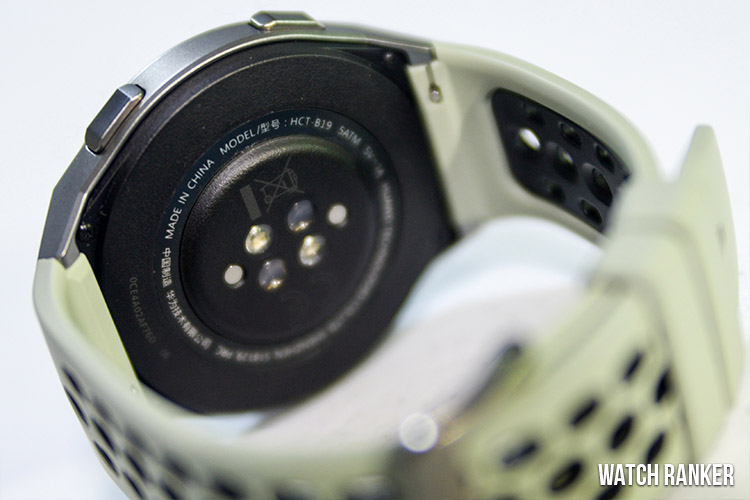 But of course, like any midrange smartwatch, there are some notable exclusions. Right off the bat, the most notable missing feature is the lack of the speaker and microphone. For people who rely on the speaker for voice prompts or use the microphone for phone calls, this may be a dealbreaker. I personally don't use my smartwatch for phone calls, so this does not affect my use case too much.
One thing to note is that you can't answer phone calls even when you are using Bluetooth headphones/earbuds with the GT 2e. Again, I did not use the GT 2e for music listening so this was not an issue for me.
The GT2e, unfortunately, inherits the same downsides of the GT 2. There is still no official support for third-party watch faces or third party applications. There is also no support for Qi wireless charging. But then again, most of its competitors do not have this feature either.
Huawei Watch GT 2e Software Experience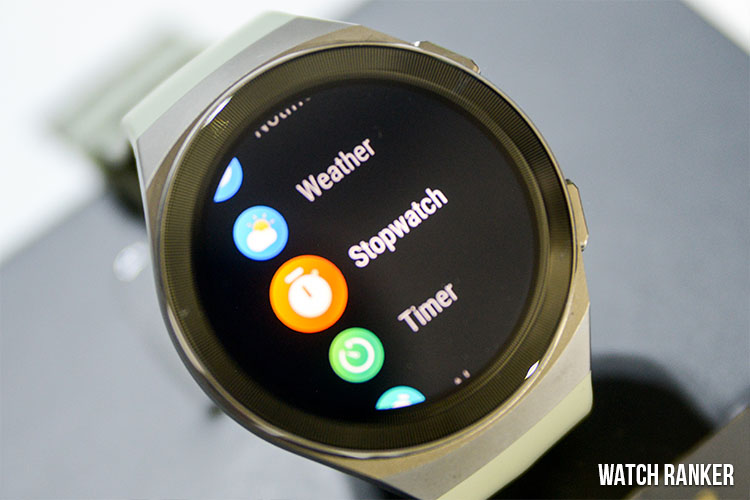 Fast and efficient OS with user-friendly navigation but lacks customizable screens and menus.
The core of every smartwatch is the software experience. And at this price range, there is usually a lot left to be desired. It is almost always expected for companies to cut corners with their mid-range models. It can be in the software, hardware, or both. But that is not the case here.
The Huawei Watch GT 2e is running the same version of Huawei's Light OS that is found on the higher-end GT 2. The user interface is identical on both models. Both units are also similar in terms of snappiness and performance.
For those unfamiliar with Huawei's Light OS, the main focus here is speed. Navigating through the menus and finding settings are easy. It provides a good amount of information and settings without cluttering the screen with too many options. Its aesthetics are not heavily influenced by Huawei's EMUI or other Chinese design conventions so the OS will fit in regardless of what smartphone you are using.
It still encounters occasional frame drops when navigating through the home screen but it isn't enough to bring the whole experience down. I also never encountered any crashes on the GT 2 or the GT 2e.
The fact that you are getting an almost identical experience with a higher-end model is impressive. If someone is jumping from a smart band or if someone is not sure if they are willing to commit to Huawei's smartwatch ecosystem, then the GT 2e is a perfect starting point. And if you ever decide to upgrade to the GT 2 or any of Huawei's future smartwatches, then you will always feel at home.
But unfortunately, the GT 2e also carries the same problems that the GT 2's software had. The menu is non-customizable, meaning you cannot change the order of the various screens or the order of the menus. You always have to swipe a specific number of times to get to where you want to be.
Managing notifications is okay but still leaves a lot to be desired. You can see what the notifications are, but you cannot interact with them. The screen also times out even while reading notifications, which is annoying when going through long texts. But I do appreciate the consistency and the speed of accessing the notifications.
Overall, there are some quirks with Huawei's Light OS. However, none of those should detract users from checking out the watch, especially given its price point. Instead of getting a downsized and limited software experience, you are getting the full package.
Huawei Health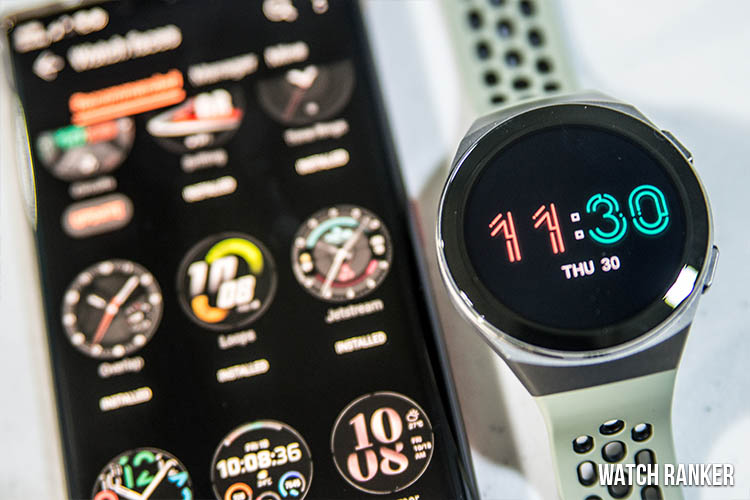 Health tracking is where this watch excels by tracking sleep, heart rate, stress, and much more using the Huawei Health App that is well designed. Unfortunately, users are required to create a Huawei ID to use the app.
Those who read our review of the GT Watch 2 should already be familiar with the Huawei Health App. But for those who missed it, we'll briefly walk you through the GT 2 and GT 2e's accompanying software.
The GT 2e hosts a lot of features that can be further tweaked when using the app. Some examples are TrueSleep, 24/7 Heart Rate Monitoring, and Automatic Stress Detection. Some of these need manual access to work while some of these provide more detailed information when accessed through the app.
I don't usually like opening these kinds of apps and prefer tweaking the settings on the smartwatch. But thankfully, navigating through the Huawei Health app is easy. There aren't too many settings to play around here, and the approach is rather straightforward. I find this to be more ideal compared to other approaches. Amazfit's app, for example, has too many settings, which can be overwhelming.
Watch faces can also be changed using the Huawei Health App. There are lots of high-quality designs that range from realistic looking analog watch faces to quirky designs. There is no support for custom watch faces but they are constantly upping their game by providing new high-quality watch faces.
I honestly did not have trouble looking for something that suits my style. The default watch face which features an animation is already enough to impress me. There is also a watch face that can be customized by adding a photo.
Adding watch faces to the GT 2e is a lot faster compared to most of its competitors. The whole process only takes a few seconds. And if you prefer switching between different watch faces, you can easily do so without the app. The watch can store around thirty-one faces (most of its competitors can only store one extra watch face from their respective apps).
One caveat here is that you need to create a Huawei ID to use the app. I would have preferred to have an option to use this app anonymously since having a Huawei ID is useless if you do not own other Huawei devices.
But overall, the Huawei App is clean and easy to use. Again, the complaints that I have are not enough to detract from the overall experience.
The Huawei Health app comes preinstalled with most of the modern Huawei smartphones. But for non-Huawei and non-Android users, the Huawei Health App can easily be acquired via the Google Play Store and the Apple App Store.
Battery Life
Very impressive 14-day battery life but requires a proprietary magnetic charger and lacks a wireless charging option.
What separates Huawei's smartwatches with the rest of the competition is their focus on battery life. The GT Watch series is advertised to have a two-week battery life, which has mostly been the case during our testing period for both the GT 2e and GT 2.
Sure, several functionalities such as the GPS, Always On Display, Fitness Tracker, 24/7 Heart Rate sensor, and weather will drain the battery faster. However, even with these turned on, the battery life was still insanely long.
I charge almost every device that I carry with me on a daily basis. Adding one more device to charge would drive me crazy, which is why long-lasting battery life on smartwatches is a must for me. And I am glad that Huawei did not reduce the battery life on this lower tier model.
Charging is done via the included proprietary magnetic charger. I don't like the fact that it is proprietary but it is small enough to carry around. It also connects via USB Type-C, which I always have with me.
Just like the GT 2, the GT 2e does not offer wireless charging. It would have been nice to drop my smartwatch along with my smartphone on a wireless charger. But we have to remember that this is a midrange smartwatch. I keep on forgetting that due to how similar it is to the higher-end GT 2.
Verdict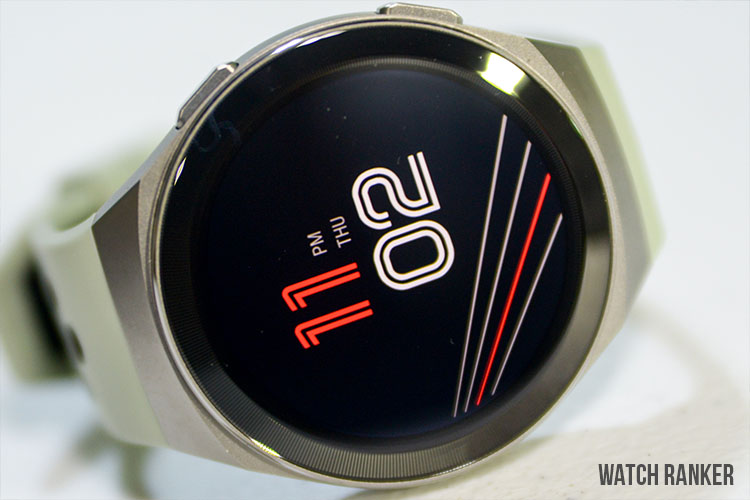 Overall, the GT 2e is a fantastic product. Huawei made the right cuts and has retained the essential features to make a smartwatch good enough for the modern audience.
it does have its flaws which become more apparent when compared to the GT 2. But you have to remember that the GT 2 is a more expensive model. When compared to other models in the GT 2e's price range, that's when you realize just how good the GT 2e truly is.
It can perform as good as the GT 2 and has lots of features that put its competitors to shame. If you like what Huawei's OS brings to the table, then you will love the GT 2e. But if you are not satisfied with Light OS, then the GT 2e won't win you over. Either way, the GT 2e is a great product and is an easy recommendation for anyone looking for a midrange smartwatch.