| PROS | CONS |
| --- | --- |
| ✅ Excellent 2-week battery life | ❌ Proprietary OS with no support for 3rd party Watch Faces and Android Apps |
| ✅ Clear and vibrant display | ❌ No Qi Wireless Charging |
| ✅ Fast, bug-free, and efficient OS | |
| ✅ Premium build quality | |
| ✅ Good speaker and mic implementation | |
Huawei is one of the leading manufacturers of electronic devices such as laptops, routers, and smartphones. Thanks to back-to-back hits from their flagship Mate and P series smartphones, Huawei has enjoyed continued success and is now a major competitor for top brands such as Samsung and Apple. 
In their efforts to compete against the more established brands, Huawei has rolled out a series of smart devices, fitness trackers, and wearables as part of their Huawei ecosystem. The current flagship smartwatch and the product we will be looking at today is the Huawei Watch GT 2. 
Its large feature set and premium build quality make it a direct competitor to Samsung and Apple's flagship offerings. However, compared to their products, the GT Watch 2 has a more limited feature set. So with that said, can Huawei capitalize on their momentum and set the standard in high-end watches, or do they need to try harder? Keep on scrolling to find out. 
I purchased the Huawei Watch GT 2 46mm Version in February 2020 and, at the time, paid $218 
2022 Update – The GT2 is still a top choice if you're looking for a good Smartwatch Under $300 especially since the price has come way down since we first published this review – check the current price on Amazon. 
Unboxing Experience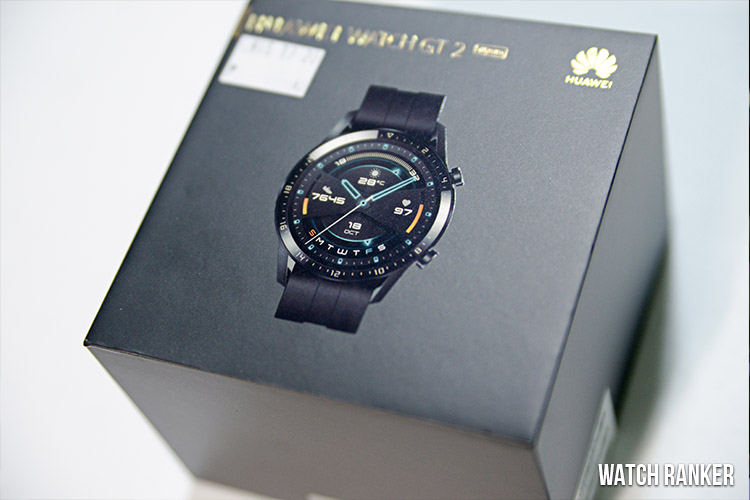 Huawei's latest products have shown how competitive they are in the electronics space. Their current design language reflects this as most of their product immediately gives off a premium vibe similar to the high-end western brands. This is perfectly translated into the unboxing experience.
The packaging has the same all-black design found in Huawei's Mate 30 Pro smartphone. However, the shape and size of the box are more reminiscent of other high-end watch products. Aside from the product artwork, the front of the box is free from clutter. 
The GT Watch 2 immediately greets us upon opening the box. And once it is removed, everything else is stored in its own sections. It includes a USB Type-C charging cable, a proprietary magnetic charging dock, a user manual, and a quick start guide.
Overall, the unboxing experience was similar to most of Huawei's smartphones. They took a minimalistic approach where everything was immediately accessible, but the whole experience was classy and prepares you for the smartwatch experience. 
Huawei Watch GT 2 Design & Build Quality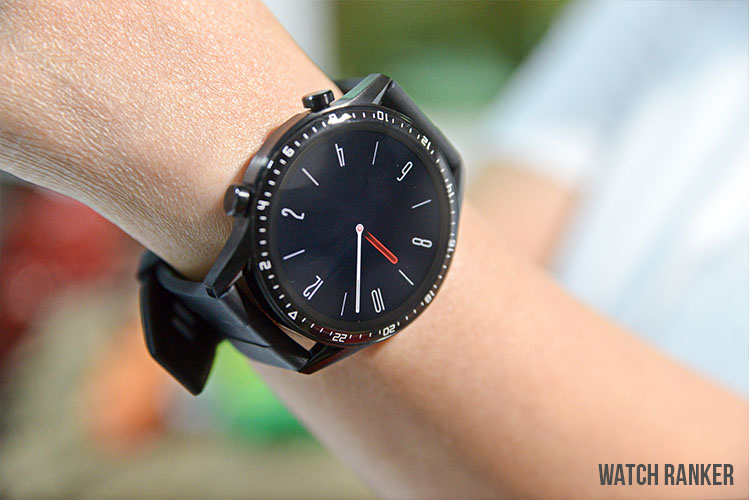 Let us first talk about the design and build quality to kick off the review. The Huawei Watch GT 2 carries over the premium design language present in Huawei's flagship smartphones. It is made with high-quality materials and is found on the stainless steel frame, ceramic back, and glass front. 
The strap that comes with the Huawei Watch GT 2 is no slouch, either. It perfectly matches the classy aesthetics of the watch and is easily replaceable in case you are in the mood for something else. It feels very gentle to the skin and, overall, gives a comfortable experience. I could wear this for the entire day, even when sleeping.
Also, the strap is extremely durable and hasn't shown any signs of wear even after a few months of daily use. The GT 2 fits my wrist (6.5 inches) surprisingly well. Despite being advertised primarily for men, I did not find it uncomfortable at all. It is not heavy or bulky, and I have no problem wearing it for the whole day.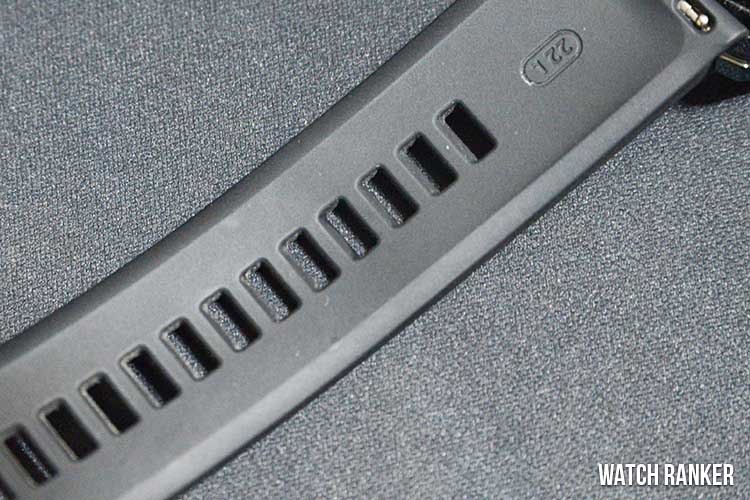 Two physical buttons are located on the side of the watch, which is similar to most analog watches. The upper button gives access to the menu and the various apps in the smartwatch, while the lower button gives access to the workout menu. These two buttons are tactile and feel great to press, and they are resistant enough and avoid accidental presses. 
The watch has not displayed any form of scratches or damage despite seeing some occasional bumps in terms of its durability. Despite having no extra bezel for protection, the screen is excellent. Everything from the feel of the materials to the weight of the watch makes the Huawei Watch GT 2 feel more like an actual watch than an electronic device. It has the looks to compete with higher-end offerings. 
Display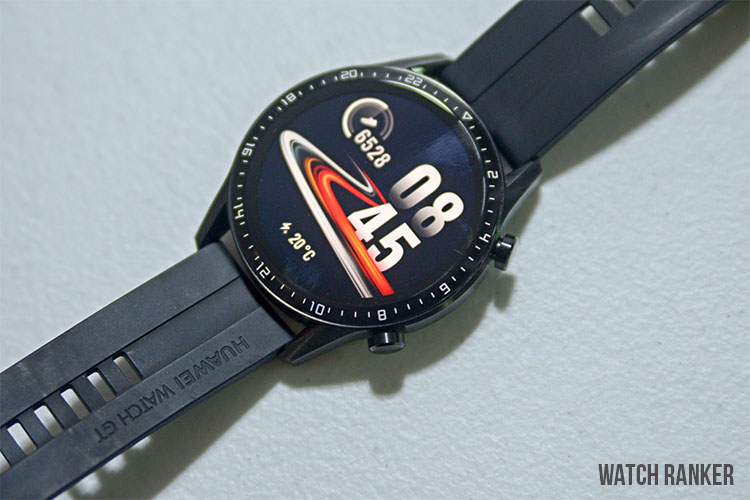 Like Huawei's smartphones, the Huawei Watch GT 2's display did not disappoint me. The Huawei Watch GT 2 has an AMOLED capacitive touchscreen display with 454×454 HD and 1.39 inch 3D Glass. The image is very clear and sharp. 
The colors are vibrant and easily pop out. The various watch faces looked great, and I enjoyed cycling through various designs just to see how they would turn out in this gorgeous-looking display. The text was also very easy to read, even in non-ideal conditions such as outdoors. Viewing angles were also great, which makes reading notifications easy. 
The touch screen was also a treat to use due to its accuracy. My taps easily registered, and I did not have trouble navigating through the menus. The well-optimized software (which we will be delving deeper into later in the review) and well-placed menus make navigating the menus quite easy. 
Another interesting feature of the GT Watch 2 is the always-on display (AOD), similar to OLED smartphones. You can choose between a digital clock and an analog clock. It would be nice to see other designs, but these stock designs help with preserving battery life. Battery life does take a hit, but it is nothing too serious. 
Health and Fitness Tracking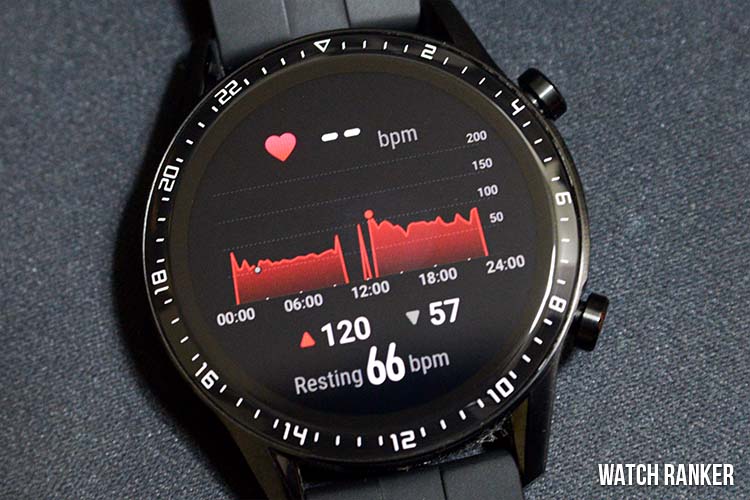 Huawei already had a solid fitness tracking system on its previous smartwatch and smart bands. The Honor Band 5 used to be my daily driver thanks to its well-implemented exercise routines. Most of these routines are back and are now improved on the GT Watch 2. 
The Honor Band 5 provided a rough estimation of my workout results, but the GT Watch 2 took things to the next level and provided more accurate results. This was apparent during my indoor bike sessions. 
There are some sessions where I don't think the results on my Honor Smart band are accurate. However, thanks to its more accurate sensors, I am more confident with the GT Watch 2's results. You can't fake your workout routines with this watch.  
One unique aspect that I did not expect to have is the voice prompt, and it activates whenever you start and stop an exercise routine. The voice prompt was loud and clear thanks to the well-implemented speaker on the GT 2, but it can be turned off if it annoys you or if you think it will annoy people around you. 
Also, the GT Watch 2 automatically tracks step count, heart rate, sleep, and stress as long as you enable it in the Huawei Health App (which we will also be discussed later). Other standard features are also found in other Huawei fitness products, such as the alert that tells you to stand up or the message that pops out whenever you have finished your step goals.
If you are primarily looking for a sports-focused smartwatch, also check out our review of the Huawei GT 2e, a more affordable watch targeted towards sports enthusiasts.
Features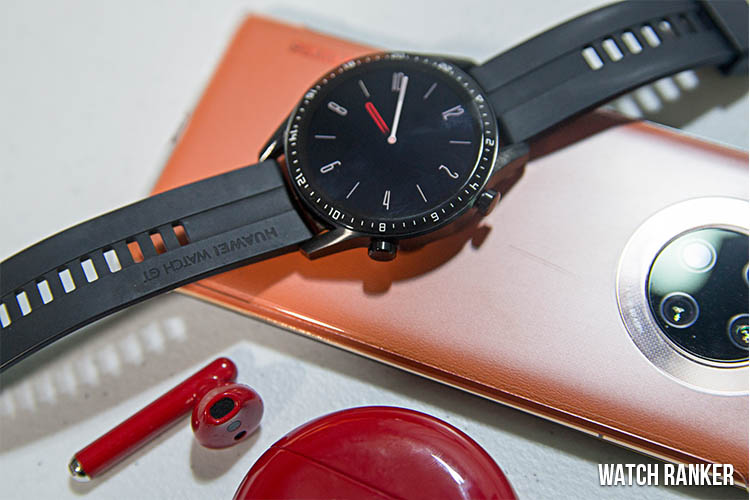 The GT 2 is equipped with Bluetooth 5.1. It is well implemented here as it was able to keep a solid connection even if I was far from my phone, and I did not experience any dropouts, even when answering calls away from my smartphone. 
And speaking of phone calls, my favorite feature of the Huawei Watch GT 2 is the built-in speaker and microphone. This feature allows me to quickly accept phone calls without touching my phone. I'm not always holding my smartphone inside the house, but I haven't missed a single call thanks to this feature. 
Both the speaker and the microphone quality are excellent. The speaker was loud and clear, and I had no problems understanding what the caller was saying. The microphone is also great, and I have never received any complaints on the other end of the call. 
Another unique feature of the Huawei Watch GT 2 is its ability to store and playback music. I mostly use this while working out or doing tasks where I do not want to get distracted by my smartphone. You can play music through the speaker or other Bluetooth devices like my Huawei FreeBuds 3.
The Huawei Watch GT 2 is also water-resistant and can be worn while swimming up to 50 meters and up to 10 minutes. You also do not have to be worried if it gets splashed with rain. 
Despite its rich feature set, there are several notable omissions in the Huawei Watch GT 2 that are commonly found in its competitors. One of them is the lack of Qi wireless charging. Almost everything in Huawei's ecosystem, including the Huawei Mate 30 Pro/P40 Pro and the Huawei Freebuds 3 supports Qi wireless charging. It would have been nice to be able also to throw these into a wireless charger and forget about it as you end your day. 
Another omission from the GT Watch 2 is cellular data and Wi-Fi. These are common on other smartwatches, so some users coming from other platforms may find this an issue. I don't mind this since it extends battery life.
Huawei Watch GT 2 Software Experience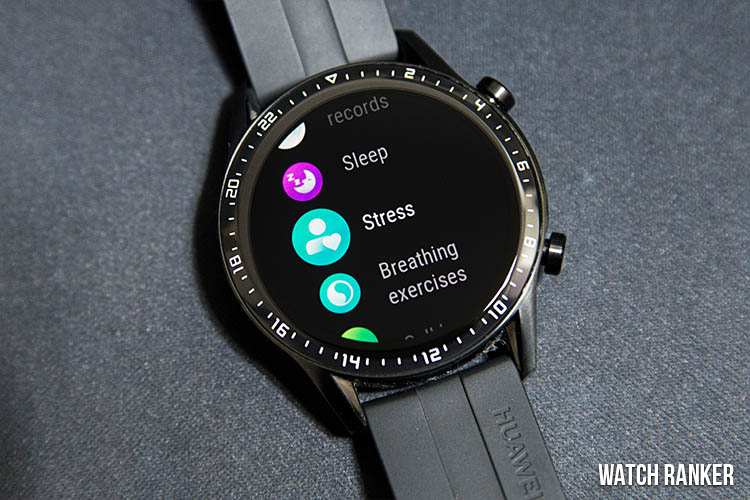 The downfall of most smartwatches is the software experience. It is easy to pack a smartwatch with the fastest processor and best specs in the market. However, if the software implementation is subpar, the whole experience falls apart. 
In this case, Huawei is taking a different direction by utilizing their proprietary software called Huawei Lite OS. This unconventional move is a considerable risk considering most consumers already use the Android Wear OS. However, I am happy to report that Huawei has done a fantastic job with the software implementation.
The Huawei Lite OS perfectly lives up to its name. The OS gives you limited functionality inside the watch and only access the essential features. You can access the rest of the features inside the Huawei Health App. 
I personally think this is a good idea because it keeps the menu clean and free from clutter. Everything is easy to find. And most of all, the lightweight nature of the OS helps preserve battery life.  
Scrolling through the GT Watch 2 is smooth and lag-free. The refresh rate is noticeably slower than most smartphones, but I did not find it to be a problem. Navigating the OS is also easy, thanks to its user-friendly design, and I did not need to refer to a manual or any documentation to find anything that I needed. 
The notification system is also a great feature of Huawei's Lite OS. Since the connection between the GT 2 and the smartphone is solid, I do not miss any notifications. Unlike my Honor Smart Bands, I keep on missing important notifications despite having a solid Bluetooth connection. 
There are, however, some downsides. One of them is that I can't interact with my notifications. It is impossible to respond or reply to notifications such as text messages and Facebook messages. But I think this is better since I imagine typing on a smaller screen may not be the best experience. 
I also want to quickly mention how great Huawei's support for the software is. There are always software updates that bring new features and watch faces, and it also brings bug fixes and additional software optimization. You won't be left behind even when a new flagship smartwatch comes out. 
Huawei Health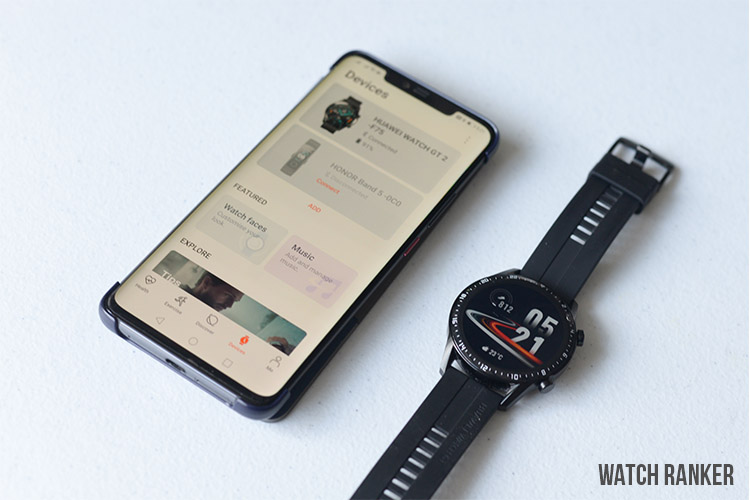 You can access most of the GT Watch 2's extra features via the Huawei Health App. It comes preinstalled with most modern Huawei smartphones, such as the Huawei Mate 30 Pro and Huawei P40 Pro/P40 Pro Plus. You can easily download it via the Google Play Store/Apple App Store if you are a non-Huawei user. 
The app has a lot of features, and it is user-friendly, but I would have preferred if the menu was a bit more efficient. I would have liked to be able to navigate through the menus of my device quickly, but instead, I have to go through several tabs first before I can access the smartwatch settings. 
There are several menus, but the main ones are the main menu and the devices tab. The main menu gives you access to various health and exercise records. This includes heart rate, sleep, weight, stress, and oxygen levels. Records of your other Huawei devices will be stored here.
But of course, the main attraction here is the devices menu that gives access to the GT 2's various extra features. You can change the watch face, customize one of the preset watch faces, or you can download from the various premade designs available. 
Huawei tends to update the watch face library and now has a large selection with different styles. You can save up to 31 watch faces in your smartwatch, enabling you to select a watch face without accessing the Huawei Health App. 
You can also import music to the GT 2 in the Health App. The GT 2 is limited to around 2 Gb for music, so your whole music library will not fit here if you have an extensive collection. Also, take note that only MP3 and AAC file formats are accepted. 
Aside from those, some extensions of the apps are found on the watch. One example is Huawei's TruSleep. The sleep tracker on the GT 2 allows you to monitor your sleep, but TruSleep takes this a step further by allowing you to analyze your sleep patterns and accurately diagnose common sleeping problems. It also provides you with some tips on improving your sleep.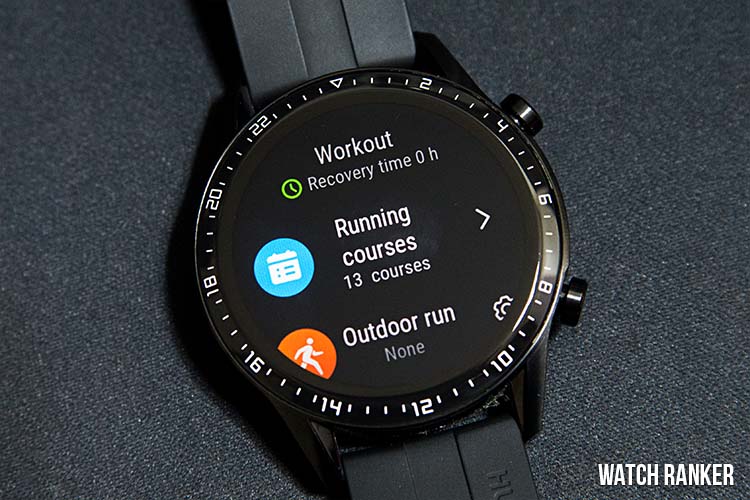 You can also control the heart rate monitoring settings here in that app. You can choose to have the GT 2 continuously monitor your heart rate, or you can leave it in smart mode. The continuous heart rate monitoring mode will give more detailed and accurate information and consume more battery life.  
An alert mode can also notify you during extreme instances such as high heart rate or low heart rate and notify you if your heart rate normalizes. 
There are other features, such as the ability to set up an alarm or the ability to select your favorite contacts. These are some functions that I would not usually be using on my smartwatch, so it is nice to see it here in the app instead of being hidden in the settings of the smartwatch. 
One caveat of the Huawei Health App is that you need to create a Huawei ID, and you cannot opt to log in anonymously. This extra step in the setup process can be annoying, especially if you are a non-Huawei user.   
Battery Life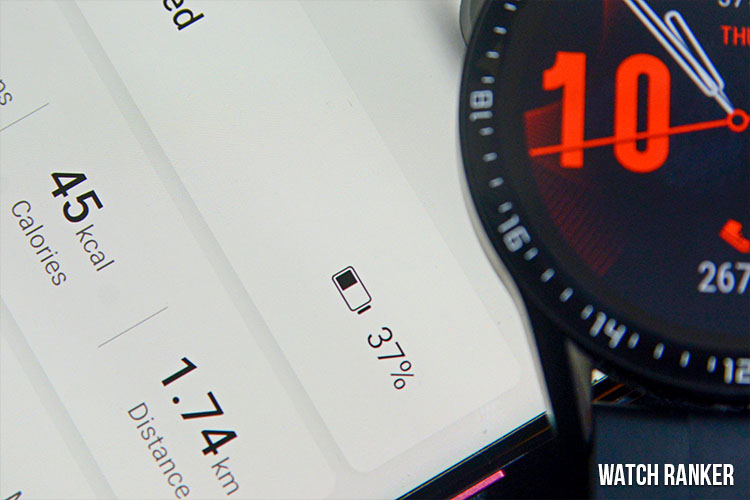 The most important feature of smartwatches for my use case is the battery life. I hate charging smartwatches since I am used to traditional watches with long-lasting batteries, and this is where the Huawei Watch GT 2 truly shines.
Huawei claims that the Huawei Watch GT 2 lasts up to two weeks. While it is impossible to measure that number accurately, this has mostly been the case during my testing period, and I never had to think about the battery life of this device. 
This is primarily thanks to the Kirin A1 Chip and the efficient Huawei Lite OS that keeps power consumption to a minimum. The battery life alone is enough to impress me. 
Verdict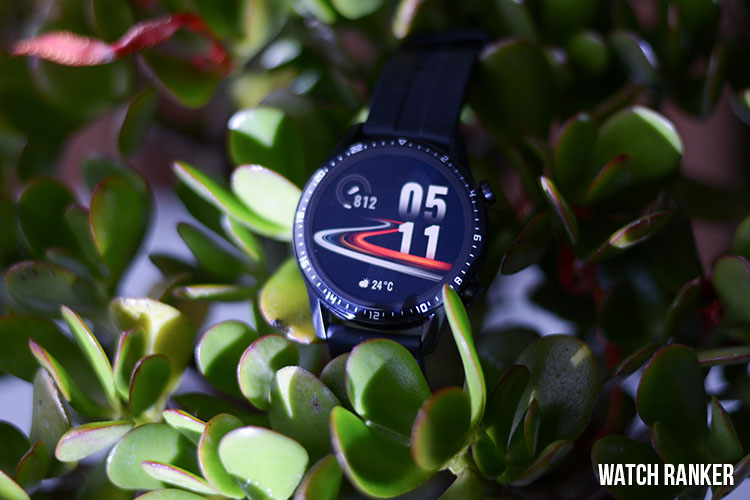 I have been using the Huawei Watch GT 2 for around five months now, and I have enjoyed my time with it. Everything from its wide feature set and its great battery life has made this device my daily driver. 
It isn't a perfect smartwatch. There is no way to fully customize the watch faces, and you cannot install third-party applications. There is no QI wireless charging, and you are stuck with a proprietary charging dock. Interactions with notifications are also limited.  
However, the stable software and consistent two-week battery life are a valid tradeoff. If you value more features and prefer Google's Android Wear OS, then the GT Watch 2 won't be a good fit for you. However, suppose you want a minimalistic but effective software experience, a remarkable two-week battery life, and excellent build quality. In that case, there are very few smartwatches that can match the Huawei Watch GT 2. 
Variants 
Also, another thing to note is that the Huawei Watch GT 2 comes in two variants, and there are the 46mm and the 42mm version. For this review, the unit that I have is the 46mm version, but we will still quickly discuss the 42mm variant. 
46mm (Classic Variant)

The 46mm is the main variant of the Huawei Watch GT 2. It is technically the superior model since it has more features. While primarily designed for larger wrists, anyone can wear it since it is not heavy or bulky. 
42 mm (Ultra Slim Variant)

The 42 mm is the second variant of the Huawei Watch GT 2, primarily designed for women due to its smaller and lightweight design. The downside of this model is that it has less battery life and is missing some features, such as the built-in speaker. 
46mm vs. 42mm Specs 
Here are the complete specs of the two variants. 
 
Huawei Watch GT 2
46mm
42mm
SIZE
45.9 x 45.9 x 10.7 mm
41.8 x 41.8 x 9.4 mm
WEIGHT
41g (without the strap)
29g (without the strap)
WATCH CASE COLOR
Black Stainless Steel, Stainless Steel, Titanium Grey Stainless Steel
Black Stainless Steel, Stainless Steel, Rose Gold Stainless Steel
WATCH STRAP
Titanium Grey Metal Strap, Orange Fluoroelastomer Strap, Brown Leather Strap, Black Fluoroelastomer Strap
Khaki Leather Strap, Cyan Fluoroelastomer Strap, Rose Gold Milanese Strap, Black Fluoroelastomer Strap
DISPLAY
1.39 inch AMOLED 454 x 454 HD
1.2 inch AMOLED 390 x 390 HD
NFC
Supported (limited in China Version)
GPS
Supported
CONNECTIVITY
Bluetooth: BT5.1, BLE / BR / EDR
Bluetooth: BT5.1, BLE / BR / EDR
SENSORS

Accelerometer sensor
Gyroscope sensor
Geomagnetic sensor
Optical heart rate sensor
Ambient light sensor
Air pressure sensor
Capacitive sensor

BATTERY LIFE
14 days for normal use
7 days for normal use
SYSTEM REQUIREMENTS
Android 4.4 or later
iOS 9.0 or later
SPORTS MODE
15
SPEAKER and MIC
Supported
Not Supported
SpO2
Supported
Not Supported
Which One Should You Choose? 
Both models are a good representation of the Huawei Watch GT 2's design philosophy. Some users may not be interested in the speaker and mic functionality and are willing to give that up to get a lower-priced and more lightweight design. But users who want the full GT Watch 2 experience are highly recommended to check out the 46mm version instead. 
Huawei Watch GT 2 VS Huawei Watch GT: Specs
Here is how the Huawei Watch GT 2 fares against the older generation.
 
Huawei Watch GT 2
(46mm)
Huawei Watch GT
(46mm)
DIMENSIONS
45.9×45.9×10.7mm
46.5×46.5×10.6mm
WEIGHT
41g (without the strap)
46g(without the strap)
WATCH CASE COLOR
Black Stainless Steel, Stainless Steel, Titanium Grey Stainless Steel
Black Stainless Steel, Stainless Steel, Titanium Grey Stainless Steel
WATCH STRAP
Titanium Grey Metal Strap, Orange Fluoroelastomer Strap, Brown Leather Strap, Black Fluoroelastomer Strap
Dark Green Fluoroelastomer Strap, Orange Fluoroelastomer Strap, White Fluoroelastomer Strap, Black
DISPLAY
1.39 inch 3D Glass AMOLED 454 x 454 HD
1.39 inch AMOLED 454 x 454 HD
CONNECTIVITY
Bluetooth: BT5.1, BLE / BR / EDR
Bluetooth: BT4.2, BLE
SENSORS

Accelerometer sensor
Gyroscope sensor
Geomagnetic sensor
Optical heart rate sensor
Ambient light sensor
Air pressure sensor
Capacitive sensor

Accelerometer sensor
Gyroscope sensor
Magnetometer sensor
Optical heart rate sensor
Ambient light sensor
Barometer sensor

BATTERY
14 days for typical use
WATER RESISTANCE
5 ATM water-resistant
SPORTS MODE
15
NA
NFC
Supported (limited in China Version)
Mic and Speaker
Supported (Bluetooth calling)
Not Supported (Calling reminder)
Music Storage
Yes
No
SpO2
Yes (limited in Andriod China version)
No
Heart rate
Normal + underwater
Normal
Chip
Kirin A1
Not Specified
Is It Worth the Upgrade?
The Huawei Watch GT 2 has several upgrades over its predecessor. The Kirin A1 chip on the new GT Watch 2 is a clear upgrade over the old processor. It is both faster and more efficient than the previous version.
The newer GT 2 also supports a more recent and more stable version of Bluetooth. The original Huawei Watch GT is still perfectly usable but won't be as good as the new GT Watch 2. There are also other upgrades such as the new microphone and speaker and new exercise and sports mode. The GT 2 is also expected to have more extended support and software updates from Huawei.
Overall, the older generation had a clear goal of what it wanted to be. However, the newer generation executes nearly all of its features better. If you are an owner of the original GT Watch and are not satisfied with the previous generation's proprietary OS, then you won't be happy with the GT Watch 2.
However, if you enjoyed the original GT Watch or if you haven't owned any of these watches and want to have the best experience possible, I highly recommend going for the Huawei Watch GT 2