With thousands of reviews on Amazon, the YAMAY SW022 is one of the most popular budget smartwatches sold via the online retailer. But, is it actually any good?
Well, I've purchased the watch and have been wearing it for a week now, in this article I'll share everything I've learned about the watch during this time and whether or not I recommend it.
Yamay Smartwatch – Overall Verdict 
The YAMAY SW022 is a stylish-looking smartwatch in the under $50 category.
If you're looking for a device that tracks basic daily fitness goals and mirrors your notifications, then the YAMAY offers excellent value for money and good battery life.
However, there are areas where it falls down. For example, the music player is poor, longer messages cannot be shown in full and there's no GPS or voice assistant, if these features are important to you then you'll probably want to spend a little more for something like the TicWatch E2.
| | |
| --- | --- |
| PROS | CONS |
| ✅ Watch has a stylish design | ❌ Functions are very basic |
| ✅ Feels comfortable on your wrist | ❌ Music controls are basic and hard to reach in the user interface |
| ✅ Ideal for tracking daily fitness goals | ❌ Messages are not displayed in full |
| ✅ Great value for money | |
| ✅ At least 7-day battery life | |
Yamay Smartwatch Review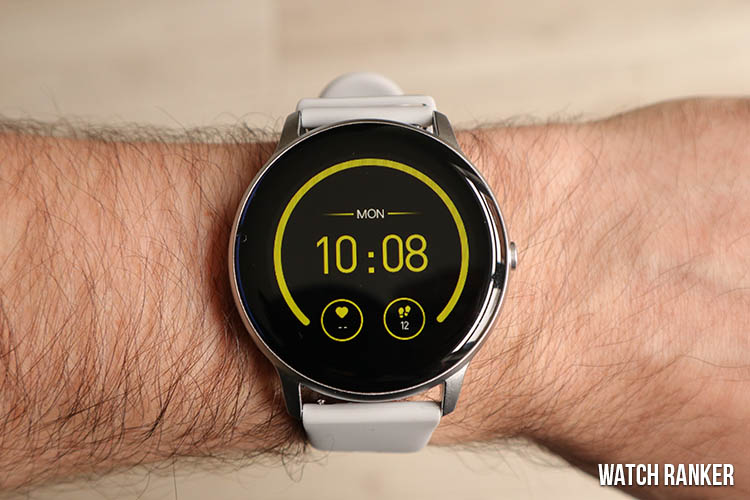 YAMAY is a Chinese tech brand specializing in a range of budget fitness trackers and smartwatches that are sold across Europe and North America.
They sell products under their own YAMAY and Willful brands, offering a range of square and round smartwatches that come with a basic operating system.
In this review, I'll be looking at the YAMAY SW022 which is a round smartwatch with a zinc alloy shell and a silicon rubber band. I'll cover unboxing, design and build, features, health and fitness tracking, and battery life.
What's In The Box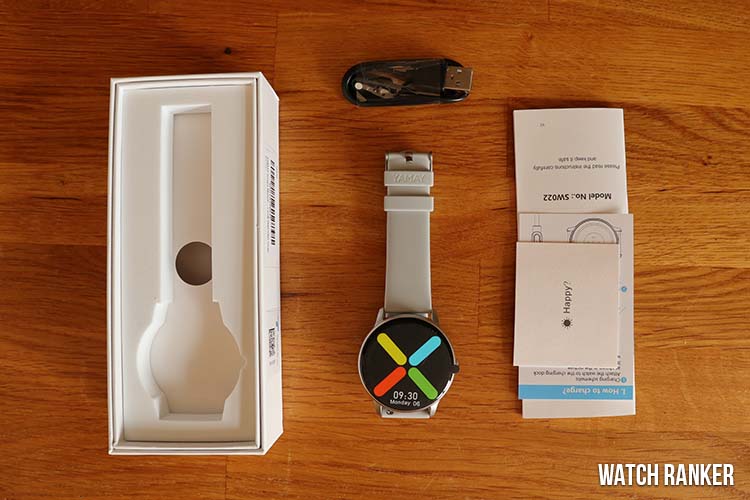 The watch comes in a simple white box with branding on the outer and inner case. The packaging is nice enough that you could give it as a gift, although nothing to get overly excited about.
Inside, you'll find the watch, some quick-start instructions, and the magnetic charger. This has a USB attachment on the end so you'll need to source a wall adapter yourself.
Design & Build Quality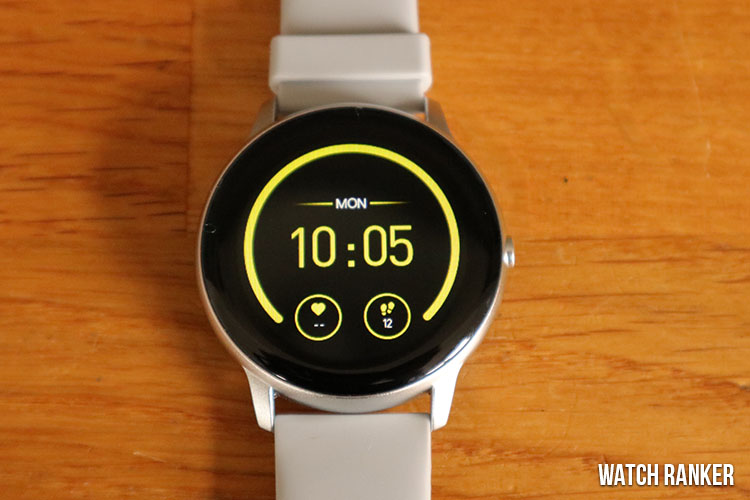 Let's first take a look at the design of the watch. Considering its price point, I am impressed with the way the YAMAY SW022 looks and feels. The watch weighs 54g and is noticeable on your wrist, however, it didn't feel obtrusive and was a pleasure to wear. It is suitable for wearing throughout the day and during workouts, although I felt that it was slightly too bulky to wear whilst sleeping.
The watch looks very similar to the more expensive Galaxy Watch Active 2, and that's not a bad thing at all. The round screen is sleek with no protruding bezel which makes it look premium and stylish.
The strap itself is a silicone rubber strap with a traditional ardillon buckle, it's smooth to wear and suitable for use during exercise too. The strap has YAMAY branding on one of the strap keepers, but this is the only branding present on the watch itself. The strap has quick-release pins which allow it to be easily swapped out for another color or design as you wish.
There are several strap colors to choose from, I had opted for the grey band which matches the silver casing to provide a sleek-looking watch. There are also black, green, and pink straps to choose from.
The watch has an IP68 rating which means it can be submerged up to 1.5m in water for 30 minutes. I didn't get a chance to try it whilst swimming, but it was nice to keep the watch on when caught out in the rain or washing my hands without worry.
Display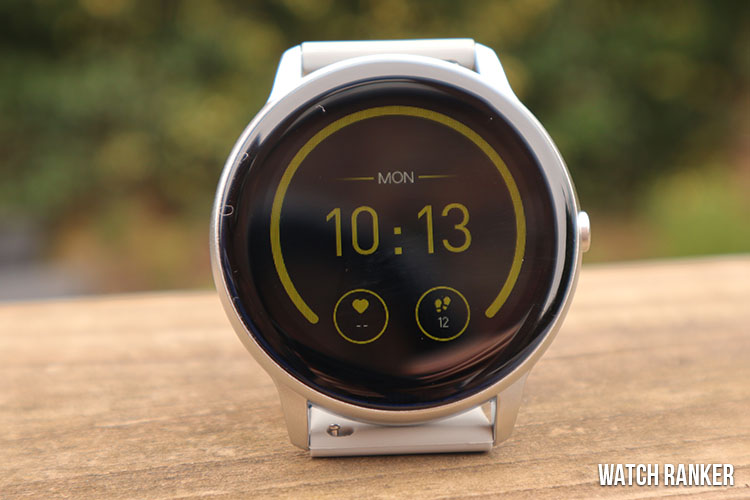 The watch has a 1.28″ TFT display with a capacitive touch screen. The watch is very vibrant when used indoors, although can sometimes be hard to see the screen outside but this is a common issue with budget smartwatches.
There's no always-on screen which is presumably to save battery, so you have to raise your wrist to wake it. This works well and it recognized every time I raised my wrist, it's quick to wake never taking more than a second to show the watch face.
Features
Let's now take a look at the main features you can use on the YAMAY SW022.
The watch uses Bluetooth 5.0 which provides a speedy and stable connection to your phone. The watch can track your daily fitness goals and 15 different workouts with the data synced to its companion app. More on this later.
The YAMAY can mirror your notifications, but you cannot interact with these notifications or send messages from the device. There is no microphone or speaker on the watch so phone calls and voice assistants are also out of the question.
When your phone rings, the watch does notify you and gives you the option to accept the call, however, you can't take the call on the device so will still need to get your phone out. This feature could come in useful if your phone is connected to a speaker or Bluetooth headset.
There is a basic music player on the watch which allows you to play/pause and skip through songs that are playing on your phone. You cannot put music on the device or browse through any music apps as it doesn't support third-party app installs.
The final features to mention are the stopwatch and the 'find my phone' feature within the quick settings menu which makes your phone ring.
Software Experience 
User Interface
With only one button that's set as a back button, you are relying on the touchscreen for navigating the watch. Luckily, there's aren't too many functions and no third-party apps so you can reach most screens with just a few swipes.
Swiping from the top will reach the quick settings where you can see battery status, set the brightness, find your phone, and turn on night mode.
Swiping to the left reaches the main menu and swiping to the bottom will show you a feed of recent notifications.
The biggest downside to the user interface is the music control. The only way to reach this is by swiping right through five fitness screens before you finally arrive at the music controls. This is a lot of swiping just to skip forward a track so I would have liked to see this in a more convenient place.
Watch Face
There are 40 watch faces to choose between in the OnlyFit app, with a range of digital and analog-style faces. There's an option to upload your own photo to the watch face, I was impressed with this feature but in the end, opted to stick with a simple watch face to match the sleek style of the watch.
Most of them have the same widgets which consist of time, date, daily step count, and heart rate. It's not possible to customize the widgets on each watch face.
Buttons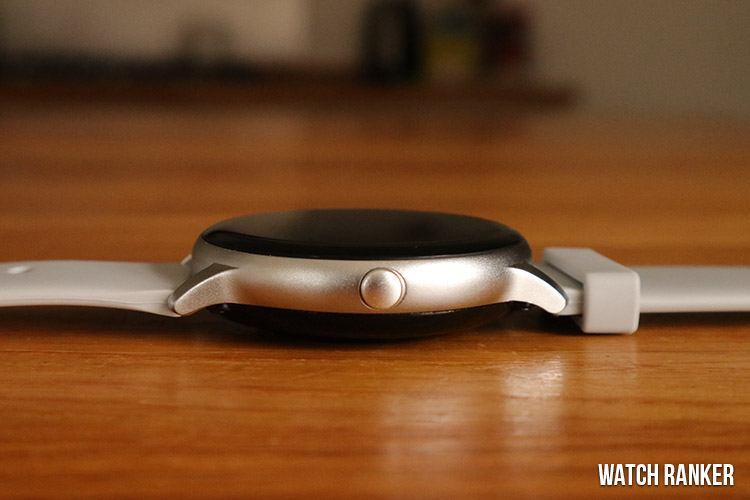 There is only one button on the watch which functions as a back button. Whilst it would be nice to have a few additional buttons for the home screen or pre-programmable functions, I can appreciate the minimal look of the watch.
There is no crown dial or scrolling bezel as is found on other smartwatches, so scrolling must be done via the touch screen. As there is no messaging and the menus are fairly short, this was never an issue for me.
Notifications
The watch mirrors notifications from most messaging and social media apps, there's a dedicated section within the OnlyFit app for customizing which notifications it will display. This is helpful to avoid a constant buzzing on your wrist.
The watch will only show the information from the notification itself, this means that longer messages are cut off so you'll need to open your phone to view the whole thing. There is no interaction with the notifications.
The watch has a do not disturb (DND) function which you can activate via the quick settings by swiping down on the home screen. You can also set DND to come on via a schedule is useful if you'll be wearing the watch at night to track your sleep.
Health & Fitness Tracking 
Health Tracking

The YAMAY tracks daily step count, distance walked, and calories burned. It asks for your height and weight when setting up the app to calculate the latter. All three goals are shown when swiping to the right and there are also watch faces
There is no GPS on the watch and it doesn't access your phone's GPS either, so it appears that the distance walked is calculated based on your steps, either way, I wouldn't want to rely on it for accuracy.
There is also heart rate monitoring displayed on a separate screen. Continuous heart rate monitoring is turned off by default to conserve the battery and will only turn on during workouts. However, you can easily turn this on in the companion app if you'd like to review your resting heart rate.
It does have sleep tracking, however, this is a very basic feature and is limited to time awake and time asleep. It does not give details on sleep cycles like more expensive watches. I also found it to be a bit bulky to wear at night so I can't recommend this feature.
Fitness Tracking
The watch can track 13 different sports, these are running, walking, cycling, climbing, yoga, skipping, tennis, baseball, basketball, badminton, football, rugby, and table tennis. You do not need to have your phone with you when tracking sports which is ideal if you're going for a run.
For each activity, the watch will track the time you've been working out, the calories burned, heart rate, and where applicable the steps you have taken. This is all synced to the OnlyFit smartphone app. There is no GPS on the watch and it cannot use your phone's GPS either which might put some people off.
Within this app, it's possible to see steps and calories burned by day, week, or month. Unfortunately, there is no integration with other fitness apps like Google Fit or Strava so you are limited to the basic reporting.
One of the downsides to tracking sports on your watch is that you cannot do this in the background. Once you have started a workout, you cannot access any other watch features until you end it. This was particularly frustrating when I wanted to skip a song during my workout as the media controls were inaccessible.
Smartphone App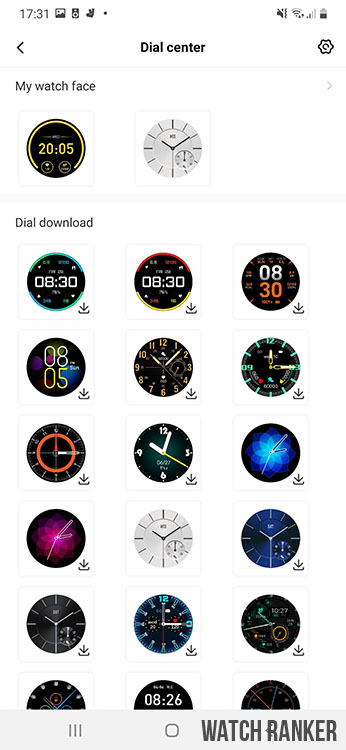 The watch connects to the OnlyFit app which is available on both Android and iPhone. I found the OnlyFit app to be very basic in terms of features with a home tab, a tab that shows your health and fitness tracking, and a tab to update the watch's preferences.
I found it frustrating that most features were turned off by default so it took me a while to realize that I wasn't making the most of the watch's features. I'd recommend you spend plenty of time familiarizing yourself with the app to make sure it's set to your requirements.
Some areas of the watch had been poorly translated from Chinese or English, however, this did not impact the usability of the app.
Battery Life 
The watch has a 340mAh battery capacity which YAMAY claims can last for 7 days whilst in use or 30 days in standby mode. During my own tests, the battery indicator barely dropped lower than 50% after a week of wearing it with light usage, so it more than met my expectations.
Verdict
As far as budget smartwatches go, I'm a big fan of the design of the SW022 and it feels comfortable on your wrist. There's no denying that its features are very limited, but if tracking your daily fitness goals (steps, distance, and calories) and notification mirroring is all you're looking for, then this sub-$50 watch will do the trick and offers a good battery life too.
However, if you're looking for anything more than this, then the watch won't fulfill your needs. The music player is very poor, there's no GPS or contactless payments, you cannot send messages from the device and only shorter messages will be displayed in full. Without any speaker or microphone you cannot make calls or access a voice assistant, nor can you install any additional apps to improve functionality.
If you're looking for something that offers these features, you might want to consider the TicWatch E2, or for a full smartwatch experience, something like the Samsung Galaxy Active 2 which looks quite similar to the YAMAY.
If you're still on the fence, check out these Amazon Reviews of the Yamay SW022 .
YAMAY FAQs
Are Yamay Watches Waterproof?
Yes, the Yamay SW022 smartwatch has an IP68 waterproof rating which means it can withstand submersion in up to 1.5m of water for 30 minutes.
Is Yamay a Good Watch Brand?
Yamay is a budget smartwatch brand that makes a range of reliable and competitive smartwatches at a budget price. However, the features of these smartwatches are very limited.
Where Are Yamay Watches Made?
Yamay smartwatches are made in Shenzhen, China.
Who Makes Yamay Smart Watches?
Yamay smartwatches are made by Shenzhen Electronics Co, Ltd. This is the same manufacturer as the Wilfull range of smartwatches.
Can You Text on a Yamay Smartwatch?
No, it's not possible to send text messages on this smartwatch.
How to Reset Yamay Smartwatch?
Here are the instructions to reset a Yamay SW022 smartwatch:
Swipe down from the top of the home screen to reveal the settings bar.
Choose the settings icon.
Select 'reset' and choose the tick icon to confirm.
Resetting the watch takes less than one minute, however, you'll need to go through the process to pair it with your phone again.
How to Connect Yamay Watch to Phone?
Here are instructions to pair the Yamay SW022 smartwatch to your phone:
Download and install the OnlyFit app available for Android and iPhone.
Head to the 'Devices' tab and select 'Bind new device'.
Select the watch image and choose SW022 from the list.
Your watch should now connect.
Specs
SPECIFICATIONS
| | |
| --- | --- |
| | |
| Case Dimension  | 265 x 46 x 13.5 mm |
| Screen Protection | Glass 2.5D |
| Band Length | 22 mm |
| Body Material | Aluminum Alloy |
| Weight | 36  grams |
| Battery Life | 7 Days |
| Heart Rate Monitoring | Yes |
| GPS | Yes |
| Call & Message Notifications | Yes |
| Sleep Tracking | Yes |
| Step Counter | Yes  |
| Calorie Counter | Yes |
| Multi-sport mode | Yes |
| Waterproof Rating | IP68 |
| Color Options | Black, White, Green, and Pink |