As smartwatches have grown in popularity, there has been a huge number of cheap smartwatches hit the market.
But which of these budget-friendly smartwatches are the best and which are a waste of money? To start I set a limit of just $50 max and bought seven of the top-selling smartwatches from Amazon as of April 2021. I then wore the watches and put them to the test, wearing each one for a week at a time so that I can make objective recommendations.
My overall favorite smartwatch under $50 was the Popglory P22. This square watch is small and compact, with a metal casing that looks premium and reminds me of the Apple Watch. It can mirror your notifications, track your sleep and fitness goals, and has over 100 watch faces to choose from, far more than the competitors.

Keep reading for my full list of recommendations, including some that you might like if design or fitness are key considerations.
Note: We purchased all watches for under $50 at the time of purchase in April 2021. It is possible that some prices have increased since then.

Are Cheap Smartwatches Worth It?
Before jumping into the full list of recommendations, let's address whether these sub-$50 smartwatches are actually worth considering.
As you'd expect, these watches are all very basic. If you're looking to keep track of your daily fitness goals and to have a quick glance when you get a notification rather than getting your phone out, then these watches will do the trick.
However, none of them have GPS to track your running routes, NFC for contactless payments, or third-party apps. They are also quite useless without your phone so you'll still need to carry this anyway. For me, these are all essential requirements for a smartwatch.
If you're looking for something a little smarter, we have put together a guide of affordable smartwatches here that have some more advanced features but still won't break the bank.
Best Smartwatches Under $50
Best Overall: Popglory Smartwatch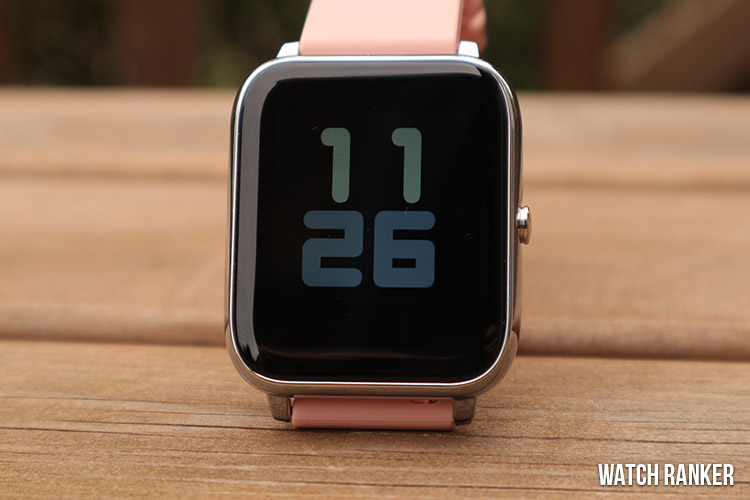 Read our Popglory smartwatch review | Read Amazon Reviews 
Pros/Cons:

Metal case gives the watch a premium Apple-esque finish

Over 100 watch faces including some that can be customized

Only watch to provide sleep tracking in addition to daily fitness goals

Takes a while to navigate to the media player
My top pick is the Popglory P22 Smartwatch which provides a good balance of design and usability. The square watch looks similar to the Apple Watch with a metal casing which immediately stands out compared to the other smartwatches under $50 I reviewed as most have a plastic body. The watch is suitable for any occasion, from the gym to the office.
The watch is very comfortable to wear with a good weight balance between the body and the rubber silicone strap. There are several color choices to choose from and you can swap the strap for any standard strap with a quick-release pin.
In terms of functionality, the main features are fitness tracking for your daily fitness goals and notification mirroring. The notification mirroring isn't great due to being limited to a set number of apps, however, this is a common theme across these cheaper watches. One unique feature I spotted on this watch is the torch feature which puts the screen to full-brightness white, this was helpful on a few occasions and saved me getting my phone out.
I like the range of over 100 different watch faces to choose from, each with different widgets so you can customize what data is shown on the home screen such as steps, distance traveled, etc.
This was also the only watch I reviewed that provided some sort of sleep tracking. Each morning you can view a quality score that takes into account time asleep, how often you woke up, and the deepness of sleep.
Runner Up (4-Way Tie): Identical Budget Smartwatch Models
Willful Smartwatch, Letsfit Smartwatch, Aikela Smartwatch, Blackview Smartwatch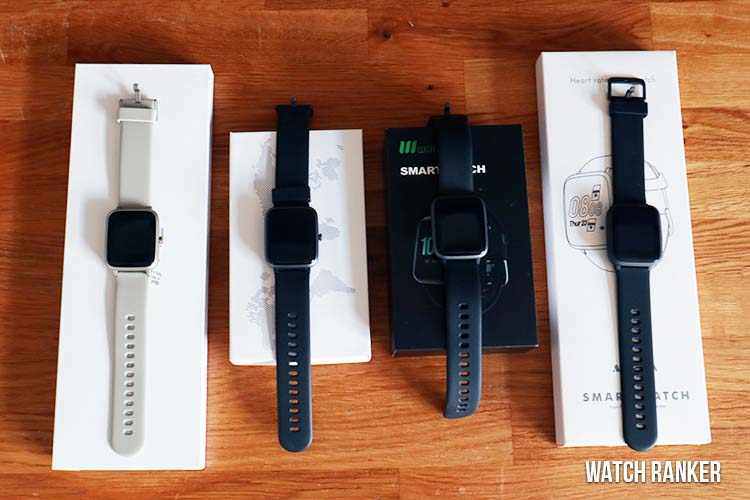 Pros/Cons:

Very lightweight which makes it barely noticeable on your wrist

Music controls accessible during workouts

Plastic build feels very cheap

Only 4 watch faces to choose from
In the runner-up spot, we have a 4-way tie between Willful, Letsfit, Aikela, and Blackview smartwatches.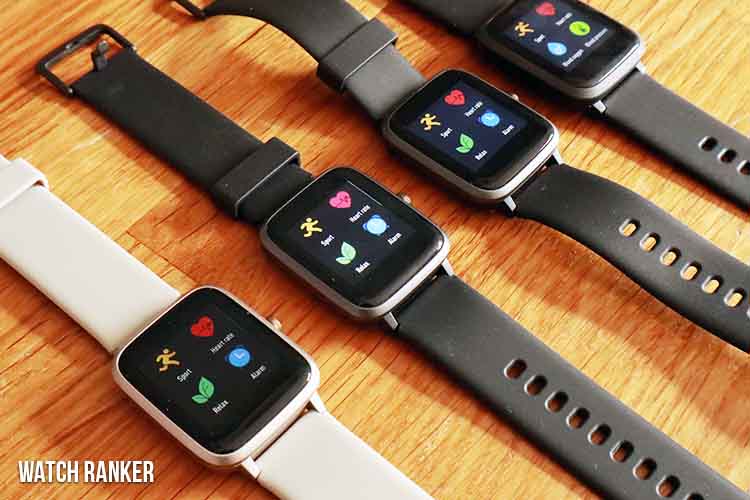 This is because all of these watches were near-identical with very few differences other than the color choices available, the packaging, and some minor tweaks to the operating system.
Note: I did not disassemble these watches so cannot verify if the components are the same, but this is based on my experience wearing each watch for a week.
These watches are very lightweight to wear on your wrist and are very well suited to exercising. However, the plastic casing makes them feel much cheaper than the Popglory mentioned above despite being the same price which has nudged them into the runner-up spot.
They can mirror notifications from 10 of the most popular social media and messaging apps, plus they can track your daily fitness goals such as steps, distance traveled, and calories.
In addition, there are media controls for basic control of the music on your phone. This cannot be used to browse through tracks but can be used for simple play/pause/skip. One thing I liked about these watches is that the media controls were accessible during workouts which can't be said about all of the watches I've reviewed.
Other features that you'll find on these watches include an alarm, timer, find my phone, and a 'relax' feature that talks through 1-2 minute breathing exercises for when you need some calm.
Best Design: Yamay Smartwatch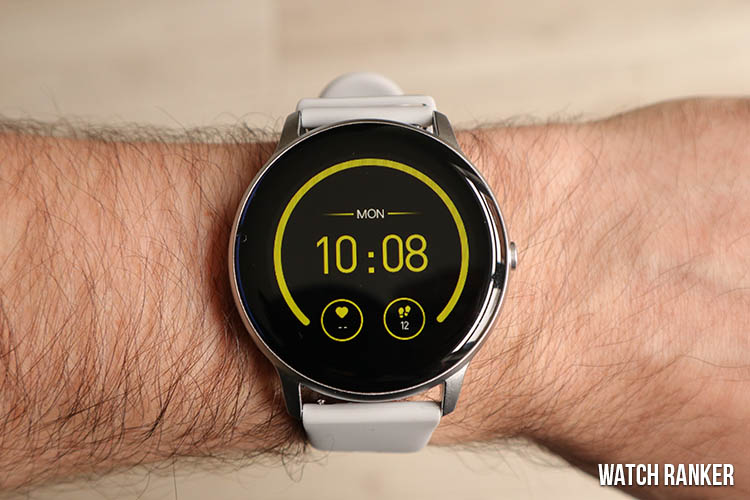 Read our Yamay Smartwatch review | Read Amazon Reviews 
Pros/Cons:

Sleek design that looks like the Samsung Galaxy Active 2

Comfortable to wear

Best selection of watch faces in both digital and analog designs

Lack of a bezel around the screen makes it prone to scratching
Next up is the Yamay SW022 smartwatch. Yamay have both a round and a square watch both priced under $50, however, as a fan of round watches, this is my favorite.
Its sleek design reminds me of the Samsung Galaxy Watch Active 2, only it's a fraction of the price. The display is large but the casing is slim so it will fit easily under any long sleeves or jackets you might wear. At 54g, it's slightly heavier than the watches mentioned above, although still manageable and doesn't obstruct any workouts.
There is no bezel around the edge of the screen, this gives the watch a smooth look, however, it does make it more prone to scratches so I'd recommend getting some screen protectors. The watch has an IP68 rating which means you don't need to worry about taking it off to shower and you can also use it whilst swimming.
The watch has 40 different watch faces and of all those reviewed in this article, I was most impressed with the designs available on the Yamay. There was a good selection of digital and analog-style faces with a variety of different widgets on each.
In terms of features, the watch isn't too dissimilar from the others in this review with fitness tracking and notification mirroring being the standout reasons for buying the watch. Keep in mind that you cannot interact with any notifications on the watch or take phone calls, but the same can be said about all the watches mentioned here.
Best for Fitness: BingoFit Smartwatch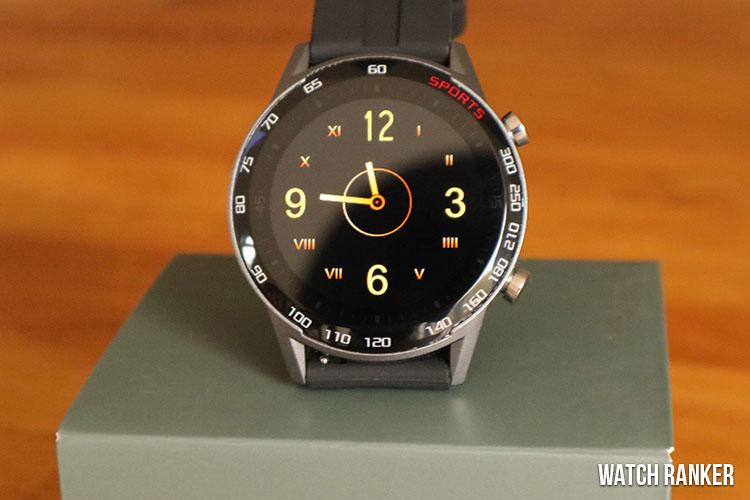 Read our review of the Bingofit| Read Amazon Reviews 
Pros/Cons:

Integrates with Google Fit

Range of 24 watch faces, some with widgets to display your fitness goals on the home screen

Tracks your heart rate, blood pressure and bloody oxygen levels

Much bulkier than the other watches reviewed
The final watch I reviewed that costs less than $50 is the BingoFit. This I another round watch, although it's slightly larger and heavier than the YAMAY.
The BingoFit connects to your phone with the FitCloudPro. Like the other watches here, the companion app is very simple in terms of features and reporting. However, one feature makes this one stand out and that's integration with Google Fit. This might not seem like a big difference, but as someone that uses the platform, it made the watch's fitness tracking far more useful than any other watch.
The watch has 5 preinstalled sports that it can track, although it tracks the same goals for each sport so you can use this mode for any sports you like. The watch isn't as comfortable on your wrist as some others here, however, the thick bezel means the screen is well protected from any scratches whilst you work out, this is particularly good for endurance workouts.
In addition to tracking your steps, calories, and distance traveled, the watch also has a built-in heart rate monitor as well as sensors for blood pressure and bloody oxygen levels. This gives you a rounded view of your fitness, although I wouldn't rely on the accuracy if you are managing a health condition.
It has a decent range of 24 different watch faces including one that allows you to set a custom photo as your background. However, only 5 of the watch faces have additional widgets for showing your fitness data on the home screen.