Popglory is a budget smartwatch brand that's been growing in popularity. Their signature P22 smartwatch is slim, stylish, and suitable for both men and women. Is this smartwatch an absolute bargain or should it be avoided? I decided to purchase it and over the past week, I've been putting it through its paces to find out.
Overall Verdict
The Popglory is a stylish square smartwatch that offers great value for money at less than $50. It has a premium finish, a nice weight balance, and I found it to be comfortable to wear. If you're looking for a basic watch that tells the time and tracks your daily fitness goals such as step count, this is ideal and it has an excellent battery life too.
However, if you're hoping to get more out of your smartwatch such as controlling your music, using it to receive notifications, and tracking your workouts, I'd recommend looking at something like the Ticwatch E2 which runs WearOS and has more useful features.
PROS
CONS
✅ Lightweight and comfortable to wear
❌Limited set of features
✅ Great price
❌Notification mirroring very poor and unintuitive
✅ Selection of over 100 watch faces to choose from
❌Music player basic and hidden within the main menu
✅Battery will easily last 10 days with regular use
Popglory Smartwatch Review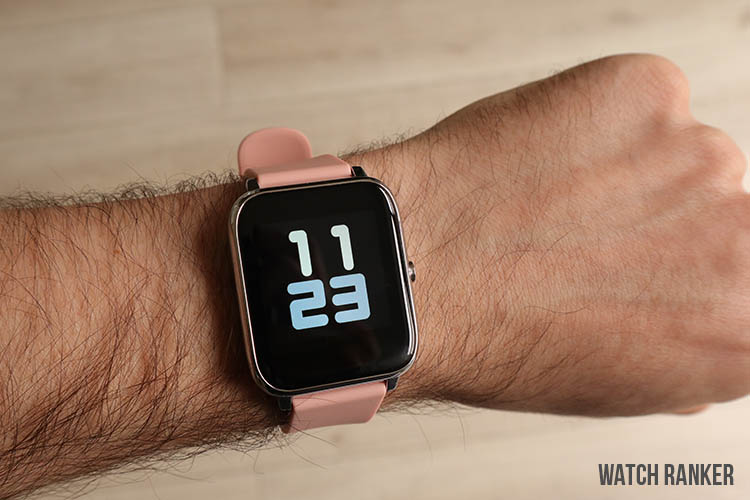 Popglory is a budget smartwatch brand based in China. Their signature device is the P22 smartwatch which is sold in Europe and North America. The watch runs a proprietary operating system that offers basic features and excellent battery life. The biggest selling point is the price of the watch which costs me less than $50 (bought in April of 2021).
What's In The Box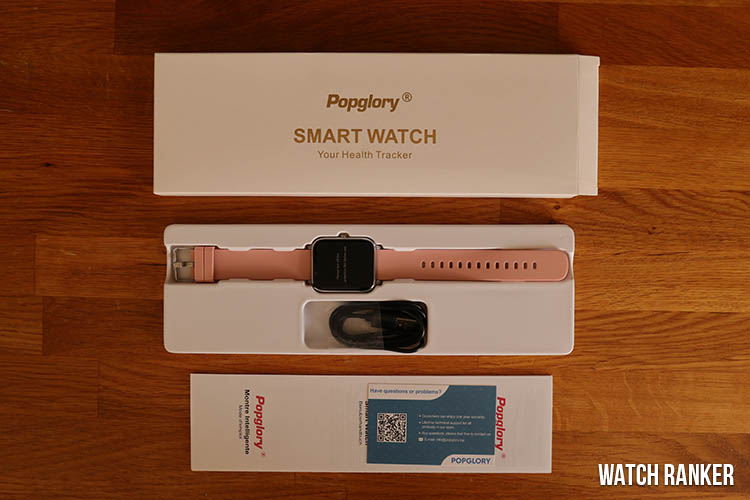 As soon as I received the Popglory P22, I could tell that it was a budget smartwatch. It arrived in a very cheap-looking box that still has all the stickers on the back from the watch's origin in China. The unboxing experience was not enjoyable at all.
Inside the box were the quick start instructions and the magnetic clip-on charger. The charger has a USB on the end and doesn't come with a wall adaptor so ensure you have one free to use with the watch. Luckily, I have a few spares lying around.
Design & Build Quality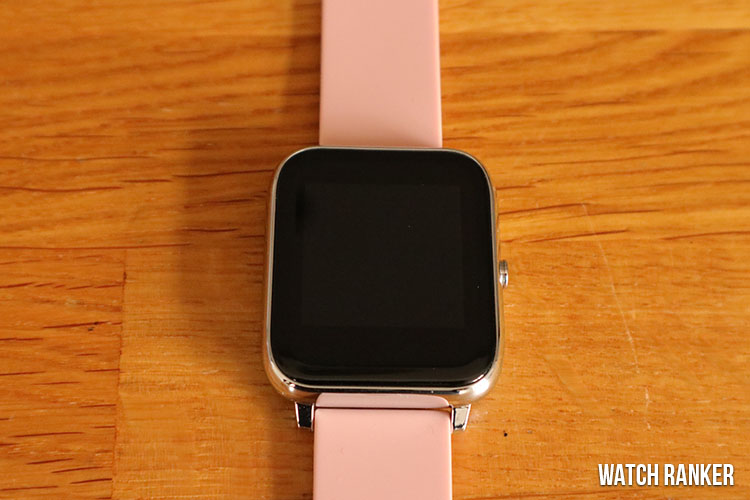 I'm a fan of the way this watch looks. The body is made from metal with a silver finish that makes it look like the Apple Watch.
It's fairly lightweight at 43g and has an excellent weight balance between the case and strap that feels premium and durable.
The watch is far smaller than most in this price range so it was very comfortable to wear and would be suitable for both men and women.
The strap is made from silicone rubber and was also very comfortable. There are several different color straps to choose from, including pink, green, and black. The pink strap is also available with a gold finish case.
The watch has an IP67 rating which means it can be submerged up to 1m in water. Whilst I didn't use it for swimming, it meant that I didn't need to worry about getting it wet in the shower or washing my hands.
Display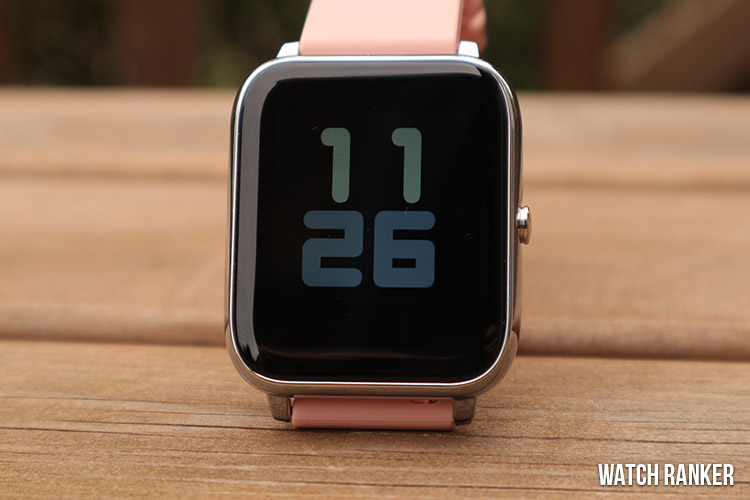 The watch has a 1.4" TFT color display touchscreen with a resolution of 240×240 pixels. The screen does not go to the edges of the watch so there is a large bezel around the outside. The bezel is larger along the bottom edge than the top which impacts the design.
There are 5 brightness settings, however, I found the first 4 settings to be too dim so left it on full brightness for the duration of my testing. Even still, the battery life was impressive which I'll come on to later.
The watch does not have an always-on display, however, the lift to wake feature worked well, usually bringing up the watch face within a second or two of lifting my wrist. The watch is initially set to stay on for 5 seconds before timing out, although you can update this between 5-20 seconds within the app.
Features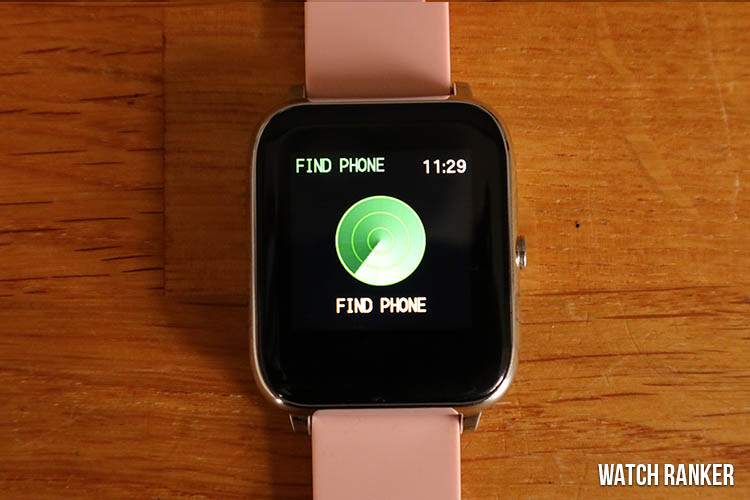 Now let's take a look at the main features of the Popglory P22. The watch connects to your phone via Bluetooth 4.0 which is a slightly older version than most smartwatches, although I had no problems with maintaining a connection to my phone.
The watch has sensors for monitoring your heart rate, blood pressure, and blood oxygen. These sensors will come on automatically during workouts (more on this below) or can be spot-checked via the main menu. There is also the option for continuous heart rate monitoring which will take regular measurements.
Whilst the heart rate monitor seemed useful, the blood pressure and blood oxygen measurements weren't consistent so I'd question the accuracy of these.
Also in the main menu, you'll find the remote camera shutter which would be ideal for use whilst traveling, and the media player. The media player is limited to play/pause and skip back/forward. It's also hidden at the bottom of the menu so takes a while to reach. I wouldn't recommend this watch if controlling your music is important to you.
When you swipe down from the top, the quick settings menu has a few useful features including 'find my phone' and weather forecast (the weather location can be set in the app). There is also a handy torch feature that turns the screen a bright white to help you see in the dark, I found this very useful when taking the bins out at night!
Software Experience
User Interface
The watch runs a proprietary operating system. The interface is very basic so I did not have any difficulty understanding how to use it. Between the touch screen and the single button on the right-hand side, I was able to reach most features within 2 or 3 taps.
Swiping left or right from the home screen will cycle through various health and fitness screens to see how you are performing against your daily targets. Swiping up will bring up the main menu, whereas swiping down reaches the quick setting menu.
There is no quick way to reach your notifications other than going to the main menu and choosing the messages icon. This is an unusual layout for a smartwatch and makes it difficult to reach such a key function. The music player is also only accessible through the main menu.
Watch Face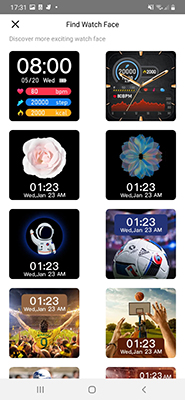 There are more than 100 different watch faces available which can be downloaded from the app to the watch. The first download takes a few minutes, but once on the watch, you can quickly switch between the various faces.
It's not possible to customize the widgets on the screen so you'll need to choose a watch face that already has the widgets you are looking for. I like the default watch face best as it clearly shows the time alongside your daily fitness goals.
Buttons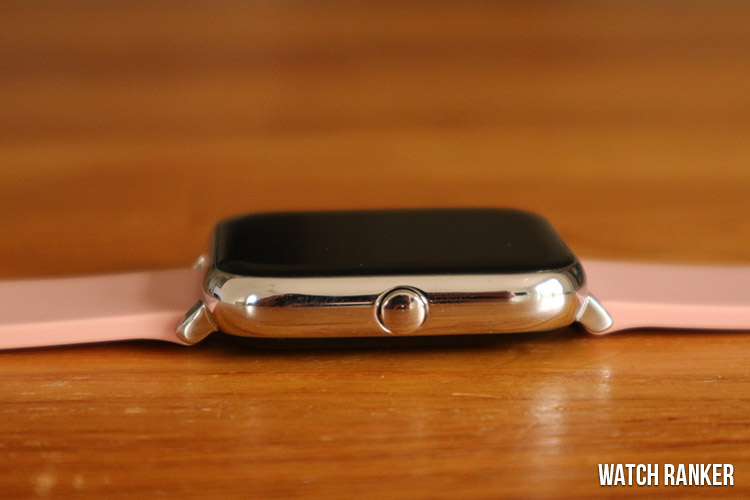 There is only one button on the watch which acts as a back button or you can long-press it to return to the home screen.
There's no crown dial or scrolling bezel as you'll find on some smartwatches. The user interface isn't too complicated to navigate so the single button seems appropriate.
Notifications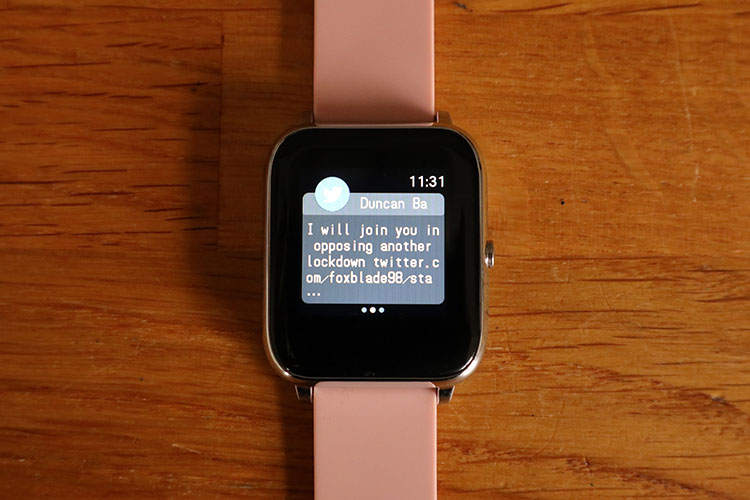 I found the notification mirroring to be very poor. Despite allowing all the relevant permissions and enabling notifications in the smartphone app. I still only receive notifications from a select few apps.
The notifications are also difficult to reach, you have to go into the main menu and select messages to view a feed. Once you have done this, it still only displays the three most recent notifications and even then it only displays a small portion of the notification and there is no interaction.
If you're hoping to read messages or check emails on your wrist, the Popglory P22 is not a good pick for this.
The watch will alert you when you have a phone call and advise who it is, however with no microphone or speaker it's not possible to receive them through the watch. You can decline them but will need to get your phone out to accept them.
Health & Fitness Tracking
Health Tracking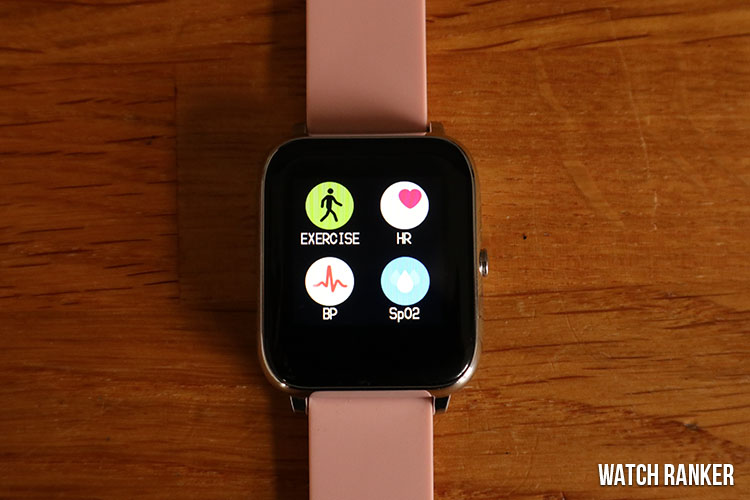 One of the main benefits of this smartwatch is tracking your daily fitness goals, including steps, distance walked, and calories burned. Some watch faces have widgets to show these, alternatively, you can swipe left or right to cycle through these.
There is an option to set reminders to move, however, you cannot customize the duration of inactivity that triggers the reminder or the schedule. There is no drink reminders as most other smartwatches have.
The watch also tracks your sleep, giving you a total sleeping score and breaking this down into light and deep sleep. You cannot see your sleep cycles as with more premium smartwatches, however, it does give you a sleep score based on the Pittsburgh Sleep Quality Score which looks at time asleep, how often you woke up, and deepness of sleep.
Fitness Tracking
As well as tracking your progress against daily fitness goals, the watch can track 7 specific sports, these are walking, running, cycling, skipping, badminton, basketball, and football.
When tracking, you'll see time, calories burned, and distance traveled for each. The downside to this feature is that you cannot use the watch for anything else simultaneously, this was very annoying as I often like to use my smartwatch to change songs whilst cycling or running but this was not possible.
Smartphone App
The watch connects to the HeroBandIII app which is available for both Android and iPhone. I found the settings easy to navigate, however, the fitness tracking data is displayed in a complex way considering how basic the information is.
It's not possible to see your fitness goals by week or month as other smartwatch companion apps tend to allow and there's no integration with any other apps such as Strava or Google Fit.
Battery Life
Being a basic smartwatch, the battery life is very impressive despite only being a small 180mAh battery. After a week of use, the battery indicator is still at about 75% battery so I expect it will last far longer than the 10 days battery life claimed by Popglory.
I'm not alone in experiencing this, some users on Amazon have claimed up to 3 weeks on a single charge.
Verdict
So, is the Popglory any good? If you're looking for a basic smartwatch that's comfortable to wear, tells the time, and tracks your progress towards daily fitness goals, then this sub-$50 watch offers great value. I was particularly impressed by the battery life which barely changed during my week of testing.
However, beyond these basic features that even a fitness tracker would have, it doesn't deliver. The notification mirroring is very poor and often misses key notifications, the music player is hidden within the menu and offers only basic controls, and without any GPS the sports tracking feature is nothing to shout about.
To get the most out of a smartwatch, I would recommend you look at something like the Ticwatch E2 which isn't too much more expensive. It has GPS, the ability to install third-party apps like Spotify, and integration with a range of other services such as Google Fit.