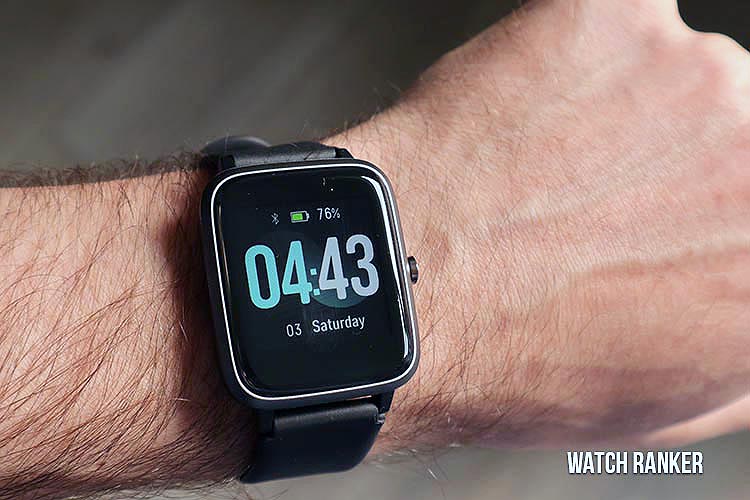 If your looking for a smartwatch for less than $50 the Blackview ID205L  is one of the cheapest square smartwatches on the market. At such a bargain price, you're probably wondering if it actually does what it claims and whether it's worth investing in.
With this in mind, I purchased one to put it through its paces and I'm sharing my honest findings in this review.
Overall Verdict 
The Blackview smartwatch is a cheap and simple smartwatch. Starting with the positives, it's very comfortable to wear on your wrist. This is because it's slim and lightweight due to its plastic build.
The best part of the device is the activity tracking. It can keep an eye on your daily fitness goals such as steps, calories burned, and distance traveled. It can also mirror your phone notifications, however, beyond this it doesn't have a lot of other truly useful features.
If you want something a little smarter but still doesn't break the bank, the Amazfit Bip U is a great choice. It has more detailed sports tracking thanks to extra sensors and the inclusion of GPS for tracking your routes.
| | |
| --- | --- |
| PROS | CONS |
| ✅ The plastic build makes it very light and comfortable to wear | ❌ Limited smart features |
| ✅ Very affordable price | ❌ Media controls not accessible whilst working out |
| ✅ Works well to track your daily steps | ❌ Cannot install third-party apps |
| ✅ Battery life will easily last 2 weeks with full usage | ❌ Limited watch faces to choose from |
Blackview Smartwatch Review
Blackview is a Chinese electronics brand that sells smartphones, tablets, watches, and accessories in over 60 countries across the world.
The brand was first popularised by its rugged smartphone but has since expanded to sell a variety of electronics at budget prices, usually through Amazon.
What's In The Box

The Blackview arrived in a basic white branded box. Inside were:
The watch.
A clip-on magnetic charger.
Instruction manual.
The charger only had a USB connection so you'll need to source a wall adaptor if you don't already have one.
Design & Build Quality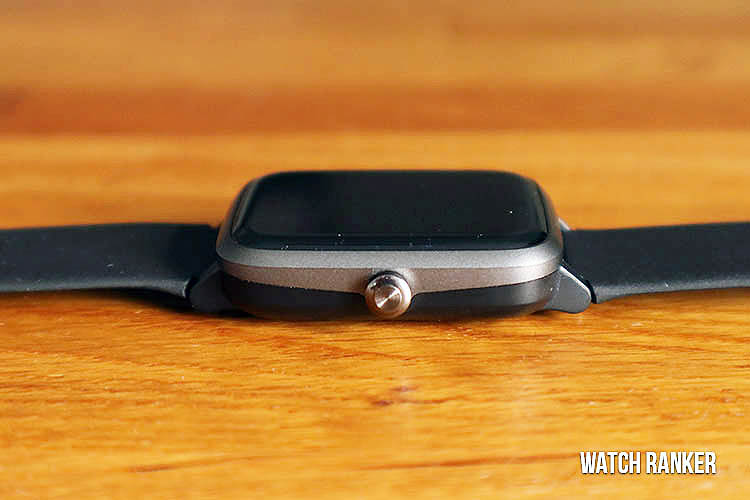 Starting with the design of the watch, it's a square watch that looks very reminiscent of the Apple Watch from a distance. However, when you pick it up, you'll immediately notice that it's a lot lighter and made of plastic and you can tell it's a cheap device.
Being lightweight and with a silicon rubber band, the watch is comfortable to wear, even when working out. You can also wear it whilst swimming or in the shower thanks to an IP68 waterproof rating which can withstand up to 1.5m of submersion in water.
The screen is 1.3" with a TFT touch screen display. The colors are vibrant and the resolution is well suited to the features of the watch. The display isn't always-on but does come on whenever you lift your wrist so you can still use it as a regular watch for telling the time.
There's a single button that acts as a back button or a home button when you hold it down. Given how simple the interface is and the fact that you cannot use the watch for messaging, one button seems adequate for navigation.
Features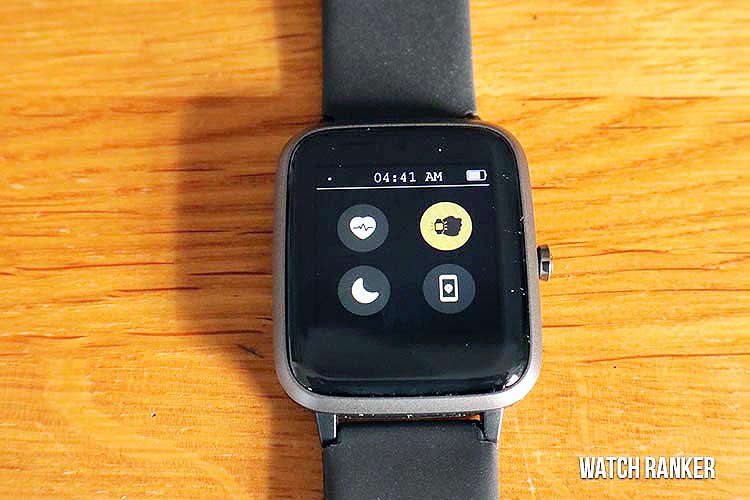 The main features of the watch are fitness tracking and notification mirroring. I'll come on to discuss both of these later in the article.
Aside from this, there are a few other utilities that came in useful from time to time such as the stopwatch and countdown timer. These are useful for simple tasks such as boiling an egg, however, you cannot set laps so you'll still be reaching for your smartphone.
The watch also has basic media controls with play/pause/skip for songs playing on your phone. There's no built-in music storage or third-party streaming apps so you cannot play music directly on the watch.
Unfortunately, I couldn't get the alarm function to work on the Blackview and since it doesn't mirror the alarm from your phone, I had no way of using the watch for a morning wake-up call.
With such few features, the user interface was simple to navigate and I could reach most screens within a few taps.
Watch Faces

A big downside to this watch is the limited range of watch faces available. Overall, there were four options to choose from but only the default watch face seemed elegant enough to use so I stuck with this.
I have reviewed other smartwatches in this price range that have had 30+ watch faces and many customizations so I was disappointed by this limited choice.
The watch face only displays the date, time, and a battery indicator. Unfortunately, there's no option to show your daily fitness goals within the watch face itself as you'd usually expect to find.
Notifications
The Blackview smartwatch can mirror notifications from a range of 10 messaging and social media apps (calendar, email, SMS, Facebook, Twitter, Whatsapp, LinkedIn, Instagram, Facebook Messenger, and Gmail). If you prefer other messaging apps such as Snapchat or Telegram, this could be a major downside to the watch.
As well as appearing on the screen when they first come through, the notifications are also accessible from a notification feed by swiping down on the home screen.
Besides seeing the notification as you would on your phone, you can't interact with the notifications or reply to them from your watch.
Health & Fitness Tracking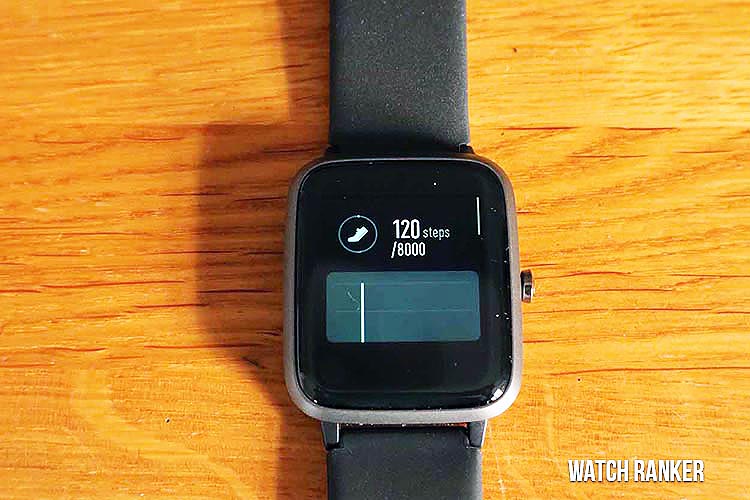 Health Tracking
The feature that I found most useful when wearing the watch was its health tracking. The watch tracks your steps, distance traveled, and calories burned throughout the day.
Swiping down on the watch will cycle through a few screens that show your progress towards daily goals. You can also view these in the companion smartphone app, although there's no integration with popular fitness platforms like Strava and Google Fit which may be offputting to some.
There is a heart rate monitor on the ap which can be set to periodically check your heart rate and track it. However, I found that this was not consistent and wouldn't recommend the feature if you have a health condition to monitor.
Sports and Fitness Tracking
The sports tracker on the watch has seven different sports to track (running, walking, cycling, climbing, treadmill, spinning, and yoga).
When tracking a sport, the watch will store the time, calories burned, distance traveled, step count, and heart rate. This data can be accessed afterward from the sports record in the main menu. You can also look at the smartphone app for a graph view.
One of the biggest frustrations about the sports tracking is that you cannot access media controls whilst tracking is active. As someone who listens to music whilst I work out, this meant I still had to carry my phone and get it out to change tracks.
Smartphone App
As the Blackview doesn't have any built-in Wi-Fi, it relies on the VeryFitPro app to connect to your smartphone.
Like the watch, the app is very basic. I often found the user interface to be a little confusing and the translations to English were poor. However, this didn't seem to affect overall functionality too much once you have familiarized yourself.
I noticed that most of the features are turned off by default so I would recommend spending some time in the device tab to set it up when you first connect.
Battery Life
One of the biggest pros of this watch is the battery life. Flagship brands, even the best Samsung smartwatches, will only last 1-2 days on average, Blackview claims this watch will last 8-10 days on a single charge.
I put the watch to the test and have been wearing it for an entire week now and it still hasn't dropped below 60% battery so I'd say it will comfortably last 2 weeks, if not more.
Verdict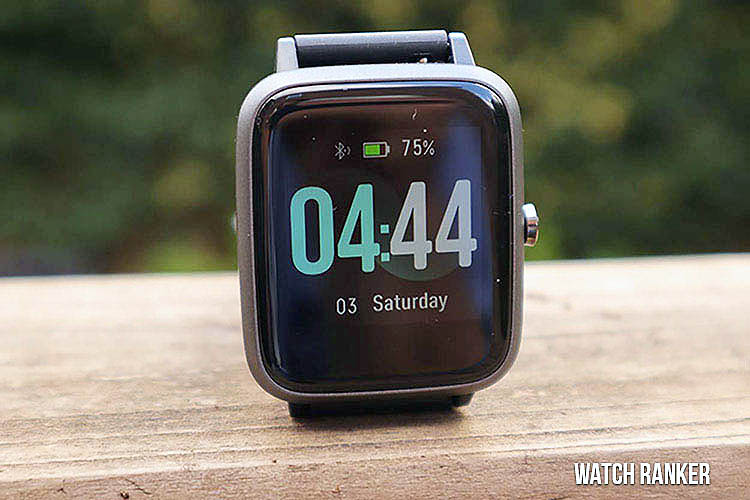 So what are my overall thoughts after wearing the Blackview for a week? Well, it's a comfortable smartwatch that excels at battery life.
If you're looking for something very basic that will mirror your notifications and track your daily steps and calories, you can't go wrong with this cheap smartwatch.
However, for me, a smartwatch should do much more than this. I'd like it to store and play music so I don't have to carry my phone, track the routes of my runs with GPS, and use it for paying in stores. Unfortunately, the Blackview doesn't have any of these features so I wouldn't choose it myself.
I would recommend two alternatives:
Firstly, the Amazfit Bip which we rated top of our guide to the best budget smartwatches. It has a better user interface with customizable watch faces, GPS, and can integrate with other fitness apps like Strava.
Alternatively, consider the TicWatch E2, another great pick that won't break the bank. It runs WearOS which means you can download apps like Spotify for offline music.
Our Take On Low-Budget Smartwatches
Disclaimer – We bought several of the bestselling budget smartwatches. We did not disassemble the watches to conclude with absolute certainty that they are identical.
However, for all practical purposes, after wearing and testing these smartwatches for over a month, we are not able to find any significant differences between four of these models (the Blackview being one of them).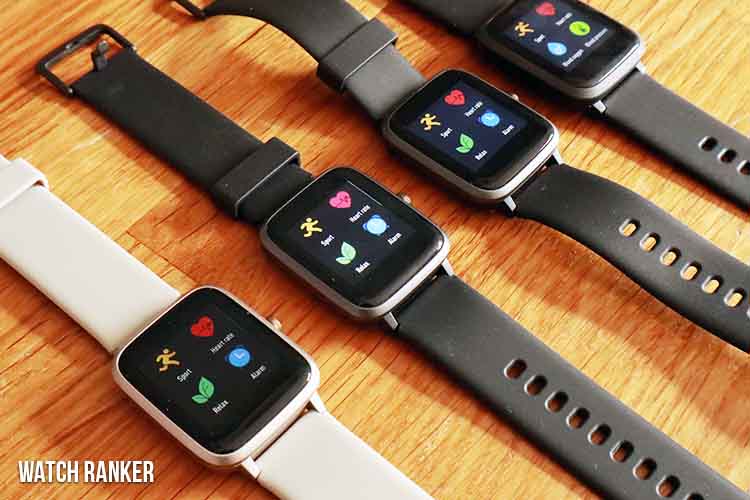 Each watch had its own packaging with the relevant branding on it, and some had branding on the rear of the watch too. The only noticeable differences in the watches themselves were the style of the button on the side and minor differences in the user interface.
Because of our findings, if you decide to buy one of these – we'd recommend you buy whichever model is the cheapest.
We have listed the current Amazon prices of these watches below.