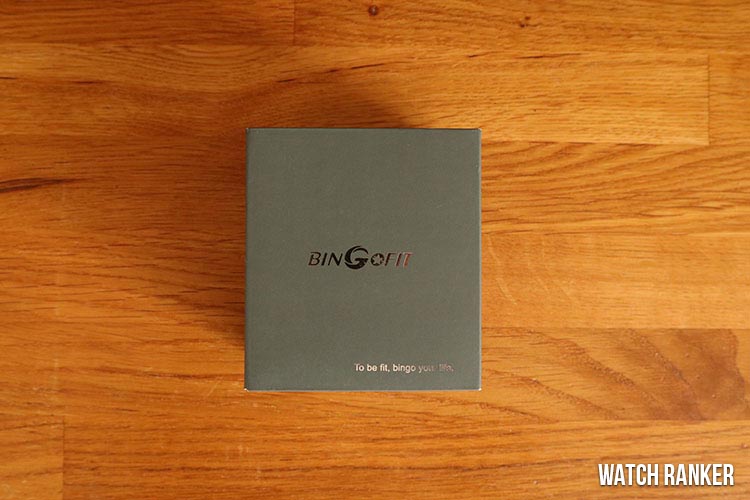 There's no shortage of options when it comes to budget smartwatches. One such device is theBingo Fit SW212, a round smartwatch that looks very similar to the Huawei Watch GT2, only with a sub-$50 price point.
I've purchased the watch and in this article, I'll share my verdict after wearing it for one week.
Overall Verdict
The Bingo Fit SW212 is a very basic smartwatch with a budget price tag. The watch makes it easy to track your daily fitness goals such as steps and calories, plus it will sync this with Google Fit via the app integration. It has a 7-day battery life which rivals many premium devices.
However, beyond this, there is little to get excited about. The watch is bulky on your wrist and I was unimpressed by the design. I found the music player difficult to access and longer messages were cut off in the notifications.
If these features are important to you, I would recommend looking at the Ticwatch E2 which also has GPS, a voice assistant, and the ability to download third-party apps.
| | |
| --- | --- |
| PROS | CONS |
| ✅ Tracks your fitness goals such as steps and calories burned | ❌Watch is bulky and uncomfortable |
| ✅Syncs with Google Fit | ❌Music player is basic and hard to reach |
| ✅View a feed of recent notifications | ❌Longer messages are cut off in notifications |
| ✅Very cheap | ❌No GPS or NFC |
| ✅ | ❌ |
BingoFit Smartwatch Review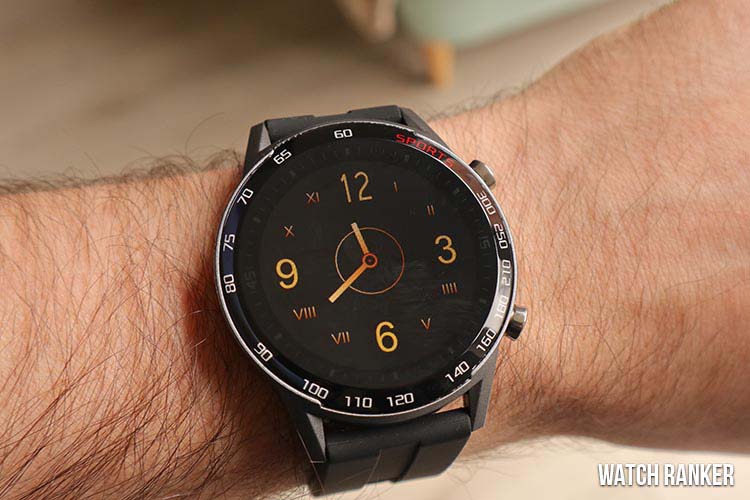 Bingo Fit is a budget smartwatch and fitness tracker brand selling products in the US, UK, and Germany. The watches run on a proprietary platform that appears to be very basic and lightweight.
The watches are compatible with both Android and iPhone by installing the FitCloudPro app. This will allow notification mirroring, basic music controls, and syncing of fitness data from the watch.
Below you'll find my full hands-on review of the Bingo Fit SW212 smartwatch after wearing it for a week. I'll look at the design, comfort, and features of the watch to see how it fares in the real world.
What's In The Box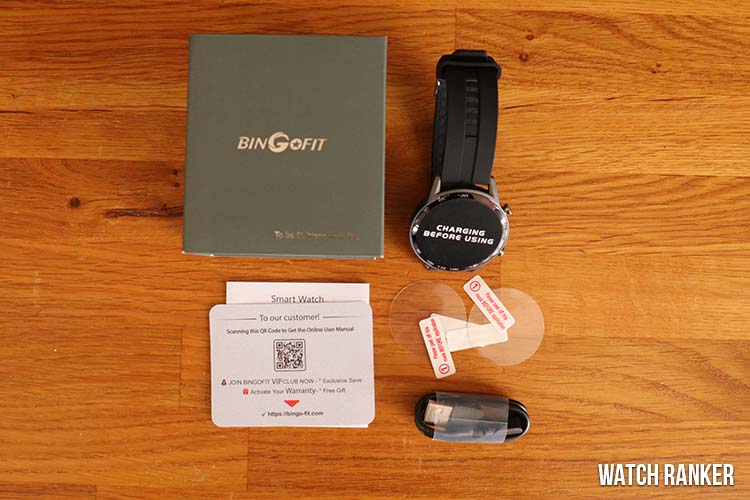 The watch comes presented in a box that's reminiscent of a traditional watch box. Upon opening, the watch is neatly displayed with all of the contents packed away in the center.
Included is the magnetic charger, however, note that it has a USB connection with no wall adapter included. Luckily, I have plenty lying around from old mobile phones.
The watch also comes with 2 screen protectors included which is a nice touch and something I've not seen with other watches at this price range.
Design & Build Quality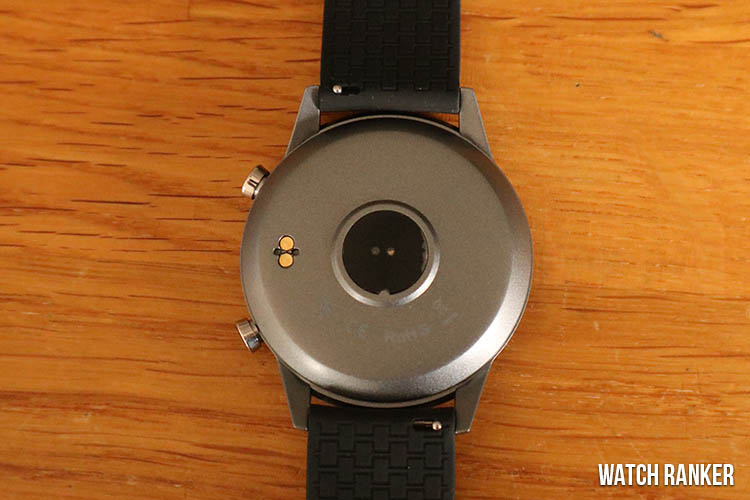 Looking at the design, it appears that the SW212 has been modeled after the Huawei Watch GT2. It's a round smartwatch with a black silicone strap. The strap is removable via quick release pins and could easily be swapped out for any other strap.
The case is made of plastic which explains why it is lightweight at just 43g. Despite this, I found it to be bulky on my wrist and didn't enjoy wearing it.
The watch has numbers around the bezel of the screen, however, instead of opting for a regular count-up or count-down scale, they have used a tachymeter scale which is used to calculate the speed of an object traveling a fixed distance. Some of the watch faces have a second hand to make use of this feature, but it still seems like a bizarre choice for a smartwatch.
Display

The watch has a 1.3" color display with a touch screen. The screen is vibrant for a watch at this price point. You can adjust the brightness of the display to suit your needs, on full brightness the screen is incredibly bright and even visible outdoors.
By default, the watch is set to stay on for 5 seconds, however, this can be adjusted in the settings menu between 5-9 seconds.
Features
The watch doesn't have WiFi so connects to your phone using a Bluetooth connection. It will track your daily fitness goals as well as specific sports tracking which I'll come on to discuss later.
The watch has a heart rate monitor which seems to be fairly consistent. This is turned on during workouts or can be switched to continuous monitoring to take readings throughout the day. The watch also has blood pressure and bloody oxygen monitoring, although as with all budget smartwatches, I found these to be inconsistent and wouldn't rely on them.
The watch has a very basic music player that allows you to pause/play and skip through songs that are playing on your smartphone. You cannot install any third-party apps on the device so it's not possible to browse through music or download it to the device.
Other features include a stopwatch, find my phone, and the ability to trigger your phone camera by shaking your wrist.
Software Experience
User Interface
The watch has two buttons and a touchscreen for interacting with the user interface. The operating system is very lightweight so it was fairly responsive and didn't lag at all.
Swiping down will reach the quick settings menu with brightness and other settings. Swiping to the right will bring up the main menu and swiping right will cycle through several screens that show y our daily fitness goals and heart rate.
Finally, swiping up will show your notifications as determined within the companion app. I'll go into this in more detail later on.
One frustration I had with the interface was that the music player app was hidden at the bottom of the main menu. Reaching this would be slower than pulling out your phone to change tracks. You could leave the player on the screen whilst listening to music as long as you remember not to press any of the buttons.
Watch Face
There are 24 different watch faces to choose between, although all of them except the default face have analog-style watch hands. This is a shame if you prefer the digital watch style like me.
With the default watch face, you can set a custom image as the background which works well and allows you to choose between your photos or a pattern you like.
Once you have downloaded watch faces to the watch, you can easily switch between them in the settings menu. I currently have five downloaded to choose from.
I was disappointed by the lack of widgets on the watch face to display some of your fitness goals. Out of the 24 watch faces, only 5 featured widgets with your daily step total or heart rate and you could not customize these either.
Buttons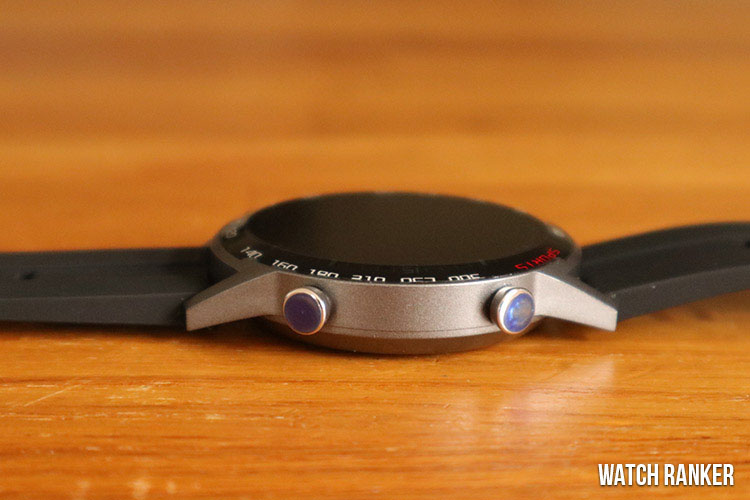 The watch has two buttons, one appears to be a select button and the other takes you back to the home screen. The select button is rarely useful except for deleting notifications as you go through them, a back button would have been more appropriate and save you from going back to the home screen as you move through menus.
Scrolling through menus must be done via the touchscreen as there is no crown dial or rotating bezel like you see on more premium watches. This didn't seem to be a problem as the manus were very short.
Notifications
The Bingo Fit can mirror notifications from certain social media and messaging apps which you can determine within the FitCloudPro app. Whilst it doesn't list every app, it includes most of the popular apps that will suit the majority of people.
As you scroll through notifications, you can tap on each one to see the full notification. However, longer messages will be cut off so you'll need to open them on your phone to view the whole thing.
It's not possible to respond to any messages via the watch, you can view them and dismiss them. However, dismissing them from the watch does not dismiss them from your phone's notifications so you'll end up doing it twice.
Health & Fitness Tracking
Health Tracking
The watch makes it easy to track your daily fitness goals, it automatically monitors your step count, distance walked, and calories burned. Your progress is displayed against daily targets by swiping to the right on the home screen and all info is synced to the app too.
One of my favorite things about this watch compared to other budget smartwatches is that the app integrates with Google Fit so my step count and calories burned were synced to the app. Although, I would have liked to see Strava integration too.
It also has activity reminders which will give you a notification after one hour of inactivity and drink reminders where you choose the interval. For both of these, you can set the schedule during which they are active so that you don't get notifications all night.
Fitness Tracking
When it comes to tracking your workouts, the watch only has 5 different sports it can track, this includes running, cycling, walking, hiking, and basketball.
Using the sports tracking mode means you cannot use other features of the watch such as music controls so I opted to leave it in regular mode which would still track my step count.
The watch has a heart rate monitor which is used when tracking exercise or can be switched to continuous tracking to take readings throughout the day.
The watch also claims to measure blood pressure and blood oxygen, but I couldn't get any consistent readings with either of these and without the proper FDA approval, I'd have concerns about the reliability of any data you receive.
The product specs suggest that it can track your route during workouts, however, the watch does not have GPS tracking so it only tracks your distance which presumably is an estimate based on your step count.
Smartphone App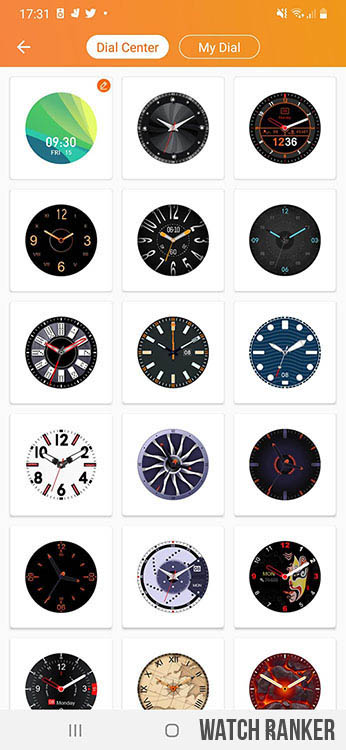 The watch connects to your phone via the FitCloudPro app. This is a very basic app that makes it easy to use.
There's a home screen that shows your daily progress towards your fitness goals. You can tap on this to see a breakdown by the current week or current month, however, there is no option to scroll back through historical data which seems like a major flaw
This can be resolved by integrating the app with Google Fit as mentioned earlier, but if you don't already use Google Fit then it's an extra app that you have to install.
Another tab in the FitCloudPro app allows you to customize the settings of the watch, you can choose which apps to display notifications from and set up things like activity and drink reminders.
Battery Life
Bingo Fit claim that the watch has a 7-day battery life, however, in my testing the battery ran out by day 4 despite light usage. It's difficult to keep track of the battery as there is only a small battery icon and no percentage indicator or low battery alerts.
Charging is via the included magnetic charger. Recharging the battery took 90 minutes which was quicker than the stated 2 hours by Bingo Fit.
Verdict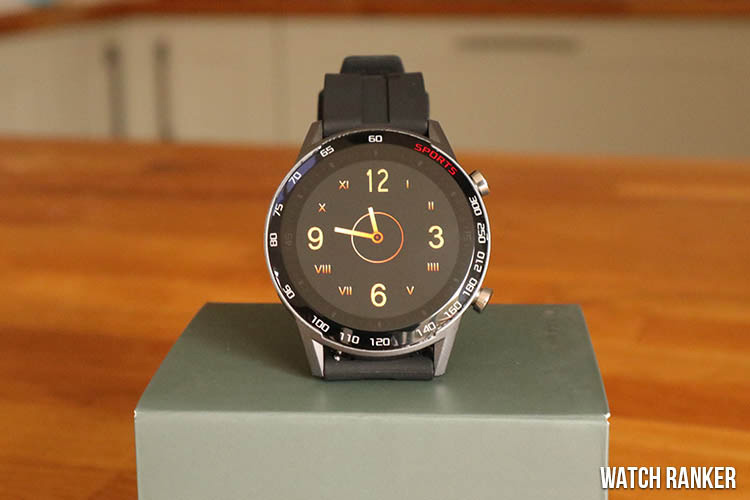 The Bingo Fit SW212 is a basic sub-$50 smartwatch which is important to keep in mind when considering if it's worthwhile. The main functions of the watch appear to be tracking your daily fitness goals such as steps and calories and mirroring your phone's notifications.
I was impressed that the fitness data could be synced with Google Fit, something I've not seen in a budget smartwatch before, and the 7-day battery life means you won't need to recharge it daily as you would with the flagship smartwatches from the likes of Apple and Samsung.
However, the disadvantages outweigh the advantages. I was most disappointed by the comfort of the SW022 watch. I have fairly large wrists, but even still it felt bulky and somewhat uncomfortable. I was also unimpressed with the watch's design, the plastic body looks cheap and the choice of a tachymeter scale around the bezel is puzzling.
I found the music player to be very basic and hidden within the menu, plus notifications had a character limit so longer messages could not be read without opening your phone. There is no ability to make or receive calls and you cannot respond to messages on the device.
Other things missing that I would like to see in a smartwatch include GPS, NFC for contactless payments, and a voice assistant. If you'd like some of these more advanced features, you might want to consider upgrading to the Ticwatch E2 which runs on WearOS, a much more advanced platform that offers many more benefits. Or check out these other budget smartwatches we recommend.