The Red Dot Awards is a German international design prize and is considered one of the world's most prestigious design awards, honoring some of the most unique concepts.



The categories include product design, brands and communication design, and design concept. According to Red Dot's website, the award is aimed at brands and creators that "would like to distinguish their business activities through design."
The winner's creations are displayed in the Red Dot Design Museum in Essen, as well as in the second Red Dot location in Singapore.
Here are some of the big winners of the Red Dot Award for watches over the years. Below, we'll take a closer look at the timepieces with unique and revolutionary designs, as well as talk a bit about the brands that made them.
Red Dot Award-Winning Watches
TicWatch S2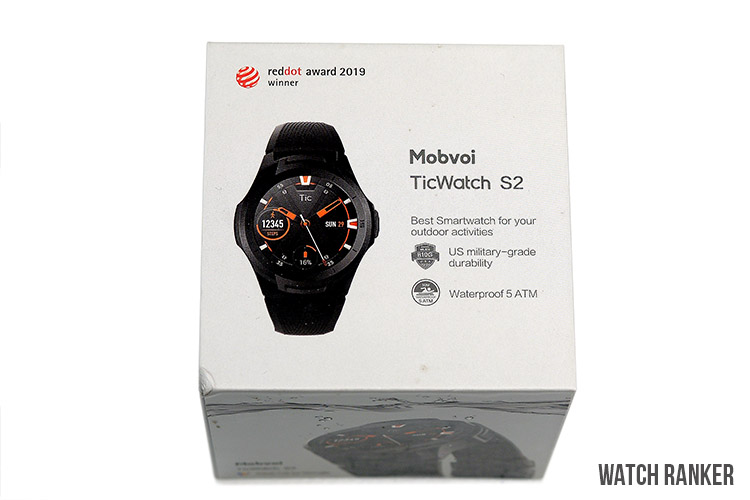 Read our review of the TicWatch S2
TicWatch is a smartwatch line by Chinese company Mobvoi. Introduced in 2014, this is an Android-based smartwatch operating system that quickly gained popularity because of its unique features and designs, as well as relatively affordable price points.
One of its releases, the TicWatch S2, received a Red Dot award in 2019. The jury recommends the watch for use "under extreme climatic conditions." It's robust and durable, made possible by the case made from durable polycarbonate and scratch-resistant Gorilla Glass.
This is an excellent model for those who are looking for a smartwatch that's packed with features for the outdoors and workouts. This model has a GPS, a heartbeat sensor, an accelerometer, and a gyroscope. It's also waterproof for up to 50m. This also has a built-in Google Assistant feature.
Nordgreen Pioneer Chronograph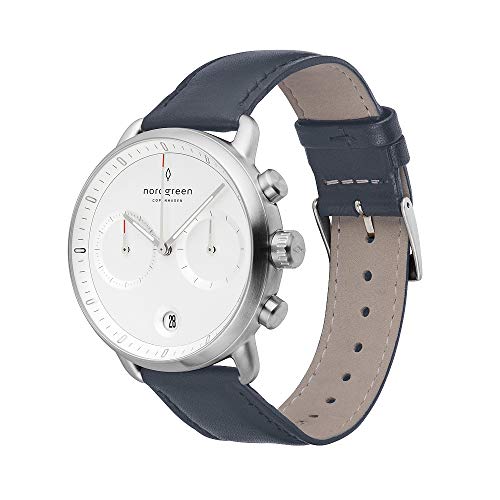 Nordgreen is a Scandinavian watch company that focuses on giving back. Founded in 2017, the company was started by partners Pascar Sivam and Vasilij Brandt and eventually collaborated with award-winning designer Jakob Wagner. The brand makes high-quality watches with a minimalist aesthetic.
Nordgreen has a Giving Back Program, which aligns with the Nordic principles that support challenges in education, health, and the environment. They collaborate with different NGOs from different parts of the world and continue to give aid in terms of education, drinking water, protecting rainforests, and food.
Last year, Nordgreen won a Red Dot Award for the design of its best-selling Pioneer Chronograph watch (released in 2019)—a fourth Red Dot win for Wagner.
There were a total of 6,500 entries for the year, with each entry assessed by factors like materials, craftsmanship, structure, and overall design.
According to Nordgreen, this chronograph celebrated the Danish tradition of "Science for Humanity," which promotes positive change and works towards a greener future. The design follows the brand's clean and simple design—with a stainless steel case, domed sapphire crystal, The edges of the watch are rounded and softened, creating a simple yet strong design.
The 42mm Pioneer Chronograph has many elements on the dial, but isn't crowded, thanks to its minimalist design of thin markers. The minute and second hands have red tips, representing the wind turbines, which the brand says is a reminder of their bond with their homeland. The strap is genuine leather with quick-release spring bars, and the water resistance is up to 50m.
Read more about the brand's award here.
Braun BN0265
The Braun brand is mostly known for a wide range of products, from grooming (shavers, hair trimmers) to food (coffee maker, blenders) appliances.
The brand also has an excellent collection of watches that have a good balance of classic and contemporary designs with reasonable price tags.
Braun has been around since the 1920s. Founded by mechanical engineer Max Braun, the company started out as an engineering shop in Frankfurt. It started manufacturing watches as early as the 1950s and continues to do so today. The brand, which is a subsidiary currently owned by Procter & Gamble, creates watches that have clean, minimalist designs.
One of these watches was recognized by Red Dot as one of the best in the world.
One of the most striking features of the Braun BN0265, according to the company, is the molded leather strap that integrates smoothly with the stainless steel case, as well as the legible slim hands on the double-domes lens.
According to the jury, the chronograph watch "fascinated with elaborate details," made possible by Braun's "characteristic design language."
The watch has a minimalist design, with thin stick index markers, a central yellow chronograph hand, and a striking red chevron date window. The 40mm watch has a scratch-resistant sapphire crystal and seconds, minutes, hours, and date functions.
Laco Louis Moinet Memoris Titanium

The Laco Frankfurt is a watch perfect for those who travel and need to keep track of different time zones. This is a GMT watch, which means two time zones are displayed at once.
Laco watches are known for their precise movements, and this watch is one example of this precision–this model runs on a caliber Laco 93, a mechanical movement based on the ETA 2893-2.
This model has a 43mm stainless steel case, a double-domed, anti-reflective sapphire crystal, and has a water resistance of 200m. The grey dial has large, legible markers–a combination of Arabic numerals and indexes. The hour and minute hands are powered by C3 Super Luminova coating.
One unique feature of the watch is the hand for the second time zone, which is luminous with a yellow coating. The seconds hand has a tip shaped like an aircraft.
Twist Wristwatch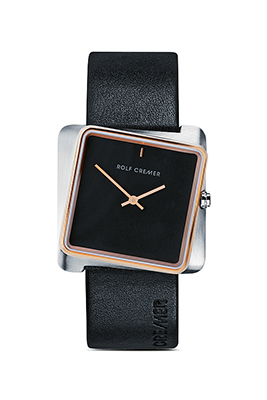 This watch by German watchmaker Rolf Cremer is named Twist because of the positioning of the stainless steel case, which is slightly rotated and tilts towards the viewing angle of the wearer—this means that in order to read the time, there is no need to ben one's arm.
According to the Red Dot jury, the Twist has "well-conceived ergonomics," and adds "a high level of aesthetics.
The Twist watch also has a "fluid" form, as the case does not have any sharp edges. This makes it look organic, and appear as though the case is twisted.
The case is 35mm x 35mm. There are no hour or minute markers, just a thin vertical line at 12 o'clock, with hour and minute hands. The watch is available in black and white dials and black and white leather straps.
Rolf Cremer has been around since 1990. The brand concentrates on making watches with unique designs and strong character. They manufacture watches in small numbers—now, there are over 300 designs to choose from. The watch movements that they use come from the Swiss Ronda AG and the Miyota, quartz and mechanical movements that were created by Japanese brand Citizen.
Bólido Watch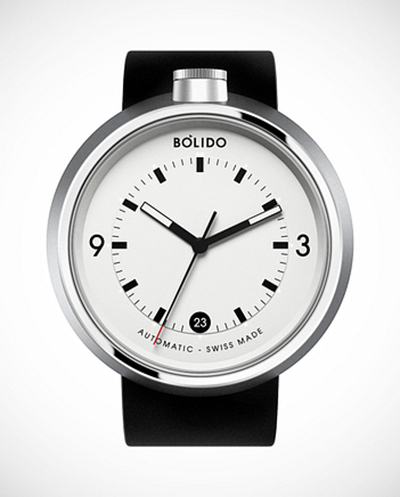 This watch is by Swiss brand Bólido, a company that makes Swiss-made mechanical watches.
The company's mission is to make watches that combine excellent architectural design and functionality. They promise a "completely un-Swiss price," which means that their watches are relatively more affordable than most Swiss brands.
Their Red Dot Award-winning model (awarded in 2018) has a surgical-grade stainless steel case, scratch-resistant sapphire crystal, and a Bólido Caoutchouc Wristband (natural rubber). One of the things that makes this watch unique is the
The watch has a power reserve of 33 hours and has water-resistance of 100m. To see other Bolido models, you can explore the brand's website here.
Lohas Watch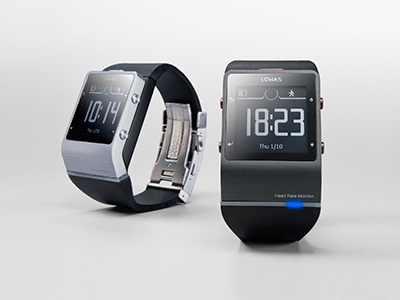 Lohas is a Taiwanese company that makes watches that provides information on heart rate and calories.
The Red Dot-winning watch (2015) is a Bluetooth heart rate monitor timepiece powered with an LED light. There is an electro-optical cell that allows it to detect the wearer's volume of blood flow and show the heart rate. The jury praised the company for designing a watch with a " concise multi-color LED indicator," as well as a sporty look.
The watch also has a silicone strap with an expandable clasp and can be charged fast with a USB charging dock with a magnetic alignment for fast charging.
You can learn more about heart rate smartwatches in this article we have on the site.
LG Watch W7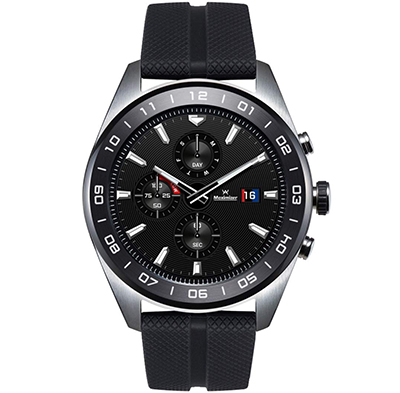 LG is a South Korean company that has a wide range of products, from home appliances to smartphones. The brand also has tried its hands on smartwatches, which immediately caught the eye of experts and new customers, with its revolutionary design and functions.
The watch was awarded the Red Dot award in 2019. Developed in partnership with Swiss company Soprad SA, The LG watch W7 has a mechanical movement based on a Swiss model. The watch face is digital and can be adjusted according to the wearer's preferences, as well as retains the hour and minute hands for those who are looking for a more analog design.
The watch has a stainless steel case, customizable watch faces, and a quick-release rubber strap. It's also dust and water-resistant. Some of the smart notification features include messaging, app alerts, and email.
LG has discontinued many of its wearables. We've written about our top recommended watches for LG phones here.
Nomos Glashütte Tangente Sport Neomatik 42 Date
Nomos is a German watch company known for its distinct minimalist style, as well as high-quality materials. The Tangente Sport won a Red Dot award in 2020.
The brand calls this model the "sporty" version of the classic Nomos watch. This 42mm timepiece runs on an automatic movement (in-house built caliber DUW 6101, which has a power reserve of up to 42 hours) and has a water resistance of up to 300m, making it suitable for diving.
The watch has a stainless steel case, domed sapphire crystal with an anti-reflective coating and galvanized white silver-plated hour indexes with Super Luminova features. At 3 o'clock is an easy-to-read large date window.
We featured Nomos in our article on the Best Ultra-Thin Watches For Men.
Garmin Forerunner 610

Garmin is one of the biggest sports and fitness smartwatch producers. The company has been around relatively longer than most GPS and smartwatch companies, being founded in 1989 in Kansas.
The brand has a wide range of devices to choose from, and more powerful technologies have surfaced since the Red Dot award, but at the time, it was one of the best models in terms of function and design.
The Garmin Forerunner 610 (now discontinued) is a GPS running watch that won the award for having a highly responsive touch screen feature, as well as a well-designed slim shell. The jury praised the watch for having comprehensive training features, as well as an easy-to-use menu. Some of the main features include a GPS sensor, activity tracking (burned calories), training and planning features like advanced workouts and interval training, and cycling features.
To see newer Garmin models, you can check out our articles about the brand on the site, like the one on Garmin Solar Watches and Best Smartwatches for Fitness Tracking.