Swiss watches have long been considered some of the best in the industry. Switzerland is home to many of the oldest brands in the watchmaking world and still produces many of the most innovative and cutting-edge watches in the world.
Because of this, Switzerland is a frequent destination for many watch collectors. Whether it's to visit the annual Baselworld Watch and Jewellery Trade Show, visit the watch museums such as the Musée international d'Horlogerie, many watch aficionados end up making a trip to Switzerland and many come back with at least one more watch in their collection.
The top Swiss watch brands are also some of the most expensive which leaves many of our readers have asked a very logical question – is it's cheaper to buy Swiss watches while in-country or do you really not get a deal. There are several factors that we need to look at, including customs, VAT tax and exchange rate – we'll take a look at all of these, as well as other things to consider when watch shopping.
What Defines a Swiss-Made Watch?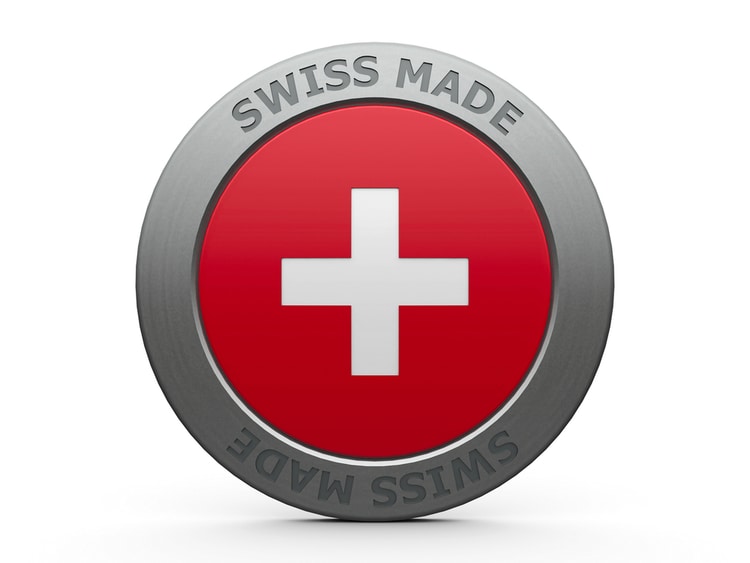 To understand the topic and correctly answer the question we need a base idea of the watches we are dealing with. This is not a gimmick but in fact, a seal of approval and an international mark of quality that is recognized by the whole industry.
With this in mind, we are going to look at what defines a Swiss-Made watch versus a Swiss-Movement watch.
Swiss-Made Watch – according to law the watch needs to meet three criteria:
The watch's movement is Swiss
It is cased up in Switzerland
The final inspection by the watchmaker is carried out in Switzerland
These criteria all need to be present for a watch to be legally called a Swiss-Made Watch by Switzerland officials. However, the actual parts of the watch can come from different places such as China, Thailand, and others.
Swiss Watch Movement – a watch's movement is defined as Swiss if it meets the below criteria:
It has been assembled in Switzerland
The manufacturer has inspected the movement in Switzerland
The Swiss-Made elements make up 60% of the total value of the timepiece (minus the cost of assembly) – this was raised from 50% in 2017
Now we know the basics and what defines two of the important terms you will hear, let us look at a few more frequently asked questions around Swiss watches.
Where Can You Buy a Swiss Watch in Switzerland?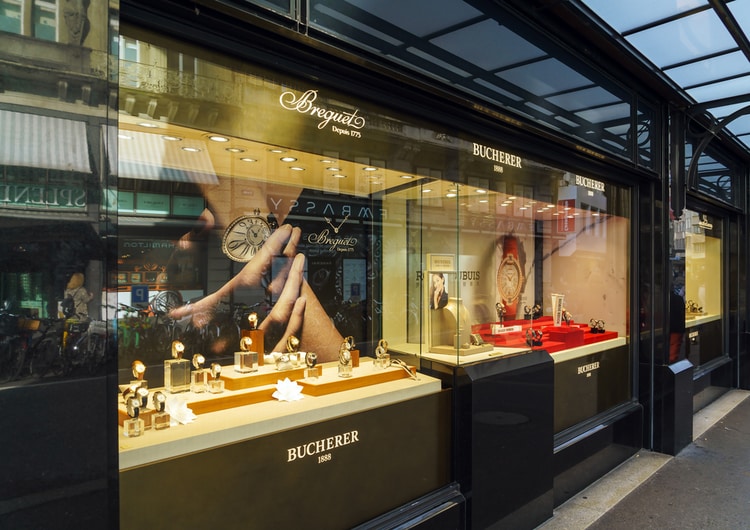 There are a wide variety of watch shops in Switzerland,  amounting to over 250 local regions with at least one watch shop, you will not struggle to find a retailer.
With this being said, it depends on what kind of watch you are specifically looking for. There are a lot of different brands and manufacturers within the Swiss-Made universe.
For the best luxury watches, most people head to Zurich or Geneva, but despite what you might think these are not always the best places to find what you are looking for.
In fact, cities such as St. Gallen, Lucerne, and Basel have many more brands per store and have richer histories of watchmaking. Le Locle near La Chaux-de-Fonds is barely large enough to be called a city (in Switzerland cities must be 10,000 inhabitants) but it is one of the most important "watch cities" of Switzerland.  Several renowned brands, including Tissot and Zenith, were founded there and it is also home to The Watch Museum of Le Locle (Musée d'Horlogerie du Locle).
So if you are looking for more variety, head to the smaller cities, but if you have a certain brand in mind then visiting Geneva or Zurich could prove a better location for your watch hunt.
If you are in Geneva head to Rue du Rhône where you will be able to find all the luxury watch brands in one place.
Is There a Limit on How Many Swiss Watches You Can Buy?
This is a fairly hard question to answer briefly, but there is no real strict limit on the sales.
However, you will have to contend with your country's customs, taxes, and a host of different factors if you are buying a large volume of watches.
For the average buyer, this will not be an issue and you will probably only be buying one or maybe two timepieces.
Factors Affecting Swiss Watch Prices
Most people think that going to the source of something would naturally mean the price is lower, but this is not always the case.
As with anything, there are always costs that you need to factor in and understand when looking to buy something locally made. This is even more prevalent when dealing with a luxury item in one of Europe's richest and most expensive countries.
Every buyer will have their own set of factors that will change the overall price of their watch, but we will cover some of the key ones that can be applied to most people.
VAT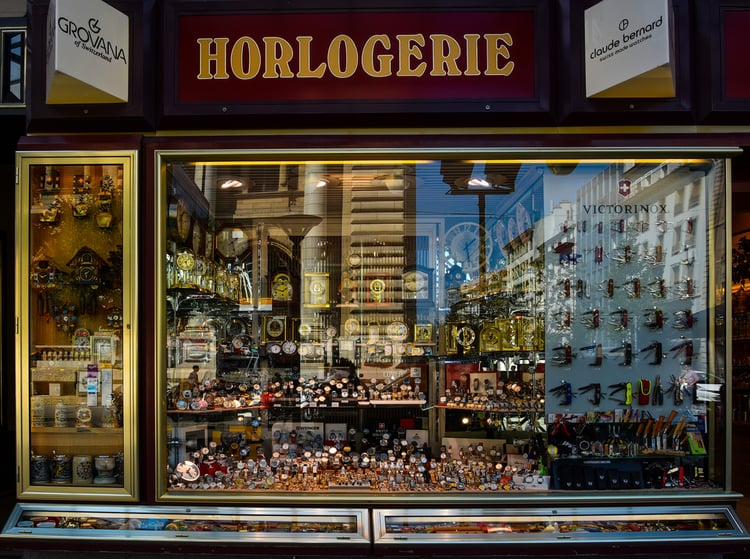 Understanding how the Value Added Tax (VAT) affects your purchase in Switzerland is incredibly important to figure out the price you are going to pay for your watch.
VAT in Switzerland is a standard rate of 7.7%, however, if you are a non-resident and over the age of 18, you can claim a refund on any purchases over the value of 300 Swiss Francs (Approx $350 USD).
So if you have paid over 300 Swiss Francs and have your receipt you are able to claim back the VAT on your product, on the caveat that it is exported from the country within 30 days.
To put this into context, let us say your watch comes to 10,000 Swiss Francs you will get around 770 back ($850 USD).
VAT rates differ massively in different countries so this is certainly a factor that you should consider, especially when countries like Switzerland have the tourist VAT scheme.
Scandinavia for instance is known for its 25% VAT, despite this, they are often popular for watches too.
Exchange Rates
This is a factor that can drastically affect the price you end up paying.
Despite what a lot of people think, Switzerland does not use the Euro and is not part of the European Union, instead, they operate as a single market.
So, you need to pick a time where your home currency is performing well against the Swiss Franc. They are a lot more self-reliant, but because of this, the Franc fluctuates a lot more than a multi-country currency, such as the Euro.

Picking a time to get your watch when the Franc is performing well is a sure-fire way to spend more money on your watch when buying it in Switzerland.
Customs & Duty Tax
Having to deal with customs officers can be a tricky situation, and in some countries, you can face big penalties and fines if you are not forthcoming with information about your purchases.
The rule of thumb is to always declare your foreign purchases especially if they are high-ticket items such as watches or jewelry.
Each country has its own rules on declaration. Often when you are returning home many countries will want to know what you have bought and the exact value of those items. This includes airport purchases and even gifts in most instances.
A lot of people make the mistake that by buying items abroad they avoid having to pay any customs, when in fact that is not the case. Customs duty is often payable upon re-entry to your home country
Customs officers are trained to spot and notice recent purchases so don't think you will get away with it. You will just cause yourself more trouble and cost down the line.
Cost of a Trip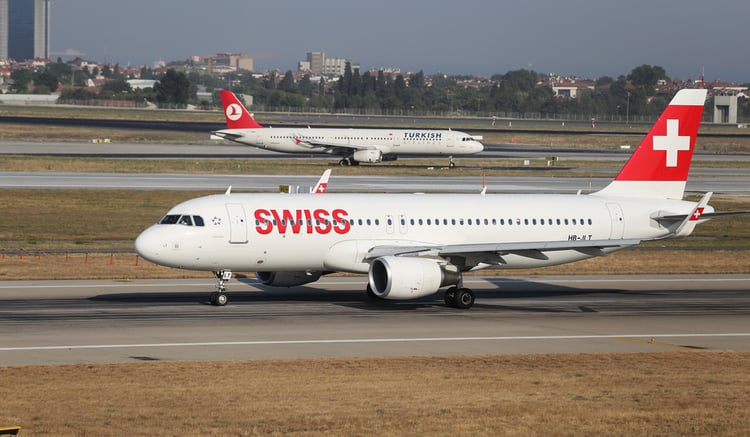 As simple a factor as this may seem, it is an incredibly important one. People tend to forget when they plan a trip to Switzerland to get a watch that you should include the amount of the flight in your final purchase cost. Read more tips about traveling with watches.
Although it is unlikely you will just go to a watch shop and turn around and fly home, even if you did that would be a price associated.
Most people however will tie it into a trip, and if you are including your hotel costs, food, and transportation, then you are spending a lot more on a watch.
This point could be debated, but as we are talking watch cost, then these are certainly gravitational factors that could indirectly raise the cost of your new Swiss timepiece.
Other Factors to Consider
Some more factors that you may want to think about are as follows:
Brand of Watch – some price match across all markets and some vary from country to country, depending on a range of factors.
Limited Editions – needless to say, if a watch is a limited edition or special piece then the price will be significantly higher, regardless of where you get it.
Legality – each country has its own set of rules and border restrictions, so be careful and always research before importing or exporting watches.
World Economy – depending on the circumstances it may be cheaper or more expensive to buy a watch, so take note of what is happening globally.
Value Retention – Some watch brands hold their value better over time than others.
Are Watches Cheaper In Switzerland? A Summary
As we have seen, there is a whole range of factors that affect the prices of your potential Swiss timepieces.
Understanding the variables that will affect your spending and overall costs is incredibly important to buying a Swiss watch in Switzerland.
The oversimplification is that if you have done your research and pick the right models, you will be able to get a better deal on your Swiss watch if you buy it in Switzerland. But you could easily pay more if you do not time your trip correctly, or exchange rates are in a state of flux.
Making a luxury watch purchase is not something that should be done lightly and understanding the various conditions and factors will allow you to make the best buying decision for you.