Spotting a Movado watch is easy, as the brand has a very distinct design of a single dot at 12 o'clock. This iconic design was created by Nathan George Horwitt, an American industrial designer. Called the Museum Watch, the Bauhaus-inspired timepiece has been a part of New York's Museum of Modern Art's permanent collection since 1960. The company bought rights of the Museum Dial from Horwitt in the 1970s and started using it on its watches since. The dot represents the sun at high noon—this design continues to be used in most of Movado's watches today.
Below, we will take a closer look at these watches, as well as some of the best Movado watch designs on the market today.
Movado: A History
The company was founded in La Chaux-de-Fonds, Switzerland in 1881, and was acquired by American company North American Watch Corp in 1905. Today, Movado manufactures and distributes watches for different companies, including Hugo Boss, Lacoste, Tommy Hilfiger, and Coach.
If you would like to learn more about the company's beginnings, reputation, and some of its best collections, you can also read our Movado brand overview. Here we talk about the history and design, an answer to the question: Are Movado watches good quality?
Best Movado Men's Watches
Movado Museum Classic

We'll start off with the model that made Movado popular. This Museum Watch was inspired by Horwitt's famous design—with the concave dot at 12 o'clock.
The Men's Museum Classic has a 40mm stainless steel case and a black Museum dial with silver-toned dot and hand. The strap is a black calfskin with a stainless steel buckle.
Simple yet stylish, this minimalist watch is water-resistant to 30m and has a Swiss quartz movement and sapphire crystal.
Movado 1881 Automatic Watch

If you're not into a minimalist design, you can also check out this watch from Movado's 1881 collection, which pays homage to the year that the company was established.
This 1881 Automatic watch has a similar look to the Museum Classic but has hour markers and minute indexes. The case and bezel are made of silver-tone stainless steel, the strap is black leather, and there's a round date window at six o'clock. There's also a black case version.
Movado Connect 2.0 Smartwatch

Movado is known for its classic analog watches, but the company also has a collection of well-reviewed smartwatches, such as the Movado Connect smartwatch, which is compatible with both Android and iOs.
The 46.5mm Movado Connect watch has a digital dial and a black silicone strap. The resolution of the 1.39″ screen is 400×400. Because this is a smartwatch, it can function as an extension of your phone—you can receive texts and emails, display phone calls, use social media, and play music. This one has 4GB storage and is compatible with Wifi and Bluetooth.
The latest model is the Movado Connect 2.0, which is smaller at 42mm. One of the latest versions is this 2.0 smartwatch, which has a black ion-plated stainless steel case with a ceramic case back. Aside from the features mentioned above, other notable features include an interchangeable strap, 8GB storage and 1GB memory, and up to 24 hours of battery life. This unisex timepiece also has sensors such as heart rate, accelerometer, altimeter, and microphone.
The brand has an entire page devoted to its smartwatches. To learn more about the technology and features, you can visit Movado connect here for a more comprehensive look.
Movado Bold TR90 Watch

Movado Bold is a collection of watches that are modernized versions of the classic Museum Face watch. There are dozens of watches to choose from in this collection, and there are many sub-categories available (Bold Evolution, Bold Shimmer, Bold Fusion, Bold Bangle, Bold Ceramic).
According to this article, the watches from this collection are designed to be less expensive, having case materials such as polymer and high-tech composite. The Movado Bold TR90, for instance, is made of composite material and has a stainless steel case.
This is a 42mm watch with a black Museum dot, a black polyurethane, and stainless steel link bracelet, and water resistance to 30m. You can check out other similar Bold models here.
Movado Bold Thin Men's Watch 

Another watch that we love from the Movado Bold collection is the Movado Bold Thin. This one is more expensive than the previous Bold model, but it's because it's made of different materials—a chronograph with a blue ion-plated stainless steel case and a mesh bracelet. It's water-resistant to 30m and has a Swiss Quartz chronograph movement like the TR90 above.
This watch boasts of a K1 mineral crystal, which is more durable and shatter/scratch-resistant than regular mineral crystal. The design (the case has timing subdials and a date display) is clean and legible, thanks to its 42mm size.
Movado Ultra Slim Men's Watch 

This is another watch for those looking for slim models. The Movado Ultra Slim is a simple yet classy timepiece, with a gold-tone dot and yellow gold PVD-finished case. This one has a cognac leather strap with top-stitch, making it a great casual timepiece that you can wear daily.
This model is 40mm with a blue case and applied stick markers. It also has a sapphire crystal, which means that the material is extremely durable and scratch-resistant. There are a number of other colors available, like a grey dial and grey calfskin, beige with taupe calfskin, and gray with brown calfskin.
Movado Heritage Series 

If the Museum dot is not your style, you can check out the Heritage Series, a collection with watches that have a different style—these are great dress watches with a sporty look.
This Men's Heritage model is a 39mm watch with an aesthetic that Movado is known for—simple yet powerful. This one has a 3-hand dial with silver-toned hands, applied markers, a white minute index, and a sapphire crystal. The stainless steel bracelet also has a push-button deployment clasp for security.
A similar watch with another great design is the Movado Calendoplan. This one also has a stainless steel case and bracelet and a blue-tone dial.
Movado Series 800

These watches are like a combination of the classic Museum design and the Heritage Series watches we featured above.
The Movado Series 800 watch is perfect for those looking for a chronograph that still has the Movado dot at 12 o'clock. This 42mm has a black dial with a printed Arabic minute index, a date window, and a stainless steel and aluminum case. It's water-resistant to 200m, has a unidirectional bezel, and three timing subdials.
This has a dive watch design, with its legible numbers and markers, as well as luminous indices. The watch also has a lot of excellent reviews, with many customers pointing out that the watch is just the right size and looks robust but not overpowering on the wrist. See the 800 Collection on Movado.com.
Movado Eliro

Most Movado watches are round, so this collection is great for those that want an unusual design. The Movado Eliro watch, which is available in stainless steel and black PVD-finished stainless steel, has a unique tonneau shape.
This 40mm watch is for those looking for a unique shape that's equally stylish and sophisticated. The watch has a sapphire crystal, a stainless steel link bracelet has a push-button deployment clasp, and a concave dot.
Movado Museum Sport

The Movado Museum Sport watch has just the right balance of minimalist and creative design. This 42mm watch, which has the black dot and stick style watch hands, has a gunmetal PVD case, a link bracelet, and a black minute reflector ring. The water resistance is 30m, and PVD bracelet has a push-button deployment clasp.
The dynamic design gives you a little bit of both worlds: the iconic style Movado is known for, and a sporty look that's excellent for an everyday watch.
We talked more about this watch in our previously-written article that compares Movado with Bulova. To learn more about this model, as well as these two brands side by side, you can read the article here.
Movado Face

One of the things that we love about Movado watches is the artistry that's present in every design. Whether it's a chronograph with a lot of things going on or a minimalist model that has very few elements on the case, the watch company is able to make the watches look creative and inventive.
The Movado Face collection has a lot of models to choose from (check them all out here) and there are lots of unique designs, but the watches are similar in the sense that they all have a clean and minimalist look—even the chronographs such as this exclusive model. 
One of the models that stand out from this collection, in our opinion, is the all-black Movado Face, which has a 41mm ion-plated stainless steel case, a black dial, a black leather strap, and yes—a black Museum with a concave dot. This has a Swiss quartz movement, a 30m water resistance, and a K1 crystal.
One of the possible downsides is legibility. Unlike most of the models we've featured above, this one could be a bit more difficult to read. The watch does not have luminous markers too, so you can't use it in a dark setting.
Movado Bold Men's Watch

One of the latest releases from the Movado Bold collection is the Bold Metals line. One of these is the 42.5mm gunmetal gray ion-plated case and gold-tone dial with the sunray dot. Two types of dials are also available: the gold-tone metallic with a printed index, and a blue with printed index (check them out here).
This one has many good reviews on Amazon. The bracelet is a stainless steel link with a push-button deployment clasp.
Movado Faceto Men's Watch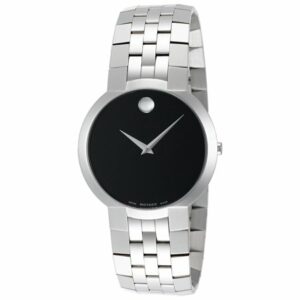 We'll cap off the list with one of the fancier Movado models, for those who want to invest in a good dress watch, The Movado Faceto is a 38mm watch with a black dial, a stainless steel case and a link bracelet (with jewelry clasp) and has 12 diamond markers (carat weight 0.396). This also has a sapphire crystal, and water resistance to 30m.
What we like about this model is though the watch has diamonds, it's not over the top. This means that it will look excellent with both casual and formal wear.
This one has generally positive reviews online. One of the most common feedback is the durability and classic look. A lot of owners also say that they have been using the watch for years, and it's as good as when they first bought it.
Movado Modern 47
This watch has a similar design to the Movado Face that we discussed above but has different materials. The Movado Modern 47 is a website exclusive watch that also has a black-toned dial, a black leather strap, and a black stainless steel case (PVD-finished). Unlike the Movado Face that has a K1 crystal, this one has sapphire, thus the higher price tag.
There's another Modern 47 watch that is also mostly black but is easier to read. The Movado Modern 47 watch is a 40mm watch that has a 40mm yellow gold PVD-finished case with a black dial and a black leather strap.
Movado Strato
This is another sports watch style that incorporates both classic and contemporary elements. The Movado Strato is a 44mm PVD-finished stainless steel watch that has three timing subdials, Arabic minute indices, and the silver-toned dot.
This watch has a PVD stainless steel link bracelet with a push-button deployment clasp, applied hour markers, and an orange detail that brings out the colors of the black case and silver hands. This is only water-resistant to 30m, so it can only handle splashes and brief immersion in water.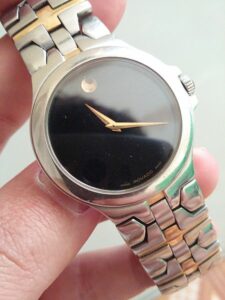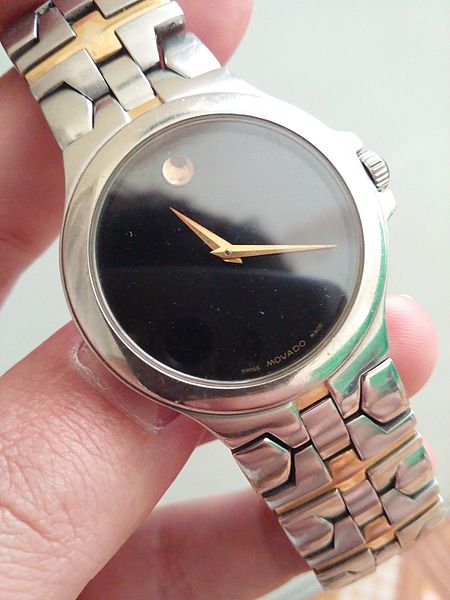 We hope that this article allowed you to get to know Movado's watches better. The brand has a rich history and continues to create and innovate, so you're assured quality timepieces every time.