Movado and Bulova are among two of the more well-known American watch brands in the market today. An exciting rivalry, to say the least, as both companies were founded pretty close to each other as well, with Movado being established in 1881 and Bulova half a decade earlier in 1875. Both brands provide a sophisticated and elegant aesthetic that is sure to catch the eye of any timepiece enthusiast.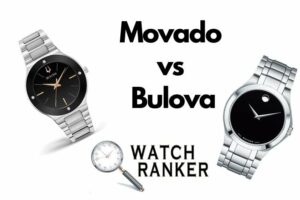 So, the question we would want to answer right now is which brand is the leading manufacturer in regards to classical Swiss-watches. Let's take a closer look at Movado and Bulova as well as compare the very best in both brand's catalog.
The History of Movado


Movado started growing its roots in La Chaux-de Fonds, Switzerland in 1881 and was then known as LAI Ditescheim & Freres SA. By 1905, it changed its name to Movado which translates to "always in motion" in Esperanto. It didn't begin its American run up until 1983 when the North American Watch Corp purchased it.
If you start a discussion about Movado today, you will no doubt hear about their Museum watches. The minimalist design of this watch series exudes a unique air of sophistication. Its single dot dial design has become a centerpiece in most Movado watches and has helped separate the brand from its competitors.
Just recently, Movado acquired the relatively new watch company, MVMT, in 2018. So, expect a new era of innovation from this brand in the near future. See our detailed brand review of MVMT here.
The History of Bulova


Founded by Joseph Bulova in 1875 as J. Bulova Company, it was not until 1923 when it was rechristened as the Bulova Watch Company. In 1979, it was integrated as part of the Loews Corp. Citizen bought Bulova in 2007 and has been under Citizen's banner ever since.
Bulova managed to crack the American market with its unique marketing style which, as history shows, was a massive hit with the public. It was the trailblazer in radio advertisement as it was the first to utilize this new marketing technique back in 1926. Not only was Bulova known for its brilliant style, but the company itself also poured its attention into delivering extremely precise timepieces to the market.
Bulova is also known for being the first watch that managed to be part of the third lunar walk. David Scott wore the Bulova Chronograph model when he went for his lunar walk. The specific clock showed excessive wear and tear from just four hours of exposure on the surface of the moon.
Click here to read more about this and other watches astronauts have worn in space and on the moon.
That particular Bulova watches also sold for $1.625 million in an auction, making it the most expensive astronaut-owned item ever sold in an auction. Bulova has that exceptional achievement on their notch, which may remain unbroken for a couple more decades.
Which Watches are Better: Movado or Bulova?
Movado and Bulova were both leading brands in the timepiece industry during their heyday. Nowadays though, both of these companies have slipped a few pegs down the totem pole. That's not to say that they have lost their edge. They are still both well-respected and popular names in watch aficionado circles, just not with the same reverence as a couple of decades ago.
Comparing the two old guards in the timepiece industry is relatively easier to do when compared to say, Citizen vs Seiko, as these new top dogs of the industry, casts such a wide net in terms of the types of watch thy offer. You can think of Bulova and Movado as a more niche and traditionalist types of watches.
As both watchmakers incorporate traditional watchmaking techniques, the only viable comparison to have is with their aesthetics. In this regard, it is more of a personal preference than anything. Let us take two particular watches from each brand and compare them with each other to get an easier grasp of the difference, shall we?
Chronograph Watches – Movado vs Bulova
Movado Museum Sport Model# 0606792

Movado's flagship series is their Museum Watches, which is why it is best to take their current best in this category if one wants to get a full grasp of what Movado can deliver.
The Movado Museum Sport Model# 0606792 delivers that signature Movado Museum appeal, but with enough changes to make it a far more practical and reliable timepiece that provides both style and substance.
See Movado Museum Sport on Amazon | See on eBay
The Movado Museum Sport is surprisingly lightweight for a 44mm steel watch. Since it uses Swiss quartz movement, that feat is entirely plausible, but it was still surprising to feel how light it was as it certainly did not give off that vibe at first glance.
One of the most prevalent Museum watch complaints is how it can be a tad bit tricky to tell the time due to it mostly not incorporating any digits displayed on the watch face. Stylish design choice? Yes.
But it does make checking the time a couple of seconds longer than it should be. Not the case with this model as it features an easy-to-read dial that still manages to capture the 'stealth' aesthetic that Museum watches are known for.
You can find the chronograph minutes and the 1/10th seconds located around the 9 and 6 o'clock positions. The sub-second area is located over at the 3 o'clock position, which is not a common design choice for timepieces. Still, I have to admit that the Movado Museum Sport managed to pull it off with pizzazz.
Bulova Gunmetal Precisionist Chronograph Watch
The Bulova Gunmetal Precisionist is one rugged looking chronograph watch designed for durability more so than style. As a 46mm black stainless-steel watch, it certainly feels like it and is noticeably heavier than the Movado Museum Sport. That being said, this particular watch certainly captures the tough as nails appearance while still exuding a sense of style and finesse that is quite difficult to blend together, yet the Bulova Gunmetal Precisionist manages to deliver.
Unlike the Movado Museum Sport, the Bulova Gunmetal uses the traditional analog display, making it considerably quicker to check the time when compared to the extremely minimalist appearance that Movado Museum watches have.
While the Bulova Gunmetal weighs substantially more than the Museum Sport, it is still quite comfortable to wear and is on par with the MS in this regard. The Bulova Gunmetal Precisionist watch earns its moniker as it definitely delivers high accuracy and precision when it comes to telling time.
Best Chronograph Watch style="font-weight: 400;"> – The Bulova Gunmetal Precisionist takes the W in this category due to its robust construction and top of the line functionality.
Dress Watches – Movado vs. Bulova
Movado Men's Museum Classic Model# 0606502

For those who are not familiar with Movado's Museum Watch series, here is a simple rundown of what to expect: minimalist, perfectly round, and the signature single dot dial design. Unlike other watches, Movado aims at a completely clutter-free face watch appearance. This may not be attractive for those who prefer convenience and practicality, but it is undoubtedly one of Movado's most appealing qualities.
The Museum Classic 0606502 earns its stripes with the Movado signature aesthetics. Inside this timepiece is the always reliable Swiss quartz movement. The analog display is contained within a 40mm case diameter. Sleek, efficient, stylish, and comfortable are what best describes this Movado timepiece. As a dress watch, the Museum Classic Watch is a perfect companion for special occasions.
See the Museum Classic 0606502 on Amazon | See on eBay
Bulova Dress Watch Model# 96C132 – American Clipper

In terms of appearance. The Bulova Dress Watch 96C132 comes with a highly traditional aesthetic that is perfect for those who prefer a safe choice for a dress watch. It checks all necessary boxes in terms of a classic watch.
With a sleek 42mm diameter case with the beautiful combination silver stainless-steel case strap watch and a pitch-black dial accentuated by silver digits and hands. In terms of looks, the American Clipper is an excellent example of your traditional dress watch – sophisticated, elegant, and reliable. However, the lack of any unique features in its design might lead some timepiece aficionados to overlook this gem completely.
Best Dress Watch – Movado watches are synonymous with style. They quickly overtake Bulova in this match with their signature flair that only Movado can deliver.
Movado vs Bulova: Which Watches Are Better?
Picking a winner here will mostly be based on appearance and personal preference.
Both Movado and Bulova are pretty much on par in terms of their reliability in precisely telling the time and many of their watches retail in similar price ranges. Both brands are nearly equal footing in regards to the quality and the construction of their top watches. Where the line is drawn is in their signature aesthetics.
If we go by design, the Movado certainly have their own unique personality. Bulova is as typical as it gets when it comes to their design. Their leading models all have that classic look that is perfect for traditionalists but might not attract those who want something that takes an entirely different route in regards to their design.
Movado is a head-turner and is among the best in the business when it comes to offering uniquely off the cuff timepieces. If you are still trying to decide, you may want to check out our full brand overview of Movado here or Bulova here.