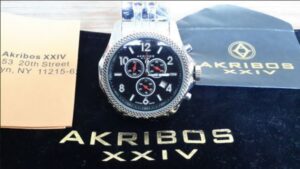 We are in a time where there are a style and brand of watch for basically every taste and budget. The prestigious watchmakers like Rolex and TAG Heuer continue to put out exquisite (and expensive) timepieces, while countless companies around the globe are mass-producing cheap, functional watches to meet everyday needs.
Occupying the middle ground are the fashion watches. Fashion watch brands put appearance above all else in their design. These watches sometimes mimic the high-end brands, or they simply create sleek, elegant looks that compliment a nice outfit. As wristwatches become more accessory than a necessity, many companies are jumping on the fashion bandwagon.
A relative newcomer to the game, Akribos Watches are looking to make a splash. There's a chance you've never seen an Akribos XXIV in real life, though. Read on to learn about this new brand.
The roots of Akribos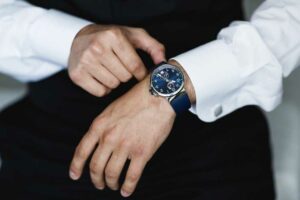 At the beginning of the 20th century, the wristwatch became a fashion staple for both men and women. In those early decades, the most sought-after watches were being manufactured in Europe, especially in Switzerland (This was the period in which Rolex first built its reputation). As the decades passed, changes in technology and consumer needs opened the door for new watch manufacturers to enter the scene, particularly in eastern Asia and the United States.
In 1999, a Brooklyn, New York-based company named Stührling started operations and in a few years was producing affordable watches that, purportedly, were constructed using Swiss designs and techniques. The company went out of its way to establish itself as being a natural heir to Swiss watchmaking, first by naming itself after a renowned Swiss horologist, and then by creating its own version of the famous tourbillon watch (no longer in production).
There is no question that the company has a great reverence for watchmaking history, but the company's watches get generally mixed reviews Despite their attempts to link themselves to the great watchmakers of the past, Stührling watches are mostly middle of the road: well-constructed but nothing groundbreaking.
The folks at Stührling were clearly looking to branch out because a few years ago, they launched a sister line of cheaper watches: Akribos XXIV.
Where are Akribos watches made?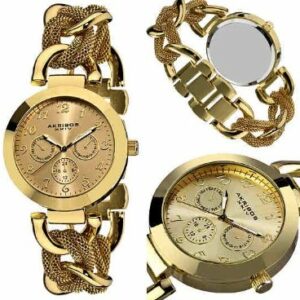 The official date of Akribos' launch isn't clear, but their website is copyrighted in 2015, so it's safe to say that the brand hasn't been around very long. While the name is Greek (meaning either "Beloved," "Dear," or "Precise"), some of the parts are Swiss-made, and their sister company is American, Akribos watches are actually manufactured in Hong Kong.
Most of the more affordable watches are made in eastern Asia, so it makes sense that the base of manufacturing for Akribos would be there. Despite this location, though, many of the Akribos models say "Swiss" on the face. This is due to the so-called "60% rule" that dictates watches can be deemed Swiss-made or said to have Swiss parts so long as a certain percentage of the parts or manufacturing originated in Switzerland.
It's a bit of a loophole, but Akribos is certainly not the only watch manufacturer that takes advantage of it.
What is the quality of Akribos watches?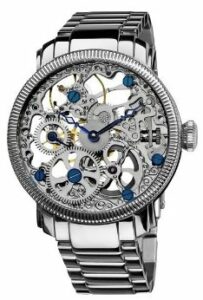 The majority of watch buyers aren't interested in the history of a watch company or where the watches are assembled.
They just want an answer to a simple question: is the watch any good?
Answering that question is always a bit complicated, which is why it's important to include the larger context of the company. If a watch tells time even somewhat accurately and won't break the first time it hits a hard surface, it'll be good enough for some subset of consumers. Watch aficionados have a much stricter definition of quality, though.
For people in the know, Akribos watches fall on the low end of ordinary. Even the models that can technically claim to have Swiss movement don't stand up against the giants of Swiss watchmaking, nor even the more affordable brands like Seiko and Swatch.
Of course, Akribos isn't really competing against luxury watch manufacturers (even if some of their marketing suggests otherwise).
The Akribos XXIV line of watches is strictly a fashion watch and a very affordable one at that.
Compared to Fossil or Skagen, Akribos is much cheaper, though there is a catch.
What is an Akribos watch really worth?
If you visit the Akribos website, you will see that most of their watches are listed in the $300 to $500 price range (with some even reaching $900), which is actually pretty steep for a fashion watch. These watches are the higher end of the entire line and represent the style and quality that the company clearly wants to exude. It's worth noting, though, that many Akribos watches sell for considerably less on other websites.


For instance, the Men's AK898 is listed on the company's site at $445, and yet it can be found on Amazon for a fraction of the price (check the current price of the Men's AK898 on Amazon).
The discrepancy is purely marketing. All you need to know is that this watch comes with a leather band, stainless steel case and a crystal dial window. It includes day and date windows and has a very simple, daily-wear style. For the current price, this is an excellent find. For $445, well, maybe not so much.


Likewise, the Women's AK1005 has a beautiful simplicity to its design. Its face is striated, and the band is a mesh made of stainless steel. There are no special extras include or any high-tech apps.
It's just an understated wristwatch, and for the Amazon price, the Women's AK1005 is a heck of a deal. By comparison, the suggested retail price on the company's website of $345 seems a bit exorbitant.



If a little more flash is your style, Akribos won't let you down: the Spirit Men's Mechanical Skeleton Dial Mesh AK526 is unquestionably eye-catching. With a see-through face, the internal mechanisms of the watch are visible to all. This gold and stainless-steel watch will certainly have people taking a second look.
But before shelling out $875 at the source, check the current discounted price on Amazon.
It's quite common to find cheaper prices on online markets than you will find on the manufacturer's main website. The price difference for Akribos is a bit higher than usual, though, and that should be a bit of a warning.
That isn't to say that Akribos are bad watches – everyone's preferences are different – only that it's best to do your full research before adding anything to your shopping cart.
Video Review of Other Akribos Watches