Founded in 2011, Shinola is a lifestyle brand that retails fashion and luxury goods. Tom Kartsotis, the founder of Bedrock Manufacturing Co.'s investment group currently, owns and operates the Shinola brand. Shinola Private now manufactures watches, bicycles, leather, and other goods.
Shinola is an American brand based in Detroit, Michigan that makes watches, fashion accessories and paper goods and gifts. Although the brand was criticized heavily for claiming to be "Made in America," Shinola watches have been well received by many entry-level watch enthusiasts. Although the brand's watches are primarily quartz, Shinola also makes some mechanical watches.



As the brand gained popularity over the years, the Federal Trade Commission ordered Shinola to stop using the "Made in America" tag. As a result, Shinola complied since most of their parts came from overseas and later assembled in Detroit. Instead, the brand had to switch its advertising slogan to "Built-in Detroit using Swiss and imported parts."
Today, Shinola boasts of a capacity to produce 500,000 watches in a year. Also, the brand has made its name today as a fashion watch worn across all ages.
Shinola History

In the 1870s, Shinola was the name of a shoe polish company. Unable to carry on under the guidance of multiple owners, the company dissolved. However, the Bedrocks brand acquired the name Shinola in 2011, officially forming the Shinola watchmaking company as we know it today.
Ever since Kartsotis envisioned the sales of affordable but high-quality watches made in the USA to compete with Swiss counterparts, Shinola opened its factory in Detroit, marking a strategic move to capitalize on the American brand for the American dream. Furthermore, Kartsotis also cracked the marketing strategy needed to expand the brand's name across the globe.
After its Detroit factory's inception and setting up, Shinola made a grand move to collaborate with General Electrics. Parent company Bedrocks arranged for GE to teach technical know-how to Shinola's workers in exchange for Shinola's marketing strategies. As a result, Shinola paved the way to become what some call in the press call America's coolest watch brand to date.
Shinola officially launched its timepieces in the year 2013. Their first collection, the Runwell Limited Edition, sold out in the week of its launch. Shinola introduced the Wright Brothers Limited Edition Watch and the Great American Series following this success.
Ever since the success of these launches, Shinola has always found a way to get inspired by innovative designers and architects. With each collection hitting the markets, Shinola's customer base increased, and subsequently, an expansion of style, design, and technology was in order.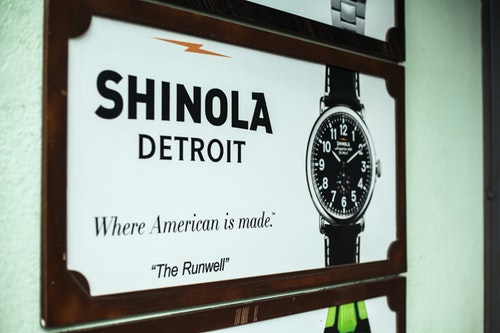 Presidential Claim to Fame
In 2014, the former President of the United States, Bill Clinton, visited the Shinola factory and bought 14 watches. Later in 2016, Shinola's fame grew when the news broke about another former President, Barack Obama, sporting this American brand. President Obama also gifted the then Prime Minister of the United Kingdom, David Cameron, with a custom-made Shinola men's watch with the Presidential seal.
Master of All Trades
In addition to making a name as fashion and luxury watchmakers, Shinola is also popular for its watch strap production and collection. Furthermore, you can pick from a range of leather, nylon, stainless steel, rubber, and alligator straps. Over the years, Shinola mastered making leather goods, and they are produced in-house by highly trained and skilled artisans.
Making 500 straps a day, Shinola prides itself on precision and attention to detail. Making watch straps go through two to three layers of painting, polishing using state of the art technology, and finishing with hand painting techniques ensure each strap maintains the same level of craftsmanship and beauty of the industry.
Shinola Watch Collections

Between 2011 and now, Shinola has produced a wide range of suitable watches for all ages and styles. Shinola has ventured into modern designs and upgraded technology while keeping the traditional values alive and keeping the craftsmanship and technical know-how intact. Once you discover the type of watch best suited for you, visit the Shinola website, for it offers you a wide range of collections. Here is a quick look at Shinola's featured collections.
The Runwell Automatic Collection

An ode to automation, the Runwell Automatic Collection is designed with utmost intimacy and precision. The watches from this collection do not come with a built-in battery. Instead, it harnesses energy from the wrist movement, along with a 38-hour power reserve.
For watch collectors who genuinely appreciate automatic timepieces for their craftsmanship, this collection is a true testament to the engineers of the automatic watch movement of the 1770s.
Monster Automatic Series
One for the water lovers and divers – the Shinola Monster Automatic Series is a trusted tool for underwater use. The series offers four main timepieces perfect for deep-water exploration without worrying about water getting into the timepiece. The essence of the Monster Automatic Series keeps in mind the needs of divers and deep-water explorers. Therefore, following extensive research and development, Shinola officially released these four timepieces under this Series.
Lake Superior is inspired by the darkness of the lake when the Northern Lights glow. The timepiece is a glossy black dial and stainless steel strap.
The glossy blue dial with a blue rubber strap, Lake Michigan reflects the blue midnight and ice formation on Lake Michigan.
Lake Huron reflects the summer sunrise with its glossy orange dial and black rubber strap.
Finally, Lake Ontario draws inspiration from wildlife and forest along the shores of Lake Ontario with its green dial and stainless steel strap.
Engineered to withstand deep water pressure and depth of 1000 feet, all the watches part of the collection are also equipped with super-luminova and sapphire crystal for visibility in the darkest of waters.
The New Kid on the Block: Detrola
Shinola's latest watch collection, Detrola, is perfect for a free-spirited person who is always up for something new. Built with TR90 resin offers a new dynamic, lightweight, and durable look to the timepieces. The hand-assembled Detrola comes together in Detroit using imported parts and incorporates high accuracy and precision movements.
The dial includes hours, minutes, seconds, and a calendar aperture function. In addition, the timepieces are fitted with K1 crystal, known as the hardest and most durable, that is also highly resistant to scratches. Detrola's unique features include silicon straps, offering a new style and design perspective to adapt to this modern era. Detrola collection is affordable, stylish, and colorful.
Great American Series
Shinola highly regards innovative and cutting-edge design. Be it with watchmaking or architecture, Shinola's keen eye appreciates the beauty in design making. Instead of this, Shinola presents the Great American Series, a collection that offers tribute to designers and architects in America.
The latest installment, called the Yamasaki Limited Edition Watch 38MM pays tribute to the contemporary designer, Architect Minoru Yamasaki. This internationally acclaimed architect is famous for breaking standard rules by paying the way for a more minimal and symmetric style of design. Above all, to celebrate his legacy, the Yamasaki Limited series mirrors the architect's craftsmanship and skill.
The other collections part of the Great American Series includes the Jackie Robinson collection, Henry Ford Pocket Watch, the Mohammad Ali Center Watch, and Maya Angelou Limited Edition Watch.
The Willard Program
Shinola stands apart from its competitors with its custom watch creation program called The Willard Program. This program is a tribute to the late founder of the original Shinola shoe polish company, Mr Williard Bixby. You can custom create a watch of your choice, picking from a variety of straps and dials. Priced at an average of $500 – $600, Shinola allows you to design a watch that suits your style.
Shinola Brand Reputation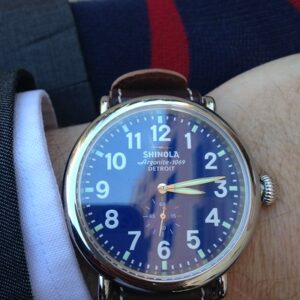 The Shinola brand is for watches, leather, and other fashion goods. Therefore, this took the brand name to many corners of the world. Tapping on the Quartz movement might have attracted criticism from watch lovers. Still nevertheless, Shinola has managed to stay on top of the market for its skilled craftsmanship and unique, innovative design.
Additionally, Shinola has won the hearts of the Americans by rebranding their name as "American Made." Kartsotis's effective marketing strategy and validation from former Presidents made Shinola a household name in America. Shinola's love for storytelling is reflected in its design and innovation. For instance, most of Shinola's collections draw inspiration from world-class designers and architects.
Time and again, this helped Shinola reinvent its name as America's coolest watch brand as many more local influencers also sang the praise of Shinola's watchmaking innovation.
Is Shinola A Good Brand?

If you are looking for an affordable, durable and stylish watch, Shinola has a lot to offer. With an average of $800-$1000 across their collections, Shinola has attracted the likes of many. While some critics like to include the brand in a category they call "new luxury," many serious horologists write off the brand as a fashion watch due to its assembly process using inexpensive components.
Watch enthusiasts criticize the brand for pegging it as American-made since most parts are imported from overseas and then assembled in Detroit. Therefore, the so-called false branding has lost Shinola some potential customers, but this is changing with Shinola's innovation and new techniques.
Some watch enthusiasts would recommend a brand such as Hamilton with its American origin and current Swiss ownership and production. You could also go for other American watch brands with a much longer history than Shinola – such as Bulova or Timex.
For those looking for stylish and sturdy watches, Shinola has lived up to its name. The Shinola brand has also attracted praises for its marketing, but when compared to brands like Fossil, the later has been preferred with many saying the quality is on par with Shinola but at a lower price point.
Where to Buy Shinola Watches?

Shinola watches are chunky, giving them a longer life than other sleeker watches. In addition, the carefully pieced parts create a high-quality timepiece ensuring a long life. This requires careful consideration while buying the right watch that suits you as who you are. If you are not much of a watch buff, Shinola watches make for great gifts as well.
The official Shinola website ships its products worldwide. Additionally, you can locate a physical store to visit in person to try out the watches.
You can also find Shinola watches at Reeds Jewelers.
Amazon also sells Shinola watches. You can also find new, and pre-owned Shinola watches on eBay.
If you are located in the UK or Europe, you may also visit WatchShop.com to get your hands on a Shinola timepiece.
Word of Caution – A lot of websites sell fake or damaged products. Always do thorough research on the seller and check for his authorization on the Shinola website. Shinola highly recommends shipping from an authorized store to benefit from warranty and repairs.
Shinola Watch Warranty

All Shinola watches come with a limited lifetime warranty of three years on all their watches per the terms and conditions. The warranty covers all faulty workmanship for normal use. However, it does not include battery, nylon, leather, and rubber straps.
In addition, the warranty covers all faulty repairs, and where the damage is beyond repair, the company will replace new timepieces in its place. However, if the watch parts or the watch collection itself is out of stock, a suitable replacement from other collections will be made based on the same value.
If you own a Shinola timepiece, register your product here to activate the warranty.
The warranty does not cover:
Intentional damage;
Damage from improper handling or accidents;
Sold by unauthorized sellers or dealers;
Negligence on the part of the customer;
Incidental or consequential damages arising out of the warranty.