Here at Watchranker, we've featured similar watches that pay homage to science fiction and space travel, like Star Wars-inspired watches and timepieces that astronauts wear. For this list, we'll talk about brands that make Futuristic-looking timepieces and take a closer look at the watch company that made them.
We'll also discuss the technologies used by these companies, and provide links to different reviews, for those of you who would like to do further reading.
Futuristic Watches
SevenFriday Urban Explorer Watch M1B/01
The SevenFriday M1B/01 Urban Explorer watch is described by the brand as having a "definitive futuristic twist, creating a modern-day classic." The watch has a unique time-telling system using discs and plates.
The case is a square cushion stainless steel with a polished steel bezel. The automatic movement is a customized Miyota 8215, with a 40-hour power reserve.
There's also the SevenFriday T1/01 Cocorico watch, which also has a similar futuristic look, but has a more conventional look. This is one of the brand's latest releases—see it up close in this comprehensive review.
SevenFriday is a relatively new brand, starting in 2012 in Zurich, Switzerland.
MB&F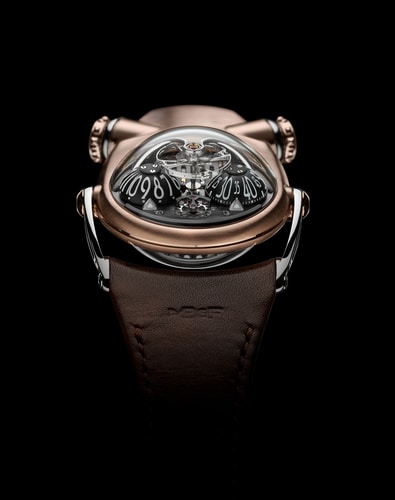 MB&F, which stands for Maximilian Büsser & Friends, is a Swiss watch concept laboratory that creates what they refer to as "radical watches." The brand was founded by Maximilian Büsser in 2015 after decades of doing corporate watchmaking.
The brand aims to "reinterpret traditional, high-quality watchmaking into three-dimensional kinetic sculptures." You can read more about their philosophy here.
The brand's creations can be divided into two main categories: Horological Machines and Legacy Machines. The Horological machines are described as contemporary watches that were inspired by the makers' childhood. These watches are like no other, having a combination of a futuristic look and nostalgia. One example is the Horological Machine No. 9, which was inspired by automotive and aviation mid-century design. This is a jet engine-like look and has a manual-winding movement made in-house.
Aside from the Horological and Legacy machines, MB&F also collaborates with artists in creating watches. You can explore them here, under what the brand calls "performance art."
Legacy Machines, on the other hand, are watches that the brand says it would have created a century ago. Legacy Machine No. 1, for instance, is a tribute to innovators of traditional watchmaking. A review of this watch by A Blog to Watch calls uses the word "retro-futurism," as Büsser created the concept when asking himself what he would create if he was born a century earlier. What came out is a Manual winding watch with a bespoke flying balance wheel. Learn more about it here. These watches don't come cheap. This model, for instance, costs around $92,000.
HD3 Complication
HD3 Complication is a Swiss watchmaker that creates high-end watches, all of which are limited-edition (one, 11, or 33 pieces each). The brand was founded by Jorg Hysek (who is also the person behind the brand Hysek) together with fellow artists Valérie Ursenbacher and Fabrice Gonet.
One of the brand's most popular collections is the Slyde. This watch, according to HD3, has a combination of the latest design trends and electronic technology. This is a luxury wristwatch with a high-definition touchscreen. In an interview with Forbes, Hysek said that the Slyde, which was developed for three years, is the company's "first progressive and personalized watch display," and combines high-end design with a modern time display. You can learn more about it here.
Another popular collection by HD3 is the Raptor Tourbillon, which was designed by Gonet. Combining fine luxury watchmaking and avant-garde technology, the watch has two push-buttons that opens to reveal the digital movement.
Jacob & Co.
Jacob & Co., a watchmaker based in New York City, was included in our list of the World's Most Expensive Watches. We talked about its $18 million Billionaire watch, which was purchased by Floyd Mayweather.
Another talked-about watch by the brand is the Jacob & Co. Astronomia Tourbillon Baguette watch, which also has a hefty price tag. In a 2015 review by A Blog to Watch, the watch was selling for $1,015,000. The watch is a poetic translation of the celestial world on one's wrist. The elements are controlled by the oscillator of a three-axis tourbillon. The movement is an exclusive Jacob & Co. Manual Winding JCAM10, with a power reserve of up to 60 hours. The watch itself is 50mm in diameter, with a thickness of 25mm.
The Astronomia Tourbillon Baguette watch looks like it's from the past, but at the same time has futuristic elements. A part of the brand's Grand Complication Masterpieces collection, this watch followed the Astronomia Tourbillon, which came out in 2014.
The Baguette version was introduced a year later, with new case designs and diamonds. This unique timepiece is like having a small universe on the wrist—a 50mm case with a domed sapphire showcasing the intricate details. You can take a closer look at the watch here, and explore the other models of the Jacob & Co. collection here.
Devon Works
Devon Works is an American luxury watch brand whose goal is to create artistic and innovative watches that extends the boundaries of watchmaking. According to the brand's website, the Devon movement has a patented system of Time Belts that displays the "hours, minutes, and seconds in a way that's never been dreamed of before."
One of Devon's most popular watches is the Tread 1. This mechanical watch, considered by experts as a work of art, has a tiny computer inside that controls all of the functions. This watch, which uses a belt system to tell the time, boasts of accuracy within one half-second per day. The watch looks like a gadget from the future—a 53.3mm model with a stainless steel case and a durable polycarbonate crystal. You can learn more about the watch and its technology here.
The watch, which is currently priced at $18,450 on the brand's website, has a number of versions. You can check them all out here. Hodinkee also took a closer look at it in this review.
HYT
HYT is known for its inventive watch designs that are unlike any other watches on the market. In line with its philosophy of creating timepieces "that visibly connect the past, present and future," the brand's watches all have a certain futuristic look on them (you can explore its different Haute Horlogerie designs here) and has a special way of displaying the time. They are the only watchmaking company that uses fluids to display the time.
The H4 Metropolis watch displays the time with the use of fluorescent liquids. This watch is not run by a battery—instead, it absorbs magnetic energy to illuminate, converting mechanical power to light.
This model has the same movement as an older model (the H1). According to the HYT website, the HYT H4 Metropolis watch has an LED light source at 6 o'clock. There are two concealed blue LEDs, which illuminate the dial with blue light. At night, the green fluid is energized by the light source. Learn more about the technology here.
The HYT-exclusive movement has a 65-hour power reserve. According to this review, the watch remains comfortable despite its big 51mm size. This one's a limited-edition model, with only 100 pieces produced. The watch was priced at around $94,000.
On its website, HYT also offers bespoke watches for aficionados with a creative vision and request.
Tokyoflash Japan
The Kisai Radioactive LED watch is sold by Tokyoflash Japan, a company that designs creative watches made in limited numbers. Created by  Hitoshi Yamada, this looks straight out of a sci-fi movie.
Priced at $179 on the Tokyoflash website, this radioactive watch has danger lights flashing at the bottom of the rectangular stainless steel case. Telling the time is easy: one just needs to read the flashing lights from the top to bottom: the hours are on the top display, followed by five-minute groups, and the minutes are at the center of the watch. The time is indicated with flashing lights. There is also a blinking light pattern every 15 minutes between 6pm and midnight, which can be turned off in the settings.
This watch is rechargeable with a USB. One round of charge will take about three hours and thirty minutes, and should last for one month.
URWERK
URWERK was founded in 1997 by watchmaker Felix Baumgartner and chief designer Martin Frei. Together with Felix's brother Thomas, the three are united by their common passion for watchmaking.
The brand's goal is "to design and craft Haute Horlogerie timepieces blending tradition with a futuristic vision." The company's first models were launched in Baselworld 1997, the UR-101 and UR-102.
The brand's creations have a futuristic look—works of art that tell time—and one of the latest releases is the UR-100, a watch with orbiting satellite hours and minutes hands. After minute pointers on the hour satellites disappear, they pass between subsidiary dials to display astronomical indications: distance traveled on Earth and distance traveled by Earth.
A review of the third version of the watch takes a closer look at the mechanism and explains the SpaceTime watch concept. You can read more about it here.
The minute pointers on the hour satellites disappear and pass between subsidiary dials to display the distance traveled on Earth, as well as the distance traveled by the earth. You can learn more about the watch on the URWERK website here.