Luxury watches are some of the most glamorous and powerful statement accessories out there. Very few of us will afford the watches featured below, but reading the rich history and meticulous process is sometimes enough to pique interest.
Below are some of the most expensive watches in the world. We'll highlight the outrageous price tags, and we'll also talk about the artistry and craftsmanship that go into each watch. Some are old creations sold in auctions, some owned by popular personalities, and others were created more recently.
The Most Expensive Watches Ever Sold
We're going to list these watches according to the price tag—we'll talk about the most expensive ones first—and we'll cover both those dotted with precious stones and the ones that are more focused on the mechanical aspects.
Graff Diamonds Hallucination – $55 Million

Most online articles about the world's most expensive watches list this as the priciest: the Graff Diamonds Hallucination watch, which costs a whopping $55 million.
Powered by a quartz movement, this watch contains big, rare, and colorful diamonds with a total of 110 carats.
It took thousands of hours for the best artisans and gemologists to set the many rare diamonds in this watch. A closer look would show that these diamonds have different cuts shaped like a heart, pear, and marquise and many pink, blue, and yellow tones.
The idea of making this watch came from Graff Diamonds Chairman Laurence Graff, who the article quotes as saying that the watch "is a sculptural masterpiece, a celebration of the miracle of colored diamonds."
Graff Diamonds The Fascination – $40 Million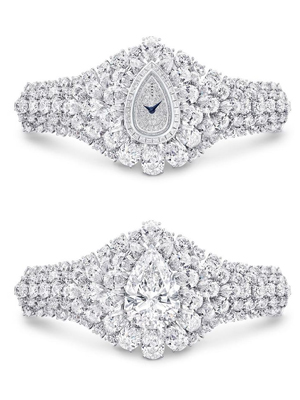 The second most expensive watch in the world still belongs to Graff. Called "The Fascination," this timepiece costs $40 million.
Revealed in Baselworld 2015 (just about a year after "The Hallucination" was introduced), this watch is another rare release from Graff. The watch, referred to as "the world's most valuable transformable timepiece," has a pear-shaped diamond with 38.13 carats on the dial and fine white diamonds with 152.96 carats.
Another thing that makes this watch unique is its interchangeable feature. The diamond can be worn in two ways: a bracelet's centerpiece or a ring.
In a Forbes article, Graff said that this piece demonstrates the company's close ties between its diamond house in London and its Swiss atelier:
"The Fascination is an outstanding piece, carefully crafted so it can be worn in a number of different ways – adding a touch of magic to the jewel."
See photos of The Fascination here. You can learn more about the company and its other watches here.
Breguet No. 160 Grande Complication Marie-Antoinette – $30 million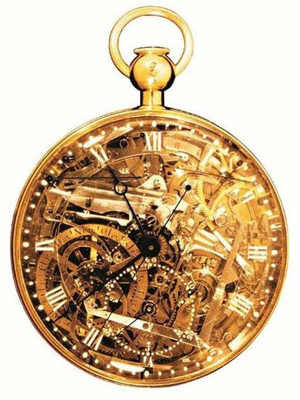 The Breguet No. 160 Grand Complication watch (aka "Marie Antoinette or the Queen"), was inspired by a pocket watch made for the French Queen (she is known to be an admirer of Breguet watches). It's been said that the original watch was commissioned in 1783 to Breguet by Marie Antoinette's Secret Admirer, was only finished over three decades after her death (the watch was continued by Breguet's son in 1827, four years after Breguet's death).
Some of the key features of the pocket watch include a perpetual calendar, a minute repeater, chronograph, power reserve, thermometer, and chime.
The original watch was finished in 1827, sold in 1887, stolen in 1983, and then recovered in 1987. The value of the watch in 2013 was reported $30 million.
In 2005, Swatch chairman Nicolas Hayek commissioned Breguet to make a copy of the watch. This replica was completed in three years and had an oak case made from Marie-Antoinette's favorite tree.
This replica stayed faithful to the original, despite not seeing the actual watch. The watchmakers based their design on drawings and technical details archived in museums. The result was a complicated, extraordinary work with features like jumping hours (invented by Breguet), a perpetual movement, a thermometer, and a minute repeater. This replica, according to Hayek, is not for sale. Read more about the construction of the watch and other interesting trivia here.
Jaeger-LeCoultre Joaillerie 101 Manchette – $26 million

This watch, which appraisers value at $26 million, is a white gold bracelet with a small, hand-wound clock protected by sapphire glass and 576 pieces of diamonds.
The Jaeger-LeCoultre Joaillerie 101 Manchette is fitted with the Jaeger-LeCoultre Calibre 101, which is known as one of the smallest movements in the world. This watch can be customized to have up to 576 diamonds.
In 2012, the Jaeger-LeCoultre gifted Queen Elizabeth with the watch, a homage to the watch she wore at her coronation 60 years ago. The original watch was given to the Queen by the French President in 1952).
The iconic Calibre 101 contains 98 parts and weighs one gram, introduced in 1921 and held the record of having the world's smallest movement until 2010. Watches with this movement have a very limited production, only having 50 made every year.
According to the company, this watch is
"prized by women who dreamed of wearing a jewel on their wrist that brought together the precision of mechanical operations and a refined aesthetic."
Patek Philippe Grandmaster Chime ref. 6300 – $31 million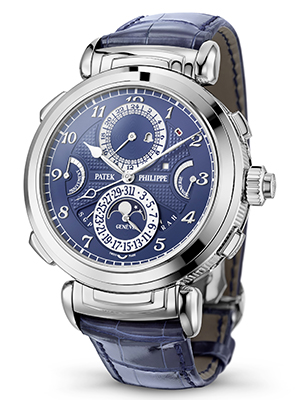 According to the brand's website, this is the most complicated watch ever made by the brand. The Grandmaster Chime, which is created for 100,000 hours, has 20 complications, a reversible case, and two independent dials.
These 20 complications include a minute and date repeater, an alarm with time strike, an instantaneous perpetual calendar, a leap-year cycle, an alarm, and a four-digit year display. The watch is powered by the caliber 300 movements, composed of 1,366 parts. See this page for a list of all complications, details on the caliber, and other technical specs.
Patek Philippe produces some of the world's most expensive watches. On the top of its list is the Patek Philippe Grandmaster Chime.
The auction was held at Christie's in Geneva and sold for was sold for $31 million.
This watch has two dials, one in front and one at the back, and has 20 different functions. The article also mentioned that the watch was sold for a cause.
A portion of the sale went to research into Duchenne muscular dystrophy.
Patek Philippe Supercomplication, $24 million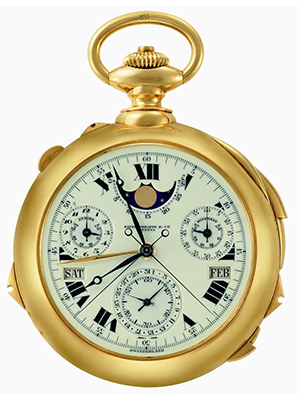 This pocket watch by Patek Philippe is named after American banker Henry Graves Jr. Graves commissioned Patek Philippe to create the watch—he reportedly wanted to outdo the equally complicated Grande Complication pocket watch of James Ward Packard, an American automaker and like him, a collector of watches.
This 18-karat gold watch is one of the most complicated mechanical pocket watches in the world for over 50 years, having 24 complications and 920 individual parts. It's also the brand's first-minute repeating wristwatch.
The features include minute repeater, grande and petite sonnerie, split-seconds chronograph, perpetual calendar, moon phases, days of the week and month, stars chart, and alarm.
The watch was completed in eight years and given to Graves in 1933, costing him around $15,000. In 2014, the watch sold at an auction for $24 million, which was the most expensive watch sold at auction at the time. You can learn more about the auction here.
Patek Philippe Ref. 1518 in Stainless Steel – $11 Million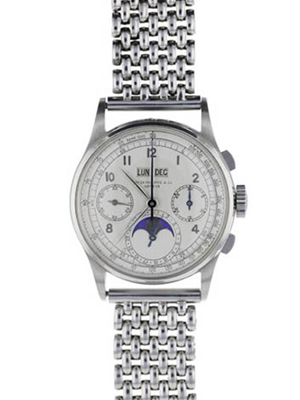 The Patek Philippe Ref. 1518, a perpetual calendar chronograph, has been dubbed one of the most desirable watches. When it was put on auction in Geneva in 2016, it sold for $11 million ($11,136,642 to be exact).
Introduced in 1943, this 35mm watch is "an extremely rare, highly attractive and historically important stainless steel perpetual calendar chronograph wristwatch" according to Phillips.
Some of its main features include applied Arabic markers, tachymeter scale, and moon phases.
A total of 281 pieces of 1518 was made, but only four of these were cased in stainless steel. One was auctioned, and the other three belong to private collections.
Jacob & Co. Billionaire Watch – $18 million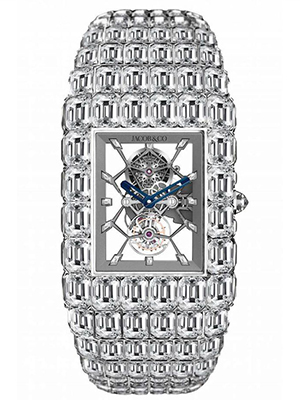 Jacob & Co. Billionaire watch has over 260 baguette-cut diamonds and a white gold case. The watch is 47.5mm wide and 58mm long, has a white rectangular gold case and hour markers made of diamonds.
In 2018, champion boxer Floyd Mayweather bought the one-of-a-kind watch for $18 million. Read more about his purchase here.
Jacob & Co is a private jewelry and wristwatch company founded in 1986 by Jacob Arabo, a diamond designer. The brand, known for its over-the-top statement watches, has its headquarters and shops in New York City, including boutiques in London, Qatar, United Arab Emirates, and Italy.
Paul Newman Rolex Daytona – £17.7m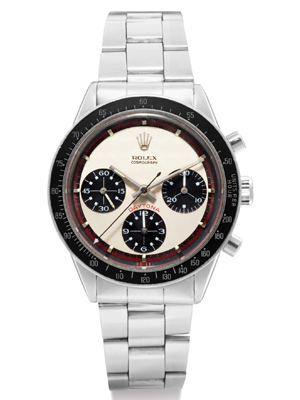 This one has another fascinating and rich history. A Rolex Daytona (reference 6239) watch once owned by Paul Newman was sold to an undisclosed buyer at a 2017 auction for $17.7 million.
The watch is engraved with the message "Drive Carefully Me" (Newman was passionate about racing). It has a black and creme dial, with an Art Deco style.
The Rolex Daytona is one of the brand's most popular watches, and this type of watch reportedly has about  2,000 to 3,000 in the world, but this one is extra special. This watch belonged to the late actor in 1968—a gift from his wife, actress Joanne Woodward.
The actor was often seen wearing the watch, but in 1984, he gave it to James Cox, a former boyfriend of his daughter Nell (estimated to cost around $200 at the time).
A portion of the sale price of the watch was reportedly donated to the Nell Newman Foundation, which continues the actor's legacy in philanthropy.
Vacheron Constantin 57260 – $8 Million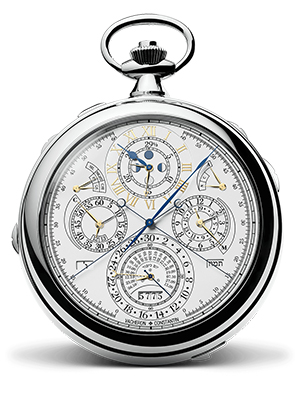 The Vacheron Constantin 57260 watch is currently known as the most complicated watch in the world.
Packed with 57 complications and a total of 2,826 individual components, this 957-gram pocket watch was made by hand in-house by three watchmakers for eight years.
This mega-complication watch is a white metal with multiple calendars and a double retrograde split-seconds chronograph. Some of the many features include six-time measurement functions, seven perpetual calendar functions, seven-alarm functions, and 8 Hebrew calendar functions. You can visit the official Vacheron Constantin page to see the rest of the features.
The watch has an impressive number of complications and features, but it remains legible, garnering even more praise from watch experts and enthusiasts. This shows that the company, with 260 years of watchmaking experience, continues to be one of the best watchmakers in the world.
While smartwatches have not caught up to the price of luxury watches and probably never will, there have been some very expensive smartwatches – check them out here.