When it comes to watches showing the day, date, or even month, we are not surprised by this addition and have thought of it as a fairly standard complication that is part of most watches we see on the market today. Unless you are a watch connoisseur, it is fairly unlikely you have even given that your watch has a calendar on it or even how it works we take this innovation for granted most of the time.
A large percentage of calendar watches will reset to the 1st of the month after running through 31 full days (24 hours), meaning they will need to be reset monthly. 
In response to the varying days and leap years, watchmakers designed two watch complications to combat this issue. This meant that watches would require less adjustment and be accurate for much longer without manual intervention.
In this quick guide, we will be looking at annual calendar vs. perpetual calendar watches, what each of these types of timepieces is, the differences between the two, the pros and cons, and some popular watches in each of these styles.
What is an Annual Calendar Watch?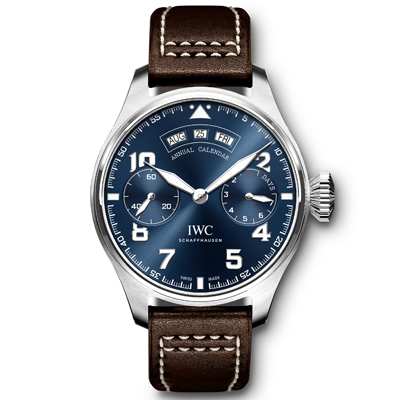 As we have alluded to above, the annual calendar watch was created as a direct response to the shortcomings of a standard calendar function on a watch and allows for only one adjustment a year, hence the name.
An annual calendar watch is a step above the classic calendar watch and thus, only needs the yearly adjustment at the end of February or the beginning of March, depending on how you want to define it. 
This is because the watch can determine months that are 30 or 31 days but cannot distinguish a leap year from a standard year, i.e., it can not tell which February has 28 or 29 days.
Shockingly, the annual calendar complication is a fairly new addition to watches, with many people agreeing the first inclusion was in the mid-1990s by luxury watchmaker Patek Philippe. The addition of this unique complication was so innovative and functional that the watch won the prestigious title of "Watch of the Year" shortly after its release. 
What is a Perpetual Calendar Watch?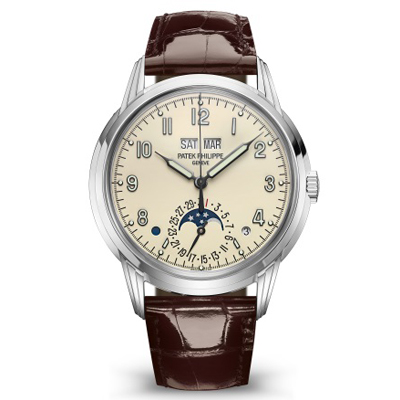 Often thought of as one of the best, if not the best, type of calendar watches, a perpetual calendar watch is a marvel of engineering. 
A lot of watch enthusiasts believe that perpetual calendar timepieces are a staple in any watch collector's arsenal and showcase one of the most useful and impressive complications on watches.
This timepiece is designed to recognize differing month lengths and identify leap years, making it only need to be adjusted once every century. This is due to the nuances of the Gregorian calendar, which removes one leap year every one hundred for no discernable reason.
So, to summarize, if you own a perpetual watch you will not need to adjust it until 2100, this is because the watches are designed so that a year ending in 00 is not accounted for in the leap year estimations. 
It is a small quirk of the complication, but due to the infrequency of years ending in 00, they have not been adapted. 
3 Differences Between Annual Calendar & Perpetual Calendar Watches
Frequency of Adjustments – it's in the name, an annual watch is adjusted every year at the end of February and a perpetual timepiece is almost exactly that, perpetual, it requires a manual adjustment every hundred years.
Cost – unsurprisingly, the watches with more advanced complications are going to be more expensive. With this being said, it is very common for a perpetual calendar watch to be considerably more than its annual counterpart.
Variety – due to the higher number of annual calendar watches available on the market, you will have much more style options when shopping for this type of timepiece. Perpetual watches are more exclusive and have fewer choices available.
Pros & Cons of Annual Calendar Watches
Pros of Annual Calendar Watches
Accessible
Finding an annual calendar watch is much easier than finding a perpetual complication, and in turn, it is a lot more accessible in terms of price point too. Regardless of what price level you are looking at (within reason), you are likely to find a watch with this compilation. 
Variety Available
One of the major pros of annual calendar watches is their availability and the wide range of companies that make watches with annual calendar complications. You are likely to find the exact style of watch you are looking for in a variety of colors when it comes to annual calendar complications.
Cons of Annual Calendar Watches
Yearly Adjustment
As the name would suggest, an annual calendar watch needs to be reset manually once a year. This is because an annual calendar timepiece's complication can acknowledge the end of a month that is either 30 or 31 days, but when it comes to February it fails to adhere to the shorter month and thus, requires a reset on March 1st.
 Misleading Descriptions 
Some watch companies tend to be a little misleading when it comes to their timepieces and their calendars, they can sometimes be worded tactfully to make it sound like they have X complication when it is actually Y. 
Pros & Cons of Perpetual Calendar Watches
Pros of Perpetual Calendar Watches
Accuracy
One of the major benefits of a perpetual calendar watch is that they only need to be adjusted once every 100 years. This timepiece is designed to know the varying lengths of months and even account for leap years.
Exclusive 
If you own a perpetual calendar watch you have an exclusive and unique part of watchmaking history. Due to the steep price of the timepieces, they are a luxury item and certainly a status symbol amongst the watch community. 
Expertly Crafted
There are very few timepieces in the watch world that can surpass the technical prowess and intricate design of a perpetual calendar watch. Due to their masterful construction, the watches are often purchased as a family heirloom to be passed down to the generations.
Cons of Perpetual Calendar Watches
Long Wait
Due to the mechanism and design of a perpetual watch, if you are unfortunate enough to set the wrong date on your timepiece, you will not be able to change it until the battery dies. So, as a cautionary tale, always double-check before setting the date on your perpetual calendar watch.
Lack of Variety
One of the major cons of shopping for a perpetual calendar watch is the lack of variety in the designs and options. This is not to say there are no choices available, it is just that there are a lot fewer designs created in perpetual complication watches.
High Cost 
With all perpetual calendar watches falling under the category of luxury watches, it is impossible to find a cheap timepiece that houses a perpetual calendar complication. This is due to the huge expertise and intricate design needed to make a perpetual timepiece possible. 
Iconic Annual Calendar Watches
Annual calendar watches have continued to be incredibly popular since their inception in 1996 and have not only become a staple of the Patek Phillippe line but also other watchmakers from luxury Swiss watches to more everyday pieces too.
Patek Philippe Nautilus (5726/1A)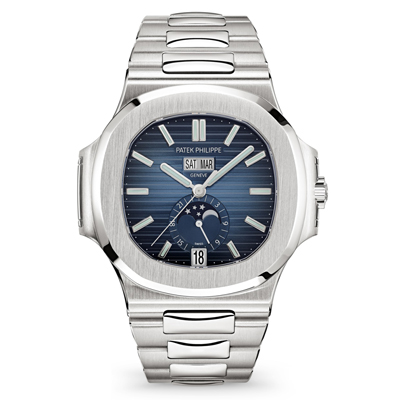 When compiling a list of annual calendar watches, we would be remiss not to include one from the original company that patented and designed the complication.
Although there are a lot of Patek watches that have annual calendars, one of the most iconic is the Nautilus with the addition of the annual calendar, this was a very recent update to the classic timepiece in 2012.
The original Nautilus, named after Captain Nemo's fictional submarine from the famous Jules Verne novel 20,000 Leagues, was first brought out in the 1970s and has proven popular ever since. 
It was a no-brainer to incorporate the annual calendar in one of the most recognizable watches in the Patek range. It has proven popular and looks incredibly stylish and in keeping with the original.
Omega Globemaster (Burgundy)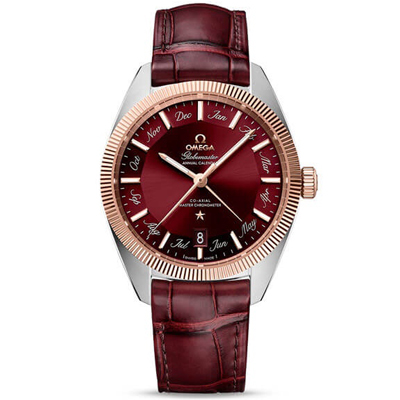 Although the whole Globemaster collection is beautifully crafted, none are more iconic than the burgundy version of these annual calendar timepieces.
The sun-brushed burgundy dial's pie pan design is a callback to the constellation models from the 50s and has a unique look and feel.
Everything about this timepiece is a statement, from the Steel Sedna Gold (rose gold alloy) case to the burgundy leather strap and the gold faceted hands. 
This version of the timepiece is certainly not for everyone with its bold color choices, but the more conservative versions are available in more classic styles.
Iconic Perpetual Calendar Watches
Perpetual calendar watches are a prized possession in any watch collector's collection and one of the most iconic timepiece types on the market today. 
Patek Philippe – Grand Complication (Rose Gold)

One of the most recognizable and iconic perpetual watch ranges is the Patek Philippe Grand Complications collection, these timepieces come in a lot of color combinations and variations. With this being said, one of the most iconic options is the Rose Gold 5327R.
Everything on this timepiece is intricate and beautifully designed, from the alligator strap to the water resistance (30m) to the white face with gold hands and detailing. 
Although there are many color options and differing styles, the Rose Gold has to be the most impressive of the models available. It is a charming and exclusive timepiece that is simultaneously timeless but modern.
Audemars Piguet Royal Oak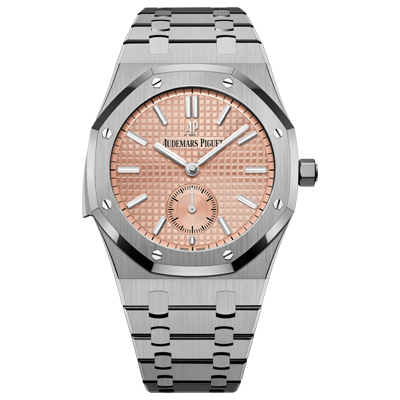 As recently updated as 2015, the perpetual calendar version of the Royal Oak line by Audemars Piguet is an absolute masterclass in engineering. There are a few versions of this timepiece, but the most iconic is the Grande Tapisserie design on the classic blue dial.
The stainless steel case and bracelet make the blue stand out even more and come together to create an exclusive and smart-looking timepiece. Amongst everything this watch offers is a 40-hour power reserve and even a lunar function, this watch is truly a masterpiece.