Oris is one of the premier mid-range watch brands in the market today. Their catalog of watches can be seen as on-par with some of the top luxury brands but at a lower price range. Hence, the popularity of this Swiss watch brand. There is also one particular aspect of Oris watches that gives it a certain appeal with timepiece enthusiasts – which is its strict use of mechanical watch movement with all of its products. In a market dominated by quartz watch movements, a watch that exudes tradition comes with a special kind of charm.
With that quick introduction let's head on over to the reason why you clicked this article – to know the best Oris men's watches available today. So, without further ado, let's begin!
Best Oris Watches For Men
Oris Aquis Date Blue Dial Watch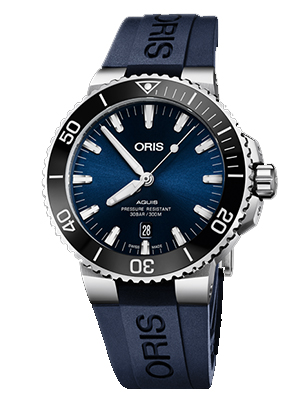 Let's start things right with an entry from a watch category that Oris is known for, namely, diver's watches. The Oris Aquis series is one of the most sought-after and highly recommended diving watches in the market today. It is flush with style, comes with reliable functionality, and is meticulously assembled with the utmost care as Oris is known to do.
One of the noticeable features about the Oris Aquis Date Blue Dial is its sleeker appearance compared to its predecessors. This is further showcased with its use of a slimmer strap. This diving timepiece is also designed to be as lightweight as possible without sacrificing overall durability. The straps are also easy to use which is both secure and comfortable – a must for this type of wristwatch.
Speaking of the straps, the ones used here are interchangeable and you can switch between rubber or leather straps. That said, we did find it somewhat difficult to change the straps in comparison with other timepieces. As for its main feature, the Oris Aquis Date Blue Dial comes with 300-meter water resistance which is enough for most water activities such as swimming, snorkeling, and scuba diving.
Oris Classic Date Watch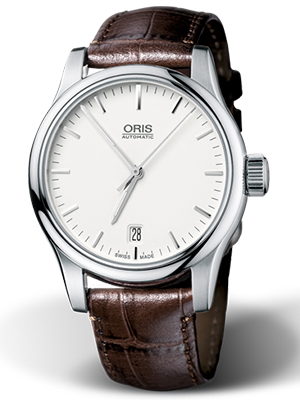 Classy with a contemporary twist, the Oris Classic Date watch is a timepiece that exudes sophistication and professionalism. These two factors make it a highly recommended executive watch and dress watch, in general. In terms of aesthetics, the Oris Classic hits a definite homerun with what it set out to achieve. Case in point, the guilloche pattern around the edge of the dial.
The hands and markers are all coated with a luminous finish for enhanced legibility even in low-light environments. Within the Oris Classic is the company's proprietary movement – the Oris calibre 733 automatic movement with analog display. Also, as the name implies, this timepiece comes with a date display that is neatly located over at the 6 o'clock position.
Additionally, the Oris Classic comes with a 38-hour power reserve and a decent water resistance for up to 50-meters, giving it the ability to withstand the occasional splash of water.
Oris Force Recon GMT Watch
The Oris Force Recon GMT is a highly functional top of the line timepiece that excels as an outdoor wristwatch. This heavy-duty timepiece certainly packs a wallop both in its performance and its appearance. For one, it features a massive 49mm diameter black titanium case – this is a watch designed for larger wrists/hands. Its use of titanium material gives the timepiece enhanced durability while keeping it relatively lightweight.
Built within the fortress-like casing is Oris' in-house developed automatic movement which provides this timepiece with ana additional 38-hours of power reserve. Besides its GMT function, the Force Recon also comes with a date display over at the 3 o'clock position and is one of the best outdoor timepieces that Oris has in its arsenal.
Oris Big Crown Pointer Date Watch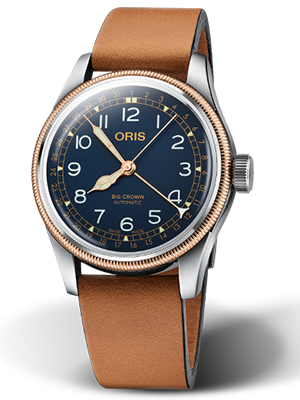 The Oris Big Crown Pointer Date is a vintage-style timepiece with modern features. The retro-modern blend makes it an incredibly enticing watch, aesthetic-wise. It can also back up its reputation with excellent construction that benefits greatly from the brand's eagle-eye attention to detail.
While a nice dress watch, the vintage design, and leather straps also make the Oris Big Crown a nice everyday casual watch. It has a refined and subdued appeal that allows it to effortlessly stand out from the rest. As the name implies, this timepiece is relatively large with a measurement of 40mm. It is a bit bulky, yes, but that size is part of its vintage charm. Within the stylish case is an auto-winding movement to go along with its analog display.
Oris Chronoris Date Watch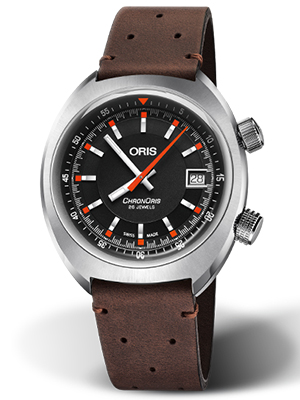 One of Oris' most stylish watch line is their Chronoris series. This particular series is a clear homage to Oris' history within the sports industry, particularly the racing circuit. The Oris Chronoris oozes with retro racecar-inspired aesthetic and will be a sure hit for collectors who want something that is visually unique and hits closer to a more "down and dirty" charm.
The Chronoris utilizes the Oris calibre 733 automatic movements with analog display. This watch movement technology also provides the timepiece with ana additional 38-hours of power reserve. In terms of design, the Chronoris excels in delivering the theme in fine detail. You will also notice how the two crowns have different groves. This helps allow wearers to distinguish between the two with just a touch. Additionally, the Chronoris has a water resistance of up to 100-meters.
Oris Diver Sixty-Five Watch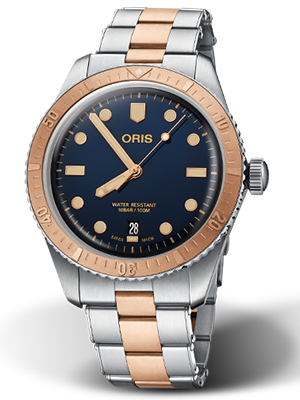 We once again find ourselves back in the diving watch category with the Diver Sixty-Five. Since is Oris has built quite a reputation in this type of watch, you can expect the Diver Sixty-Five to deliver satisfying performance and functionality. In terms of design, the Diver Sixty-Five takes a rather subtle approach. It does come in two variations: the single crown and the triple crown models.
When it comes to functionality, the Diver Sixty-Five is first and foremost a well-rounded aquatic timepiece. While not in the same level as the Aquis watch series, the Diver Sixty-Five comes with solid 100-meter water resistance. It also features a unidirectional bezel and luminous markers and hands that utilize radium super-luminova coating.
Oris Artelier Alarm Automatic Watch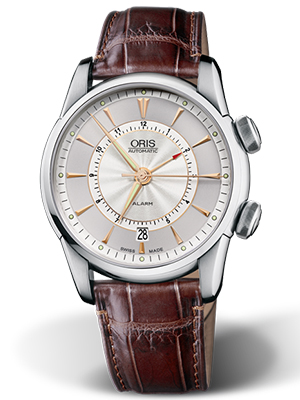 Stunning with a sophisticated and elegant charm, Oris Artelier is one the exemplifies the brand's signature style of blending tradition with modern aesthetics. The watch excels with its fine attention to detail with every piece of fragment exuding Oris' excellent craftsmanship. The polished stainless-steel case and bracelet combined with the two-toned gold and silver finish gives the Oris Artelier that high-end appeal that makes it an excellent choice as a dress watch.
The Oris Arterlier measures in at 42.5mm which makes it ideal for men. The watch is also powered by Oris' automatic self-winding movement. The detailed and professional-looking dial is also encased in a sturdy sapphire crystal window. Additionally, it features a stainless-steel bezel that can be easily operated using a top-notch mechanism. The watch also comes with a 2-year warranty.
Oris Artelier Dexter Gordon Limited Edition Watch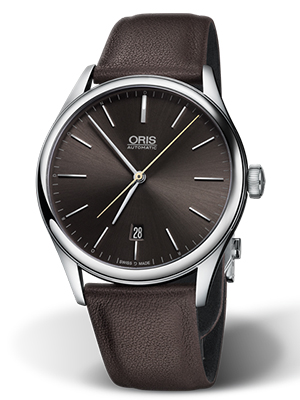 Stylish yet maintain a modern minimalist approach to its design, the Oris Artelier Dexter Gordon LE is a timepiece for the modern man. With only 1,000 pieces produced, you can expect the price for this watch to climb up as time goes by. For music lovers, especially jazz enthusiasts, Dexter Gordon is a world-famous saxophonist. This limited edition Oris timepiece also has a 'Long Tall Dexter' engraved on the back case, which is Dexter Gordon's nickname.
Of course, the name of a legendary jazz musician is not the only thing that this limited-edition timepiece has going for it. Inside the classy appearance is an automatic Sellita SW 200-1 movement that comes with a winding date display feature that is located over at the 6 o'clock position. The sunburst dial and conservative design perfectly represent the jazz music genre, and Dexter Gordon, particular. The timepiece is also constructed to provide up to 50-meters of water resistance which is enough to protect from the occasional splash of water and rain.
Oris Audi Sports Watch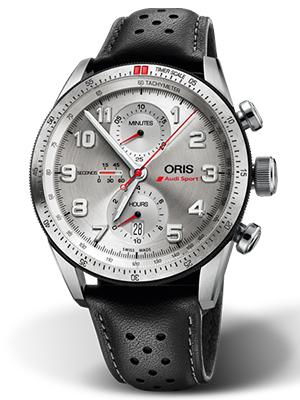 Stylish and functional, the Oris Audi Sports is one of the best timepieces that Oris has in their catalog. True to its moniker, the Oris Audis Sports provides top-notch precision in timekeeping. This timepiece features a 25-jewel movement that clocks in an astonishing 28,800VPH for absolute accuracy.
This timepiece is also reliable with its robust titanium construction, sapphire crystal window with an anti-glare finish and luminous hands. Additionally, it comes with a bi-directional rotating bezel and two sundials that track 30 minutes and 12 hours respectively.
Oris Big Crown ProPilot Date Watch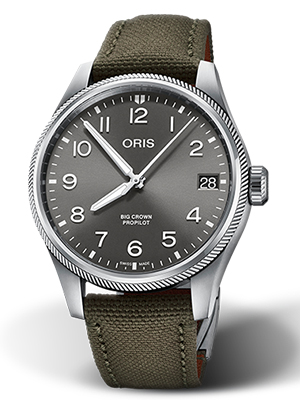 Now let's head on over to the aviation watch category with the Oris Big Crown ProPilot. As the name implies, this Oris timepiece comes with quite a prominent crown. The benefit of such a large crown is that it makes it easier to operate the watch if the need arises. One defining trait of pilot watches is its use of exceptionally larger hour markers as legibility is a key aspect of this type of timepiece. In that regard, the Oris Big Crown Pilot did not disappoint.
With a stainless-steel case that measures in at 41mm in diameter, you get a relatively large dial that straddles the line and can be worn by both men and women. This is a simple and practical timepiece designed for pilots. As a bonus, the watch is also built to provide a decent 100-meter water resistance rating. The ProPilot also comes in different versions if you are looking for something with more visual flair.
Oris Aquis Great Barrier Reef Limited Edition Watch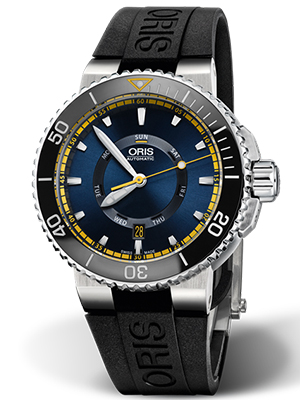 With a tag like the 'Great Barrier Reef', you expect this Oris Aquis model to offer a similar awe-inspiring ambiance – in that aspect, it most certainly delivers. This particular Oris Aquis model was designed in cooperation with the Reef Restoration Foundation with proceeds going to projects that help raise awareness in regards to the ocean and actions that will help us preserve its beauty. As you can see, it all goes to a worthwhile cause.
This Oris diver watch ranks quite highly with its 300-meter water resistance. The striking polished blue dial also accentuates its aquatic theme perfectly well. Within the watch is Oris in-house calibre 743 movement with analog display. This watch movement technology also packs up to 38-hours of power reserve for good measure.
Oris BC4 Chronograph Watch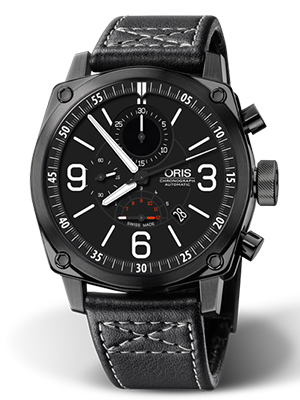 The Oris BC4 is designed specifically for racing enthusiasts. With a glance at the watch's design will immediately remind you of a car's dashboard. Not only is this Oris timepiece quite stylish, but it is also highly functional as it provides a slew of timekeeping details within its 43mm diameter dial. Surprisingly enough, even with the myriad of information on display, the Oris BC4 effortlessly avoids being a visually cluttered mess.
The dial and sub-dial are all given enough breathing space and that is without counting the markers and other information laid out in an impressively organized manner. The sub-dials also feature an intricate noncyclical pattern that perfectly embodies the unending flow of time. This timepiece is also relatively larger with its 43mm diameter case. The sub-dials are incredibly precise and track hours (12), minutes (30), and seconds (60) with nary a mistake.
Oris Aquis Date Black Dial Watch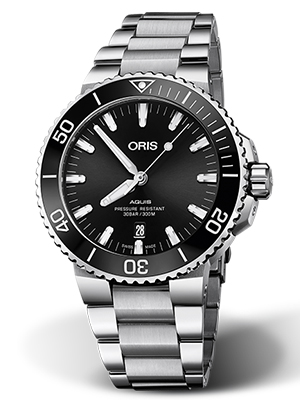 Back to a more conservative and traditional timepiece with the Oris Aquis Date. This timepiece is an excellent companion for both formal gatherings and casual everyday use. While it has a rather simple design, the construction of the Oris Aquis Date is far from being 'standard'. The lightweight build of this timepiece is somewhat surprising considering that it is a bit on the larger side with a 42mm stainless-steel case.
This timepiece is also a worthwhile purchase if water activities are your thing. The Oris Aquis Date delivers up to 300-meters of water resistance which makes it suitable not only for swimming but also for snorkeling and scuba diving, as well. This is a traditional timepiece from Oris that manages to blend in some contemporary twists in its design.
Oris BC3 Sportsman Advanced Watch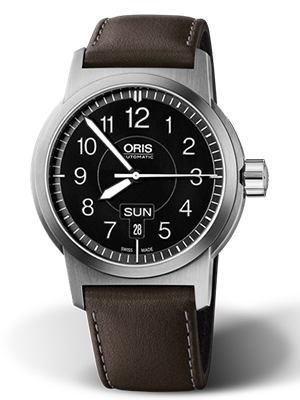 The Oris BC3 Sportsman showcases the brand's strengths with a traditional (and somewhat laidback) style that hides a highly complex watch movement technology. Versatility is the name of the game with the BC3 Sportsman watch and it confidently highlights its masterful approach to this aspect of wristwatches.
The Oris BC3 Sportsman is designed for both casual and formal attire. It is akin to a chameleon in that it combines well with almost every attire and is fit for every occasion. As with all Oris watches, the BC3 utilizes top of the line mechanical movement with analog display. Additional feature includes a date/display located down at the 6 o'clock position.
Oris Big Crown ProPilot X Watch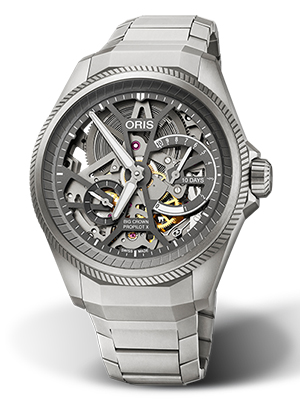 Finally, we have one of Oris most visually striking timepiece – the Oris Big Crown ProPilot X. The Big Crown ProPilot X comes in with a 44mm titanium case which gives it excellent durability without adding digits to its weight. The skeleton dial is always a nice touch, especially for timepieces that use mechanical movements.
The ProPilot X puts Oris' craftsmanship in full display as it held nothing back when it comes to its aesthetics. It is not just all sizzle though as within lies a meaty steak in the form of Oris' proprietary hand-winding mechanical movement. Also, this timepiece has decent 100-meter water resistance.
Final Thoughts
Oris is one of the most versatile mid-range watch brands in the market today. They are also known for their top-tier mechanical movement watches. If you want a timepiece that exudes an air of luxury and can hang with some of the top premium-grade brands in the market today with a more reasonable price tag, Oris watches should always be at the top of your shortlist.

Featured Image by Wikimedia Commons