Google's Pixel smartphones have been the go-to devices for enthusiasts since their inception in 2016. They represent the cleanest and most optimized Android experience out of any Android device in the market. The Pixel series represents the vision that Google had since the Nexus Series, Google's first attempt at smartphones.
Additionally, the Pixel smartphones are typically the first ones to get the latest version of Android. They are also the first to implement features such as the squeeze gesture and gesture navigation. But the main reason why Google's phones are so popular with enthusiasts is their amazing camera.
These smartphones won't compete with brands such as Apple, Samsung, or Huawei when it comes to raw camera specs.
However, Google's computational photography makes these phones take class-leading photos, even with just a single lens.
One of the only downsides to the Google Pixel series is that they lack in terms of accessories. Competing brands such as Apple and Samsung have wearables such as the Apple Watch and Galaxy Watch.
Google has acquired Fitbit, but so far, there aren't any signs of a Pixel watch.
However, the beauty of Android is that you are free to choose what smartwatch you want to use. Since the Google Pixel 4a and Pixel 5's software experience is well optimized, it can be paired with almost any Android-compatible smartwatch. But, of course, we are here to help make your purchase decision a lot easier.
Our top smartwatches to pair with Pixel devices include the Samsung Galaxy Watch 3 and Fitbit Sense.
There are a handful of great devices on this list, so we urge you to keep reading to find out more.
Best Smartwatches For Google Pixel Phones
Samsung Galaxy Watch 3
If you are looking for a high-end feature packed-smartwatch, then Samsung's flagship smartwatch, the Samsung Galaxy Watch 3, is one of the best smartwatches not just with Samsung devices but also for any other Android smartphone.
It is the sequel to the original Galaxy Watch that was first released in 2018. It has the same design language as the original but hosts a lot of improvements to better fit the current generation of Android devices.
Just like Samsung's high-end smartphones, the Galaxy Watch 3 is equipped with a class-leading super AMOLED display. You can comfortably read the on-screen texts without a problem regardless of the lighting conditions.
Additionally, the Galaxy Watch 3 features a rotating bezel that makes navigating the UI a lot easier. And speaking of the software, this watch is utilizing Samsung's Tizen software. You will be getting the same feature set and customizability similar to Google's Wear OS, but you will be getting a significantly better and more stable software experience. Additionally, you can install apps via Samsung's smartphone app.
Additional perks that you get with the Galaxy Watch 3 include support for eSim, Samsung Pay via NFC, MIL-STD-810G compliant, water-resistant up to 50m (IP68), ECG certified, and a lot more. And, of course, you are getting all the essential smartwatch features. If you are using a Samsung device or if you just want a class-leading smartwatch, the Samsung Galaxy Watch 3 is currently one of the top choices.
Fitbit Sense
The Fitbit Sense is Fitbit's latest and most advanced smartwatch offering. It takes several cues from their best-selling Versa series but makes major improvements to better compete with well-known watches such as the Apple Watch.
Compared to the Versa Series, the Sense offers an even more premium look. It has a stainless steel frame and aluminum body. The screen is protected with Corning Gorilla Glass 3, which makes the watch very safe to use for more extreme activities. Fitbit also offers several color options for the Sense to fit your style.
But what makes the Fitbit Sense an upgrade to the Versa series is the number of health tracking options available. It features an EDA scan for stress management. This is done by measuring the sweat on your skin. Additionally, the whole process is kept simple and can be done by just placing your palm on top of the smartwatch.
The Fitbit Sense is also the first Fitbit also to include an onboard ECG application, which can be read within 30 seconds after generating a single-lead ECG. The Fitbit Sense also supports temperature tracking, which is performed at night.
Also, just like the Versa 3, the Fitbit Sense has a built-in GPS. This means that you can now go for runs without the need for your smartphone. It can accurately track the route you take, pace, distance traveled, and the time it took you to complete your route.
Responding to messages is also faster and more convenient using the speech-to-text feature. Additionally, the Sense supports both Alexa and Google Assistant, making it compatible with a wide range of equipment. Having both assistants also means that Android users who are more used to using the Google Assistant won't feel out of place.
And lastly, all of this is made possible thanks to Fitbit Sense's faster processor. You can expect a smooth and lag-free user experience. Overall, if you are looking at the best smartwatch that Fitbit has to offer, the Fitbit Sense should be on top of your list.
Fitbit Versa 3
The Fitbit Versa 3 is the upgrade to Fitbit's popular Versa 2. It carries everything that made the Versa 2 a very compelling choice in its price range. But now, the Fitbit Versa 3 has a built-in GPS. This means that you can now get accurate results without needing to carry your smartphone during runs.
Like its predecessor, the Fitbit Versa 3 has a 1.58 inch AMOLED display with a screen resolution of 336 x 336 pixels. It also has an always-on display, blood oxygen, temperature tracking during sleep, and a battery that lasts up to six days.
Aside from its fancy looks, the Versa 3 is an extremely capable tool for fitness tracking. It can measure steps, distance, calories burned, and heart rate.
The Versa 3 covers the basics well and has the same fitness features as the more expensive Sense.
It also has 20 different activities under sports mode, including indoor and outdoor swimming. It is also well optimized to detect movements that can trigger the watch to start sessions automatically.
Additionally, the Versa 3 now features the Google Assistant. Previous iterations only included Amazon's Alexa. This makes the Versa 3 a more versatile device since you can potentially connect it to more devices. This also means that Android users can now answer calls directly from the watch.
With the number of features and the battery life of the Versa 3, it is one of the most compelling options in its price range. If you are looking for a feature-packed square watch with great build quality, software, and battery life, make sure to check out the Versa 3.
Fossil Gen 5
Wear OS Watches aren't always the best choices when it comes to smartwatches. Just like Android smartphones, the Wear OS experience will largely depend on the manufacturer's implementation. Luckily, Fossil knows what they are doing with the Fossil Gen 5.
The Fossil Gen 5 has everything that you would ever need in a watch at this price point. It has a microphone and speaker for calls and for accessing Google Assistant, it has a rotating crown, bright and vibrant display, heart rate sensor, and other essential fitness and health sensors, and a gorgeous design.
Another great feature is the compatibility of this watch's software. The Gen 5 may be designed for Android smartphones.
However, Fossil has gone the extra mile to make workarounds for Apple devices such as the latest iPhone and iPad. This makes the Gen 5 extremely versatile for users who are running multiple devices.
The smooth UI navigation and decent battery life are all thanks to the Snapdragon Wear 3100. So if you are looking for a smartwatch that has both style and the latest tech, the Fossil Gen 5 is a great choice.
TicWatch Pro 2020
The TicWatch Pro 2020 is the latest refresh of the TicWatch Pro. It boasts new features and improvements to TicWatch's most popular model.
One of the improvements to this watch is the new Snapdragon Wear 2100 processor. This ensures that you will be getting a smooth and lag-free software experience. Additionally, it's efficient processing along with the "essential mode" disables most of Google Wear's features and allows the watch to last as long as possible.
The dual-layer screen also makes a return on this model. The LCD screen shows the time, which helps conserve battery if that is all you need. But when you need to access the watch's more advanced features, the Pro 2020 automatically switches to the OLED display.
The TicWatch Pro 2020's aesthetics is just as good as its high-tech internals. It is built with premium materials such as carbon fiber with high-strength nylon. The genuine Italian leather + silicone strap also allows the watch to have a premium look without sacrificing comfort.
And feature-wise, it has everything that you would expect from a Wear OS watch of this caliber. It has plenty of fitness tracking options, installable apps, a speaker and microphone for phone calls and for the voice assistant, and a lot more.
If what you are looking for is a feature-packed smartwatch with advanced tech inside, then the TicWatch Pro 2020 is one of the best watches that TicWatch has to offer.
TicWatch E2
The TicWatch E2 is a highly affordable smartwatch that does simple jobs and tasks well, taking all factors and features into consideration. This is an impressive entry-level basic fitness smartwatch.
The TicWatch E2 offers more features than previous versions. The E2 is now swim-proof and capable of monitoring swimming lengths accurately. The distinction between the two smartwatches is that the E2 has a sleeker, simpler design and is cheaper than the S2.
Google's Wear OS is used by TicWatch E2 to make it compliant with third-party applications such as Spotify, Uber, Messenger, and more. It doesn't have built-in speakers, so users can respond to calls using their smartphones out to keep them running.
However, the E2 does have a microphone that can be used to summon and send Google Assistant voice commands. This watch also lacks NFC features, so that contactless payments can not be made. It does, however, provide a GPS for a superior mapping experience that is well-integrated.
Samsung Galaxy Watch Active 2
If you are looking for an alternative to Huawei's fitness-focused Watch GT 2e, the Samsung Galaxy Watch Active 2 is a great alternative. Just like the Watch GT 2e, the Galaxy Watch Active 2 is based on the Galaxy Watch 3 but has tweaks that optimize it for active users and athletes.
In terms of the design, the Galaxy Watch Active 2 ditches some of the Galaxy Watch 2's premium design elements for a simpler and minimalist look. The physical rotating bezel has also been replaced with digital rotation via the screen's edges. All of these changes are done to make the Galaxy Watch Active 2 lighter and better for workout sessions.
But in terms of its core functionality, the Galaxy Watch Active 2 does not have any compromises. It is still utilizing Samsung's custom Tizen OS which allows the installation of third-party applications.
Notifications and messages can also interact with various means, such as the onscreen keyboard or voice commands. Several core features can also be done with the help of Samsung's voice assistant, Bigsby.
But, of course, the real star of the show here is the fitness and health features. The Galaxy Watch Active 2 comes with various fitness and health tracking features such as GPS and various health and workout-related apps. And even with all of its features, the Galaxy Watch Active 2 maintains two-day battery life.
Huawei GT 2E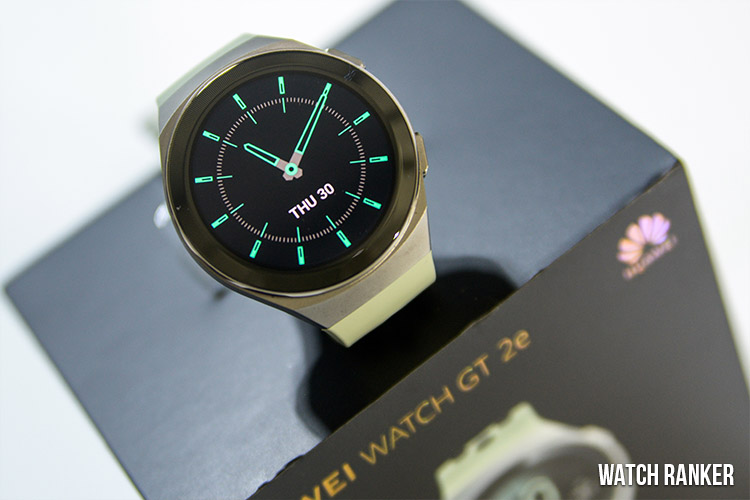 The Huawei Watch GT 2e serves as Huawei's mid-range model and fitness smartwatch. It may have a lower price point, but it still embodies everything that was well-loved with the Watch GT 2.
The GT Watch 2e and the GT Watch 2 are very similar in terms of their specs. They both have the same Kirin A1 processor, the same two-week battery life, the same Bluetooth 5.1 connectivity, etc.
What separates these two models is the design. Both are high-quality and premium feeling smartwatches, but the GT 2e has a simpler look that is reminiscent of the classic digital watches. This allows the GT Watch 2e to be more lightweight and better suited for workouts.
Both the buttons and the wristband have also been redesigned. The large buttons and strap locks often on the GT 2e bumped into the wrist when doing exercises. This is why the buttons are smaller, and the strap locks no longer allow the GT 2e to be laid flat.
The wristband is also different and is more optimized for sports. The holes in the wristband allow for better airflow. The buttons have also been changed in order to bump less with your wrist during heavy workout sessions.
There are some trade-offs with the GT 2e. There is no longer a speaker and microphone, and the RAM is reduced. But overall, if you are looking for a more budget-friendly and sports-optimized version of the GT 2, then this watch is a great choice.
Huawei Watch GT 2 Pro

One of the best smartwatches that Huawei has to offer is their latest Huawei Watch GT 2 Pro.
This watch is the successor to the highly successful Huawei Watch GT 2 or GT 2e. It takes everything that was great about the GT 2 series but adds new features that make it worthy of its "Pro" moniker.
The build quality of the GT 2 Pro has been revamped. It is utilizing more premium materials such as titanium for its body. The 1.3 inch AMOLED display is also now protected with sapphire, which is tougher than glass.
Internal components such as the heart rate sensor have also been improved. The GT 2 Pro now utilizes TruSeen 4.0, which is more accurate than previous models.
Familiar elements such as the fast and reliable UI make their return but with some tweaks that are exclusive to this model. The most notable one being the ability to install apps which expands the GT 2 Pro's functionality.
The GT 2 Pro also features the great workout selection found on the fitness-focused GT 2e. There are added activities such as snowboarding, skiing, cross-country skiing and driving range for golfers. Additionally, the GT 2 Pro has a built-in GPS with a route back feature to help you return to your point of origin.
Just like its predecessors, the GT 2 Pro has a fully customizable notification system. It also has a built-in mic and speaker for calls and potentially for the upcoming Celia voice assistant.
The Huawei Watch GT 2 Pro manages to pack all of these features while still maintaining its 2-week battery life. It can then be quickly recharged via magnetic or wireless charging. If you are looking for Huawei's best offering, the GT 2 Pro is your best bet.
Skagen Falster 3 Gen 5
The Skagen Connected Falster 3 is one of the only smartwatches that manages to deliver a classy Wear OS experience. Like most smartwatches in its price range, the Falster 3 manages to pack all the essential smartwatch features. It has a built-in mic and speaker for making and taking phone calls as well as for accessing Google Assistant.
It is also equipped with Google Fit that handles all your health and fitness needs. It also has a built-in GPS that enables you to use the watch for different activities without your smartphone. And most importantly, the watch manages to last longer than most Wear OS watches thanks to good optimization and good battery optimization.
This is all done without sacrificing looks. The Skagen Falster 3 has Skagen's signature minimalistic but complicated look, as seen with the oversized lugs. Additionally, Skagen has added their own flair with their custom watch faces and charging animation. If you are looking for a unique Wear OS smartwatch experience that still checks all the essential boxes, make sure to check out the Skagen Falster 3.