It seems that every new gadget these days has a camera built-in, so the smartwatch should be no exception, right?
I love a selfie, so the idea of using my smartwatch to take them had me excited. I've been reviewing camera smartwatches to determine if they are worth the hype and which devices are the best; everything will be shared in this guide.
The best smartwatch with a camera is the Zeblaze Thor 6. This smartwatch has two 5MB cameras, one for selfies and the other facing sideways. It's a powerful device that runs a full version of Android 10 and claims to replace a smartphone; see my full review below to find out if it lives up to this.
I'll also share a few other devices from the Zeblaze range that you might like and explain why there is a lack of good smartwatches with cameras.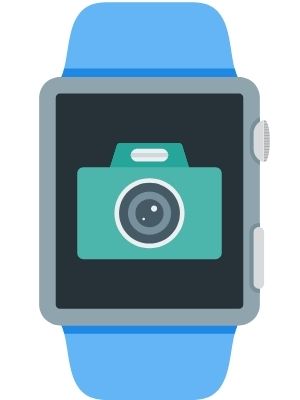 Are There Any Good Smartwatches with Cameras?
If you look at the specs of the best smartwatches on the market right now from the likes of Samsung, Apple, Garmin, and Fitbit, you'll notice that none of them have a built-in camera.
Manufacturers are increasingly trying to slim down their watches, so the extra hardware from a camera will be very unappealing to them, given the few functions it can offer.
Instead, most manufacturers have adopted a remote shutter feature. This allows you to use your watch to trigger the camera on your phone; it's a great alternative to the standard timer feature, which doesn't always get the best results.
This feature can vary between devices. Cheap smartwatches tend to have a simple shutter button and nothing else. However, more premium watches like the Samsung Galaxy Watch 3 and the Apple Watch 6 will give you a live view of the camera on your watch and let you cycle through settings such as the flash and timers from the watch itself.
You will find some smartwatches with cameras on Amazon with brands like Padgene and iFuntecky, but for the most part, these are very poor, and the cameras are low resolution.
One brand seems to be doing some good smartwatches with built-in cameras, and that's Zeblaze; see our breakdown of their devices below.
Best Smartwatches with Cameras
Best Overall: Zeblaze Thor 6

Pros/Cons:

Switch between front and side camera

Full access to the Google Play Store for third-party apps

Add a SIM card for 3G/4G connectivity

The user interface isn't designed for small round screens

Most expensive Zeblaze watch
Zeblaze might be a relatively unknown name in the smartwatch market, but the ZeblazeThor 6 boasts some impressive specs. They claim that it can replace a phone, and they might not be wrong.
The watch has a black plastic case with red, blue, or black strap options. It has a MediaTek Helio P22 Octa-Core processor; this is powerful enough to run a smartphone and is used by manufacturers such as Samsung and LG in their lower-tier phones.
Aside from the processor, the watch also has an 830mAh battery capacity, 4GB of RAM, and 64 GB of memory. If you're wondering why the watch has such impressive specs, that's because it runs a full version of Android 10 and not your typical WearOS platform that other manufacturers opt for.
Most of the default apps that come preloaded have been optimized for the device. This includes a media player, fitness tracker, weather, voice recorder, notifications from your phone, and more.
Being a full version of Android, there is full access to the Google Play Store, however, you can only download the full versions of apps that are not optimized for the small round screen.
The watch has two cameras a 5MB front-facing camera for selfies and a 5MB side camera. You can use both for photos and video, but one exciting feature that the camera also adds is the ability to make video calls from your wrist without a smartphone, making use of the device's 4G capability. Zeblaze also shouts about the face unlock feature, although I'm still unclear why you would want to lock a smartwatch that's on your wrist.
So, can this device replace a phone? Although its specs would undoubtedly suggest that, I don't think the user experience is there. The watch can do many things, but Android 10 is designed to work on large rectangular devices, not small circular screens, so you'll soon become frustrated.
That being said, if having a camera on the watch is essential, this is the best one currently on the market.
Runner Up: Zeblaze Thor 5

Pros/Cons:

Camera has a higher 8MB resolution

Watch can last up to 4 days in wristband mode (only one day in smartwatch mode)

User interface isn't designed for small round screens
Our runner-up is the Zeblaze Thor 5, which is the previous generation released back in 2019. It has many similarities to the Thor 6, running a full version of Android, although the older Android 7.1.1 was the current version back when it was released.
It has GPS for using map features, Wi-Fi, and a nano-SIM slot connecting to 3G/4G networks (with a relevant monthly plan). This allows you to use the smartwatch without being tethered to your phone.
It has a 1-day battery life when used in smartwatch mode, or you can switch to smart wristband mode, which disables network connectivity and allows the device to last up to 4 days.
Unlike the Thor 6, this device only has one camera which faces forward for taking selfies and making video calls. However, this is a higher 8MP resolution.
If you are keen to have two cameras, the Thor 5 is also available as a PRO version with two 5MP cameras like the Thor 6. The Thor 5 PRO also has more RAM and a larger battery of 800mAh than the Thor 5.
Overall, the device has the same benefits and drawbacks as the previous device I have shared.
Budget Pick: Zeblaze Thor 4 Dual

Pros/Cons:

Cheapest in the current Zeblaze Thor smartwatch series

Has both a front selfie camera and side camera

Runs an older version of Android than the Thor 6

Has a lower RAM than previous devices
The Thor 4 is the cheapest smartwatch currently available in the Thor lineup, which features a camera. The concept is the same as the two previous devices, a full version of Android with access to the Play Store for third-party apps.
It runs the same operating system as the Thor 5 series, Android 7.1.1, so the device's user interface is mostly the same. The difference between the Thor 4 and Thor 5 is in the hardware.
The Thor 4 Dual runs a lower spec processor and has less Ram at 1GB instead of 2GB. This might still seem impressive for a smartwatch, but factor in the full version of Android, and it won't be the fastest.
It also lacks GPS like the Thor 5, so you won't have all the mapping features, such as tracking your running routes. These are all compromises you #'ll have to make for a lower price tag.
I recommend the Thor 4 Dual over the standard Thor 4 as it adds a second camera, giving you two 5MB cameras instead of one. All of the other specs remain the same, as does the price tag, so it seems like a practical choice.
My criticism of the watch is similar to the Thor 5 and 6 in that the user interface hasn't been designed for the round watch, so you'll be missing parts of the screen, and it may become frustrating over time.