Smartwatches are great companions to smartphones, allowing us to multitask avoid distractions to increase our productivity, but one drawback is being within close range of your smartphone. 
A standalone smartwatch has its SIM (or eSIM) card that allows you to make and receive calls without your smartphone. Because standalone smartwatches don't need to be tethered to a phone to work, you can even leave your phone behind and still get notifications and texts.
Most flagship and even mid-tier smartwatches can now be used as standalone devices. With so many options, it can be tough to decide. To help you narrow things down, we've created this list to help you find the best match for your lifestyle and budget.
Below we've curated the best performing and most featured pack standalone watches for you. Our top picks include the Apple Watch Series 6, Samsung Galaxy Watch 3, and the Fossil Gen 5. We have more unique picks on this list, so keep scrolling to find out more.
Quick Picks

Best Standalone Smartwatches
Apple Watch Series 6 (eSim)

The Apple Watch is, without a doubt, one of the best smartwatches for the iPhone.
Nearly all aspects of this watch are well thought of and integrate very well with the features of the iPhone. And in some cases, the Apple Watch Series 6 can even completely replace your iPhone. 
This is because the Apple Watch is so advanced that it can do many things that your iPhone can. It can handle your messages, calls, and emails, it can track meetings and events in your calendar, it is capable of location mapping and contacting emergency contacts in case of accidents, and a lot more. 
Sure, you'll still need your smartphone for advanced tacks. But for quick tasks such as grocery runs and jogging, all you'll ever need is your smartwatch. Additionally, if you wish to do cashless transactions, you can do so via Apple Pay. This means that you can opt to leave both your smartphone and wallet for quick trips to places such as your local grocery store. 
Of course, all of this wouldn't work if the Apple Watch didn't deliver a good software experience. But this isn't the case here. Apple has nailed the Apple Watch experience and has packed the latest Series 6 with all the advanced tech to ensure that your watch doesn't suddenly crash or stop working in a crucial situation. 
If you are an Apple device owner, the Apple Watch Series 6 is the best standalone smartwatch on this list. 
Amazfit Verge 2 (eSim)

Amazfit's products are well-received thanks to their incredible value. They almost always deliver the most features at their respective price point. And one smartwatch that manages to do all those while adding standalone functionality is the Amazfit Verge 2. 
Like most Amazfit smartwatches, this model perfectly balances consumer-oriented and fitness/sports-oriented features. It has most of the standard smartwatch features that you would expect and a  variety of workout and fitness tracking modes. 
In terms of the build quality of the Amazfit Verge 2, it sports a clean look. However, given its plastic build, its build isn't as good as the rest of the competition. The Verge 2 now has a voice assistant powered by Amazon's Alexa.
The one downside of the Amazfit Verge 2 is that its features are pretty limited in standalone mode. Essential features such as calling still work. However, it is not running Wear OS significantly limits its feature set. But given the price, the Amazfit Verge 2 is still an excellent option for those on a tight budget. 
Amazfit Nexo (eSim)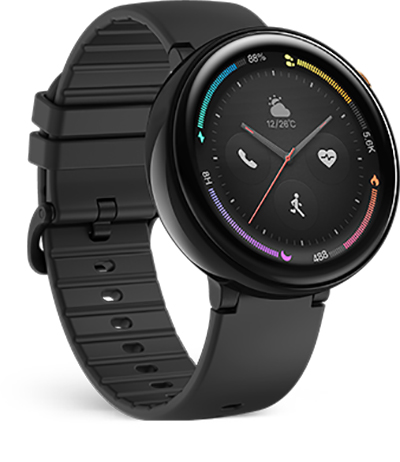 If you want to take things up a notch, a significant upgrade to the Verge 2 is Amazfit's flagship Amazfit Nexo.
It is designed to be a full-featured smartwatch that balances fitness tracking and consumer-related features. It manages to pack all of this in an elegant-looking but ruggedly built design to suit the adventurous and the casual user. 
What separates this watch from Amazfit's other offering is its built-in eSim module. This essentially allows you to perform most smartphone-related tasks such as calling and texting without carrying your smartphone. 
The Amazfit Nexo can make and receive phone calls easily, especially when you are on the run or exercising outdoors. You can leave your phone at home and won't miss a single call. This is a killer feature for anyone who wants to minimize their smartphone usage without compromising the essential smartphone features. 
The Amazfit Nexo has exceptional performance thanks to its quad-core CPU. It also supports cellular connectivity up to 4G LTE. 
The Amazfit Nexo comes with various sensors such as Bio tracker PPG optical sensor, Acceleration sensor, Geomagnetic sensor, and Ambient light sensor in terms of fitness tracking. For multiple positioning, this watch uses GPS+GLONASS+GALILEO+WIFI. 
If all features are turned on, the battery will last up to 28 hours. In typical use for around two days. Overall, the Nexo is a feature-packed smartwatch and is highly competitive, especially in the flagship price range. 
Samsung Galaxy Watch 3 (eSim)

Android users do not have a direct alternative to the Apple Watch when it comes to smartwatches. Watches using Google's Wear OS platform wildly differ from one another, and other brands such as Huawei and Fitbit use their proprietary operating system. But one platform comes close to Apple in terms of functionality and stability. 
This platform is Tizen OS which comes from another tech giant, Samsung. And currently, their best offering utilizing this OS is the Samsung Galaxy Watch 3. 
The Galaxy Watch 3 isn't just for Samsung users. While it greatly benefits from being part of the Samsung ecosystem, you can easily use it with any smartphone. And of course, with its eSim feature, it can be used as a standalone smartwatch. 
As a standalone watch, you can use it for calls, messages, emails, location tracking, and many more. You can even use it for cashless transactions using Samsung Pay, similar to Google Pay and Apple Pay. 
The hardware is also well implemented. It uses a class-leading AMOLED display, a rotating bezel, and internals to run its software correctly. 
If you are looking for a Wear OS alternative with eSim capabilities and class-leading specs, the Samsung Galaxy Watch 3 is as good as it gets. 
Samsung Galaxy Watch Active 2 (eSim) 

The Samsung Galaxy Watch Active 2 is the Galaxy Watch 3's fitness oriented-counterpart. It can do everything that the Galaxy Watch 3 can but has a more optimized design for outdoor activities. 
The Galaxy Watch Active 2 ditches some of the Galaxy Watch 2's premium design elements for a more straightforward look. The physical rotating bezel has also been replaced with digital rotation via the screen's edges. These changes are done to make the Galaxy Watch Active 2 lighter and better for workout sessions. 
As for its core functionalities, there are no compromises here. Whether you need to respond to texts or calls or use Samsung Pay without your smartphone, the Galaxy Active 2 has your back. So if you are more of a fitness enthusiast or an athlete and want to ditch your smartphone, the Samsung Galaxy Watch Active 2 will be your best friend. 
Apple Watch SE (eSim)

If you are looking for an Apple Watch model that sits in between the flagship Series 6 and Entry-level Series 3, then the Apple Watch SE is the watch for you.
This watch is very similar to the previous generation Apple Watch Series 5 in terms of its features, meaning it's just as good as the newer Series 6 as long as you are willing to give up some features. 
Unlike the Apple Watch Series 3, the Apple Watch SE has the same size as the Series 6. Core design elements such as the digital crown with haptic feedback and vibrant display are intact. All the necessary functions such as call, email, texting, Apple Pay, and location tracking can all be found in the SE. 
The only things missing are the blood oxygen sensor, ECG, and Always On Display (AOD) feature. Additionally, the SE is only available in a stainless steel option. 
But for those already satisfied with the Apple Watch Series 3 and Series 5's feature set, you will surely enjoy using the Apple Watch SE both as a standalone and as a companion to your Apple device. 
TicWatch Pro (4G/LTE)

The TicWatch Pro 4G/LTE is Mobvoi's take on a Wear OS watch that can work as a standalone device.
It retains the same feature set of its flagship TicWatch Pro 3, making it a very capable and versatile smartwatch. 
Its cellular 4G/LTE connection allows it to do essential functions such as sending and receiving text messages, calls, location mapping, online and offline maps, and many more. You can also leave your wallet since You can easily use the TicWatch Pro 4G with Google Pay. 
The TicWatch Pro's signature dual-layer display also makes a return here. An LCD takes over whenever you are not using the main display, effectively acting as an Always-on Display (AOD). This helps conserve battery, which is crucial when this watch is the only device you have with you. 
The only downside with this watch is that it uses the older Qualcomm Snapdragon 2100 that is also found on the TicWatch C2+ and  TicWatch S2.
It is paired with 1 GB of RAM, which helps make the overall performance smoother. However, the older processor makes the TicWatch Pro 4G/LTE prone to more issues. But overall, the TicWatch Pro 4G/LTE is your best bet for a standalone Wear OS smartwatch. 
Fossil Gen 5 (LTE/Cellular module)

The Fossil Gen 5 is a smartwatch from an experienced manufacturer who knows how to get the most out of Wear OS. It is a smartwatch that perfectly blends aesthetics with performance and usability. 
This watch has everything you would ever need in a Wear OS watch. It has a microphone and speaker for calls and accessing Google Assistant, a rotating crown for more straightforward navigation, a bright and vibrant display, a heart rate sensor, essential fitness, and health sensors, and a gorgeous design.
The Fossil Gen 5 isn't all about its looks. It is powered by the Snapdragon Wear 3100, which means that navigation will be smooth, and features like Google Pay will work flawlessly. Additionally, if you ever want to use the texting features of the Fossil Gen 5 with iOS devices such as the latest iPhone and iPad, you can do so thanks to Fossil's unique apps.
And, of course, the Fossil Gen 5 has a cellular capability that enables most Wear OS features to work even without your smartphone. If you need a smartwatch that does the basics with perfect execution, the Fossil Gen 5 is an easy recommendation. 
Apple Watch Series 3 (eSim)

Given the Apple Watch's premium price, it's no surprise that consumers with a limited budget are looking for an alternative watch with a similar feature set. But if you are having a hard time, you can stop searching because Apple has released its budget version of the Apple Watch. 
With the Apple Watch Series 3, you can enjoy most of the Apple Watch's benefits without paying an arm and a leg. You get some compromises, but those aren't enough to detract from the overall experience. 
Significant differences between the Series 3 and the Series 6/SE include a smaller and dimmer display, the lack of AOD, and a smaller battery. Additionally, the processor used on the Series 3 isn't entirely on par with the processor's speed used on the higher-end Series 6. 
But apart from those, the Series 3 still perfectly delivers the Apple Watch experience. It uses the same software, same fitness and health tracking features, and same standalone features. 
And this means that it can still replace your iPhone in many situations. All these features make the Apple Watch Series 3 the perfect alternative to the Apple Watch Series 6. 
Oppo Watch (eSim)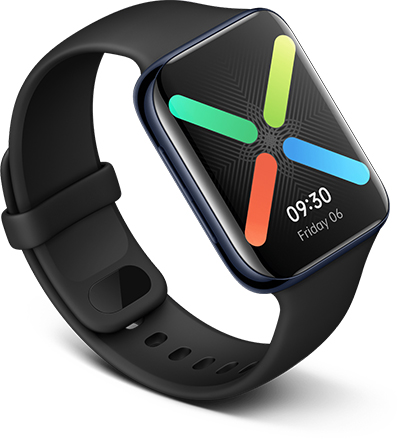 We mentioned earlier that there isn't a direct Apple Watch alternative for Android users. However, a smartwatch from a competing smartwatch manufacturer closely resembles the physical design and software UI of the Apple Watch, and this watch is the Oppo Watch. 
But don't let its Apple-inspired design fool you. This isn't some cheap knockoff, and its well-crafted software makes it one of the best Wear OS in the market. 
The Oppo Watch is powered by Qualcomm's Snapdragon 3100 and is paired with 1 GB of RAM. This allows it to navigate Wear OS smoothly. However, this isn't your typical Wear OS. 
Oppo has somehow managed to customize Wear OS to look similar to their own ColorOS. The customized UI adds new vibrant icons, animations, and built-in apps that all look great on the watch's gorgeous 1.91 dual-curved AMOLED display. 
And the great thing is that these new additions do not interfere with the elements that already worked great with Wear OS, such as the notification system. Additionally, the Oppo Watch supports eSim, which puts its functionality one step closer to the Apple Watch. 
Overall, if you are looking for an Apple-inspired smartwatch that is more than capable of its functionality, give the Oppo Watch a try.
Zeblaze Thor 6 (Nano Sim)

Most watches on this list are very capable smartphone alternatives, and they have all the essential features to assist you in almost any situation. However, most of them are still lacking one or two smartphone capabilities. 
The Zeblaze Thor 6 aims to fill the gaps and attempt to be the closest smartphone replacement. Unlike most watches running Wear OS, WatchOS, or a proprietary operating system, the Zeblaze Thor 6 runs a full-fledged Android 10.
Additionally, the Thor 6 provides features not usually seen on smartwatches.
Zeblaze is one of the few brands on the market creating quality smartwatches that have cameras, the Thor 6 has a front-facing camera and a camera on its side that is used for taking photos or used for video calling. 
And since it is running Android 10, you have access to the Google Play Store. And we're not talking about the Play Store found on Wear OS, and this is the full-fledged Play Store located on your mobile device. 
You can install any app you desire, such as YouTube and Facebook. However, remember that most apps aren't optimized for a round screen. But it is still worth a try since the option is already there. 
Of course, all of this wouldn't mean much if the tech inside the Thor 6 couldn't handle all of its features. Fortunately, this isn't the case, as the Thor 6 uses a very capable Helio P22 octa-core processor. And while it's no flagship smartphone processor, you can expect it to seamlessly and reliably run through most applications. 
It is worth noting that the Thor 6 isn't perfect, and it has a complete plastic construction except for the bezel. It is still built well, but you should not expect it to look as premium as other alternatives on the market. 
Zeblaze Thor 5 Pro

If you are looking for a more affordable alternative to the Zeblaze Thor 6, the Thor 5 Pro manages to deliver similar features at a lower price point. Some things to note, but the overall experience should remain pretty similar. 
Like the Thor 6, the Thor 5 Pro has several features that are not common in watches, especially at this price range. It has two cameras that you can use for taking pictures or for video calls, a built-in GPS, and several sensors for health and fitness tracking. 
What's different is that the Thor 6 Pro is running a customized version of Android 7 rather than Android 10. Most apps will still function, but the Thor 6 Pro's updated software is more likely to be future-proof. Additionally, the Thor 5 Pro uses a lower-tier Mediatek processor. 
But aside from those, the Thor 5 Pro is a very capable smartphone replacement, and everything is optimized well and is reliable enough for clutch or emergencies. If you are looking for an affordable full-fledged Android smartwatch, make sure to give the Thor 5 Pro a try.