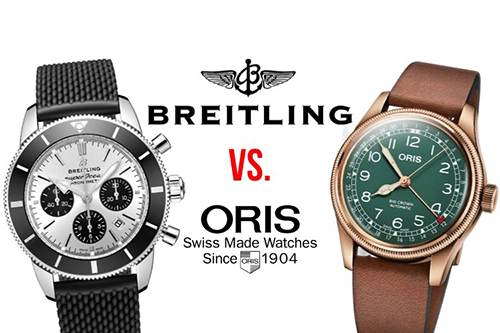 Breitling is a luxury Swiss watch brand known especially for its pilot, racing and Chrono watches. Breitling is a name that is highly respected and sought-after in the industry and its recognition alone can greatly improve the resale value of its timepiece. Oris is a lesser-known Swiss watch but also respected and its comfortable and more affordable dive watches like the Oris Aquis are high sought after. While some watch experts may not even compare these two brands – in part due to the price difference.
Breitling watches start in the $2,500-$5,000 range vs Oris that sells watches in the $1,500 and even some in the sub-$1000 category. However, this is not to say that Oris is inferior as you can never count out a brand with as rich a history as Oris. To a new watch shopper, it's a very valid question. Is it worth spending twice the amount for a budding collector to get their first Breitling compared to buying a more affordable Oris? Is it even a valid comparison?
Breitling Brand Overview



Breitling was founded in 1884 by a young German immigrant in St. Imier, Switzerland named Leon Breitling. The young watchmaker apprentice had an affinity for crafting exceptional mechanical timepieces, but his skill was poured mainly towards developing chronograph watches. Leon Breitling was a visionary in that he understood the need for timepieces to advance with the time, hence, his focus on innovating watches rather than merely following the heard. This mentality still lives within each Breitling timepiece to this day.
Today, Breitling has expanded its reputation not only with chronograph watches but also other timepiece types as well such as dive and pilot watches. They are among the most famous Swiss watchmakers in the world and is on par with Omega and Rolex when it comes to reputation and brand recognition. You can expect Breitling to appear within the top 15 or even top 10 watch brands today.
In terms of reputation, Breitling primarily develops chronometer timepieces but offers it in different variations of watch categories. Breitling timepieces are also naturally larger and have a bulkier design. Another characteristic of the Breitling watch is its high level of functionality and professional aesthetic. Overall, Breitling has created an air of reliability around its brand name. When you say Breitling, you think about a multifunctional, reliable, and robust watch that is often seen together with aviation and military practices.
Oris Brand Overview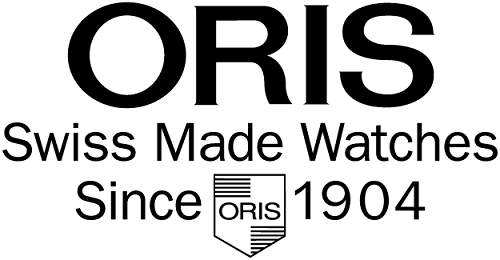 Oris is another Swiss-based watch company and was founded in 1904 by Paul Cattin and Georges Christian. Oris' growth as a company was remarkably fast and within just a decade, the company managed to open its second factory. Two decades later, Oris operates with a total of six factories, making them the largest employer in Holstein at the time.
Around the 1960s, Oris has reached the pinnacle of the mountain as they produce around 1.2 million watches annually at this point. They have also expanded its brand globally and has essentially cemented their position as one of the most popular Swiss watch brands in the market.
One of Oris' most notable qualities is that all their timepieces are developed and manufactured in-house. This guarantees the quality of each watch that comes out of their factories as the Swiss are known for their stringent quality testing process. Another interesting fact about Oris is that they are among the few brands that manufacture mechanical watches exclusively. One of the signature designs of Oris is the unique red rotor construction which has become the calling card of the company in regards to their mechanical watch movement craftsmanship.
To this day, Oris still holds a solid foothold in the mid-range market with its top-notch mechanical watches. They are among, if not the most, recommended Swiss mechanical watch brands in the market today.
Breitling and Oris Watch Comparisons
Dive Watches
Breitling Superocean Automatic 44 Watch Review

The Superocean series is one of Breitling's longest and most popular watch lines. The first Superocean timepiece was introduced way back in 1957 and was designed to provide professional divers and military personnel with a reliable and robust dive watch that can withstand extreme conditions.
The Superocean 44 continues the longstanding reputation of its predecessors with an impressive timepiece that manages to deliver both functionality and aesthetics. This particular model incorporates a two-tone gold and black design which is visually stunning. The black dial features polished silver markers with Arabic numerals (6 and 9) being quite prominent. The hands are also pretty broad and feature gold accents for better contrast against the black backdrop.
This dive watch is also relatively larger with its 44mm diameter stainless-steel casing that also incorporates a unidirectional casing. It features an automatic movement and analog display and can provide an extra 40-hours of power reserve. As for its underwater capabilities, the Superocean 44 has a water resistance rating of up to 2,000-meters. Quite simply, it is a beast of a dive watch.
Oris Aquis Date Automatic Blue Dial Watch Review

The Oris Aquis series is the brand's premier watch line in the dive watch category. It is also one of the most recommended in the market due to its practicality, reliability, and reasonable price tag. This is a mid-range timepiece that offers enough features to shoot it upwards the upper echelon of the list.
The Aquis series has been around for some time and they also offer some stunning limited-edition versions that are not only distinctive but are also top-tier in performance. The Aquis series is also a watch line that sticks to what made it successful in the first place and its history is still very much present with the current generation of Oris Aquis watches, as clearly displayed by the Automatic Blue Dial model.
You will notice how the clasp comes with an extension that is used to ensure the bracelet will be able to accommodate being worn outside a wetsuit. If you are not comfortable with a stainless-steel bracelet watch then you can simply switch to the leather or rubber strap. Of course, since this is Oris we are talking about you can expect it to implement a proprietary watch movement. In this case, it features the Oris caliber 733 self-winding automatic movements with an analog display. This particular watch caliber clocks in at 28,800VPH and offers up to 38-hours of power reserve.
Pilot Watches
Breitling Colt SkyRacer Watch Review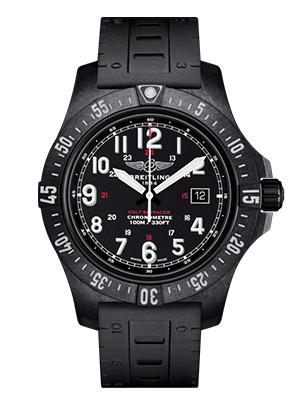 The Breitling Colt SkyRacer is an entry-level pilot watch, but make no mistake, this is a premier timepiece that offers performance well-beyond what you would expect from something that is 'entry-level'. To be more precise, the Colt SkyRacer is an entry-level watch relative to what Breitling has to offer. This is one of Breitling's more affordable watches, but of course, Breitling is a luxury brand and affordable is once again relative to the prices of timepieces in this price bracket.
The Colt SkyRacer is relatively simple in design. It takes on a traditional approach with its aesthetics, so those who prefer the classics will surely take a liking to this timepiece. The dynamic combination of tradition and contemporary is in full display here with its black-tone patented plastic polymer with a compose-fiber case and dial. The contrasting white markers and hands along with red accents help improve the overall legibility of the timepiece.
The ultra-lightweight material is also deceptively durable. Also, the construction of the Colt SkyRacer gives it a natural anti-magnetic quality. The chronometer movement also packs a power reserve of up to 70-hours.
Oris Big Crown ProPilot X Caliber 115 Watch Review

High end and visually striking best describe the Oris Big Crown ProPilot X. Oris paid no expense in developing this particular pilot watch. Another important point is that while it features aviation functionalities, you can categorize this as more than a pilot watch due to its skeletal design.
Oris' proprietary watch movement inside is one of their best. Inside, which you can see from the skeletal dial, is an in-house caliber 115 movement chronometer. This watch movement packs a whopping 240 hours of power reserve. That's 10 full days that it can run on its own, this makes it virtually impossible to encounter it drained of power.
The striking skeletal chronograph dial is also well-protected inside a sapphire domed crystal window. What's most surprising about this timepiece is that while it is quite large (44mm diameter case), it is shocking how light it feels on the wrist. This is mainly thanks to the use of titanium material for the entirety of the case's construction.
Overall, if your goal is a functional pilot watch that will surely have heads turning, the Oris ProPilot X is one you need to get your hands on.
Conclusion: Breitling vs Oris – Which is Better?
In terms of brand reputation, Breitling is a luxury watch brand that's on par with the likes of Omega and Tag Heuer. Oris, on the other hand, is a high-quality mid-range brand that while holds an impressive number of stunning timepieces, simply cannot compare to the innovation and quality that Breitling offers. Breitling's watches focus heavily on pilot and racing watches such as their Navimeter. Many aficionados find the aesthetics bulky. Technically they are known for their in-house calibers and SuperQuartz movements
Oris has a sleeker appeal, with many dress models and a more elegant design that the husky look of Breitling's cases. In regards to timepiece craftsmanship, Oris only uses mechanical movements (no quartz calibers) and its complex in-house movements are highly regarded. As mentioned, Oris is much more affordable but the resale price on a pre-owned Oris will not retain value like a Breitling so if you're looking at long-term investment in a collection that would be a factor to consider.