Breitling and Rolex, two elite level watch brands that are known for their stunning collection of timepieces. Both companies were also established over a century ago and have a wealth of experience under their belt when it comes to developing high-quality timepieces. Their reputation in the industry is without question, a reputation that has pushed them above most of their competitors.
Nowadays, when you bring out Breitling or Rolex in discussions, you are discussing two watch brands that have become something of an influencer in the watch industry. The most important question left to answer is which of the two is the better brand? Time to find out.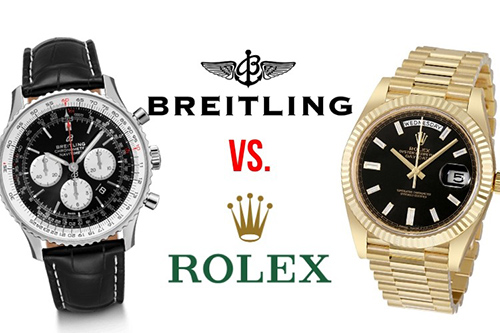 Breitling Brand Overview



The company was named after its founder, Leon Breitling, a talented watchmaker apprentice and German immigrant who moved to Switzerland with his parents. Ever since the company's humble beginnings, Breitling was focused on developing one particular type of timepiece, the chronograph. Breitling also focused on a particular application of watches, this is for technology and science. Breitling also made its first mark in the industry with its aviation timepieces. Something that they maintained to this day.
During the early 1950s was when Breitling started releasing some true classics of the industry. It was during this time when the first Breitling Navitimer made the rounds in the market. During its time, the Navitimer was one of the most advanced aviation timepieces around as it came packed with a high-tech navigational computer system. This computer system within the Navitimer helped pilots calculate flight plans, making it a highly reliable companion for aviators.
Around a decade later, Breitling then revolutionized the chronograph watch design when they unveiled the self-winding chronograph movement. Breitling did not slow down there though as, during the tail-end of the 60s, Breitling started developing a secret project dubbed "Project 99". This turned out to become one of their most iconic watch series, the Chronomat.
The most recent Breitling milestone came in 2009 when they developed the Caliber 01 watch movement. This particular timepiece movement was the culmination of years of knowledge pooled into one extremely precise chronograph movement that is a league above its competitors.
Rolex Brand Overview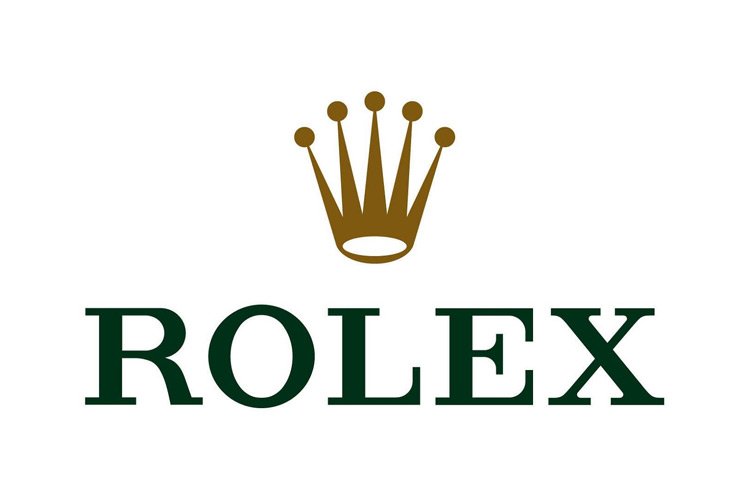 Rolex is quite possibly the most recognizable Swiss watch in the market today. In terms of brand recognition, Rolex is synonymous with luxury watches and is one of the most sought-after brands by watch aficionados. Rolex was founded back in 1905 by Hans Wilsdorf, but it did not get the legendary Rolex moniker until a couple of years after.
From the get-go, Hans Wilsdorf had a clear vision of what Rolex is all about. From the very beginning, the world-famous watch company focused on utilizing high-end materials, construction, and movement for their timepieces.
Rolex did not become the household name that it is today up until the 40s and 60s when they released some of their most iconic watches. During the mid-1940s, Rolex debuted the Datejust timepiece which was the first date display self-winding timepiece. About a decade later, Rolex released the first model in the classic Submariner series which offered up to 100-meters of water resistance. A year later, the Rolex GMT Master was released and became a huge hit with aviators due to its capability to provide multiple time zones at the same time.
Rolex is also not just a top-tier watch band, they are also among the most versatile in the industry with watch types that can cater to various types of uses from scuba diving to racing. Rolex also knows the importance of proper marketing to push its brand towards the forefront of public consciousness.
You will notice how Rolex has firmly embedded themselves into pop culture and the sports industry with several sponsorships in key strategic areas. This marketing tactic has worked well for Rolex as they are now one of the most recognizable brands in the world.
Breitling and Rolex Watch Comparisons
Dive Watches:
Breitling Avenger II Seawolf Review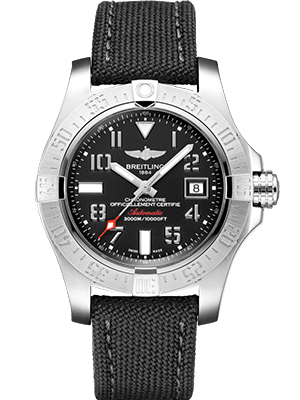 Check Price $US | See on eBay | UK/EU Price
The Breitling Avengers II Seawolf is a beast in regards to its dive watch capabilities. Its level of construction is undeniable and since this is a Breitling timepiece, you can expect it to go above and beyond in regards to functionality.
As with most Breitling watches, the Avengers II Seawolf is rather large. The stainless-steel case measures in at 45mm in diameter, so it might be too bulky for those with smaller wrists or hands. That said, its tank-like appearance is not just for show. Within the Seawolf is a helium escape valve that gives this dive watch up to 10,000-feet of water resistance. The Seawolf is designed for deep-sea scuba diving making it a suitable timepiece for professional divers.
Of course, these impressive numbers are all for naught if the timepiece is not reliable. Then again, saying that Breitling is reliable is akin to saying that water is wet. This is Breitling we are talking about here, so expect it to have impeccable precision when it comes to timekeeping. This is possible with its use of the Breitling calibre 17 25-jewels self-winding automatic chronometer movement with a VPH of 28,800. Additionally, the watch movement also provides up to 40-hours of extra power reserve.
Rolex Submariner Review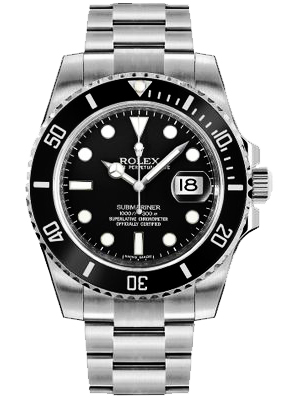 See 100% Authentic Pre-Owned | Buy New
Rolex's reputation alone can be reason enough to buy any of their excellent timepieces. Of course, brand recognition can only get companies so far. They need to back it all up in regards to quality and performance, on those two critical fronts, Rolex manages to deliver in spades.
In terms of aesthetics, the Rolex takes on a traditional approach with its tried and tested circular 904L Oystersteel case and bracelet with unidirectional bezel design. The watch also comes with a prominent crown which makes operating or adjusting quite easy.
Underneath the hood of the Submariner is an automatic self-winding perpetual mechanism. The bracelet also comes with a few nifty tricks up its sleeves with its adjustable glide lock which helps to ensure it will be able to fit over your wetsuit.
As for its functionality, the Submariner comes equipped with a COSC certified chronometer movement. The Rolex Caliber 3135 self-winding automatic chronometer movement features 31 jewels and clocks in up to 28,800 VPH. The COSC certification guarantees exceptional precision when it comes to telling time. Additionally, the watch is designed to provide up to 300-meters of water resistance, making it suitable for the majority of water activities.
Sports Watches:
Breitling Chronomat B01 Review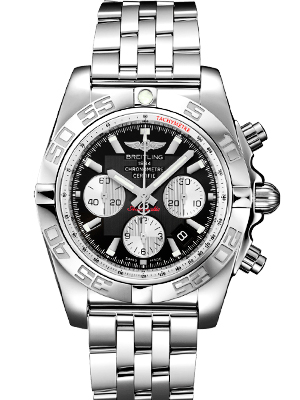 Check Price $US | See on eBay | UK/EU Price
The Chronomat is one of Breitling's crowning achievements so expect it to come out guns blazing. The Chronomat B01 is a state-of-the-art timepiece and showcases Breitling's undeniable skill in developing highly functional, reliable, and top-notch chronograph watches.
The Chronomat B01 is impeccably designed with an emphasis on balance and comfort along with accuracy. All materials used by Breitling during the development of the Chronomat B01 are all of high-grade quality. The design of this watch gives it a perfectly well-balanced aesthetic with every detail of the timepiece planned out carefully and in conjunction with the rest of the components.
Take note that the Chronomat B01 also features Breitling's calibre 01 movement which is the company's current top watch movement. In terms of accuracy, the Chronomat B01 is untouchable, making it a trustworthy timekeeper for sporting events.
As for the chronograph feature, the three sub-dials display and tracks seconds (60), minutes (30), and hours (12) with extreme precision. The Calibre 01 also packs a power reserve of up to 70-hours. Also, the watch design provides it with an impressive water resistance of up to 500-meters.
Rolex Cosmograph Daytona Review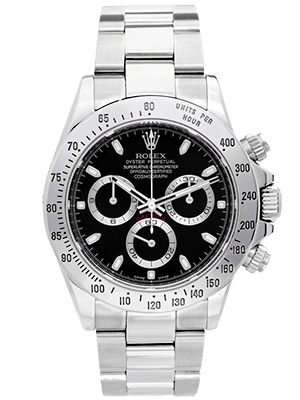 See 100% Authentic Pre-Owned | Buy New
As the name infers, the Cosmograph Daytona is designed and inspired by the world-renowned Florida-based racing circuit. As you would expect from a timepiece with that moniker, it is designed especially for absolute precision and for use in racing events.
As for the design, the Cosmograph is feature-heavy with up to three separate crowns. This is essential, especially for a chronograph watch. If you are not fond of the relatively bulky design then this watch may not be the right choice for you. Other than that, the overall look of the Cosmograph Daytona captures that fast and furious charm with its mechanical steel design.
This sports watch, despite its somewhat tank-like design, is surprisingly compact with a 40mm Oystersteel case. The black dial features white and silver markers and hands which effortlessly improves legibility and the luxury appeal of the Cosmograph Daytona.
Within this Rolex timepiece is the Calibre 4130 self-winding automatic chronometer movement. This high-precision watch movement ensures that both the primary dial and three additional sub-dials are all accurate to the letter. The construction of the watch also provides it with decent 100-meter water resistance. For racing aficionados who want a stylish and reliable timepiece to accompany them on the track, you can't go wrong with the Cosmograph Daytona by Rolex.
Conclusion: Breitling vs Rolex – Which is Better?
While Rolex might be the obvious choice due to its mainstream popularity and general appeal, choosing between the two watch brand giants is still quite difficult. Both Breitling and Rolex have a long history of developing top-notch watches. You can even claim that some of their timepieces can be considered as works of art.
If you were to ask us which brand to choose right here and now, we will be giving the crown to Rolex. Why? Besides the brand recognition and quality that their timepieces come with, the resale value of a Rolex watch since they are one of the best brands when it comes to retaining value. Rolex watches are also much more consumer-friendly when it comes to their aesthetics whilst Breitling is known for its bulky (yet durable and highly functional) watches.