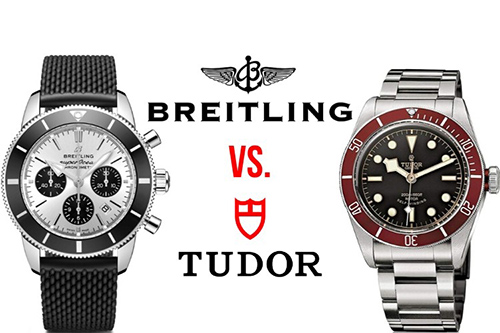 Breitling and Tudor are luxury watch brands that showcase what you can do with a timepiece in regards to aesthetics and functionality. Interestingly enough, both brands have formed an official partnership that allows each to utilize the watch mechanism of each other. That said, it is always fun to have a little friendly competition between allies. Since both brands incorporate similar watch movements, it goes without saying that key comparisons will fall on other watch factors besides precision.
So, let us begin our little friendly sparring match between the two watch brands. Breitling or Tudor? Which one manages to maximize aesthetics and performance?
Breitling Brand Overview



The iconic Swiss-watch brand, Breitling, was founded back in 1884. Planting its roots in St. Imier, Switzerland by a young German immigrant, Leon Breitling – the company hit the ground running with an impressive array of chronograph watches. Most watch brands focus on developing the standard timepiece, Breitling, on the other hand, poured its focus and resources primarily in crafting top-tier chronograph watches.
This trait was not last in Breitling throughout the years and to this day they are among the watch brands that offer highly efficient and functional timepieces. In short, Breitling watches are not only aesthetically pleasing, but they are also highly reliable.
While Breitling began operations in 1884, they primarily developed pocket watches during this time. It wasn't until the 1900s when Breitling shifted their focus to what they deemed as the future of the industry, the wristwatch.
With their shift towards wristwatches, Breitling did not waste any time revolutionizing the industry as they started introducing innovative watch designs that helped enhance convenience and functionality. Some notable examples of Breitling's innovative timepiece designs include the push-piece crown, start/stop, and reset functionality. As you can see, all of these features all center around the chronograph watch design.
Nowadays, Breitling is a beacon of impeccable timepiece craftsmanship. Their Caliber 01 watch movement is one of the highest-rated watch movement in the market. In terms of design, Breitling watches are relatively larger than most luxury brands, but if what you are looking for is reliability – this might just be the watch for you.
Tudor Brand Overview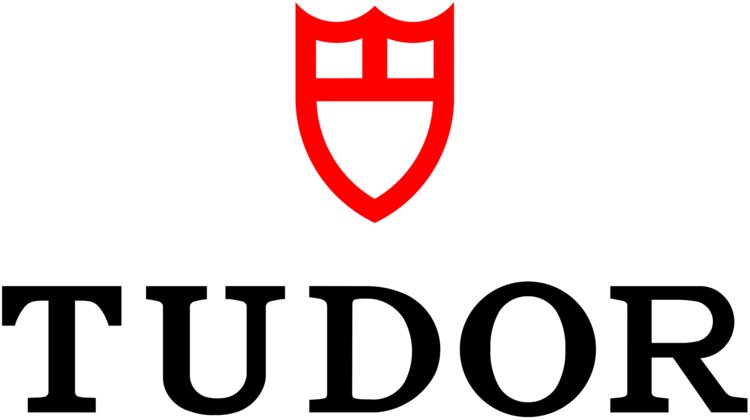 Tudor is the sister company of Rolex and was introduced to provide the market with a more affordable alternative to its world-renowned luxury watch brand sibling. Tudor was also started by Rolex founder, Hans Wilsdorf, so you can expect it to take most of the qualities you love from Rolex watches but with a more reasonable price tag.
Tudor came into the scene a good two decades after Rolex. The idea of a more affordable luxury watch brand from Rolex has a market, and so Hans Wilsdorf took the opportunity to provide consumers with a quality Rolex alternative with a more reasonable price tag. However, don't look at Tudor as an inferior watch brand as it certainly has its charm and appeal. The fact that Tudor is also under the banner of a well-respected and trusted brand like Rolex further helped propel the fledgling brand towards the front, making Tudor watches instantly highly sought-after.
Recently, in 2017, Tudor came into partnership with Breitling and the two brands decided on trading certain watch movements with each other. This further helped Tudor improve its standing in the market as Breitling's watch movements are considered as one of the best in the industry. Add to the fact that Tudor also specializes in highly-functional timepieces such as dive watches – including the fantastic style that Tudor can deliver and you have yourself quite an amazing timepiece.
Breitling and Tudor Watch Comparisons
Dive Watches:
Breitling Superocean II Review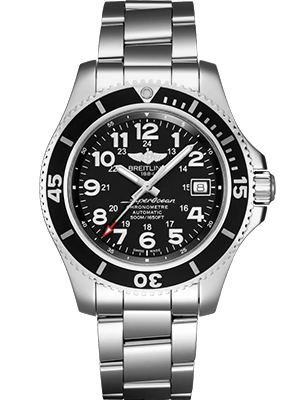 Buy $US | See On eBay | Shop UK
The Superocean series is one of Breitling's premier dive watch series and is also one of the most highly decorated dive watches in the market. The first Superocean debuted back in 1957 and had a complete overhaul in its construction in 2015. While the first-gen Superocean watches were quite bulky, modern models of this series managed to deliver a sleeker and more appealing aesthetic. You can find Superocean watch sizes ranging from 36mm to 45mm.
While the Superocean series has gone through some iteration from its original concept, some of the key features were maintained – a smart move since these features brought the Superocean to the dance. For example, all Superocean timepieces incorporate a unidirectional ratcheted bezel. The bezel can either be made of stainless steel or ceramic, depending on the model. Ceramic bezels are exclusive to the more luxurious versions.
Some models of Superocean watches also utilize an internal circle with 24-hour indexes. One distinct and constant design feature is with the red-tipped second's hand which all Superocean watches have. Additionally, this red-tipped hand can also help improve the legibility of the dial as a whole – a vital factor in dive watches.
The dial of the Superocean II is well-protected within a cambered sapphire crystal glass. The glass also uses anti-glare coating to help visibility during outdoor use. As for the inner workings of the Superocean, expect it to deliver the exceptional quality expected in a Breitling timepiece. Finally, the Superocean II provides up to 500-meters of water resistance, while other models can reach up to 1,000-meters.
Tudor Pelagos Automatic Watch Review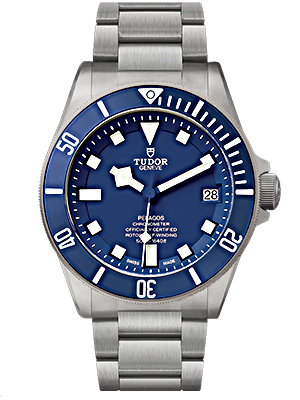 Buy $US | See On eBay | Shop UK
The Tudor Pelagos is a dive watch with some luxury style aesthetics that helps it expand its target audience with a more general appeal. The grey titanium case and bracelet is paired up nicely with the polished blue dial – a classic dive watch design. The watch also features a ceramic top ring rotating unidirectional bezel.
The dials incorporate luminous silver hands and index hour markers for maximum legibility in either dim or highly illuminated environment. The Tudor Pelagos also incorporates a highly impressive mechanism in the form of the Tudor caliber MT5612 automatic movement. What's more, the watch movement utilized here also packs up to 70-hours of power reserve.
The dial is encased with a highly durable and scratch-resistant sapphire crystal window. As for other key construction elements, it features a solid case back and screws down crown. There is also a date display neatly tuckered at the 3 o'clock position. When it comes to its water resistance capability, the Pelagos offers up to 500-meters of water resistance making it suitable for most water activities. If your budget doesn't allow for a Pelagos- check out these affordable alternatives.
Sports Watches:
Breitling Chronomat B01 Review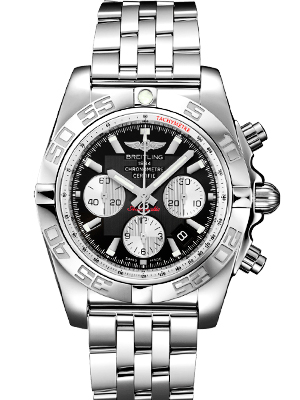 Buy $US | See On eBay | Shop UK
The Breitling Chronomat is one of the brand's flagship models. So, expect it to come equipped with some of the company's finest watch technology. When it comes to delivering premium performance, the Chronomat B01 effortlessly achieves this thanks to the Breitling caliber 01 watch movement – which is the companies current crown jewel. The caliber 01 is cutting-edge, to say the least, and is COSC certified which it obtained with flying colors.
Besides the impeccable level of accuracy that the Breitling caliber 01 can deliver, this automatic watch movement also packs a punch with a 70-hour power reserve. In terms of precision, the Chronomat B01 is accurate to the millimeter. The construction is also well-balanced and does not feel cumbersome on the wrist. Aesthetic-wise, the Chronomat B01 is available in silver, black, and grey dials.
The Chronomat B01 is an excellent sport watch due to its fantastic precision. The three sub-dials display and tracks 12 hours, 30 minutes, and 60 seconds. Other notable features include a unidirectional ratcheting stainless-steel bezel, tachymeter located on the outer rim of the dial. The dial itself incorporates luminous hands and hour index markers for enhanced legibility/visibility. Also, the Chronomat B01 offers up to 500-meters of water resistance.
Tudor Fastrider Chrono Review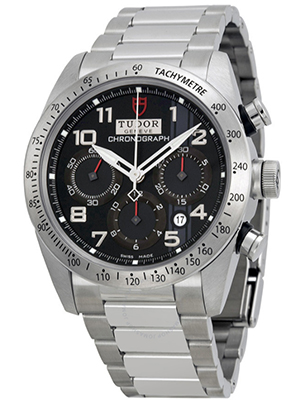 Buy $US | See On eBay | Shop UK
The Tudor Fastrider Chrono is a sleek and high-precision timepiece, as you would expect from a partnership between Tudor and Ducati. This timepiece is not only stylish, but it is also focused on delivering reliability and accuracy in regards to timekeeping, making it a perfect accessory for sporting events, particularly – racing.
One fascinating element of this timepiece is the specialized 4Hz automatic movement with an analog display that it utilizes. The watch movement also offers up to 46-hours of power reserve. The aesthetic of the Fastrider Chrono is meant to capture a sense of uncontrollable power that race cars exude.
The shield-esque Tudor logo is prominently displayed with a red accent on the top corner of the dial. The 'heavy-machinery' charm of the Fastrider perfectly highlights the race car aficionado aesthetics and is sure to be highly sought-after by gearheads. If you are looking for a chronograph that evokes the sense of speed and power of your favorite race car, by all means – check out what Tudor has to offer with the Fastrider Chrono.
Conclusion: Breitling vs Tudor – Which is Better?
This one is a close match to call, but overall – we give the big "W" to Breitling. Breitling simply has far more history and offers a wide variety of timepieces than Tudor. Of course, Tudor comes with the added boost in reputation of being the sister company of Rolex, which gives it a considerable head start in the game. That said, Breitling has been around for far longer and their reputation has reached the point that it precedes them.