It is not unusual for major watch companies to have smaller sister companies that provide more affordable options (like these watch groups).
One of these is the Swiss watch company Tudor, which is owned and founded by Hans Wilsdorf, the founder of Rolex.
Read on if you would like to learn more about Tudor watches, as well as the innovations over the decades that have made it more than just Rolex's younger sibling. We will highlight some of its most iconic watches and what makes them special.
Tudor Watch Origins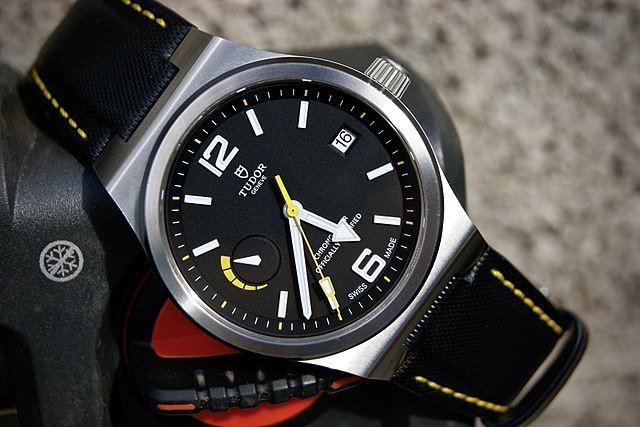 Tudor was started in 1926 by Wilsdorf, who wanted to have a more affordable alternative to his luxury watch company. It was on this year that watchmaker Veuve de Philippe Hüther registered the trademark "The Tudor."
"For some years now, I have been considering the idea of making a watch that our agents could sell at a more modest price than our Rolex watches, and yet one that would attain the standard of dependability for which Rolex is famous," he said. "I decided to form a separate company, with the object of making and marketing this new watch. It is called the TUDOR watch company."
The company name was changed in 1946 to Montres Tudor SA when Wilsdorf officially took over. Today, the company is still a sister company of Rolex and is owned by the Hans Wilsdorf Foundation.
Some of the watches that Tudor is known for include tool watches, which we will discuss further below. We'll also take a closer look at some of the company's most iconic watches that made it earn an excellent reputation.
Why do Tudor watches look like Rolex watches?
Those who are not very familiar with Tudor's history may wonder why many Tudor watches look like Rolex watches. As mentioned above, these two are sister companies, and so they have similar aesthetics and technologies.
This article takes a closer look at the differences between the two brands. Aside from the clear difference in price points (Tudor is still very pricey, costing thousands of dollars, but Rolexes are way more expensive). The article said that while the two are similar in aspects like case material and design, they differ in terms of movement.
This Esquire article discussed the same thing: Rolex has in-house movements, while Tudor mostly makes use of Swiss ETA or Valjoux movements, which is by ETA SA Manufacture Horlogère Suisse.
Over the years, Tudor has evolved and started to slowly introduce their own in-house movements, showing that they're not just a "poor man's Rolex" (one example is the Black Bay, which we will explore further below). This evolution didn't only focus on technology, but also on design, taking notes from successful releases in the past decades, and constantly making improvements.
Tudor Saga app
The mobile app is something that sets Tudor apart from other watch brands. The free Tudor Saga app, which is available in both Android and iOs, provides Tudor watch owners to get to know their watches more.
The app has search tools that will allow owners to read about the history, model names, and other essential information about Tudor watches. You could also share articles with friends. One would find most of the information on Tudor's website, but the app is more responsive and phone-friendly. If you're interested in reading about watch histories, this would be an excellent thing to have on your mobile device.
The Tudor Saga app can be downloaded here.
Tudor Dive Watches
Tudor is popular for its dive watches. In the mid-1950s, the company released its first-ever divers' watch called the Tudor Oyster Prince Submariner (reference 7922), a self-winding watch that had features such as waterproof to a depth of 100m, large hour and hand markers and legible materials, and a bidirectional rotatable bezel.
More models soon followed: the Oyster Submariner 7923 (which had a manually-wound movement), the Oyster Prince Submariner Big Crown 7924 (which had a double immersion depth of 200m and an 8mm winding crown), the Oyster Prince Submariner Square Crown Guards 7928 (with guards that protect the winding crown from shocks), and the Oyster Prince Submariner Tropical 7928 (which has a bezel and dial that that had a "tropical" discoloration because of extended exposure to UV rays.
These watches had technologies that were previously exclusive to Rolex, which means that despite having different movements, they were both made with only the best materials.
The Tudor Oyster Prince watch has a rich history. In 1952, 25 (some sources say it's 26) Oyster Prince watches were used in the British North Greenland Expedition, which was organized by the Royal Navy, and sponsored by The Queen and Winston Churchill. According to a 2016 article by Hodinkee, most of these watches have been lost, but one was found recently, in a kitchen drawer in an England house. You can read the fascinating story here.
Tudor Watch Collections
This section will focus on some of Tudor's best watches. The brand has a wide array of models to choose from, so we will try to narrow things down by giving you information on some of the most popular models.
Tudor Black Bay collection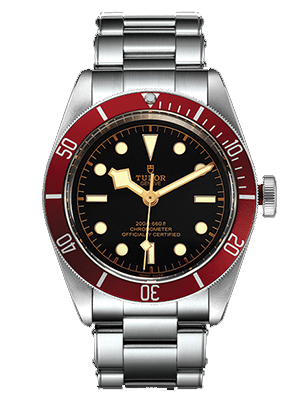 The Tudor Black Bay collection is one of the brand's most popular dive watches. These iconic timepieces, which were first introduced in 2012, have characteristics that were put together based on Tudor's history, such as the domed dial and crystal, and the angular hands (snowflake).
These watches also boast of Tudor's first Manufacture Calibre, which was introduced in 2015, which the brand describes as having "a high-performance movement of excellent precision and proven robustness."
One of the most popular watches in this collection is the Tudor Black Bay Fifty-Eight, which takes inspiration from the brand's watches from the 1950s. This is excellent for those looking for a diver's watch that has a vintage look–something that can be worn for sports but will also pair well with a nice suit. This watch, which is waterproof to 200m, has either stainless steel or leather straps and has a sleek gold finish on the hour, hands, and minute markers.
Tudor recently revealed new Black Bay models at Baselworld 2019, including the 43mm Black Bay Bronze, the Black Bay Chrono S&G (Steel and Gold), and the Black Bay PO1 which was based on a 1960s prototype proposed to the US Navy. See all the new releases here.
The Black Bay is commonly compared to the popular Rolex Submariner. One review of the Black Bay places it side by side with the Rolex classic—referring to them as a Splurge or Steal. Talking about the Black Bay's homage to earlier Tudor dive watches, it highlights Tudor's efforts in taking inspiration from vintage, tried-and-tested models.

See all the watches off the Black Bay line here.
Tudor Pelagos collection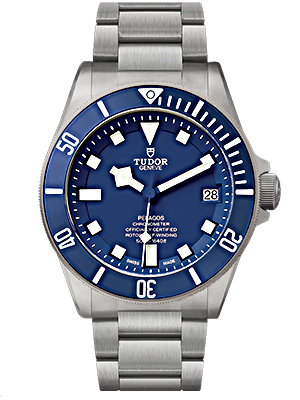 Tudor's watches under the Pelagos line have a unique feature: titanium bracelets with a folding clasp and a Tudor-patented auto-adjustable spring that allows the wearer to adjust it while diving: "contracting when the combination is compressed at greater depths, and expanding when the pressure decreases again during the diver's return to the surface."
The Pelagos watch, which is water-resistant to 500m, has an escape valve feature that protects the watch from damage during saturation dives. These watches also have the new TUDOR Manufacture Calibre MT5612 movement, a Swiss Official Chronometer Testing Institute (COSC) certification that has features that allow the watch resistant to shocks and vibrations. To learn more about these technologies, check out this page.
Because the Pelagos bracelet is made from Titanium, it means that it's lightweight—lighter than stainless steel. This is the first watch from the Rolex family that was built using the material. The matte finish, which can protect the watch from scratches, has received a lot of praises, too.
This watch was included on our list of Best Tool Watches.
If you like the look, but not the price – check out these affordable Tudor Pelagos alternatives.
Tudor North Flag Collection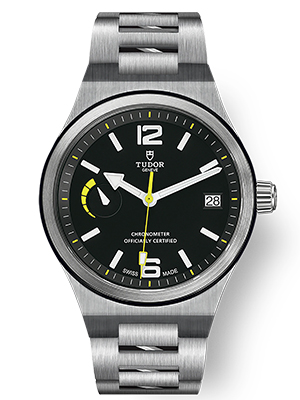 For those looking for a more casual, sporty-looking Tudor watch, there's the North Flag collection.
We mentioned above that Tudor eventually released watches with movements made in-house. These are some of those watches. Inspired by the Oyster Prince watches that were used during the British expedition to North Greenland, this line has around 70 hours of power reserve—"70 hours means that its wearer can, for example, take off the watch on Friday evening and put it on again on Monday morning without having to wind it," Tudor explains on its website.
There is also an instant date display at 3 o'clock, a power reserve indicator (the disc at 9 o'clock), and a unique satin-finished steel bracelet integrated with its case.
The North Flag collection was one of the most anticipated watches when it was introduced in 2015 at Baselworld, because of the in-house movement. There are many reviews praising the sleek, retro tool watch features, as well as the advanced movement. This article explores all the important features of the watch and compares it with the Tudor Ranger II from the 1970s and the Rolex Explorer 2, which were said to have inspired the North Flag design.
Tudor Heritage Chrono collection
As mentioned above, Tudor is a type of brand that likes to take inspiration from older models. The Heritage Chrono collection is a modernized version of the Tudor Monte Carlo Chronographs that were popular in the 1907s. This goes to show that the company is excellent at refining, improving, and optimizing its watches. The watches from this line were also the first to come with an additional fabric strap.
The Tudor Heritage Chrono has a number of models to choose from—Grey and Black dial or Opaline and Blue dial, both with either a steel bracelet or fabric strap. Check out the choices here.
If you're interested in the watch where this was based, check out this article, which places the two side by side, discussing the history, reception, and technologies used.
These are only some of Tudor's most well-reviewed models. Browsing through their website would allow you to explore other equally celebrated lines—for instance, there's one for those who want jewels on their watches (like the Tudor Glamour and Tudor 1926 collections), and a line for those who like tool watches (such as the Tudor Fastrider Black Shield and the Tudor Heritage Ranger).
Where to buy Tudor watches
According to Tudor's website, the watches are sold only by official Tudor retailers: "Each Tudor watch is a complex precision mechanism and, as such, requires periodic servicing and maintenance to guarantee optimum performance."
When exploring the website, each watch page would have a link where you could search for retailers in your area.
There is also a feature on the Tudor website where you can "build" your own watch. First, you pick a Tudor model, and you will be provided with options on how you want your watch to look. This is like a drag and drop activity, where you can literally put the pieces together. Check it out here.
If you are looking for certified pre-owned Tudor watches, we highly recommend checking out Bob's Watches – See available Tudor watches here.
Third-party sellers can also be found for example Tudor Watches on Amazon and Tudor watches on eBay,
When you shop online make sure you are buying from a retailer that will be covered by the Tudor service warranty, which will be discussed next.
Tudor warranty policy
Tudor has a two-year Service Guarantee. The service must be carried out by only a Tudor or Rolex Service Center and does not cover damage or deterioration, an intervention by a non-Tudor authorized third party, or the addition of non-Tudor parts and accessories.
Tudor watch owners would also be glad to know that there is a page on Tudor's website that has comprehensive content on how the company conducts service. Here, you will be walked through all the steps of service: watch identification, analysis, disassembly, refinishing, reassembly, waterproofing tests, and the final quality control.
---
Tudor started out as a company that provided more affordable watches than Rolex, but over the decades it became more than that. The company continues to innovate and create better timepieces—watches that can take a beating, using the best new technologies and materials—that made it gain a following all over the world.
We hope that this article was helpful, whether you're purchasing your new Tudor or simply want to know more about the brand.