By far, eBay is a reserved marketplace with rare-to-find vintage watch listings. If you're looking to buy a luxury watch online, eBay gives you a wide selection together with safety features that protect the buyer and elevate customer satisfaction.
Apart from its Top Rated Sellers category, there's a Money-Back Guarantee program on the site that protects buyers when purchasing high-priced pre-owned luxury brands like Rolex, TAG Heuer, or Cartier Santos.
Over recent months, eBay has attempted to build an intense marketing campaign for its watch services.
This marketplace is a second to none option for hunting pre-owned luxury watches.
In this guide, we'll spell out some of the best practices and pointers you want to work with when looking out for a watch online–eBay to be exact.
How to Find Trustworthy Sellers


One of the primary steps to avoid getting ripped off is finding a trusted seller. You also need to know how to keep off some of the common scams on the third-party selling channel.
There are factors to consider once you set your eyes on the search results. First, check if the seller is consistently keeping up with eBay's standards.
Usually, the most credible ones have a 'Top Rated Seller' badge right beside the listed price.
Earning a Top-Rated status gives the seller more visibility and makes them look more trustworthy before the eyes of a potential buyer.
It also implies that the seller has done lots of transactions on eBay.
Check out the seller's watchlist—the number of buyers interested in the exact watch you're looking to purchase, alongside the total number of watches sold.
Apart from the watch's price, shipping alternatives, and condition, you can use eBay's 'View Item Page' to find more information about the seller.
Here, you'll find whether the seller has higher ratings than other listed competitors.
The Feedback Score also gives you insights into the seller's reputation for the period transacted on the platform.
Another tip when finding credible sellers is to look at the overall product rating. Most of all, looking at when a seller started listing watches on eBay tells a lot about their track record.
Is it Safe to Buy Watches off eBay?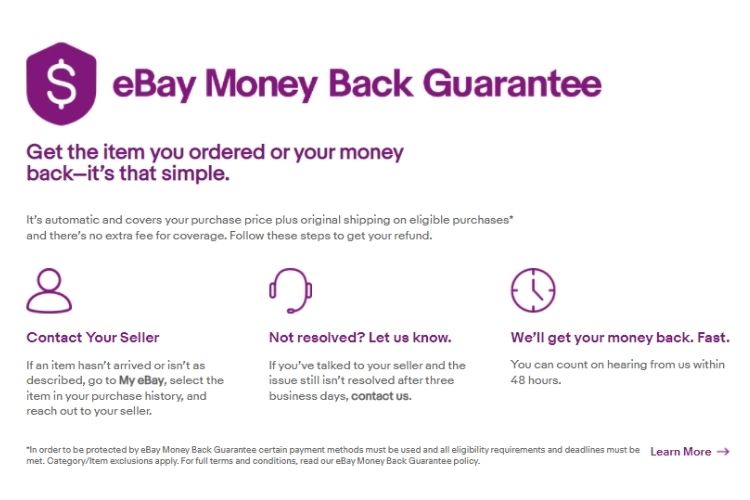 Most buyers dread buying watches off eBay since it's sometimes not easy to spot a fake watch, according to Relleb–a Dutch watch authenticator.
If you're collecting pre-owned luxury watches from an online marketplace, you outrightly want to practice some due diligence.
By sticking to Top Rated sellers, you can keep off imposters trying to sell you knock-off brands.
Look out for sellers who have an established feedback history. To cushion you from getting scammed, eBay runs a successful Money-Back Guarantee program that cuts across all eligible transactions.
As the buyers, you need to mitigate any pitfalls by doing intense research before making a purchase order. Take time to learn about all the technical specifications of a particular watch from online forums and videos.
You want to browse through previous listings to know if the watch is an original version of the model you're looking for.
Are Watches on eBay Real?
While there are tons of credible sellers on the marketplace, chances are you'll get a raw deal if you don't do your homework right.
Despite eBay's attempt to flag fake listings, they can't check all watches being traded on the site. So, it's mostly on the part of the buyer to do rigorous due diligence.
Recently, eBay launched an authentication program to help buyers browse through high-end watches approved by professionals.
The marketplace hired third-party experts who review and verify a rare selection of new, vintage, and pre-owned watches. Most sought-after brands will have an "Authenticity Verified" label on them.
Finding Authenticity-Verified listings on eBay isn't cumbersome.
In case you don't get the actual purchase order from this listing, email photos and an in-depth description to the customer service team so they can promptly help resolve the issue.
However, it's worth noting that eBay's authentication program is only available to buyers and sellers in the U.S trading watches above $2,000.
Things to consider when buying watches on eBay
Check if the lume glows in the dark
What I learned after reviewing a handful of vintage watches is most will illuminate, especially if they were built back in the '60s.
It's, however, worth noting that if the lume color is mint green, then it could probably have been redone.
The fact is, watches released during 1960 or earlier that have a radium lume interior, should not glow in the dark.
One of the primary reasons to worry about this kind of customization is the vintage lume was made of radium or tritium, alongside a bunch of other mixtures that would decay eventually.
You will be taking chances when buying a classic watch from eBay since you don't have the convenience to bring tools for examination as it's the case with auction previews.
What's the dial's condition?
One way to determine the overall condition of a pre-owned watch is by inspecting the dial for any patent defects.
By evaluating the dial's cosmetic condition, you can tell whether the watch is worth it as it contributes a hefty percentage to the entire resale value.
Typically, the dial should have a glossy texture. However, there are chances you might find a dial with a matte finish and it's only an expert who could possibly distinguish its true authenticity.
Look at the seller's track record
You ought to have a look at the seller's history if you want to find any phony transactions. Since competition is rife on eBay, some sellers might want to fake their ratings.
Be on the lookout for sketchy reviews and numbers that seem somewhat irregular.
Right on the 'advanced search' button, you can filter results to know the total number of listings that the seller has sold, together with those that have expired.
Doing this little digging allows you to get a rough estimate of the true value of the watch you want to purchase.
You also get to know if the particular watch has been listed before by the same seller. Sometimes, re-listing happens if the watch has some defects, so you want to exercise extreme caution.
Check what the exterior is made of
Most collectors buying vintage watches aim for those that have the potential to appreciate in value over time.
From our digging, we learned that those made of stainless steel, pure gold, or platinum, tend to remain in demand, and their value rises gradually.
On the other hand, watches that are gold-plated or chrome-plated, are the least sought-after. Vintage silver watches are typically older than their counterparts, as some date back to the early '30s.
Solid gold watches will have a "14k" or "18k" engraving inside or outside the case back. The same goes for stainless steel watches —they will have a "STAINLESS STEEL" hallmark. It's best to avoid plated watches since they wear out quite easily.
Are There Any Guarantees When Buying on eBay?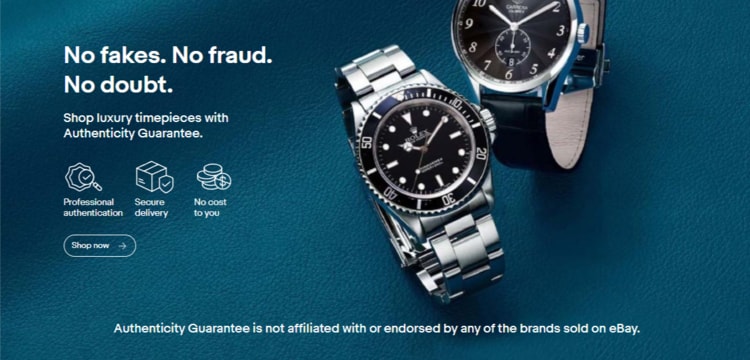 While used items are hardly covered in case of breakage, the buyer is eligible for a refund if the order doesn't match its description on the listing.
In case you don't get what you ordered, eBay's Buyer Protection program could help you file a claim.
Before eBay intervenes, you must prove that you've already practiced good faith in attempting to directly resolve the issue with the seller.
As the claim is being processed, you want to respond to any comments and required actions from eBay quite promptly.
If the claim is successful, eBay gives you a refund for the entire purchase price and shipping costs. You will be needed to return the item back to the seller if you're not satisfied with its condition.
The buyer protection program remains effective once you make a purchase order using eBay's site. You also must have made payment using the site's checkout options. Items paid using different checkout methods to the seller will not be covered.
When buying a vintage or pre-owned watch, you want to make sure that the transaction is covered by the protection program. You ought to make a claim within 45 days after receiving your order.
The buyer protection feature, alongside its authentication service, both go a long way to keep buyers from getting ripped off.
Common Questions to Ask a Seller
What material is the case built on?
Typically, there are just a handful of case backs used on vintage watches. If you're buying a watch from eBay, aim for one that's waterproof as it's more likely to last longer.
Some case backs are buttressed by screws and a plastic cap to enhance their longevity. It's important to ask for this information from a seller before buying a pre-owned or vintage watch.
Those with a case press tend to remain in perfect condition but might incur moisture damage as they don't have 'waterproof' features.
Is the case in pristine condition?
First, you want to examine the case to know whether it's been polished recently. A vintage watch with bevels on the edges might wear out if polished quite often.
If you're hunting for a Rolex built in the 50's there's a bare possibility you'll find one that has been kept unpolished.
Some brands such as the Fossil Nate might retain their gleaming look and reflect light as the original model would even after being polished.
Are the dials original?
Is the Dial or Crystal Damaged?
Over time, the crystals can get damaged, prompting the owner to opt for a replacement. Quite a number of vintage watches feature mineral or acrylic crystals.
These two aren't scratchproof. It needs a lot of precision to tell if a crystal is scratched or whether the dial has any visible damage on it.
And while there's no guide for spotting damage, try to look at the photos from different angles. All visible marks on the dial should remain in the same position at all angles.
If so, then the defect will be on the dial and not on the crystal. And the opposite is actually true if you can detect movements on the marks when viewing the watch from different angles.
Is There a Case Serial number?
Verifying serial number(s) is one of the most underlooked pointers when thinking about buying a pre-owned watch.
In fact, keeping an eye on the serial number on the case when rotating the photos would help identify the watch's authenticity.
Most reputable brands will post a table of serial numbers online, so you can be certain about when exactly the watch was made. This piece of information is especially useful to buyers looking for a vintage watch.
If you notice any discrepancies between when the case and movement were done, then the watch might have an underlying issue.
However, the exception is if the movement was made at a much later date or is older than the case. In such a situation, it's best to source a true account of how and if the case matches the dial.
Or better still, you can try to determine the authenticity of a watch by searching for the same serial numbers given by the seller online. Platforms like Banrebys.com or CollectorSquarec.com both have lots of data on the originality of watches as well as completed auction searches.
Are the Parts Intact?
If you're a picky collector looking whose primary goal is value for money, don't be embarrassed to ask the seller if the parts are in good working condition.
Getting to know if any parts like the dial have been replaced before is essential, mostly when you're looking for utter originality.
Collectors tend to prefer watches with dials that have remained unpolished since they were built.
Buying an unpolished watch with all the parts intact is a plus for a collector as this type would appreciate in value much quicker.
Can I get more clear photos?
After agreeing to a price, you need to see photos of the watch you're looking to buy from different angles. This way, you can tell whether it's worn out or if the dial is intact.
So far, It's the only way to know if the listed pre-owned watch is in sub-par condition. Owners who have kept the original box and papers might price their watches a bit higher.
It's, however, worth noting that some sellers will print fake boxes just to swindle buyers off their hard-earned money. For this reason, it's worth contemplating whether paying top dollar for a pre-owned watch just because it comes with its original box really adds up.
Does the Watch Have Any Engravings or Inscriptions?
Even though some collectors dread vintage watches with personal engravings as it can detract from the value unless it's from a well-known previous owner.
However, there may be other markings on the case back about the place of origin, make, and material used which is why it's important to get detailed photos of all parts of the watch.