Are you considering buying a white gold watch? Or perhaps, wondering what makes white, rose, and yellow gold different from one another? In this article, we take a deeper look into some commonly asked questions about white gold in watches and the value it holds.
What is White Gold?
White gold is an alloy combination of yellow gold with either palladium, silver, nickel, or anything with a silvery shade metal. Typically, yellow gold combined with silver shade metals strips the yellow from the yellow gold. Resultantly, this gives the alloy a silver to white hue. Some manufacturers also coat the alloy with a rhodium finish to give the white gold a sheen and smooth surface.
White gold at 14-karats is the standard composition. When brands say 14K white gold, it simply means that the alloy constitutes 58% to 75% yellow gold. The number of other metals mixed depends on the manufacturer. However, since yellow gold is soft by nature, other strong metals combine with pure gold to give it durability for regular wear. This gives the metal the strength and structure it needs to hold strong as a watch or jewelry. The results, either 14 or 18-karat white gold with only a certain percentage of actual gold in it.
Less than 14-karats white gold, on the other hand, does not work well for watches as it can contain a higher percentage of nickel or other non-durable metals. Nickel, or even copper, when in contact with sweat and water, can tarnish easily. This will make your watch turn green and also cause rashes and skin allergies.
A flip side to white gold is that it cannot retain its color for years.
Unlike rose gold or yellow gold which can maintain their natural color even after years and proper care, white gold will start to wear out its silver hue, exposing the yellow gold under it. Although this doesn't happen quickly, over time with chemicals from your daily routine, water pH levels, moisture, and sunlight can all cause it to fade, exposing the yellow gold underneath.
Does White Gold Scratch Easily?

Most white gold watches and jewelry manufactured now come with a rhodium finish on the white gold.  This not only gives the white gold a shine but also helped prevent tarnish or visible scratches. The rhodium coat, by itself, is extremely thin to not affect the alloy but enough to help keep the shiny finish for a few years.
The only downside to this is that the rhodium finish can wear off over the years when exposed to chlorine in the water, sweat, natural wear, and tear, or any chemical reaction affecting the pH balance. When this happens, your white gold is prone to scratches, tarnish from moisture and dents. A simple remedy to this is to polish your white gold as often as six months once if you wear it every day, in order to keep its original sheen.
Yet, when compared to yellow gold and even rose gold, white gold is more scratch-prone when it comes in contact with other hard surfaces. One reason could be due to the extent of yellow gold used in the alloy, making it softer than yellow or rose gold.
Moreover, unlike rose gold watches, copper is not always the other main metal combined with yellow gold. Copper is a hard metal that can withstand any pressure. Instead, when low-grade metals like silver and nickel combine with yellow metal, the overall durability is still lower than the other gold types.
Additionally, when compared to other watch metals like titanium or stainless steel, white gold is less durable. The former two have scratch resistance, while white gold can scratch easily. While there is a subtle difference between how these three metals look, titanium and stainless steel are extremely hard. That said, stainless steel and titanium is not a precious metal, and therefore extremely affordable.
Does White Gold Hold its Value?
White gold is an investment. Much like any other precious metals, white gold's value increases over time, making it sought after as well.
However, when we consider the actual value of the white gold, it largely depends on the amount of yellow gold used. This means the actual value of white gold is equivalent to the value of yellow gold in it. And nothing more by itself, since it's an alloy and not a pure metal.
How to Tell if White Gold Is Real?
As we noted above, white gold, stainless steel, titanium, and even platinum can look a lot similar to each other. And, not all white gold sold in the market comes with real gold. So, keeping this in mind, you might be wondering how can you identify if your white gold is real or not. There are a few ways to check this at home.
If you are willing to go the extra mile to ensure the legitimacy of your white gold, online stores sell various testing kits. By merely rubbing a small part of your watch on this testing kit, you can check if the white gold is real. The other way to check is by identifying the metals used in the alloy. For instance, white gold mixed with nickel is a lower-grade white gold. Whereas, white gold without nickel holds better quality and durability, retaining the purity of gold used in it.
The cost of white gold is the ultimate way to find out if your white gold is real. Brands also describe the number of karats used, which determines the price as well. A real good quality white gold comes in 14 or 18-karats. Lower the karats, lower the extent of yellow gold used. This means that the manufacturer has probably mixed a large portion of other metals to give it a white gold look. In this case, the lower cost of the white gold will stand as evidence of its lack of authenticity.
Iconic White Gold Watches
Let's take a look at some incredible white gold watches currently available in the market.
Rolex Submariner Date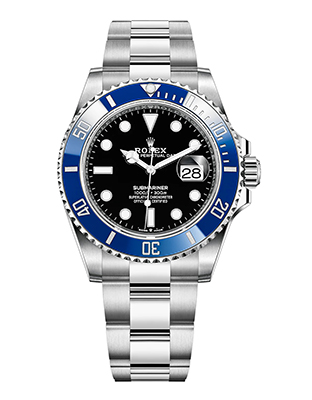 Globally renowned for making exceptional watches with unprecedented quality and standards, Rolex stands on top of the watch industry. For this article, we look at the Submariner Date (Reference 126619LB) in white gold. An 18-karats white gold diving watch with an alloy combination of silver, platinum, palladium, and copper, the Submariner Date reinforces Rolex's commitment to excellence. Paired with a black dial and a blue bezel, this watch is the epitome of luxury, class, and superiority.
Patek Philippe Nautilus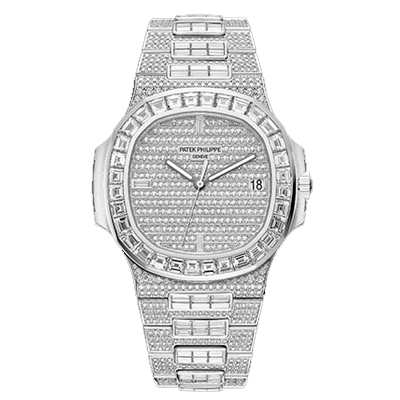 This Swiss luxury brand is famous for making unique watches with in-house movements and components like no other brand. The Nautilus (5719/10G) uses a white gold dial with 255 diamonds studded on the face and bracelet of the watch. This 18-karat white gold watch symbolizes grandeur and finesses for the art of luxury watchmaking. Hosting the Caliber 324 S C, the Nautilus is a remarkable white gold watch, reinventing the brand's sport watch of the '70s.
Omega Seamaster Aqua Terra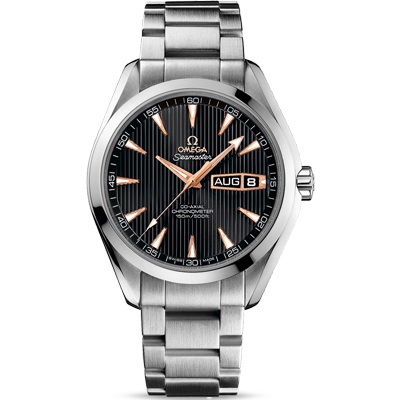 The final watch on our list is worth mentioning – Omega's Seamaster Aqua Terra white gold watch with co-axel chronometer and annual calendar. A limited-edition watch, with just 61 pieces, features a black dial with an 18-karat white gold dial and bracelet. With 75% yellow gold mixed with palladium and copper, Omega promises resistance to corrosion. This watch is also suitable for those with sensitive skin. Available in leather straps paired with white gold dials, Omega offers five years warranty on these watches as well.
Is White Gold Still in Style?
In short, yes, white gold is very much in style. Especially with jewelry and engagement rings, many prefer white gold to Platinum because of its lower cost. However, when it comes to watches, white gold may not always be the first choice. Given that yellow gold and rose gold watches have a higher preference and are in trend at the moment, white gold watches may have taken a back seat.
Above all, when it comes to watches, customers prefer durability and longevity. Both these qualities, absent with white gold in the long run. White gold can start to fade once the rhodium plate wears off, causing scratches and dents. With the rise in titanium and stainless-steel watches, they are not only long-lasting but also require less maintenance than white gold.
Notwithstanding any of these arguments, white gold watches continue to hold a strong presence in the market. This is for one main reason. Its competitors – yellow gold is flashy and not preferred by many, and rose gold may not be of your liking – this leaves you with white gold. In this same vein, white gold is versatile and goes with any outfit and for any occasion. It does not stand out or look flashy. Above all, white gold goes with all skin tones and easily complements any other accessories worn.
See Cristiano Ronaldo's 18K white gold Rolex with 30-carat white diamonds or President Obama's White Gold Rolex Cellini, just a couple examples that show white gold is still stylish from footballers to presidents…even tough-guy Floyd Mayweather wears a white gold watch.
Are White Gold Watches Worth Buying?
White gold is the first choice of 35% of women. Be it for jewelry or watches, white gold gives a simple and elegant look. It stands as a symbol of luxury and sophistication. However, white gold is not cheap and not accessible to many. You might also argue – when you can get cheaper watches with better durability with stainless steel or titanium, why spend the extra money on white gold? The answer depends on you!
It is true that buying white gold is an investment and the return on investment increases with time. Yet, we recommend considering your needs from a watch before investing in one. For instance, are you looking for a simple dress watch, then a white gold watch is worth your bet. However, if you are looking for a tool watch with long durability, then white gold watches do not fit the bill. In this case, getting a watch with stronger metal ensures its durability.