Gold symbolizes luxury – an iconic metal used across various industries and a timeless classic that never gets old. In this same vein, gold watches personify grandeur and ultimate sophistication. Watch manufacturers have used gold in clocks and pocket watches ever since its invention. So much so, all luxury brands today offer a variety of gold watches as well.
However, if you are researching to buy a watch, you may have noticed that gold watches are expensive. Especially, when compared to stainless steel or other metals with similar features available at a fraction of the gold watch's cost. So, what makes gold watches so expensive?
In short, it is not just because of the value of gold in the watch. While it is true that gold is a rare and precious metal; one where the value increases over time, making it an investment for generations. Yet, factors like exclusivity, higher production cost, and industry standards also influence the price of these watches.
In this regard, this article dives into understanding what makes gold watches expensive, the historic value of gold, and some exclusive aspects. We will also look at some iconic gold watches of all time!
Are Gold Watches Real Gold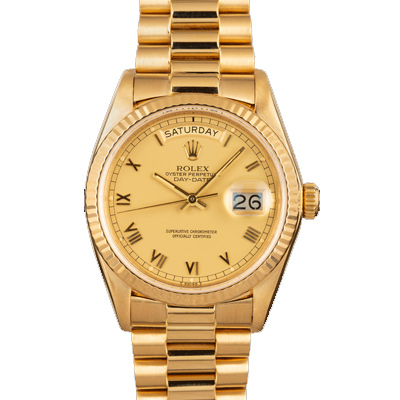 Gold watches typically come with a hallmark stamp, such as 18-karats or 14-karats. These markings denote the existence of real gold. This will also reflect in the high price of the watch itself. A 100% pure gold is 22 or 24-karats, however, this is very soft and prone to easy damages. So, brands use an alloy of yellow gold with other strong metals to give it the durability to remain damage resistant.
In this case, the grade of the gold reduces from 22 to 18-karats with about 75% real gold, denoting the right composition for watches and jewelry. Some watches and jewelry come with 10-karats. These generally have a very low composition of gold and purity below 40%, taking away the natural gold essence.
Most brands that use real gold will mention the karats along with the components of the alloy used in the watches. This alloy of yellow gold constitutes a mix of metals like platinum, zinc, copper, silver, palladium, nickel, etc. In some cases, yellow gold when mixed with copper gives rose gold. Similarly, yellow gold when mixed with silvery metals gives white gold.
Yellow gold alloy comes mixed with either zinc or nickel to retain the yellow-gold hue. You can learn more about rose gold vs yellow gold here!
On the other hand, not all gold watches actually have real gold. But rather, they can also come with just a gold plating. This is an electro-chemical process of adding a thin plate of gold on top of silver or copper to give it a gold finish. In this case, the price of the watch is considerably low in comparison to an 18-karats gold watch. And, over time with frequent wear and tear, you will also notice the gold plating will wear off, showing the original metal underneath.
Historical Cost of Gold
The use of gold dates back to 500 BC. In this time, people traded in gold and silver coins. Nations used gold and silver as currency to buy other goods. However, in 30 BC, Romans were the first to officially value gold. They marked a pound of gold to be approximately 45 coins. Subsequently, Britain marked up the price of gold to be 0.89 pounds in 1275 AD. By the 1800s, counties had printed currencies and this helped mark up the rate of gold as well. By the 1900s, the USA marked up the price of gold at $20.06 per ounce.
1944 marks an important time in history with the Bretton Woods Agreement signed between all allied nations of World War II. With this Agreement, US Dollar became the global currency against gold prices, since the USA held 75% of the gold supply then. This saw a shift in countries redeeming their currency with USD and not with gold. In turn, USA redeemed its currency against the price of gold.
However, with the great depression and economic breakdown in the '70s, the US govt began deflating gold prices attached to USD. Consequently, this Agreement came to an end with and the price of gold shot up as much to $120 an ounce. Ever since, the free market, stability of the global economy, and the advent of historic events influence the price of gold. 2008 financial crisis saw gold rise to $869.75 an ounce. In 2020, with COVID-19, gold hit an all-time high of  $2,061.50 an ounce.
Exclusive Aspect of Gold
Ever since the discovery of gold, it stood as a symbol of wealth, status, exclusivity, and rarity. Currently, with brands now able to acquire gold and distribute across various consumer products, the line of exclusivity begins to blur. Yet, the high cost of gold and gold products doesn't always make it accessible by many.
Moreover, gold as a metal does not tarnish, doesn't lose color, and is also corrosion-resistant. As we noted above, the price of gold increases over time, making it a sound investment for the future. All these factors make gold desirable in any and all forms.
What Parts of a Watch Are Actually Gold?
From the time clocks came to be, manufacturers have used gold as different components within the watch. Given gold's property to never tarnish or corrode, manufacturers use it as bearings and bridges linking different gears within the movement.
Right from what we can see we can see – dials, hour markers, bracelets, case, crown, and pushers – to what we cannot see within the movement – rotor, plates, rings, gears, bearings – brands use gold to increase the durability of the watch. Gold also adds certain aesthetic value, unlike other metals.
The extent of gold used in watches depends on the age of the watch. Historically, older watches have more gold in them. Currently, luxury watches come with more gold parts. Brands tend to list the gold components with the product description to let you know what all parts use real gold.
Luxury Pricing Strategy
As we noted above, brands don't only consider the value of gold in determining its price. Many other factors influence the price –
Gold has always stood as a status for exclusivity and wealth. Naturally, the high cost for gold watches over stainless steel watches with the same features makes these exclusive to only a small section of the watch customer base. Paired with the industry practice of keeping gold watch prices high and stainless steel watches low, reinforces status and luxury.
Yet, the production cost of gold watches has the majority influence on its pricing. We all know the higher the units produced, the lower the cost of production, and vis-à-vis. Gold watches, generally produced in smaller quantities, have higher production costs per unit. Additionally, the cost of gold watchmaking is higher than stainless steel watchmaking, given the added process of acquiring the gold, transporting the gold for manufacturing, processing gold into watches, and finishing. The most crucial factor affecting gold price is the fluctuation of the value of gold. Manufacturers price gold within certain brackets to ensure safe profit margins for them when the value of gold changes.
Finally, luxury price marks up, in general, is often much more than the production cost. This is not the case just for gold, but for all precious metals and gems like diamonds. Brands often use this luxury pricing strategy to mark up the products, to almost 40% or more. For instance, Rolex has official retailers who buy the watches and then sell them to the customers. These retailers mark up the price in order to retain certain profit margins, which adds to the end price of the watch, over and above all those factors mentioned above.
Iconic Gold Watches
Let's look at some iconic gold watches, alluring customers globally, regardless of location or age!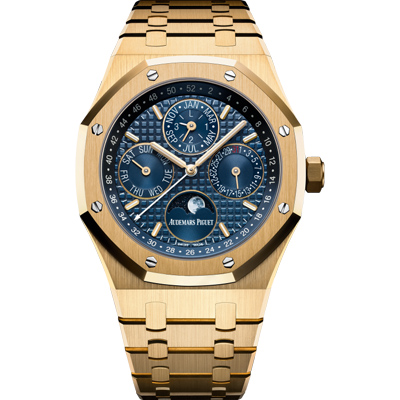 Part of the Holy Trinity of watches, Audemars Piguet is one of the oldest and long-standing watch manufactures of all time. Set up in 1875, Audemars Piguet holds multiple groundbreaking records for horological inventions.
The Royal Oak collection is one of the most celebrated and sought-after watches by aficionados. Designed with their signature hexagonal 18-karat yellow gold case, this watch personifies horological supremacy. Paired with an 18-karat yellow gold bracelet and a blue dial, this Royal Oak harmonizes class with versatile functionality.
The Royal Oak is considered by many to be a Holy Grail Watch – a dream watch that would complete their ideal collection but is often out of reach due to price or scarcity.
Rolex Day-Date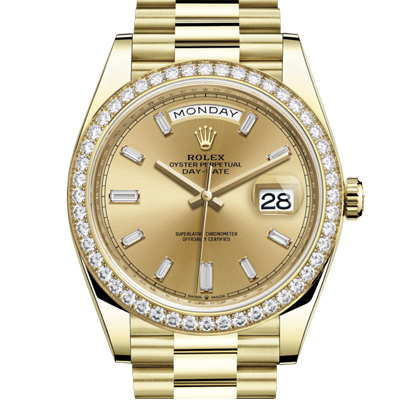 Rolex watches set high standards for other watch brands to reach up to. The Rolex Day-Date is one such exquisite timepiece, showcasing the brand's commitment to excellence and superiority. Available in 18-karat yellow gold dial and bracelet, with complimenting champagne color dial studded with diamonds, the Day-Date is a classic watch for all occasions. Hosting the in-house caliber 3255, this timepiece ranks high globally for performance and elegance like no other watch.
Panthère de Cartier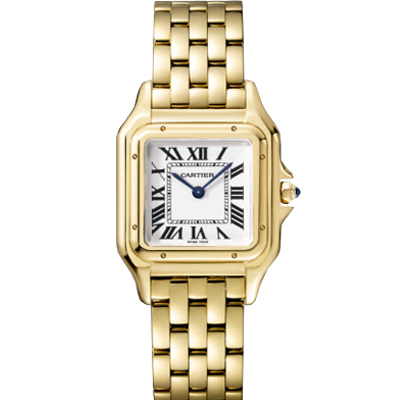 Cartier is another prestigious luxury brand, famous for its art deco-style watches. This French luxury goods brand set up in 1847 has a long-standing history of making watches for the English, Spanish and French Royals. For this article, we look at the Panthère de Cartier, carefully crafted for the modern woman. Featuring an 18-karat yellow gold case and bracelet, this Panthère de Cartier adapts the essence of the '80s with a modern twist.
A true symbol of ultimate luxury, Cartier revolutionizes unparalleled design with innovation.
See other iconic Cartier watch models (and the celebrities that wear them).