Casey Neistat is a filmmaker, vlogger, and Youtube personality with 12.4 million subscribers (as of July 2021). He is also a TV commercial director and star. In 2015, he co-founded Beme with Matt Hackett. This multimedia company was then acquired by CNN in 2016 amounting to $25 million. In 2018, he founded 368, providing an opportunity and a creative space for collaboration among different creators.
Neistat uploaded his first video on his Youtube channel (CaseyNeistat) in February 2010. By 2014, his channel was already ranked #82 at Top 100 Channels of New Media Rockstars. In 2015, he started his daily vlogs but had some breaks between November 2016 to March 2017 to make short films.
Among the things that his 12.4 million subscribers notice is the watches that he wears. His brand of choice, undeniably G-Shock; but he also has timepieces of more luxurious brands such including Rolex and smartwatches by Apple. We'll talk about all of those here, starting with his Casio watches since he owns some of the best G-Shock watches, including limited-edition models.
Image Credit: nrkbeta via Creative Commons
Watches Worn By Casey Neistat
G-Shock GWX-5600C-7JF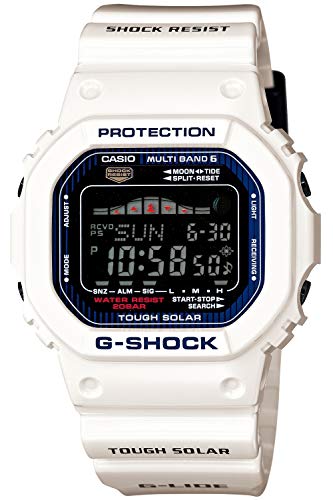 Casio G-Shock GWX-5600C-7JF is a limited edition model specifically imported from Japan. The GWX-5600 particularly stands out because of its tide and moon graph that has 100 pre-set tide sites. It also uses Multi-Band 6 for automatic time calibration. It has a Tough Solar power system and a dual countdown. It is a digital watch with a black and blue dial. It has a white resin band, and the square case may either be red or white.
This is also one of our picks for the best surf watches you can currently buy.
G-Shock GA-2100THB-7A

The G-Shock GA-2100THB-7A is one of the models in the Throwback 1990s Series along with two Baby-G watches (BGD-560THB-7, BGD-570THB-7). All of them have the pink-purple-white scheme but only the GA-2100THB-7A comes with an analog-digital display. As with other G-Shocks, it is packed with functions such as world time, stopwatch, timer, five daily alarms, hourly time signal, and full auto-calendar. It also has a double LED light and approximately 3 years of battery life. It boasts of its carbon core guard structure – meaning, its resin case is also embedded with carbon fibers that provide superb strength and crack resistance to better protect the watch module. The band is also made of resin while the glass is of mineral crystal. G-Shock GA-2100THB-7A is shock-resistant and is water-resistant up to 200 meters.
MY NEW WATCH CAME!!
analog G-Shock in custom 90s colorway!!!! had to import from Japan. very exciting pic.twitter.com/3wVzr1kM6o

— Casey Neistat (@Casey) September 4, 2020
G-Shock Frogman GWF-A1000BRT-1A "Borneo Rainbow Toad" (Limited Edition)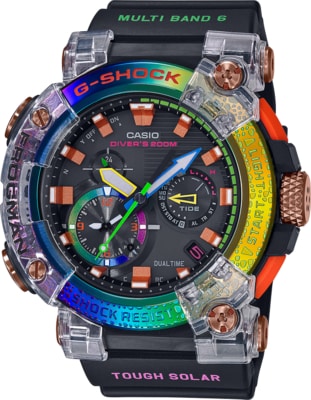 Another limited-edition G-shock that has been spotted on Neistat's wrist is the G-Shock Frogman GWF-A1000BRT-1A. There are only 2,000 pieces created for this particular model.
It has a unique color scheme inspired by the Borneo Rainbow toad. Immediately noticeable are the pink and orange accents, but there are also some green, blue, and yellow elements. Its IP stainless steel bezel is also in rainbow and even has some etchings that look like that of the toad. To make each piece even more unique, the rainbow IP bezels come in different shades, such that there is no identical bezel of this model. Its caseback is equally unique – a new Frogman emblem with warty skin and a long tongue. Its features are also impressive. It uses a Tough Solar power system, Multi-Band 6 automatic radio timekeeping, and has a Bluetooth link capability. It also has a tide graph, diving mode, surface time measurement, and the usual functions like day and date display, stopwatch, countdown timer, daily alarm, and dual time. It also has Neobrite luminescent hands and LED light.
Casio G-Shock GA-2100SKE-7A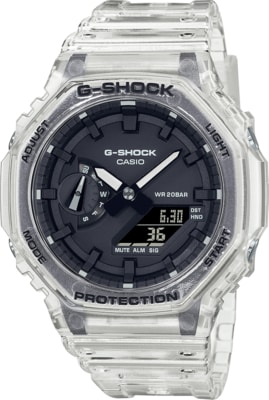 Next to a colorful timepiece, is a translucent one. Well, it's not completely translucent, only the bezel and band. The dial is black with an analog-digital display. It also has a carbon core guard structure making it crack resistant. It is also shock-resistant and water-resistant up to 200 meters. The sleek-looking dial is equipped with a double LED backlight with Afterglow. It also includes the usual G-Shock functions such as world time, full auto-calendar, stopwatch, countdown timer, daily alarms, and day and date display.
Rolex Datejust ref. 116200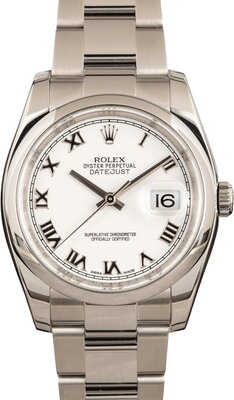 Neistat's Rolex Datejust ref. 116200 is a classic timepiece with a simple white dial, bar hour markers, and a roulette date wheel. The bezel and case are made of stainless steel, in line with the classy look. Powering it is a caliber 3135 automatic movement.
In one of his videos, Neistat explained that he only wears watches that are pretty tough and unbreakable; hence the G-Shock choices. He stated that "I don't have nice things, because I break everything." However, he received a Rolex Datejust from his parents-in-law as a wedding present. He only wore it when his wife gifted him a black Everest rubber strap, which is very similar to G-Shock bands. Later on, he also received a white strap. Unfortunately, he still broke his Rolex when he accidentally fell from his Boosted Board while vlogging. The watch stopped working even though the crystal glass looks fine and undamaged.

Rolex Submariner ref. 16618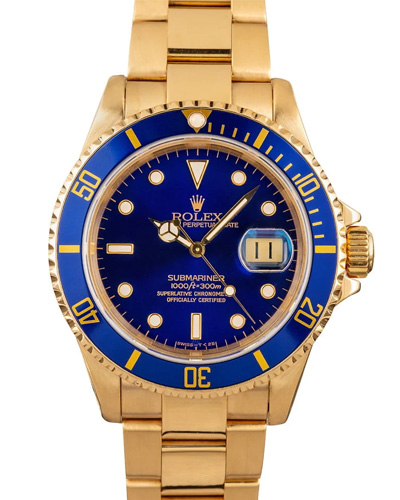 In another video, Neistat seems comfortable wearing an 18k yellow gold Rolex Submariner ref. 16618 while reviewing the DJI Mavic Mini drone. This Rolex Submariner is a 40mm timepiece with a black dial and bezel (although there are also pieces with blue dial and bezel, still ref. 16618).  The crystal window is made of flat sapphire and comes with a cyclops lens. It has an oyster bracelet with a wetsuit extension. Powered by Rolex caliber 3135 automatic movement, it shows the time with running seconds and the date.
Since he didn't talk about the watch in the said video, some watch geeks are examining (and questioning) if it's really an 18k yellow gold Rolex Sub. They have noticed that the aluminum bezel insert has silver markers when it should be gold-toned. This may be due to the reflection on the camera or perhaps Neistat spray painted it as he did with his friend's Apple Watch.

Apple Watch Series 4

Neistat seems to have several Apple Watches. On one, he replaced the original band with a Louis Vuitton strap made from an old Louis Vuitton handbag. Then there's also an Apple Watch he lost last year while surfing after he changed the band to one with Velcro. Regardless, he believes that Apple Watch is compressed with functions that are too much for what he actually needs, yet he is still frequently seen wearing one.

Well, the Apple Watch is indeed packed with features, as you may expect from a smartwatch. It uses the WatchOS5 operating system; has NFC, WiFi, Bluetooth, and GPS/Glonass/Galileo connectivity, and various sensors like accelerometer, barometer, gyro, ECG electrode, optical heart rate, and ambient light.  It is also equipped with an Apple dual-core 64-bit S4 processor, an LTPS OLED Retina display, and 16GB internal storage. Its battery life is advertised to last up to 18 hours. It is dust-resistant and water-resistant. Considering all these, we've listed over a dozen Cool Things to Do With Your Apple Watch.
so I spent $60 on this sweet new surfing band for my Apple Watch. Yesterday beaches opened, I went surfing and on my FIRST WAVE the Velcro comes undone. fancy expensive Apple Watch gone.. pic.twitter.com/0LUQP0V2So

— Casey Neistat (@Casey) May 14, 2020