Image Credit: ChickenFalls via Creative Commons
"We tiptoed into the watch and jewelry industry knowing it wouldn't be easy."
These are the words of Domenico Dolce, co-founder of Dolce and Gabbana (D&G), ahead of their appearance at the 2020 Baselworld. And if the brand's chequered history is anything to go by, we'd say the founders knew all-too-well that they were getting into a fiercely competitive industry that is watchmaking.
This review takes you through D&G, the brand, examining its highs and lows in the watchmaking business. Our goal is to lay it all bare, helping you make an informed decision on your next watch purchase.
Dolce & Gabbana Brand History
Dolce & Gabbana is an Italian fashion house founded in 1985 by Italian designers Domenico Dolce and Stefano Gabbana. Having met in 1980 while designing for a Milan-based fashion house, they founded a designer consulting studio, Dolce & Gabbana. In 1986 they ventured into the fashion business with their first collection, 'Real Women.'
It was not until 1990 that they made the first men's collection. From then on, they broke into new markets, offering jewelry, watches, fragrances, and other accessories.
The Dawn of D&G Time Watches
The history of D&G watches can be traced back to the year 2000 when the first line of D&G Time watches was made and sold under Binda Group's license. The D&G Time watches enjoyed massive success, inspiring the rollout of new designs every season. Their watches were marketed under a different brand line, D&G, until 2012, when D&G merged with Dolce & Gabbana.
The merging was inspired by a series of events, which prompted the company to reinvent and reposition itself in the fashion space. First came the termination of their licensing agreement with Binda, effectively ending the production of D&G Time watches. This was followed by in-housing of their watch operations.
Proprietary Movements
Post-2010s, Dolce and Gabbana went all in at watchmaking. They partnered with Atelier MHC to create their very first in-house movement, the DG 01.01 caliber. The new D&G movement is made up of 209 parts, including a self-winding mechanism fitted with a micro-rotor. Nerdy details aside, fully wound; its battery reserve can last up to 58 hours.
Dolce & Gabbana (D&G) Watch Collections
When it comes to high fashion, no one does it quite like the Italians. They certainly have a flair for flashy designs. And when they are not bold in design, they incorporate the best of materials to do all the talking, offering loyalists the best mix of casual and dress timepieces. D&G watches, much like the company's other accessories, are status pieces. Let's take a closer look at some of D&G's collections.
Men's Watches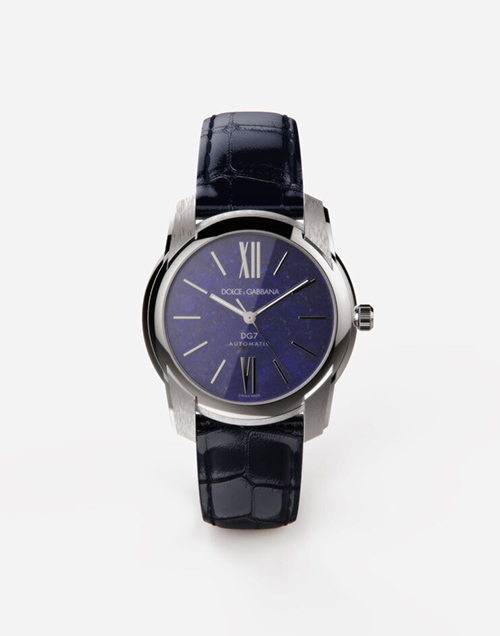 The men's collection exemplifies the style tradition that sets D&G men's wear apart. It features several models in quartz Chrono and automatic variations. You may have seen a few of these timepieces being modeled by celebrities. Well, here's a chance for a closer look at some individual models.
The DG7 collection features 12 models. They come in different designs and varying aesthetic appeals. The DG7 Watch Blue Dial with Lapis lazuli stood out for us because it is subtly stylish, making it a good choice for formal wear. The lapis lazuli (blue) dial is a bit over the top for a dress watch, but D&G only does bold, so we'll take it. Its self-winding movement preserves power for up to 42 hours. It has rhodium-plated hands and large markers for legibility.
Men's Chrono


The DS5 models are the most conspicuous of D&G's Chrono pieces. Their sporty, rugged vibe adds to their multi-functionality. If you are looking for an affordable piece, you can't go wrong with any of the 8 DS5Watches. At 10BAR rating, it can handle light splashing; and as for the pool—it's best not to risk it. Its propeller-shaped lumed hands exude a military vibe. We wouldn't recommend any of these models if you are into clutter-free watches.
Women's Watches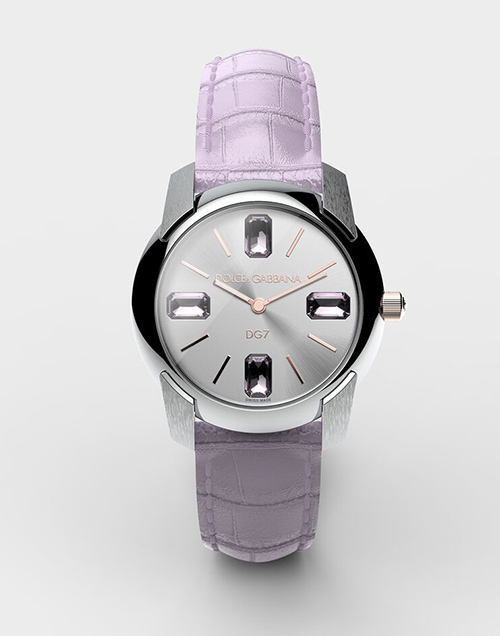 The DG7 with alligator strap is one among many of D&G's elegant timepieces. You might not think much of it, given it's a quartz watch. Minimalistic, maybe. But there's nothing basic about this watch. The pale purple (mauve) color accentuates the wearer's femininity, drawing you even closer. Large sapphire crystals are beautifully positioned at the 12, 3, 6 & 9 points, providing a nice contrast against a Soleil dial. It has photoluminescent hands, making it the perfect peacocking piece even after-hours.
The ladies also have their own DG7 collection. If you thought the design in the men's DG7 collection was over the top, wait until you meet the women's version. The DG7 with lapis lazuli and diamonds is the epitome of showy watchmaking. The diamond encrusting goes well with the natural lapis lazuli, bringing the blue dial to life. The tiny ruby affixed to the crown is a nice touch. The detailing captures the essence of Italian culture, reinforcing D&G's image as a meticulous designer brand.
Dolce & Gabbana (D&G) Brand Reputation
D&G doesn't just design and sell high fashion stuff; they have also built a serious cult following. Be it a celebrity, the likes of Madonna and the Beckhams, or the ordinary status chaser, rocking a D&G accessory is a chance to project your own personality. The company seeks to demonstrate that there's more to the brand than meets the eye. D&G has built a reputation for being a brand with highly relatable accessories.
Trend-Setting As Opposed to Trend Following
They never go out of style. They brainstorm before launching a new product or collection while paying particular attention to market trends and ever-changing customer needs and preferences. This way, they can be leaders in nearly all fashion fronts instead of being reactionary in design, which is what most fashion design houses are known for.
Controversial Violence-Themed Advertising
The company's trend-setting tendencies have landed them in some awkward publicity spots. They are famous for their eccentric advertising campaigns, including a 2007 "rape-esque"-themed ad. D&G has come under fire for what some critics have called oversexualized, homophobic and racist ad undertones. The company has defended these ads, saying they were highly stylized and theatrical, therefore not meant to endorse the implied social ills.
Is Dolce & Gabbana (D&G) A Good Watch Brand?
D&G watches are popular for their fun, sophisticated aesthetics. They offer their fans color-rich options to choose from and elements of design that reflect the brand's flair for style. A unique design implies that every aspect has a different impact, assuming form and function beyond the traditional watchmaking. And for a fashion brand, we'd say D&G has certainly outcompeted rivals in this particular weight class.
Rather than being known for their blinged-out accessory pieces, their timepieces are truly time-telling works of art—telling a story that only a few other fashion brands do. The company offers a fashionable line of watches for both men and women in different designs and price ranges. Research-backed innovation, Swiss accuracy, coupled with their Mediterranean heritage, has enabled D&G to go farther than the average fashion brand.
As a rule of thumb, designer watchmakers tend to shun automatic movements, confining their operations to entry-level quartz watches. D&G has gone all in, quashing horological limits to give loyalists a rare glimpse into the high fashion industry. The company's decision to go in-house was well-received by watch enthusiasts, with most reviewers lauding D&G's proprietary movement as a game-changer.
D&G watches have racked up some positive reviews at Amazon and watch forums, which is impressive even for a fashion brand. However, critics noted that while D&G has embraced the jewelry aspect of watchmaking, the execution of the design is awful.
If you are looking for a less showy fashion watch, you might want to consider the Fossil Men's Grant Chrono watch or the ladies' variant, Fossil Women's Leather Quartz Chronograph.
We have a detailed article on stylish fashion watch brands.
Where To Buy Dolce & Gabbana (D&G) Watches?
D&G ships to 101 countries.
Walk into any specialty store carrying D&G products; chances are you will find D&G-branded watches in there.
You can find a small selection of D&G watches on Amazon.com and at Amazon (UK).
Shop for new and used D&G watches on eBay.
You can also occasionally find D&G on clearance at Saks (off5th) and Nordstrom Rack.
Where are Dolce & Gabbana (D&G) Watches Made?
They are marketed as 'Swiss Made', thanks to D&G's partnership with Geneva-based MHC SA – Manufacture Hautes Complications. All their movements, be it quartz or automatic, are Swiss-sourced and assembled in their Milan-based watchmaking division.
Dolce & Gabbana (D&G) Watch Warranty
Your D&G watch comes with a 2-year international warranty valid from the date of purchase. It covers all defects in material or workmanship (dial, movement, hands).