Edox means measuring of time in ancient Greek. This Swiss watchmaking company based in Les Genevez entered the watch industry back in the 1880s and has celebrated more than 135 years in the industry. Despite the transfer of ownership numerous times, the company continues to thrive with its commitment to innovation and traditional hand-assembly.
Nowadays, Edox is primarily known for its reliable water-resistant timepieces. And, although they may not be as popular as other Swiss watch brands, you'll realize by the end of this post that this mid-range brand actually has a lot of great timepieces to offer.
Edox Brand History
How it all began


The watch brand Edox was founded by a watchmaker named Christian Rüefli-Flury who grew up in Grenchen, Switzerland. Prior to establishing his brand, he was an apprentice of Jean Ægler until 1883. In 1884, he was encouraged by his wife, Pauline Flury, to start his own watchmaking company after he gifted her a pocket watch for her birthday.
That same year, Christian Rüefli-Flury established his own watchmaking company named Edox in Biel, Switzerland. However, it was not until 1900 that the brand started using its hourglass logo that it is using up to present.
Transitions and Expansion
With Rüefli-Flury's death in 1921, banker Robert Kaufmann-Hug took over the company. The brand continued to grow as the watch market started to look for wristwatches instead of pocket watches; and Edox was the only watch manufacturer that focused on wristwatches during that time. As such, by 1927, Edox became a limited company.
This watchmaking company in Biel continued to grow over a few years that it has to move to a bigger facility. Edox was also named among those leading watch companies in Switzerland in 1955.
Delfin, Bluebird, and Geoscope
In 1961, Edox introduced its first revolutionary timepiece – the Delfin. Its crown is engineered with a double gasket to reinforce its water resistance; hence, the timepiece is water-resistant to 500 meters. Such design has been patented to Edox and became the reason why the brand has been globally known for water-resistant timepieces. In fact, the said patented design is still being used by major Swiss watch brands.
Another remarkable timepiece launched by Edox is the Bluebird. It was introduced in 1969 as a highly resistant timepiece that is also waterproof. It is built with hardened stainless steel, double casing bottom, and shock absorbers.
The following year, 1970, Edox publicized the Geoscope which is considered the first real GMT watch. Its dial even contains a copy of a realistic globe where you can identify the continents. The dial then turns as the planet does. Because of its unique style, it has become one of the highly desired collectibles among watch enthusiasts and collectors.
Acquisition and Independence
Edox, like many watchmakers, was hit hard by the quartz crisis and struggled to remain in business. As such, the company was forced to sell its shares to the association of Swiss watchmaking manufacturers, ASUAG (now known as the Swatch Group) in 1973. Despite this, ASUAG was still not able to revive Edox.
As such, in 1983, then president of the company, Victor Strambini, decided to buy back all Edox shares from ASUAG. The company thus became independent again, and Strambini decided to focus on dynamism, elegance, and technical innovation of the brand to restore it.
Current Years
In previous decades, Edox has become the official timekeeper of various racing events such as the Class-1 World Powerboat Championship, World Rally Championship, Dakar Rally, Extreme Sailing Series, and the World Curling Federation.
Edox Watch Collections
CO-1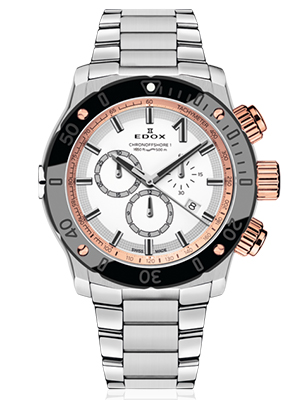 The CO-1 collection was particularly designed and made for Pal Virik Nilsen, an offshore powerboat racer. As such, CO-1 timepieces are accurate, reliable, and stylish sports watch.
To meet the standards and needs of a powerboat racer, CO-1 models are strategically built with high-quality materials such as ceramic bezels, stainless steel cases, and rubber straps. Depending on the model, you may also choose whether to have a mechanical or quartz-powered timepiece. As for the case size, three-hand timepieces for men come with a 43mm case and a 38mm case for women's.
There are also models with chronograph functions and they come with 45mm cases. The brand promises that all its cases for this collection are made of ultra-solid construction. They also feature an offshore boat propeller engraving at the back. Also depending on the model, they have the water-resistance of either 300m or 500m. In addition, CO-1 timepieces are built with an automatic helium valve, making them suitable even for deep-sea diving.
Chronorally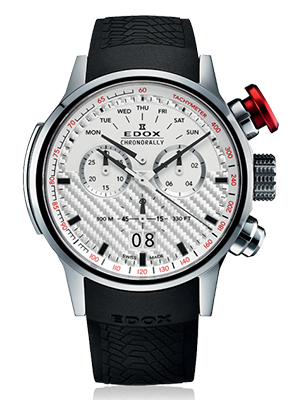 The Chronorally collection was launched to celebrate the partnership of Edox and the FIA WRC (Fédération Internationale de l'Automobile World Rallycross Championship). As such, Edox became the official timing partner of the WRC.
Accordingly, Chronorally watches are designed to withstand and remain fully accurate and functional through the abuses of extreme racing. They have titanium cases that measure 48mm with an easily-readable dial. Also, since they are created for races, Chronorally timepieces won't be the best choice in terms of water-resistance as they are only up to 100 meters.
Delfin The Original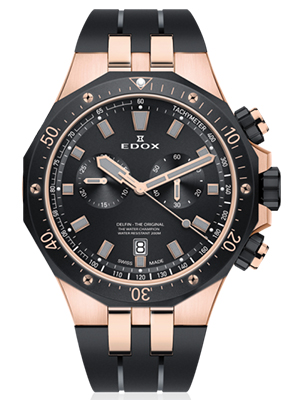 As mentioned, Delfin plays a vital role in the brand's history. It's no wonder why the Delfin collection has been revived numerous times; the latest being Delfin The Original collection. As it was first known for, Delfin The Original is still the brand's champion for water-resistant watches.
It's also one of Edox's widest collections as it includes chronographs, divers, day/date, and simple three-hand watches. Yet, they all have the specialized shock-absorbing case back and double o-ring gaskets for crowns and pushers for reinforced water-resistance.
Grand Ocean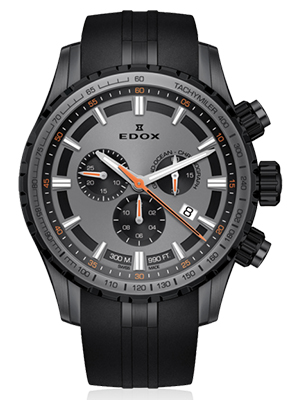 If you need a timepiece for extreme water sports, the Grand Ocean is the collection you must go to. Grand Ocean watches feature a balanced fusion of performance and style. They are not just elegant; they are also accurate, reliable, and packed with features and functions needed for your regattas, yachting, and other similar races. In terms of water-resistance, you will not be disappointed as well because they're good for up to 500 meters.
Les Vauberts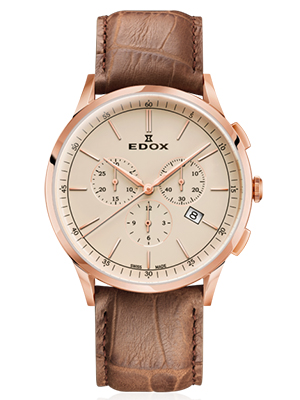 The four aforementioned collections are categorized as sporting instruments since they are great timepieces for their dedicated sporting event. This last one, the Les Vauberts collection, however, is classified under style and elegance.
Belonging in the said category, Les Vauberts timepieces boast of classic elegance with Swiss-made mechanical or quartz movements. If you're curious, the collection is actually named after a small area near Les Genevez where the farmers during the summer season became watchmakers in winter months.
They also became the pioneers of the watchmaking industry. As such, on the case back of Les Vauberts watches, you'd see a historic farmhouse that symbolizes the building where the farmers-turned-watchmakers- created the watches during those winter months.
Edox Brand Reputation
As you might have observed from the collections presented above, Edox manufactures quite a variety of timepieces designed for different purposes and preferences. But, if there's one thing that makes Edox stands out, it's water resistance. As mentioned above, Edox was first recognized for the Delfin. Even then, Edox has been continuously making technical innovations to further improve the water-resistance of its products.
More so, even as a mid-range watch brand, Edox is respected for producing high-quality timepieces. The materials used are of premium quality, the timekeeping is reliable and accurate, styles come with a twist, and each watch is hand-assembled. Because of these, watch enthusiasts and even ordinary buyers became instantly captured and amazed by this not-so-popular brand. Edox timepieces are found to be worth every dollar spent.
Is Edox A Good Watch Brand?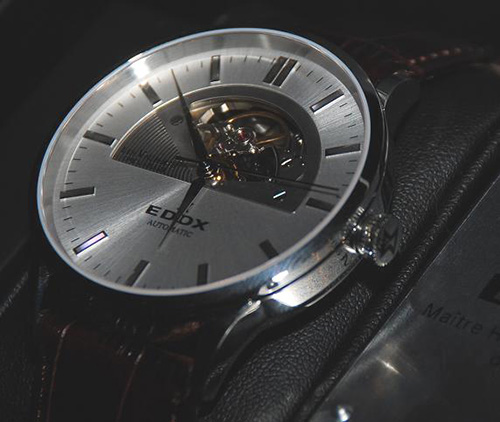 Edox is not just good. According to this discussion, it is "good, very very good." Although lesser known than other Swiss watch brands, the build quality, price, and style of Edox watches can certainly compete with those popular ones.
With more than 130 years of experience in the watch industry, the brand may be considered quite an expert in technical innovations. This can be seen especially in the build quality of their watches. Aside from using high-quality materials, the brand's innovations were able to produce outstandingly water-resistant timepieces. Even its traditional and sporty designs stand can stand out from a variety of watches because of the innovations and twists applied.
As a Swiss watch brand, Edox is usually compared with Tag Heuer and Omega. But, if you ask the enthusiasts in this forum, Edox is considerably better than the competitors mentioned.
Where To Buy Edox Watches?
The quickest way to see the latest Edox watches and purchase one is, of course, through its official website.
You may also browse through Amazon, eBay, Jomashop, and Ashford.
You can also check out Edox's Store Locator to help you find its authorized dealers nearest you.
Where Are Edox Watches Made?
From Biel, Switzerland, Edox has transferred its manufacturing facilities and processes to Les Genevez. All Edox watches are hand-assembled therein by highly-skilled Swiss watchmakers. With this, you are assured that whichever Edox watch you opt to purchase, it is a genuine Swiss-made product.
Edox Watch Warranty
Each Edox watch is covered by a two-year warranty.
Should your timepiece need servicing or repair, you may also visit this link for further instructions.