Image Credit: Rossano aka Bud Care via Creative Commons
The King of Rock n' Roll, Elvis Presley, is one of the most famous musicians. Pretty much almost everybody throughout the planet knows his name, even if they're not fans. Presley is synonymous with music and rock n' roll as the pope is to Catholicism. 
Born January 8, 1935, in Tupelo, Mississippi, Elvis Aaron Presley exploded into the American music scene and dominated it during the 1950s. His unbridled charisma, versatile soulful voice that can hit both baritone and tenor with ease, and his rockabilly style propelled the singer to the stratosphere. His popularity became so high that he broke the ceiling and transcended to being more than a musician – Elvis Presley became an icon for the ages.
The legendary musician also garnered multiple awards throughout his career, notably winning three Grammy Awards. Presley also delivered a whopping 18 number-one singles on the charts and earned several gold and platinum albums. 
Elvis Presley revolutionized the music landscape throughout his career and challenged societal norms with his impactful songs and provocative performance. As a result, you can say that Elvis Presley was a renaissance man that helped create and usher in a new generation. 
Watches Worn by Elvis Presley
Elvis Presley is pretty much the definition of a celebrity back in his prime as a man oozing with style and charisma. While he certainly did not shy away from more eccentric and extravagant fashion, especially during the tail-end of his career, his class during his rise to mega-stardom was already noteworthy. 
Elvis knew how to dress for the occasion. Either it is to catch everyone's attention in the room with a flashy attire or create a more restrained elegance and sophistication – The King of Rock n' Roll earns his moniker. 
So, what type of watches are fit for the King? Below are all the known timepieces Elvis Presley wore during his illustrious and legendary career. 
Hamilton Ventura (Reference: H24411732)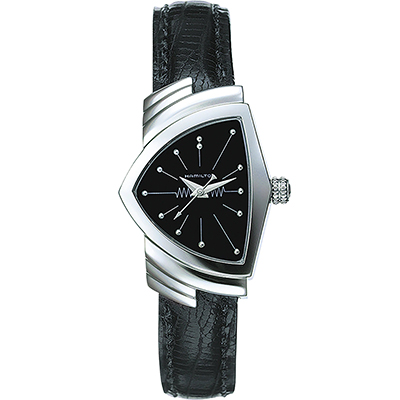 Let's start this list with the watch most associated with Elvis Presley, the stylish shield-shaped classic Hamilton Ventura. Elvis is known for his eccentric style, so the Hamilton Ventura is a perfect match for the King. 
The Hamilton Ventura can be pretty divisive with watch enthusiasts, though, due to its shield-shaped case, which throws tradition out of the window. Nevertheless, you can see why Elvis gravitated to this timepiece as he picked the Ventura for his character in Blue Hawaii (1961). Read more about hamilton watches worn in Hollywood movies. 
Elvis's model in the film features a custom metal bracelet that helped accentuate the unconventionally designed 32.3mm stainless steel shield case. The American industrial designer Richard Arbib drew the design for the Ventura with the first models made available in 1957. 
The Hamilton Ventura's design remains relatively unchanged, making it one of the most iconic and timeless timepieces in the market. But, of course, having Elvis Presley's stamp of approval did not hurt the Ventura either. 
Regarding performance, the Hamilton Ventura is a solid entry for any fan of horology. This avant-garde style watch utilizes a caliber F05.111 quartz movement, the first in the American market. The black dial features polished stainless steel hour markers and analog hands and showcases a retro-futuristic aesthetic. 
Nowadays, several variations of the Hamilton Ventura will undoubtedly appeal to a wide variety of watch lovers. 
Omega Constellation 1960 (Reference: 168.010)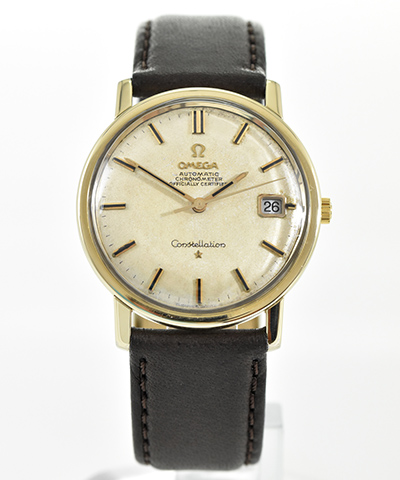 Elvis Presley's exact Omega Constellation watch is a vintage model and is pretty challenging to track down nowadays. However, he wore the Omega Collection 168.010 during his stint in the U.S. Army from 1958 to 1960. Elvis would eventually gift the watch to his friend and fellow rock n' roll hall of fame, Charlie Hodge after Hodge complimented him about the watch. 
Elvis Presley wore the Omega Constellation was sleek and relatively simple, a classic timepiece with a timeless aesthetic. The gold-tone 35mm stainless steel case exudes an elegant charm, while the black leather strap adds a dash of ruggedness to the overall appeal of the watch. 
The polished and raised gold-tone baton indices and dauphine analog hands also add a refined flair to the black "sniper" design dial. There is also a date display located at the 3 o'clock position. Underneath the sleek design of the Omega Constellation 168.010 is a caliber 504 manual winding chronograph with a power reserve of up to 50-hours. 
The specific Omega Constellation watch Elvis Presley wore went into auction and sold for $52,000. You can find similar Constellation models in certain online watch resellers, but as we said earlier, the specific model that Elvis wore is pretty hard to find. 
Omega Tiffany (Reference: H6582/D96043)
Leave it to the King of Rock n' Roll to have a handful of exceptional timepieces unique to himself only. Case in point, the ultra-rare Omega Tiffany timepiece. This particular luxury watch was a gift to Elvis Presley by RCA Records after the King hit the 75 million records sold. 
RCA Records commissioned this unique Omega timepiece with a Tiffany & Co. signature dial and 44 diamond embedded bezel gifted to Elvis Presley for his momentous achievement. Despite the 32.5mm case size, the Omega Tiffany isn't precisely a feminine watch. This timepiece feels more like something a "Rock Royalty" would wear with its elaborate diamond-studded bezel and sleek aesthetics. 
The Omega Tiffany last auctioned for around $1.8 million, which is well above the paygrade for most of us. However, the Omega De Ville would be a more affordable alternative that is similar to the Omega Tiffany's design, sans the diamond-studded bezel. 
Corum Buckingham 18ct (Reference: 5971)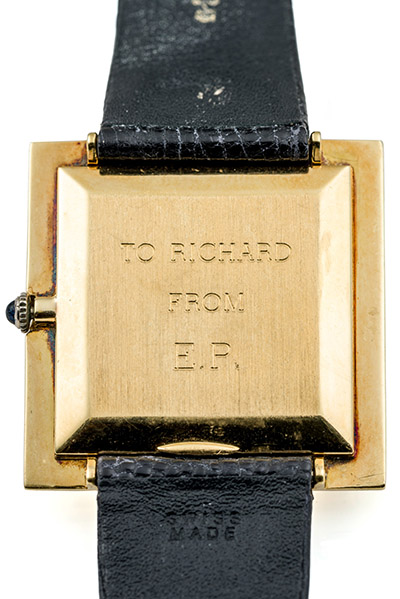 The King of Rock n' Roll also has a collection of ultra-luxurious timepieces: the lavishly all-gold Corum Buckingham 5971 timepiece. This watch is all about extravagance and elegance, as seen from its 18K yellow gold square case.
Elvis Presley gave this timepiece to another friend of his, Richard Davis. The specific Corum Buckingham 18ct timepiece Elvis gifted to Richard Davis has an engraving at the case back that says "To Richard from E.P.", and that timepiece sold at an auction for $22,500. 
The watch itself is quite a head-turner. Besides the all-gold aesthetic, the Corum Buckingham also features a slew of deluxe features. Specifications of this Corum timepiece include a hobnail decorated bezel, cabochon sapphire-set crown, and champagne hobnail dial with black baton analog hands. In terms of elegance, the Corum Buckingham delivers in spades. 
How about its timekeeping performance, you ask? Well, the Buckingham 18ct features a caliber 4200 rhodium-plated manual-winding mechanical movement. A solid shock-resistant build and micrometer regulator enhances that high-end complication equipped within the Corum Buckingham. 
Rolex Submariner "Big Crown" (Reference: 6200)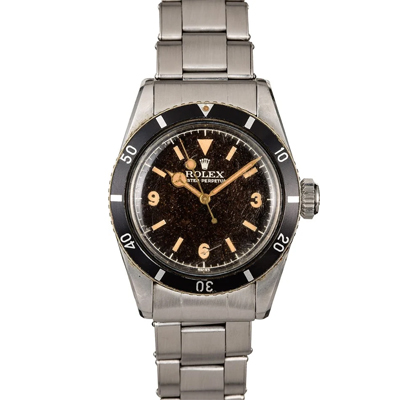 Of course, you can bet that Elvis also owns several Rolex watches, and you can bet that the Rolex Submariner is one of those fantastic timepieces in his collection. Specifically, Elvis Presley has the Rolex Submariner Big Crown model, which he also wore in his movie Girls, Girls, Girls (1962). As a bonus, the Rolex Submariner was also the watch that Sean Connery wore in the first James Bond 007 film, released in 1962. So, that's two icons of their mediums wearing the Submariner. 
The Rolex Submariner is one of the luxury watch brand's flagship models and is one of the best high-end dive watches. The Big Crown, as its name implies, features an oversized winding crown. The case measures 39mm with an addition of 8mm for the "Big Crown". There is also a unidirectional bezel, a mandatory fixture in dive watches. 
Underneath the robust and masculine aesthetic of the Submariner is the in-house Rolex caliber 1030 automatic movement which operates its analog dial. The dial also adds a bit of unique visual flair with its cream-tone luminous indices and analog hands. 
The Rolex Submariner is an iconic timepiece, and Elvis Presley is a rock n' roll legend – a match made in Heaven if I ever saw one.
Rolex King Midas (Reference: 9630)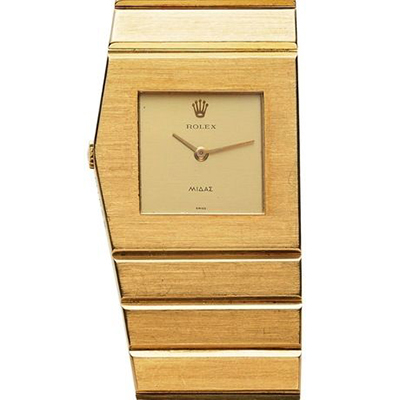 Elvis Presley also owns one of the hardest to find Rolex watches around, the King Midas. There are only 2,000 Rolex King Midas globally, and it is undoubtedly a timepiece that earns its highly sought-after reputation. The Rolex King Midas was a gift to Elvis after six straight nights of sold-out performances at the Houston Astrodome Livestock Show and Rodeo in 1970. That's six consecutive days selling out the Houston Astrodome, which has a seating capacity of 67,925. 
The Rolex King Midas is cut from different clothes regarding your typical Rolex timepiece. It features an asymmetric rectangular case and bracelet of 18K solid gold. The aesthetics of the Rolex King Midas made it look more like a bracelet due to the integrated design of the case and band. 
There are two King Midas releases, with the first one having a reference number of 9630 followed by the reference number 3580. Both Rolex King Midas models only had 1,000 pieces made. The Rolex King Midas is another timepiece that captures Elvis Presley's eclectic style that blends extravagance and a subdued coolness that only the King can deliver.  Read more about the history of this watch on Bob's Watches