Image Credit: Alex G from Puteaux, France via Creative Commons
Eric Clapton is the only three-time Rock and Roll Hall of Famer and is ranked Number 5 in Time Magazine's "The 10 Best Electric Guitar Players" in 2009. He is also listed second in Rolling Stone's 100 Greatest Guitarists of All Time and fourth in Gibson's Top 50 Guitarists of All Time. With such recognition, it is not surprising that he is often considered one of the most influential guitarists of all time.
Just like other musicians who made it big, Eric Clapton also had a humble start. His first guitar was an acoustic Hoyer guitar he received as a gift on his thirteenth birthday. However, he found it challenging to play because of its steel strings so he stopped playing for a while. But, two years later, he grabbed the guitar again and so played it consistently. His choice of music was mainly blues.
By the age of 16, he started getting noticed as he went around Kingston, Richmond, and the West End to busk. At 17, he joined The Roosters, which became his first band. He stayed with the band until August 1963. After that, he has been joining (and leaving) different bands. After facing his struggles in the 70s, he began performing solo in the 80s after his rehabilitation from alcoholism. His career continued to thrive in the 90s as he performed in numerous concerts and received various awards
Aside from being a legendary musician, Eric Clapton is also a passionate watch collector. His collection is greatly admired in watch circles primarily because of his modern and vintage Rolexes and Patek Philippe timepieces. Here are a few that we know of:
Eric Clapton's Watch Collection
Patek Philippe ref.2499/100 Platinum

First on the list was probably the most important timepiece on Clapton's collection and is among the most important in the world of watches. The Patek Philippe ref. 2499/100 in platinum is a perpetual calendar with chronograph and moonphase and there are only two pieces that were created in Platinum. (The other one is being showcased in Patek Philippe's watch museum.) The timepiece uses a mechanical caliber 13 movement with 23 jewels. It has a silver matte dial and silver hour indices. Its day and month display is located at the upper center, just below the hour-12 marker. There are also three subdials for the seconds-tracker, 30-minutes register, and the moonphase with the date.
This exceptionally rare and elegant watch was auctioned off at Christie's in Geneva back in November 2012 and was bought for CHF 3,443,000.
Patek Philippe ref. 5970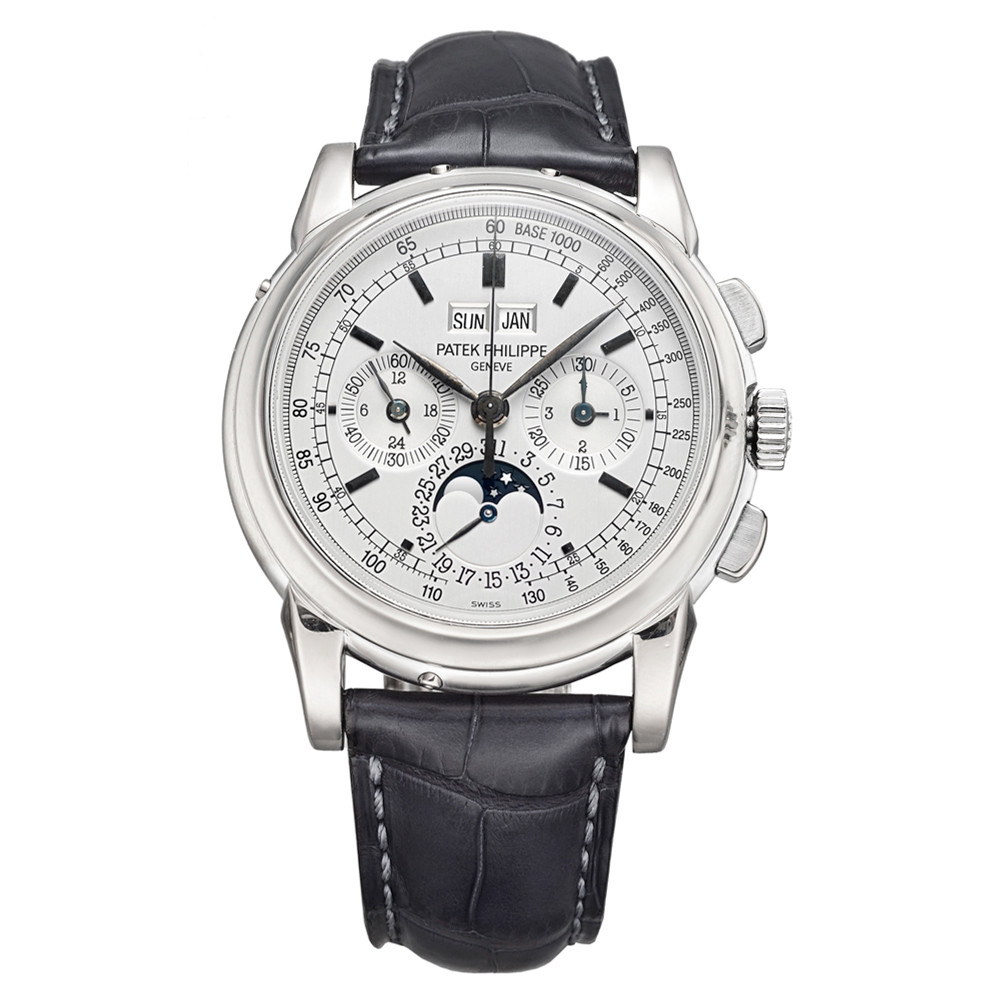 Now, this one is not just rare but a unique piece specially customized for Eric Clapton. The Patek Philippe ref. 5970 is also a perpetual calendar chronograph like the ref. 2499 mentioned above. It is powered by a manual-winding caliber 27-20 CH with a 60-hour power reserve. It is built with a white gold case and bracelet. The dial is silver with Breguet numerals (only for Clapton). It also has three subdials, and a day and month window at 12 o'clock – similar to ref. 2499.
If you wish to have this elegant timepiece, a few variants of Patek Philippe ref. 5970 are available on eBay. Although you won't find one with the Breguet numerals.
Patek Philippe ref. 3970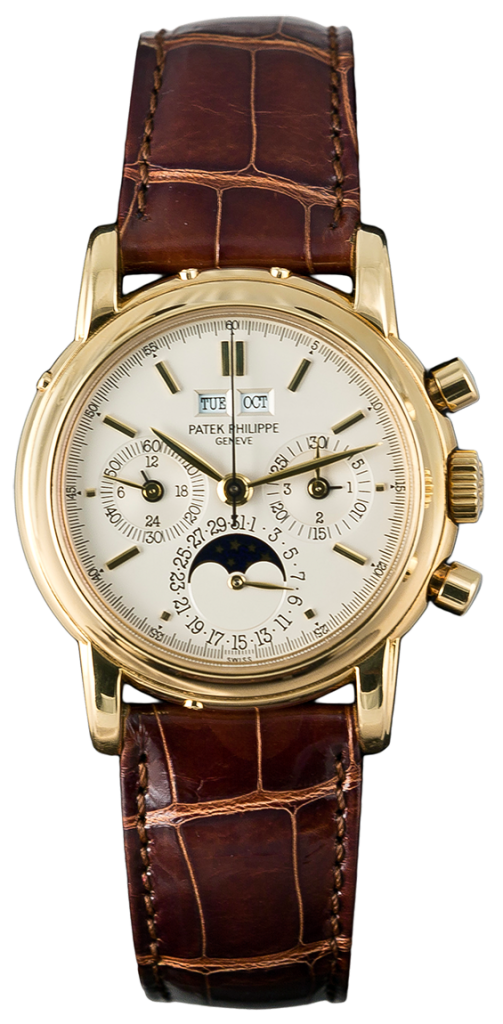 The Patek Philippe ref. 3970 is also an important timepiece of the brand. It is a perpetual calendar chronograph made of 18k white gold. It is also equipped with moon phases, a 24-hour tracker, a leap year indicator, and a day and a date function at the upper center. It also has a tachymeter dial in salmon pink and a Breguet numeral at 12 o'clock. All these are being driven by a mechanical caliber CH 27-20 movement. The timepiece is then attached to a black crocodile-textured leather strap.
It even has a Patek Philippe Certificate of Origin from the company's Geneva boutique with the name "Monsieur Eric Clapton", thereby proving the timepiece's provenance.
You may also find some versions of the Patek Philippe ref. 3970 listed on eBay.
Rolex Oyster "Albino" Cosmograph Daytona ref. 6263

Another exceedingly rare timepiece that has been part of Clapton's collection is the Rolex Cosmograph Daytona ref. 6263, more popularly known as the "Oyster Albino". It is considered an "Albino" because of its silver dial along with the same silver chronograph subdials. Such a combination is rare because most Daytonas would usually have black chronograph subdials with white prints.
Moreover, the Oyster Albino comes with a manual-winding caliber 727 and is built with stainless steel case and bracelet.
As a treat to Clapton's fans who also happen to be horologers, this particular watch was then auctioned off (also) at Sotheby's in New York last June 2003 and it was bought at a record-breaking price for a Rolex Cosmograph Daytona.
Rolex Cosmograph Daytona ref. 6241 "Paul Newman"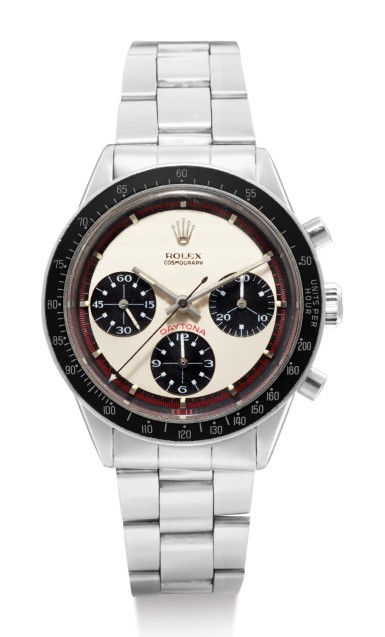 Clapton also has a Rolex Daytona Paul Newman. Not the other variants of Paul Newman like those of other watch collectors, but an exact same model that Paul Newman has. It has a white dial, black chronograph subdials, a steel bezel, and a fat black leather strap.
The Rolex Paul Newman is powered by a mechanical caliber 722-1 movement with 17 jewels. Although not an extremely rare timepiece as his other watches are, this one was also produced in a limited quantity.
You can have a modern version of a Rolex Paul Newman too if you wish. Check out these eBay listings.
Rolex Pre-Daytona ref. 6034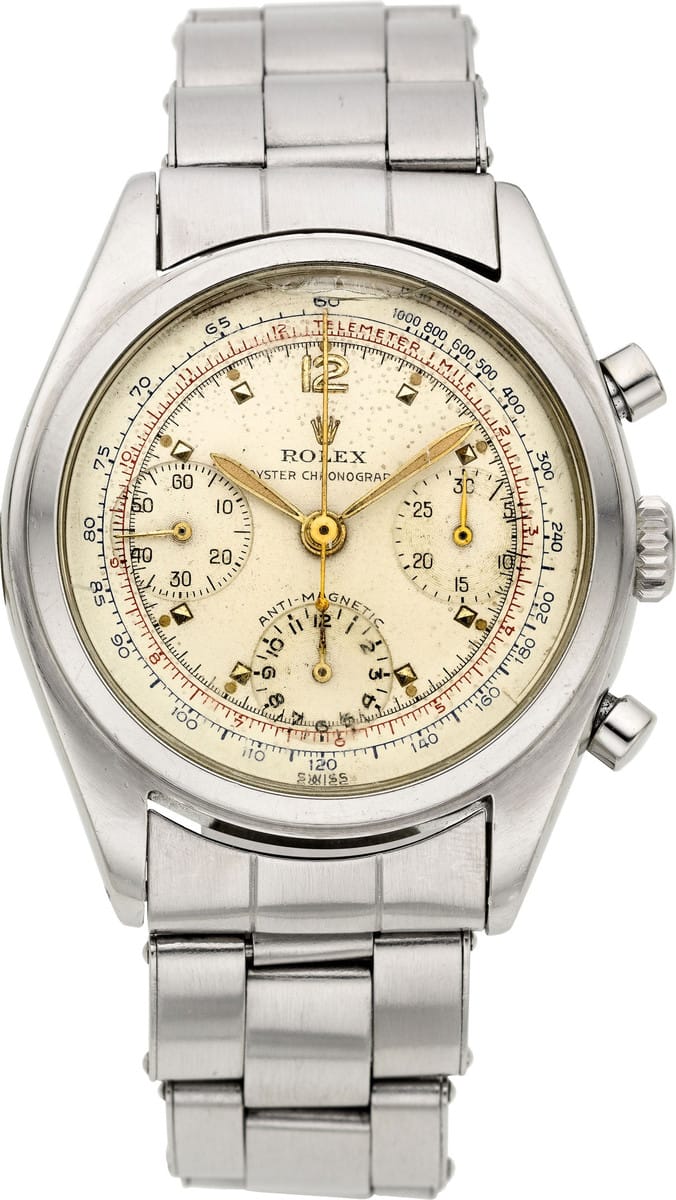 Another vintage Rolex that has been part of Clapton's collection is the Rolex ref. 6034. It is considered a pre-Daytona timepiece since it was created in the early 1950s. More so, this one is interesting because it is made of pink gold (not yellow gold or rose gold, as most watches do).
It has a mechanical caliber 72 movement that features monometallic screw balance and inline escapement. The dial is off-white with a black tachymeter scale at the outer rim and a blue telemeter scale at the inner circle. There are also three subdials for the seconds, 30-minute, and 12-hour counters.
As with his other vintage watches, this was auctioned off at Auctionata back in 2014.
Check out watches inspired by specific musicians and collaborations with rock legends, Gibson guitars, and more.