Music lovers and watch aficionados have a few things in common. They tend to know everything about their specific obsessions, they will take any opportunity to bring it up in conversation, and they will spend thousands of dollars on their collections, just to name a few similarities. It's a love they can hardly contain.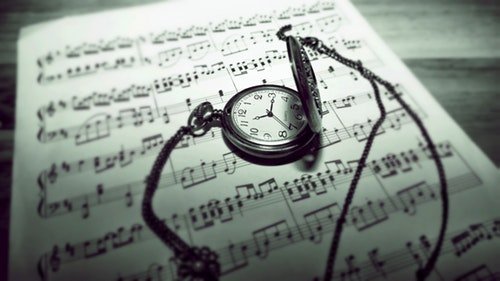 For that reason, it's not surprising that there is a fair amount of crossover between the two groups of enthusiasts. It makes sense, music is all about keeping time. With such an obvious connection between them, it's fitting that there are numerous watches that have designs inspired by music in some fashion or another. Some watches celebrate specific bands, while others weave musical concepts into their design. For the watch fanatic in your life who also always has his or her headphones at the ready, here are some of the coolest music-inspired watches out there.
Raymond Weil Music-inspired Watches

If we're talking music and watches, we have to start with Raymond Weil. The highly respected Swiss watchmaker has made music an integral part of its watch designs, sometimes subtly, sometimes explicitly.
For instance, their Nabucco line of watches are analog chronographs that were inspired by the beloved self-tuning SG model of Gibson guitars (check out a Titanium model on Amazon).
The design doesn't immediately bring to mind music, but just like a Gibson guitar, a Nabucco is a finely crafted instrument ("Nabucco" is also the name of an Italian opera).
Then there is the Maestro line by Raymond Weil. Again, the name nods to classical music and opera, but the musical connection doesn't end there.
One of the special editions of their Maestro series is the Sinatra, named, of course, for the famous crooner, Frank Sinatra. (Bulova also makes a Sintra watch).
The company has also released three different Beatles-inspired Maestro watches, with the latest being an homage to the Sergeant Pepper's Lonely Hearts Club Band album.
If you like your rock music a little harder (and more Australian), seek out one of their limited edition AC/DC watches, in the Freelancer line.


What all these watches have in common, besides for music in their soul, is reliable Swiss-made timekeeping and sophisticated style. Whatever your favorite song or preferred style of music, there is probably a Raymond Weil watch (on either side of the pond) that will speak to you. Or, should I say, sing to you.
ArtyA music watches
One of the more idiosyncratic Swiss watchmakers, ArtyA, pays tribute to music in a variety of ways.
First, there is their Son of Sound Guitar series of watches, a collection of nine wristwatches that resemble different styles of guitars. These watches will definitely be a hit with any guitar heroes (or wannabe heroes) in your life, but don't expect them to be easy to track down. ArtyA watches tend to be limited edition and sold direct.
Speaking of limited edition ArtyA watches, check out their KISS watches. The band members of KISS were said to be such big fans of the watchmaker, they reached out to company founder, Yvan Arpa. After spending time with the four KISS musicians, Yvan Arpa, created four individualized watches for each of them featuring their famous painted faces. Replicas of the watches were sold for a short time, but they are no longer available.
Band-inspired Watches
Another Swiss watchmaker, Zenith, pays tribute to a legendary rock band (and contemporary of the Beatles), the Rolling Stones. The watch features the Stones' iconic bright red tongue and lips on the face. This chronograph watch is part of the El Primero line of watches a truly beautiful series of timepieces.
This version is a "skeleton" style, meaning that the inner gears are visible through the face. Like all the El Primero watches, this watch includes two subdials, a tachymeter, and a date display. For fans of one of the greatest bands in history, this is a cool and stylish memento. See the Rolling Stones watch on Amazon.com


Meanwhile, American watchmaker, Nixon, teamed up with American heavy metal rockers, Metallica, for a series of nine watches inspired by the band. Each watch has a design based on one of the band's many albums, including classics, Master of Puppets and the eponymous "Black Album."


The watches are available to buy through the band's online store or through the watchmaker's own site, with the potential for more collaborations in the future.
See the Metallica Collection on Nixon.com
If your musical taste is a little bit more eclectic, check out Vannen, an LA-based skateboard and watch company. They have an entire line of band-inspired watches for groups and artists as varied as the Descendents, Less Than Jake, Blondie, Bad Religion, and The Vandals (to name a few). Unfortunately, they all appear to be sold out currently, but head over to eBay for used ones. For lovers of less mainstream music, this is a watchmaker to keep an eye on.
If you're a fan of guitar legends, check out Eric Clapton's watch collection.
Music-themed watches
Not all music lovers necessarily want a band-inspired watch. For these fans, maybe they'd prefer a watch that celebrates music in a different way. In that case, head over to Zazzle.com to find a whole host of music-themed watches.
Personally, I think their different Circle of Fifths watches are pretty cool (here's another version). The Circle of Fifths is a major part of music theory and the way it is utilized in the design of these watches will make any music nerd or band geek happy. It's both a striking design and a very useful watch if you're headed into Music Theory class.
If that's a bit too nerdy for you, you can always go with your instrument of choice, like say a trumpet. This quartz analog watch is pretty bare-bones, but that's okay, it's all about honoring your favorite brass instrument.
Listen to music on a smartwatch

If you don't feel a need to project your love of music to the world, maybe go with a smartwatch so you can take your tunes with you.
The Huawei Watch 2 (find it on Amazon) has 4GB of storage so you can upload your music, or sync it with your phone to stream it directly. It's the best way to make sure you always have your favorite songs with you.
There are a lot of ways that music lovers and watch collectors can combine their two biggest obsessions. How do you show your love for the two?