Rolex's ingenuity and innovation have led to the creation of new horological jargon exclusive to the brand itself. Worlds like Rolesor, Rolesium, Everose, and Oystersteel are not unknown to the watch community. Rolesor refers to the Rolex designs with twin-tone metal. Rolesium refers to a combination of metals together called Rolesium. Everose and Oystersteel are in-house metals by Rolex.
Similarly, if you have been researching watches, you would have come across Serti dials. In short, Rolex watches hosting precious gems on the dial, collectively, get the name Serti dial watches. You may have seen many Rolex editions come with diamonds, sapphires, and other gems on the face of the dial and on the bezel. These exquisite timepieces feature across various collections such as the GMT Master II, Yacht-Master, Submariner, and more!
Keep reading to know more about the origin of the term and some top Serti dials you may be able to get your hands on today!
What is Rolex Serti Dial?

Luxury watches symbolize exquisiteness. To develop such a timepiece befitting the name of a luxury watch takes a certain watchmaking finesse. And, then there are brands like Rolex who keep raising their bar with innovation, new technologies, and unseen design. Many may consider Rolex to be their ultimate dream watch and the brand continues to keep that spirit alive.
In this vein, the Serti dial rose to fame for its sophisticated design. The brand's in-house gemologist offer their expertise at every stage of sourcing, selecting, and examining these precious gems. This ensures only the highest quality and purest gem finally sits on these magnificently designed watches.
Origin of the Name
The origin traces back to the French word, "sertissage". Or in short, "sertir", meaning "to set" in reference to the art of gem-setting.
Typically, you will see that the Serti dial watches showcase eight diamonds sitting on the hours and ruby or sapphire sitting on the indexes. Paired with complimenting dial tone and bezel, Rolex elevates the luxurious feel of their watches.
Though, in the books of watch collectors and aficionados, the Rolex Serti dial typically refers to a particular signature gem placement and design. This is primarily because Serti dials under these collections quickly became collectibles, making them far more exclusive from other watches from the same collection.
Originally, the Serti dials specifically denoted either of these three iterations – the Rolex Submariner with diamonds and sapphires, GMT Master with diamonds and rubies, and Yacht-Master with only rubies, or diamonds with sapphires. Yet, these days, Serti dials have become a broader term used across all gem-studded Rolex watches.
This can make things complicated if you have not thoroughly researched what Serti watches actually are. For one, you can either buy factory-made Rolex watches or aftermarket Rolex watches. Factory-made Rolex Serti will come with genuine and real gems, made exclusively by Rolex. However, the aftermarket Rolex Serti dial is not genuine or pure since anyone can make these watches by getting spare parts.
Examples of Rolex Watches with Serti Dial
Most of the quintessential Seri dials launched as early as the 1980s and were discontinued by the 2010s, making this design a collectible. With the official chronometer certification, the Serti dials set out to leave a mark in the world of gem-studded luxury watches and have achieved exactly that today.
Though the current website does not display any Serti dials, you can get your hands on one through the secondary market. However, make sure to check if the secondary market watches are factory-made or aftersales watches.
GMT  Master Serti

Designed with different tones, the GMT-Master Serti is the epitome of Rolex Serti watches. Serti dials, GMT Master ref. 16758 and GMT Master-II ref. 16718, part of this collection hosts an 18-k gold champagne dial, studded with rubies for index and diamonds for hour marks.
Launched with both, Master and Mater-II, collections, this Seri dial offers black and bronze 'rootbeer' bezel colors. If you're lucky, you may find a two-toned GMT Master ref. 16753 or Master II ref. 16713.
Click here to learn more about the Rolex GMT Master watch and some affordable alternatives.
Submariner Serti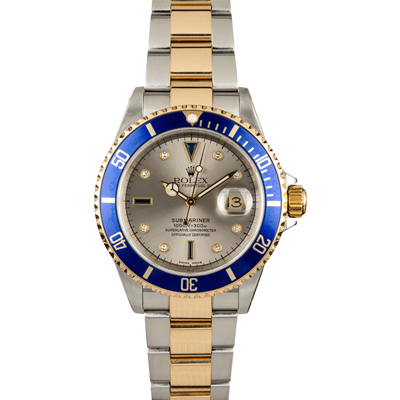 The Submariner Serti dial ref. 16803, ref. 16808, and ref. 16613 comes with a blue bezel and a golden face sitting within the two-tone gold and oystersteel steel watch. The face of the dial proudly displays the diamonds on the hours and the blue sapphires on the index marks. This collection also has gold with a black bezel taking the Serti look.
The date window sits at 3 o'clock, giving the watch an elegant, yet extremely sophisticated spirit. You can find this edition in a dull gold dial and a single-tone full gold watch as well.
The Rolex Submariner remains one of the most sought-after watches forever in time. Learn more about the submariner collection here.
Yacht-Master Serti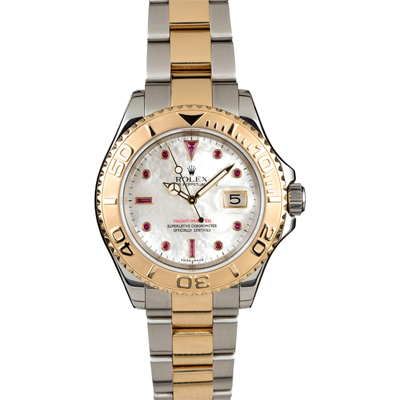 Engineered in a 40 mm Rolex Rolesor, the Yacht-Master Serti is another example of a quintessential Rolex watch with gem-setting. Commonly engineered with a mother of pearl dial, this Rolex offers an opulent and unique look. The Yacht-Master Serti dial comes in gold, ref. 16628, and two-tone bracelets, ref. 16623. Most of all, the Yacht-Master Serti dials are also available for women at a 29 mm dial with gold, ref. 16623, or two-tone, ref. 169623, bracelets.
Unlike the Submariner and GMT-Master Serti dials, the Yacht-Master dials have only rubies on the hours and index. This replaces the eight signature diamonds set in hour marks and uses a single gem across the dial. However, the sapphire hosting watches come paired with the signature eight diamond set. All these watches show the date window at 3 o'clock.
You can learn more about Yacht-Master here.
A common thread with these three collections is that they are sports watches at the core of it. Keeping this functionality uncompromised, these gem-studded editions give this tool watch a never seen before luxurious essence. As a result, the Serti dial will remain known in history as one of Rolex's milestones in shaping the world of horology.
In conclusion, all Rolex watches featuring diamonds and other gems commonly get the name Serti dials. However, in the more real sense, luxury watch collectors recognize mainly three collections as the model Serti dials.