Image Credit: Eric Chan via Creative Commons
In this post, we'll talk about the watch collection of the man behind the song, Your Body is a Wonderland. For those who don't know yet, we are talking about the American singer-songwriter John Mayer.
John Mayer started in the music industry together with Clay Cook. They were in a two-man band named Lo-Fi Masters but it was short-lived. John Mayer then decided to continue performing in local clubs wherein he was slowly building his fan base. It was in 2001 when his talent was finally acknowledged by Aware Records while performing in the South by Southwest Festival. He then signed with the said record company after that. Later, he transferred to Columbia Records wherein he was finally able to release his first mini-album named Inside Wants Out. He quickly became popular because two years after, he won the Grammy Award for Best Male Pop Vocal Performance for his single Your Body is a Wonderland.
Originally an acoustic singer and musician, he widened his genre in 2005 and started performing blues and rock music. Apparently, his fans like it because he still received good reviews in his succeeding albums with the new genre. He even received another Grammy Award in 2007 for Best Male Pop Vocal Album and Best Male Pop Vocal Performance for the song Waiting on the World to Change. Mayer experienced more ups and downs in his career as a musician.
Later on, he explored other areas i.e. television hosting, comedy, and writing. He is also known and influential in the watch industry as an active watch aficionado. In fact, he has participated and even chosen to be on the jury of the prestigious Grand Prix d'Horlogerie de Genève. So here we'll provide you a glimpse of a few timepieces that made it to John Mayer's collection.
John Mayer's Watch Collection
Rolex Explorer II ref. 16550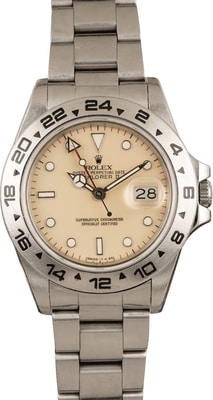 Mayer's Rolex Explorer II is the foundation of his watch collection. He bought it after receiving his paycheck for his Room for Squares album that was released in 2001. He immediately fell in love with how the watch feels heavy on this wrist and was amazed at how the elements function harmoniously with each other. Since then, he became an avid fan and collector of the brand.
Although the cream-dial version is the usual choice among watch collectors, Mayer opted for the lesser-known black-dial variant. Regardless of the dial color, it is easy-to-read with luminous hour markers and hands. There is also a minute tracker at the border of the dial. It has a perpetual date function that is displayed on the magnified window at 3 o'clock.
Rolex Cosmograph Daytona ref. 116508 "The John Mayer"

Mayer owns a number of Rolex Daytona watches Some are vintage, a few extremely rare ones, diamond-encrusted models, and even modern Daytonas. This post would be too long for you to read if we list all of his Rolex Daytona so we'll focus on one – the Rolex Daytona "The John Mayer".
The Rolex Daytona that was named "The John Mayer" is one of the modern Daytonas that Mayer owns. To be specific, it is a Rolex Daytona ref. 116508 – a yellow gold mechanical cosmograph with a metallic green dial. It was first released in 2017 but it did not generate many sales. That is, until John Mayer showed off his Rolex Daytona ref. 116508 in one of the videos for Talking Watches web series (embedded below) and called the timepiece "a sleeper hit". After that video, the particular Rolex Daytona suddenly became a hit and has been sold out in most authorized dealers. Hence, the name "The John Mayer".
If you specifically want the Rolex Daytona "The John Mayer", check out this listing on eBay.
If you like the style of this watch but not the price tag- you could check out these affordable Rolex Daytona alternatives.
Rolex Submariner Comex ref. 5514

Mayer also mentioned that one of the Rolexes he loves is the Submariner Comex ref. 5514. This timepiece is particularly developed for and supplied to Comex (Compagnie Maritime d'Expertise). It is a stainless steel watch with caliber 1520 automatic movement. It is also built with a gas escape valve, Cx Pro depth gauge, hack feature, etc. It is built with a black matte dial with the Comex logo at the lower part, luminous hour markers and hands, a tonneau-shaped case, and a revolving black bezel.
Nowadays, it's hard to find this exact model but we found a similar one (ref. 5513) on eBay.
Mayer has many other Rolexes in his collection but at this point, we'll show you some other watch brands that he loves as well.
Audemars Piguet Royal Oak Concept Tourbillon Chronograph

A divert from the steel Rolexes is the Audemars Piguet Royal Oak Concept Tourbillon Chronograph. It is built with a 44mm octagon-shaped sandblasted titanium case, and a sapphire crystal and case back. The dial is open-worked with a black 30-minute subdial and a black inner bezel. The bracelet, moreover, is a blue rubber strap completing the watch's casual and sporty style.
For the movement, it is equipped with an automatic caliber 2949 with a power reserve of approximately 65 hours. It drives the tourbillon, chronograph, hours and minutes, 30-minute counter, as well as the second and minute counters.
IWC Big Pilot

Another timepiece that was seen on Mayer's wrist for years is the IWC Big Pilot. The watch may be simple but that's just how Mayer likes it. As he said in one interview, "Now, all it does is tell the time and the date, that's it. But, man, how it does it."
The IWC Big Pilot comes with a straightforward and minimal design. Its dial is mostly plain, with Arabic numeral hour markers, minute tracker, and the hour and second hands. At 12 o'clock, it has a triangle with two dots. This logo is even seen on Mayer's signature acoustic guitar, which shows how much he loves his IWC Big Pilot.
If you wish to have one as well, see IWC Big Pilot watches on Amazon or if you just like the look and want a similar style watch these Big Pilot alternatives might spark your interest.