You will find tons of smartwatches that offer activity features, but only a handful of brands are actually investing in quality.
Misfit is well known for its activity trackers and hybrid watches and you won't be surprised if we say Misfit takes the lead in making minimalistic yet impressive watches for the millennial – those who like to see themselves as the rebels, the troublemakers, different from the lot – i.e. misfits!
Launched about a decade ago and later acquired by the Fossil Group in November 2015, the company now specializes in activity trackers and hybrid watches compatible with smartphone applications and is known to produce wearable technology that utilizes sensors and home automation products.
Misfit Brand History


Misfit is an American company launched in 2011 by Sridhar Iyengar, Sonny Vu, and John Sculley. The brand name is inspired by Steve Job's 1997 "Think Different" campaign which was meant to attract a segment that seeks innovation and exclusivity in their lifestyle accessories. Misfit was able to successfully win the image of one such brand popular among the technology and innovation savvy user segment.
The brand's aim was to produce wearable watches that were not only functional but attractive, no surprise their products are often mistaken as fashion accessories. In the early days, the company focused more on style and looks instead of operational value, which luckily worked in favor of the brand in earning it a reputation of a design-forward smartwatch brand.
First launch 2012
Misfit launched its first product "Shine" through a campaign Indiegogo in 2012. The campaign was successful and lasted for about two months. The company was able to generate $8, 46,675, which was their targeted goal.
The co-founders further used a crowdsourcing campaign to get feedback on their products about activity trackers and wearable technology.
Later in April 2012 and December 2013, Misfit secured funding for research and development of about $7.6 million and $15.2 million; the final products were released in 2014.
Second Launch 2014
The company released its second product officially in 2014 called 'Flash' – a water-resistant fitness band with a battery life of about 6 months. The only shortcoming of this model was it didn't have a heart rate monitor, unlike other popular watches during that time. It was priced initially at $50 which was then reduced to $30. Later, a health insurance company Oscar offered discounts to any individual, who reached a certain health goal measured by the Misfit band.
2015
In the year 2015, the company expanded its reach and announced that it will also be launching home automation products and smartphone controls. This would ensure that the users of Shine and Flash products would be able to control doors, bulbs, thermostats, and home entertainment centers through their bands.
Later in the year 2015, Misfit provided an update in its application that offered synchronization with Spotify and other home automation products like Beddit.
Acquisition by Fossil Group
Misfit was acquired by the fossil group in November 2015 for $260 million. The motivation of the Fossil group was to go for new distribution channels and brand products which led Misfit to launch a few timepieces with traditional and fashionable elements besides their popular activity trackers. Following this acquisition, Misfit released a jewelry inspired activity tracker "Ray" and Bluetooth earbuds which were the brand's first headphone product.
Partnership by Misfit
Misfit's partnership portfolio is quite diverse and happening. Their first partnership was with Coca-Cola under which the company launched Red Shine activity trackers for the company's North American reward program. The brand was also behind Coke's summer program of 2013 'Get the Ball Rolling' and later partnered in their Olympic hospitality program. Misfit even partnered with Victoria Secret to launch a VS inspired Pink shine line.
In 2015, Misfit partnered with Swarovski. Together, they launched two products, one of which is the first solar-powered activity tracker following which nine further accessories were introduced that encompassed the best from both the companies.
In 2015, Misfit partnered with Speedo and launched Speedo Shine – a water-resistant activity tracker that could monitor a swimmer's pool laps and other daily activities.
Misfit Watch Collections
Shine
Read Amazon Reviews | See on Misfit.com
Shine was the first product launched by the Misfit as an activity tracker and its probably one of the most stylish fitness trackers we have seen. Shine doesn't look like a tracker for its small size but it's definitely an eye candy for the modernists who want a fitness tracker but don't want to look like they are wearing one.
The tracker has basic tracking activities like distance, calories, and steps available, but while you may appreciate the minimalism, it's not very practical when it comes to the time and the exact number of steps you take. Other trackers with the traditional displays like Withings let you get more accurate information at a glance like distance and steps.
Flash
Read Amazon Reviews | See on Misfit.com
Compared to Shine, it is a low-priced tracker suitable for casual wear with the same tracking capabilities minus the waterproof feature.
In July 2015, Misfit launched a squeezable clicker 'The Link' with activity-tracking features without the wrist band. In functionality, it is similar to Flash and also has compatibility with phone applications for features like playing music.
Ray
Read Amazon Reviews | See on Misfit.com
The idea of Ray is similar to Shine but it's designed in a tube instead of a band. Ray tracks short activity sessions like sleep and steps and it can be worn as a bracelet or a pendant – yes you can convert it into a necklace which is something you rarely find in other brands.
Despite these features, a lot of users find it uncomfortable so it might not be a great fit for all wrists. You also can't find any display or button owing to its minimalistic design which can be of course inconvenient for some users.
Misfit Vapor | Vapor 2 | Vapor X
Read Amazon Reviews | See on Misfit.com
It's an android smartwatch that features heart rate sensors, and support for connected GPS. These watches don't look too big or out of place, in fact, they strike the right balance between usability and style keeping in view the fact that some users want colorful smartwatches and not just the black ones. Vapor is effortlessly simple and cool but compared to other Misfit products, it's expensive.
Hybrid Watches
Read Amazon Reviews | See on Misfit.com
Misfit has three Hybrid watches available. The brand introduced 'Phase' in 2016 that features a mechanical log, combined with all the activity tracking features of steps, sleep, and other bare minimum tracking elements. It also includes alarm and notification features.
In 2017 Misfit launched Command which unfortunately received quite a lot of negative feedback for its separate mechanical dial which was not handy for many users.
In 2018 the Path was launched that only included mechanical hours and minute's hand.
Connected Home
Read Amazon Reviews | See on Misfit.com
Misfit has launched several smart home products since its inception. This included Beddit, mattress strips, smart bulbs and many more.
Misfit Brand Reputation
Misfit has marketed itself as a tech fashion brand. You get a smart device that doesn't only look good but feels great. The brand has no prior watchmaking history and does not promise any traditional watch craftsmanship but it is living a decent reputation as a smartwatch manufacturer. At present, the brand is hailed as the one manufacturing lifestyle accessories so stylish that they can easily be mistaken as fashion accessories, so it's especially popular among the design-forward consumer segment.
Misfit has seen limited success compared to its competitors like Fitbit and Jawbone. With Apple and Fitbit watches in the market, it is challenging to compete with them as they are the smart accessories giants. But the tech features of the brand's wearables improved considerably after the acquisition by the Fossil group.
The Misfit watch, after the launch of Vapor, was reviewed as producing the most comfortable and lightweight designs everywhere in the smartwatch tech industry. The wearable tech industry is expected to hit $54 Billion by 2023 and Fossil has been on a run to compete with big wearable players like Apple via the Misfit brand.
When we see the current hybrid smartwatch trend, Misfit is one of the most sought after brands for mainly two reasons. First, it has successfully built a reputation of a stylish brand manufacturing sleek and modern designs coupled with genuinely useful functionality. Second, the battery life is impressive; it lasts about six months which is an unusual time period for a single watch battery. The only shortcoming is that the fitness features for these watches are limited as some of the watch lines do not have GPS or heart rate trackers.
The brand does minimalist design better than most. The designs, after being acquired by the Fossil Group, became a lot cooler and simpler, and the brand later was even rated as a fuss-free watch developer. Most of what was out there in the tech wearable won't look good with your outfit and women especially felt left out of the wearable technology.
Is Misfit A Good Brand?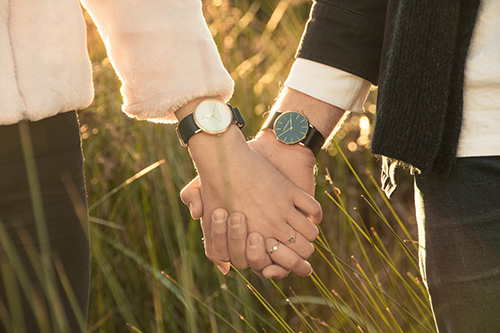 The brand learned a lot from its journey into wearables and it identified users who are fond of smart technology but care most about style. For instance, Misfit Swarovski is for high-end users who need fashionable and elegant trackers and watches, Misfit Shine is a premium watch for occasions and Misfit Flash has a sporty appeal at a very affordable price.
While the brand is in the shadow of Jawbone and Fitbit, its watches have found the right customer base. The real highlight here is the price, for instance, Misfits Phase is one of the most affordable hybrid watches that you can buy, so someone seeking a functional smartwatch with basic features to play around can be convinced by it. But for someone looking for an advanced activity focused wearable, Samsung gear fit2 will be a better fit.
The price of the brand's second product generation Misfit Link and Misfit Flash is a sign that the fitness tracker is getting crowded and despite this fact, Misfit Shine is still fixed on being an elegant and premium fitness tracker ever made. Misfit trackers and watches are aesthetically appealing and convenient to wear for instance you can even clip the trackers on your shirt or shoes or use the wristband like a watch as well. For users, it's like buy it, wear it and forget about it – a definition of an effortless tech lifestyle accessory.
The brand has its shortcoming as well; users often find the inconsistency in quality and inaccurate tracking system. Many other brands like Fuelband and Nike have inspiration points for users to work harder and achieve better lifestyle; fit bit has a vibration feature to remind users to walk around if they are sitting for too long, Jawbone examines users' data to suggest improvements in their lifestyle and sleep routine. So, Misfit still has to work on improving the analysis system to enable more meaningful data for users instead of providing only statistical numbers as health recommendations.
Misfit Watch Warranty
The Fossil Group provides a limited warranty for two years with certain terms and conditions. If purchased online, customers are supposed to provide proof of purchase.
There are a few exceptions to the warranty: normal wear and tear maintenance are not included. In case of damages to cases, the crystals or bands, no repairs, and fixtures are offered. Batteries, whose capacity falls below 80% or batteries that leak is covered in the warranty.
You can get details about their warranty here.
Where to Buy Misfit Watches?
Original Misfit watches are available online on Misfits' official website. The retail sales of these watches are available on Amazon, and eBay.
Misfit is gaining enormous popularity in the smartwatch market industry. Compared to Fitbit, Jawbone, and Apple, though it still lags in advanced features and technology but is successfully appealing to style-conscious Hybrid smartwatch customers. The brand's goal, in the end, is to attract customers, who are into fashion-forward designs with activity tracking features and sensors.